Visitors flock to the volcanic island of Tenerife in search of year-round sunshine, wide stretches of beach and a thriving nightlife scene. This place has it all; from luxury, high-end resorts with golf courses and spas to low-cost holiday apartments to suit travelers on a budget.
Spend your time on the island trying out watersports, taking boat trips to spot dolphins or hiking near Spain's highest peak: the dormant volcano Mt. Teide.
In this post, we'll cover:
Map of Places to Stay in Tenerife
© OpenStreetMap © MapTiler © Touropia
The best way to see all this Canary island has to offer is to hire a car and road trip it to the various picturesque beaches and tiny towns. There is nothing quite like a Spanish holiday on the island of eternal spring; so here is our ultimate guide on where to stay on Tenerife to help you plan your perfect island getaway.
Playa de las Americas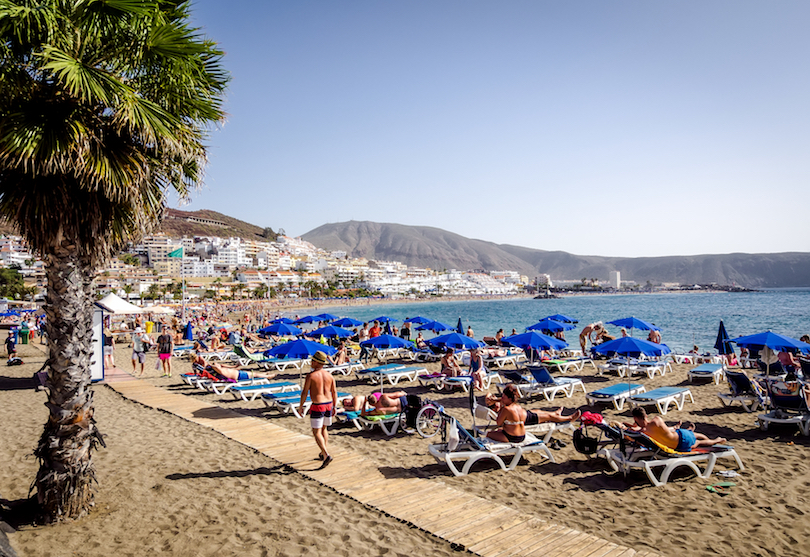 If you want to visit Tenerife for a party, then Playa de las Americas is the town for you. Set along a pedestrianized promenade which runs the length of the town, Playa de las Americas has a reputation for being the party capital of the island. As night falls, the nightclubs and pubs come alive along the notorious Veronica's Strip.
There are some fantastic resort hotels in town, all with lively atmospheres and great facilities which can be suitable for lower budgets. This tourist spot has some attractive beaches to enjoy and the chance to try out some daring watersports. If you want to explore elsewhere on Tenerife it's easy; just utilize the local bus service.
Where to Stay in Playa de las Americas
luxury
Europe Villa Cortes GL – In the style of a luxurious Mexican mansion, this gorgeous 5-star hotel is everything you need and much, much more when it comes to a beachside Tenerife escape. It is overflowing with amenities, such as a variety of gourmet dining choices in its six restaurants, space to unwind and have fun in four different bars, as well as an outdoor swimming pool – complete with waterfall – and a fun children's area, too. Located on Camison Beach, you'll be on the sand in no time at all.
midrange
Hotel Cleopatra Palace – This huge resort has a large outdoor swimming pool and is situated just a short walk to Playa de la Americas Beach itself. The staff at Hotel Cleopatra Palaca are very helpful and will make sure you enjoy your stay here. The location of this place also means that you'll be close to many bars, restaurants and shopping opportunities, so you won't be completely isolated in the resort; however, you may not want to leave. The breakfast buffet alone is spectacular.
H10 Las Palmeras – A bright, color-popping and modern hotel with a fun vibrancy about it, H10 Las Palmeras is a great place to stay if you're looking for all-around comfort and a lively ambiance. This place even boasts its very own bakery, which offers up freshly baked bread as well as cakes. There are also four restaurants to sample – one of which is right next to the beach itself. Take a dip in one of its pools and unwind with a drink in one of three bars!
budget
Catalonia Oro Negro – Simple Spanish style hotel rooms – think whitewashed walls and tiled floors – is the name of the game at this 3-star hotel. Some rooms at Catalonia Oro Negro feature a private balcony, whilst others come with beautiful sea views. Every evening the 'show bar' puts on nightly entertainment, which is great for families. This hotel is only a 10-minute walk to the beach, but also close to food and drink options in town, so it offers the best of both worlds.
Adeje
Upmarket Adeje is a new and classy family resort town set on a long stretch of sandy beach. Modern hotels and activities such as golf courses, casinos and spas have turned this town into a magnet for families looking to indulge whilst on their vacation. Hotels in the area are more costly than neighboring Playa de las Americas, with a wealth of designer 5-star options to choose from.
There are a selection of blue-flag beaches in Adeje which have facilities and lifeguards, making them a great spot for families to enjoy fun-filled days playing in the sand. There are endless activities to try out too; visitors can choose from whale-watching, jet skiing and sailing, to name a few.
Where to Stay in Adeje
luxury
Adrián Hoteles Roca Nivaria – Staying here is simply perfect for a break from the stresses of real life; its relaxing atmosphere and a plentiful amount of entertaining activities mean you'll never have to think about anything. You can while away some time at the heated infinity pool and soak up a dramatic vista of the Atlantic Ocean, whilst your children can enjoy some fun times at the holiday club. A luxury option for families, this one is a little further out of the center of town and therefore offers a bit more peace and quiet, too.
midrange
Iberostar Bouganville Playa – Right next to the Playa del Bobo, as close to a collection of other beaches in the area, Iberostar Bouganville Playa is just the ticket for those looking to beach hop, soaking up rays and enjoying life by the sea in Tenerife. Staff at this hotel go above and beyond to make sure their guests are having an amazing holiday – you'll feel looked after as you dine in one of the restaurants or sip on a cocktail at the pool bar.
Puerto de la Cruz
Situated close to Tenerife's new airport in the north of the island, and surrounded by banana plantations and vineyards, is the town of Puerto de la Cruz. This town developed in the 1960's from an old fishing village into a happening holiday destination, but it still holds onto its characteristic old chapels, charming squares and traditional buildings clustered around the center of town.
Stay in one of the many mid-range hotels along the seafront promenade and enjoy the wide selection of boutique shops. Here you can meander the cobbled streets, where locals meet in terraced restaurants to enjoy a glass of wine.
Where to Stay in Puerto de la Cruz
luxury
Hotel Best Semiramis – Perched high on a cliff, you'll be hard pressed to find better views from such a lovely hotel anywhere on the island. Hotel Best Semiramis is also surrounded by a lush, manicured garden, which also boasts a heated pool with water jets as well as a regular swimming pool – plus tennis courts too. There's a lot to do here; you can even enjoy time unwinding in the spa or get yourself a massage. The rooms here are comfortable and simply stylish.
budget
4Dreams Hotel Chimisay – Set on a lively pedestrianized street in the heart of the city, staying at 4Dreams Hotel Chimisay means being close to sights such as Plaza Charco and the San Felipe Castle – as well as great shopping, dining and drinking options. This hotel is also spotlessly clean and the staff are always on hand to help with any questions you might have. Enjoy the roof terrace here and outdoor pool, or just take a stroll to Playa Jardin less than one kilometer away.
Santa Cruz de Tenerife
Tenerife's capital, Santa Cruz de Tenerife, is the only city of its kind on the island, where you will find shopping malls and cinemas, as well as international restaurants and bars. Enjoy walking along the colorful lanes with the mountains as a backdrop, or take some time out to explore the town's botanical gardens.
As it is situated in the north, Santa Cruz is typically colder than the rest of the island and has cheaper accommodation with a selection of modern budget apartments. Locals usually head to the palm-lined Playa de las Teresitas beach; jump on bus number 910 to get there.
Where to Stay in Santa Cruz de Tenerife
luxury
Iberostar Grand Mencey – For a real slice of luxury, this sophisticated hotel is definitely the place to choose. A colonial-style building, this place simply oozes a grand opulence reminiscent of Baroque buildings and has perfect, top quality service to match. There's a luxurious feel throughout – without the hotel being too grandiose – so you can still enjoy your time here relaxing by the pool and surrounded by the mountain scenery. Set in a quiet local area and close to the ferry port, it's great for exploring other islands in the Canaries.
budget
Hotel Principe Paz – Right in the center of the action, staying at Hotel Principe Paz means you'll be inundated with a great choice of bars and restaurants, cafes and shops – making it great for anybody who likes a more lively and action-packed holiday experience. Some of the rooms at this hotel overlook the local square, where you can take in views of local life unfolding below. Featuring simple but modern interiors, this place will ensure you have a comfortable stay.
Los Cristianos
Set around a harbor, this pedestrian-friendly resort town boasts two big beaches and a wide selection of shops and street cafes. Being a port means there's easy access to the ferries which take passengers to surrounding islands, as well as the chance to glimpse whales and dolphins.
The town has a vibrant market which takes place every Sunday; it's the biggest on the island and you can buy anything from fresh fruit to clothing.
Los Cristianos still thrives with its electric atmosphere, but is more laid back than Las Americas, attracting older holidaymakers and families with its range of smart, mid-range hotels. At one of Los Cristianos' two large beaches, there is special access for people with disabilities, so everybody can enjoy the beautiful sea here.
Where to Stay in Los Cristianos
Paloma Beach Apartments – This second-generation family-run hotel is set back just a few minutes from the sea, meaning you can be on the beach and have fun in almost no time at all. This staff makes a real concerted effort to give this place a true family feel. Everything here is also beautifully maintained and renovated and apartments come with fabulous views. The pool area here is a particularly fun place. Though it's got a restaurant, there are many others to choose from just on the doorstep.
San Cristobal de la Laguna
The attractive historical capital of Tenerife: San Cristobal de la Laguna has a traffic-free zone which covers the old city center. The town is lined with traditional colorful houses dating back to the 16th century. Take look around the elegant cathedral and enjoy the views from the top of the church's bell towers.
The town has many little shops and cafes and is a great area to set up a home base to soak up the vibes of traditional Tenerife, before hiring a car to explore the island's beaches.
If you want to experience more of the ancient side of the island's culture and get a feel for how the locals live, then you should choose to stay in la Laguna. Hotels and accommodation vary from hostels and guest houses to mid-range hotels in colonial buildings.
Where to Stay in San Cristobal de la Laguna
La Laguna Gran Hotel – This hotel has just about all the wow factor you could need when it comes to an upmarket hotel. Housed in a centuries-old building, La Laguna Gran Hotel has been meticulously restored; you can opt for a room with a whole lot of character in the 'old wing,' or choose something with a little more modern simplicity in the 'new wing' of the hotel. This 4-star offering boasts a lobby and a bar, plus a Michelin Star restaurant, that ooze pure class and sophistication.
El Medano
This town has the longest beach on the whole of Tenerife, stretching for two kilometers, so if relaxing in the sun is what you are looking for, this is the place for you. With a lively esplanade packed with shops and cafes, bars and restaurants, the town itself is an old fishing village with a traditional, timeless feel.
A great spot for trying out watersports, windsurfing is big here, and you will find many shops selling equipment for the keen windsurfers.
If you are traveling on a budget, there are clean and welcoming hostels available in town, or if you have a little more to spend you could try out the hotels right on the seafront. It's easy to walk to nearby towns from El Medano, but if you want to see further afield, then hiring a car is recommended.
Where to Stay in El Medano
Hotel Médano – Located right on Medano Beach, the interiors of this hotel are simple and pared back to reflect the endless blue of the surrounding seas and skies. Its unfussy interiors create a laid back environment where you'll feel comfortable enough to relax in your own way. There are four large sun terraces with sublime views of the Red Mountain across the bay. Medano Beach is particularly great for kitesurfing enthusiasts – or simply soak up the rays watching the kite surfers play.
Puerto de Santiago
The old fishing village of Puerto de Santiago has a distinctly Spanish feel. Set on a hillside, it is home to many locals. The neighboring towns of Playa de la Arena and Los Gigantes are close-by, making it easy to walk between each one.
The main bus route also passes through, which makes visiting other towns a piece of cake. The town itself boasts plenty of bars and restaurants, with a reputation for locally caught fresh fish, barbecued and served with salad and a spicy mojo picon sauce.
Puerto de Santiago has undergone much development recently but still remains quieter than other resort towns. There is a wide choice of all-inclusive, mid-range hotels to stay in, which are popular with older tourists who are looking for a bit of peace and quiet.
Where to Stay in Puerto de Santiago
Aparthotel Los Dragos del Sur – This place has a rustic, beachy feel and boasts apartment-style accommodation, which definitely suits the more independent (or budget conscious) holidaymakers coming to this part of Tenerife. Each apartment has a private terrace boasting either a view of the ocean or the outdoor swimming pool; they're also equipped with kitchens and lounge areas for you to spread out in. Two separate beaches are just a stone's throw away from Aparthotel Los Dragos del Sur, both of which are fantastic for watersports or simply lazing around in the sun.
Costa Del Silencio
With a name that translates to 'silent coast,' Costa Del Silencio sits around a picturesque pebble beach and is home to two of the top golf courses on the island. Located on the sunny south side of the island, it's a great spot for travelers on a budget who are keen to spend their break away from Tenerife's busier towns.
Costa Del Silencio has a selection of supermarkets, shops, local bars and restaurants for visitors to enjoy. There are comprehensive bus routes that connect to other top towns, as well as a number of budget and mid-range holiday apartments to stay in.
Where to Stay in Costa Del Silencio
Los Moxaicos Tenerife – Looking for something quirky and fun? Then you can't go wrong with Los Moxaicos. It's certainly going to be a memorable stay if you choose this place. Each room has been uniquely designed with an artistic, creative theme – even the gardens are filled with Gaudi style sculptures. The owner is very friendly and is happy to have a chat with guests. Los Moxaicos is tucked away from tourists, but still in easy reach of things to do, such as a nearby local market.
Icod de los Vinos
Icod de los Vinos is a tiny town in the north of the island which is famous for its vineyards. Dating back to 1501, it is home to the biggest dragon tree in the world, said to be over 1,000 years old. The shopping street, Calle San Sebastian, reveals historical architecture and beautiful houses, with their charming courtyards and carved wooden balconies. Of course, you can also take some time out for wine tasting at the local vineyards.
The town has a black-sand beach, excellent for swimming, as well as a sea-water swimming pool and tennis courts adjacent to the seashore. A fantastic place to stay if you want to get more for your money, there are a handful of well-priced traditional villas and houses to choose from.
Where to Stay in Icod de los Vinos
Hotel Emblemático San Agustin – Refined, elegant and set inside an 18th century Canarian-style mansion right in the middle of the historic area of town, this hotel is definitely the place for those who love the idea of staying in a historic heritage building. Wooden walkways dripping with lush greenery overlook a sun-dappled courtyard – the ideal spot for a glass of wine or two when evening rolls around. Couples especially will suit the large, beautifully decorated bedrooms (complete with charming wood shutters)
La Orotava
One of the most charming towns on Tenerife, La Orotava is packed full of historic buildings and pretty, narrow lanes. Locals socialize in tavernas whilst children play in the cool of the evening. There are some great shopping opportunities in town, not to mention dining options.
La Orotava's three beaches are great for swimming, but the main attraction is the nearby volcanic Mount Teide and the photogenic church dome below. Hotels in the town feature stunning views of the rural countryside and are ideal for a couple's getaway.
Where to Stay in La Orotava
Parador de Las Cañadas del Teide – To truly escape the tourist crowds of Tenerife, you'd better make a trip to this secluded mountain lodge. Tucked away in the rugged scenery of the volcanic landscape and complete with spectacular views of the jagged Chaorra Caldera and Montana Blanca, this is certainly an idyllic spot for taking some time out in comfortable surroundings. Here, you can enjoy hearty meals at the hotel restaurant and have a drink with friends at the bar at this one of kind location.
Callao Salvaje
Set high on a rugged cliff with a wide stony beach, quiet Callao Salvaje is close to Tenerife's big tourist towns, but much less crowded. A few small hotels dot the mostly residential town. With its pretty, pedestrianized streets, pebbly beach, local shops and bars, it makes an attractive base for a low-key holiday.
Fresh fish is served in the town's small eateries, where locals and tourists enjoy evening meals together. Accommodation is cheap, but it's best to hire a car so you can travel easily to other beaches along the coast.
Where to Stay in Callao Salvaje
Atlantic Holiday Hotel – This modern, fresh and fun holiday hotel is a great choice for young families. Rooms on offer at the Atlantic Holiday Hotel have been recently renovated and feature clean and contemporary furnishings, as well as balconies and kitchenettes. Wake up to views across the ocean and spend your days either splashing around at one of the hotel's two pools, or make the two-minute walk to the sand at the quiet Ajabo Beach. This place is also surrounded by plenty of tasty tapas bars.
Los Gigantes
Named after the large cliffs that dominate the coast here, Los Gigantes is a resort town with a plethora of restaurants serving international dishes; an uncrowded black-sand beach; and an attractive harbor. The beautiful town is perfect for couples and older travelers, and ideal for spending warm days sipping wine in tiny tavernas and hiking along the hilly pathways.
There are bus stops in town which transport tourists to other spots on the island, or you could take a boat trip from the harbor. Hotels with balconies overlooking the ocean are averagely priced, with more budget-friendly accommodation nearer to the town center.
Where to Stay in Los Gigantes
Royal Sun Resort – Being set on a cliff is definitely one of the best things about Royal Sun Resort. For one thing, it means incredible panoramic views from the sun terrace; here, the dramatic sea and cliff vista is the perfect backdrop for relaxation. Perched above the rest of the Los Gigantes area means peace and quiet, but it's still easy to walk around the local neighborhood, where you can find plenty of places to eat as well as local markets to enjoy.
Candelaria
Charming Candelaria is a pretty town set around a beautiful basilica, which is the center for Tenerife's religious worship. The shops surrounding the church sell interesting religious trinkets and on Sundays become busy with locals, who visit from surrounding towns to attend mass.
Candelaria has a bubbly selection of cafes and bars, and there is a welcoming atmosphere among the old streets. The town has some well-priced hotels and acts as a great base for hiking the trails along the coast from Candelaria to hidden caves and natural coves.
Where to Stay in Candelaria
Catalonia Punta del Rey – Placed along the seafront in Las Caletillas, this hotel is just a short walk from the island's capital – meaning plenty of amenities and sights to explore. The hotel itself comes complete with three bars and an Italian restaurant, which also serves up fresh bread and homemade pastries. There's a lot of outdoor space here, including a child's play area, sun terraces, hot tubs, and an outdoor pool, so there's something for everyone to enjoy. Squash fans will love the squash court here, too!