Madrid is a fascinating city, home to great museums such as the Prado and the Royal Palace. Visitors can shop till they drop at El Rastro, the city's famous flea market, and they can indulge in Madrid's specialty: churros dipped in thick hot chocolate. Travelers can augment their stay in the Spanish capital with a few day trips from Madrid to several sites nearby.
7. Valley of the Fallen
[SEE MAP]
Contando Estrelas / Flickr
The Valley of the Fallen is considered one of the world's most controversial monuments. Dictator Francisco Franco ordered the basilica to be built to honor those who died in the Spanish civil war, and used prisoners, some of them political, to carve it out of the mountainside. Despite its controversial beginnings, the monument makes for a popular day trip from Madrid. Now a national park, located a few minutes from El Escorial, the Valley of the Fallen is the final resting place for 40,000 people killed in the 1930s war. The church also is the burial place for Franco, who is the only person buried there who did not die in the Spanish civil war.
See
trip reviews & prices
.
Avila is a must-see for travelers who enjoy visiting churches and cathedrals. Known as "The City of Stone," Avila is reported to have more Gothic and Romanesque churches per capita than any other city in Spain. Overlooking a river, it is the highest provincial capital in Spain. Visitors may want to take a break from touring churches to walk on an intact city wall that was constructed starting back in the 11th century. The church to visit here is the Cathedral of Avila, which is part of the city wall and contains both Romanesque and Gothic features.
See
trip reviews & prices
.
5. New Castle of Manzanares el Real
[SEE MAP]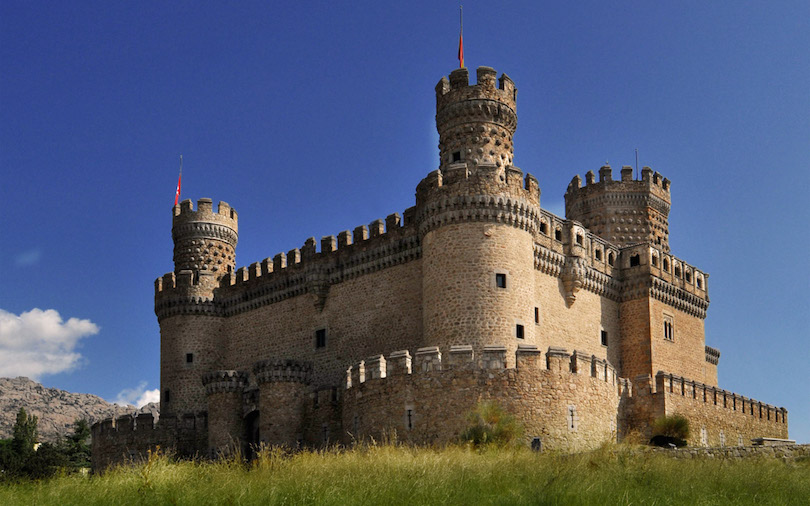 R.Duran / Flickr
The New Castle of Manzanares el Real presents an imposing picture as this 15th century fortress is one of the best preserved castles in the Madrid area. Its other claim to fame is that it featured in a scene in the epic movie, El Cid. The castle is also known as the Castle de los Mendoza because it was a presidential palace for this family. Built entirely of granite, The six-floor castle is a good example of Spanish military architecture. Today it houses a museum on Spanish castles. It's located 50 kilometers (about 30 miles) from Madrid in the foothills of the Guardarrana mountains.
The medieval city of Cuenca offers sights that travelers won't see every day: houses hanging from cliffs. Cuenca is a fortress town that has been fought over for many centuries. Some buildings, including the Catedral de Nuestra Señora de Gracia, date back to the 12th century. This was Cuenca's first Gothic cathedral, though its demeanor has changed over the centuries. Cuenca is a good place to soak up some Old World charm. Cuenca is about 160 km (100 miles) from Madrid, which is doable on a long-day trip, especially if travelers take the AVE or high-speed train that makes the trip in about an hour.
Alvaro Oporto / Flickr
The Monastery is just one part of the complex known as El Escorial that is also made up of a royal palace, a school and a museum, It was built in the 16th century under an architect who worked on St. Peter's Basilica in Rome, and was intended by King Phillip II to demonstrate Spain's influence on the Christian world. The monastery is known as San Lorenzo el Real del Escorial, after St. Lawrence of Rome. Originally built for the Hieronymite monks, today this austere structure is occupied by the Order of Saint Augustine. Among the most popular day trips form Madrid, access to El Escorial is easy due to the large number of local trains every day.
See
trip reviews & prices
.
Dave_B_ / Flickr
Toledo is an ancient city that is just made for strolling cobblestone streets. It's built on a hillside, so visitors will want to start their tour at the top of the hill, then walk down, getting a feeling for the town that El Greco, one of Spain's greatest artists, called home. This ancient city is a blend of Christian, Jewish and Muslim cultures, and it's possible to find buildings that were used by all three faiths at different times over the centuries. The Alcazar and Cathedral are must-sees here, while marzipan is the local treat to eat. The AVE high-speed train takes 33 minutes from Madrid's Atocha station.
See
trip reviews & prices
.
Segovia is an ancient city that over the centuries has belonged to the Celts, the Romans, Islamists and Christians. The city was a trade center, with a good textile industry. Isabella 1, who financed Christopher Columbus' trip to the New World, was crowded queen at the church of San Miguel de Segovia in 1474. Visitors won't want to miss seeing the Aqueduct of Segovia, which dates back to the first or second century. It remains an architectural marvel today, with 25,000 blocks held in place without cement. Segovia is located 80 km (50 miles) from Madrid and is only one hour away by bus or thirty minutes by the AVE high speed train.
See
trip reviews & prices
.