No trip to Spain is complete without seeing a castillo or alcazar. The blend of architecture involved in their construction is amazing. Some started out as Roman fortresses, while others were built when the Moors ruled Spain. They are majestic, imposing, classic, stately and beautiful all at the same time. If you're short on time, there are several castles near Madrid that make excellent day trips. If you have unlimited time, all the better to explore these masterpieces of Spanish architecture.
Valtchan / Wikipedia
The stately Aulencia Castle is believed to be of Moorish origin, since it was built during Muslim rule. The castle is built on Horcajo Hill at the confluence of the Guardarrama and Aulencia rivers, hence its name. The castle is considered small when compared to other castles near Madrid. Its outstanding features include the main tower (tower of homage) where the nobility lived and eight other towers. The castle is in ruins today, but still projects a quiet dignity. The castle is privately owned today, with a formidable fence surrounding it.
Castillo de Batres
Located just 43 km (27 miles) from Madrid, Batres Castle is the top tourist attraction in the village of Batres on the Guardarrama River. Surrounded by trees, the 15th century Batres Castle presents an imposing appearance. One unique feature you should look for is the diamond shapes on the tower corners. Other notable features are an 82-foot high keep, the highest of the towers; a stunning iron balcony, and a Renaissance courtyard. Also not to be missed is the Garcilaso fountain that can be found under a brick arch that is surrounded by plaques inscribed with poetry.
5. Castle of La Mota
[SEE MAP]
It takes less than two hours to dive from Madrid to the Castle of La Mota in Valladolid province. The trip allows you to see the Spanish countryside, ending with a visit to a very imposing castle. Castle of La Mota is believed to sit on the site of a former Roma fortress and most likely a later Moorish fortress. The present castle dates back to the 15th century. The castle is known for its outer barbican and trapezoidal-shaped interior. Before it fell into ruins in the 17th century, it was a state prison housing the brother of explorer Francisco Pizarro, nobility, and even Borgia royalty from Italy.
druidabruxux / Flickr
If Coca Castle oozes luxury, it's because it was constructed by a wealthy 15th century archbishop who liked opulence. The setting is sublime, with the castle surrounded by a pine forest. This is apropos since the castle today is home to a school for forestry students. Coca Castle may have been built by Moorish craftsmen, but its presentation is Christian. It is considered a prime example of brick military architecture. Some visitors, however, think it's too ornate to be a military castle. The privately owned castle, located 92 miles from Madrid, is accessible only on a guided tour.
3. Alcazar of Toledo
[SEE MAP]
https://commons.wikimedia.org/ / Wikipedia
Architecture and history make a stunning combination at the Alcazar of Toledo, located 69 km (43 miles) from Madrid. The Romans constructed the original fortress in the third century BC. Later rulers made changes to the castle during restoration efforts. As a result, this large square castle reflects four architectural styles: Renaissance; Plateresque, which combines Gothic, Muslim and Italian elements; medieval, and Spanish Baroque, also known as Churrigueresque, Each of the castle's four towers reflects a different style. The castle became a symbol of nationalism during the Spanish Civil War when Nationalists withstood a major siege by opposing forces.
2. New Castle of Manzanares el Real
[SEE MAP]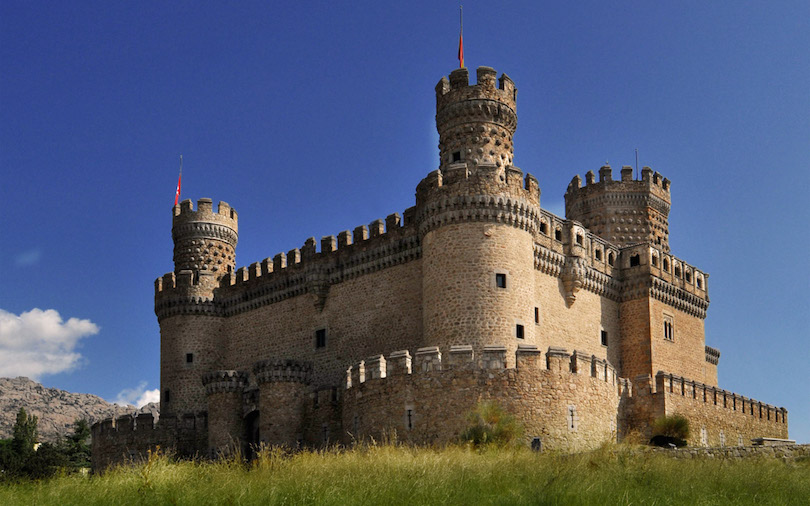 R.Duran / Flickr
The 15th century New Castle of Manzanares el Real is considered one of the best preserved castle in the Madrid area. It once hosted local nobility, but today houses a museum devoted to castles in Spain and tapestries. Situated on the Manzanares River, it's called the New Castle since it replaced an older castle located nearby. The new castle was lived in by the Mendoza family for only about a hundred years. The quadrangular granite castle features for circular towers with a Gothic gallery that is considered beautiful by military standards. The castle is especially beautiful when lit up an night or against the blue skies of day.
1. Alcazar of Segovia
[SEE MAP]
Born as a Roman fortress, the Alcazar of Segovia soon evolved into the massive structure it is today. It takes just over an hour to drive from Madrid to the alcazar situated on a hill overlooking Segovia and the confluence of the Klamores and Eresina rivers, it's considered a fairy tale castle, perhaps a model for Disney's Cinderella castle, though it doesn't have as much gingerbread as other European castles. It also differs from other Spanish castles because it's built like the bow of a sailing ship. Over the centuries, it's served as a fortress, royal palace, prison and military academy.