Nestled in the picturesque region of Catalonia, Girona is a mesmerising destination that seamlessly blends ancient charm and modernity. Renowned for its historical significance and architectural marvels, the city's cobbled streets and medieval walls echo a storied past, enchanting visitors with every step.
Girona is best known for its stunning cathedral, which dominates the skyline with its majestic spires and intricate facades. Moreover, fans of the critically acclaimed television series 'Game of Thrones' will recognize the city as the filming location for some of its most iconic scenes. Thronees will delight in immersing themselves within these places.
Beyond its historical grandeur and cinematic connections, there are plenty of other things to do in Girona. The city's intoxicating ambiance invites exploration of its charming neighborhoods, delicious Catalan cuisine and rich local culture.
In this post, we'll cover:
17. Esglesia de Sant Feliu
Església de Sant Feliu (Church of Sant Feliu) is an ancient church in the heart of the Old Town. It dates back to the 14th century and is an iconic symbol of Girona's religious significance.
The church's striking facade, featuring a blend of Romanesque and Gothic styles, is a captivating sight, especially the majestic Baroque entrance portal. Once inside, visitors can explore many fine examples of religious art, including stunning altarpieces, delicate stained glass windows, and intricate sculptures.
Església de Sant Feliu holds a profound historical importance, as it is dedicated to Saint Felix, the patron saint of Girona. Standing within the hallowed halls of this historical gem, you can't help but marvel at its intricate craftsmanship and a palpable aura of spirituality.
16. Caso Maso
A visit to the Caso Masó in Girona offers a unique glimpse into the life and work of one of Spain's renowned architects, Rafael Masó.
This historic building, located in the heart of Girona's Old Town, was once the family residence of Masó. They played a pivotal role in the city's architectural development during the early 20th century.
Today it showcases the Art Nouveau style, also known as 'Modernisme', characterized by its elegant curves, intricate details and harmonious integration of nature into design.
As you wander through the meticulously restored interiors, you'll discover a fascinating blend of traditional Catalan elements and innovative architectural features. They take the form of stunning stained glass windows, wrought iron balconies and ornate ceilings.
In addition to its architectural significance, Caso Masó also serves as a museum, providing insight into the life and works of Rafael Masó. Visitors can explore his personal artifacts, sketches and designs, gaining a deeper appreciation for the artist's creative vision and enduring legacy.
15. Placa de la Independencia
The Plaça de la Independència (Independence Square) is a must-visit destination for any traveler to Girona.
Steeped in history, the square dates back to the medieval period. Its central focal point is the iconic Independence Column, erected in 1869 to commemorate Catalonia's struggle for autonomy and freedom. Surrounding the square are elegant buildings that showcase various architectural styles that reflect Girona's rich heritage.
Plaça de la Independència is not only historically significant but also a bustling hub of activity. Its vibrant atmosphere draws both locals and visitors, who come to enjoy the many cafes, restaurants, and shops that line the square's edges.
14. Girona Art Museum
If you are an art lover, make a point of visiting the Girona Art Museum.
Housed in the beautifully restored Episcopal Palace, the museum resides in the heart of Girona's historic Old Town. Its collection spans from medieval times to the 20th century, showcasing an impressive array of Catalan and European art.
The museum's galleries hold diverse exhibits, including religious sculptures, medieval paintings, and modernist masterpieces. Notably, it houses the famous 'Tapestry of Creation', a stunning Romanesque textile that depicts biblical scenes.
Beyond its extensive art collection, the museum's architectural charm is also a highlight. The medieval palace provides a fitting backdrop for the artwork, creating a harmonious blend of history and creativity, which you should take the time to appreciate.
13. Parc de la Devesa
Parc de la Devesa provides a delightful escape into nature's embrace when you need a rest from sightseeing. With a history dating back to the 19th century, this sprawling park is one of Catalonia's largest urban green spaces.
Originally designed as a military training ground, Parc de la Devesa is now a picturesque park. It offers a serene environment with lush lawns, winding pathways, and tall shady trees, providing respite from the hustle and bustle of city life. Moreover, its expansive grounds are perfect for leisurely strolls, picnics, or simply unwinding amidst the tranquillity of nature.
The park also hosts numerous events and festivals throughout the year, adding to its vibrant atmosphere. From concerts to cultural celebrations, something always entertains in this beautiful green space.
12. Flower Festival
One of the best times to visit Girona is during its Flower Festival in May.
The festival, known locally as 'Temps de Flors', celebrates the arrival of spring and has a history that dates back to 1954.
During the festival, the entire city becomes a canvas for floral artistry. Residents, businesses, and artists adorn the streets, squares, and historical buildings with intricate floral arrangements, creating breathtaking displays showcasing creativity and talent.
The Flower Festival celebrates the beauty of flowers and serves as a cultural event featuring concerts, exhibitions, and activities that engage locals and visitors. It is a time of joy, community spirit, and an opportunity for visitors to immerse themselves in the enchanting ambience of Girona at its most colourful.
11. La Rambla de la Llibertat
La Rambla de la Llibertat is a charming tree-lined promenade stretching from Plaça de Catalunya to the Onyar River. Since the 19th century, it has been a gathering place for the community. Today, it comprises a vibrant pedestrian street adorned with numerous cafes, shops, and restaurants, offering a perfect blend of shopping, dining, and people-watching opportunities.
The avenue's picturesque setting also features beautiful flower stalls and occasional street performances, adding to its lively ambiance. Along its course, you'll encounter several notable landmarks, including the Fontana d'Or, a stunning 19th-century fountain that adds to the charm of this iconic street.
It's a place where you can feed off the city's energy, engage with locals, and embrace Spanish culture.
10. Day trip to Castellfollit de la Roca
If time permits, we recommend a day trip to Castellfollit de la Roca. Situated just 30 kilometers west of Girona, this picturesque village enjoys a stunning location, perched atop a narrow basalt crag, with the Fluvià and Toronell rivers flanking its sides.
The journey to Castellfollit de la Roca offers scenic views of the Catalan countryside, with vineyards, fields, and rolling hills dotting the horizon. Upon arrival, you'll be captivated by the village's unique setting and historic architecture, featuring stone houses and narrow streets that wind through the natural rock formations.
Don't miss visiting the Santa Maria Parish Church, a prominent landmark with a Gothic facade. Also, take in the panoramic vistas from the Mirador dels Bous, a viewpoint overlooking the valleys below.
9. Monastery of Sant Pere de Galligants
One of Girona's oldest and most captivating sites is the Monastery of Sant Pere de Galligants.
This ancient Benedictine monastery, dating back to the 12th century, is a remarkable example of Romanesque art. As you step into the monastery's intricate cloisters and elegant church, you are surrounded by exquisite arches, sculpted capitals, and ornate details. The blend of simplicity and grandeur in its design reflects the site's spiritual significance during the Middle Ages.
Apart from its architectural beauty, the Monastery of Sant Pere de Galligants now houses the Archaeological Museum of Catalonia. It displays a fascinating collection of artifacts that offer insights into Girona's historical past.
Exploring the Monastery of Sant Pere de Galligants is enriching and humbling. The tranquility within the walls and the intricate craftsmanship are awe-inspiring.
8. Eiffel Bridge
A visit to Girona's Eiffel Bridge is a one-of-a-kind experience that showcases the brilliance of Gustave Eiffel, the renowned engineer behind the Eiffel Tower in Paris. This beautiful iron bridge, officially known as the 'Pont de les Peixateries Velles', spans the Onyar River, connecting the historic Old Town to the newer parts of the city.
Built in 1877, the Eiffel Bridge is a testament to Eiffel's skill in ironwork and engineering. Its intricate lattice structure and graceful arches possess a timeless charm that complements the medieval architecture surrounding it.
Walking across the bridge offers breathtaking views of the colorful houses that line the riverbanks. It also provides an excellent vantage point for capturing postcard-worthy photographs of Girona's iconic landscapes.
7. Cinema Museum Girona
If you are a fan of the silver screen, you'll want to visit the Cinema Museum Girona. It resides in the remarkable Casa de la Punxa, a historic building in Girona's Old Town.
Taking you on a captivating journey, the museum presents a collection of artifacts, memorabilia and interactive exhibits that trace the evolution of cinema from its inception to the modern-day.
It showcases an impressive array of vintage film projectors, cameras and film posters, providing visitors with a comprehensive understanding of filmmaking's technical and artistic aspects. One of the highlights is the Lumière Brothers' original cinematograph, a rare gem that marks the birth of cinema.
The Cinema Museum Girona also hosts regular film screenings and special events, making it an engaging and immersive experience for cinephiles of all ages.
6. Arab Baths
For those wanting a taste of what the city was like during the medieval era, be sure to pencil in a visit to the Arab Baths.
These baths, dating back to the 12th century, are well-preserved remnants of Girona's Moorish influence during Spain's Islamic occupation. They showcase a fascinating blend of Roman and Moorish architectural styles, featuring elegant arches, delicate columns, and intricately designed ceilings.
In the past, the baths were an essential part of daily life, serving as a place for hygiene, relaxation, and social gatherings. Venturing through the various chambers, including the warm and hot rooms and the cool water pool, provides insight into the ancient bathing rituals and customs of the time.
5. Museum of Jewish History
The Museum of Jewish History is a fascinating place to visit whilst in Girona.
Housed in the Bonastruc ça Porta Center, a former Jewish synagogue, the museum offers a comprehensive exploration of Jewish life, traditions and the history of its people.
The museum's exhibits include a remarkable collection of artifacts, documents and multimedia presentations, which showcases the Jewish community's contributions to Girona's history and its interactions with other cultures.
One of the museum's notable features is the mikveh, a ritual bath, which stands as a testament to the spiritual practices of Girona's Jewish inhabitants during medieval times.
The museum serves as an essential bridge between the past and present. It also fosters understanding and promotes tolerance among visitors from all walks of life, reminding them that people are all the same.
4. Walk the Medieval Wall
One of Girona's most prominent landmarks is its spectacular Medieval Wall. Dating back to Roman times and expanded and fortified during medieval times, the wall is an impressive defensive structure encompassing the old town.
Walking the medieval wall allows you to explore its well-preserved sections, complete with watchtowers, bastions, and fortified gates. All of which reflect the city's strategic importance throughout history.
The route offers stunning vistas of Girona's picturesque landscapes, including the colorful houses along the Onyar River and the towering spires of the Girona Cathedral.
Visiting the Medieval Wall is one of the most highly recommended things to do in Girona. Indeed, for many people, standing atop the ancient walls and imagining the generations that have walked these same paths over the centuries is a powerful and humbling experience.
3. Onyar River View
The Onyar River is a picturesque, iconic waterway encapsulating the city's charm and beauty.
Meandering through the heart of Girona's old town, the river is flanked by rows of colorful houses with vibrant facades. These houses, known as 'cases penjades' or hanging houses, are a distinctive architectural feature of the city and add to its unique character.
The Onyar River View offers a postcard-worthy scene, with the reflections of the buildings shimmering on the water's surface, creating a captivating visual spectacle. The most famous bridge spanning the river is the Eiffel Bridge, designed by Gustave Eiffel, which provides an excellent vantage point to admire the view.
Overall, the combination of the colorful houses, the tranquility of the river, and the historical bridges are an idyllic site you'll want to take time to appreciate.
2. Girona Cathedral
Girona Cathedral – also known as the Cathedral of Saint Mary of Girona – is a prominent landmark in the city's skyline.
The stunning Roman Catholic cathedral, built between the 11th and 18th centuries, represents a harmonious blend of various architectural styles, including Romanesque, Gothic and Baroque.
It boasts a magnificent nave, intricate chapels and a grand Baroque facade that commands attention. Flanked by elegant fountains, its iconic wide staircase leads visitors to the main entrance with a sense of grandeur.
Inside, you'll find an impressive collection of religious art and artifacts, including a magnificent 11th-century tapestry portraying the Creation.
The cathedral's spiritual ambiance and timeless beauty also make it a place of reverence and reflection. Inviting visitors to connect with the city's religious heritage and the artistic achievements of its past.
1. El Call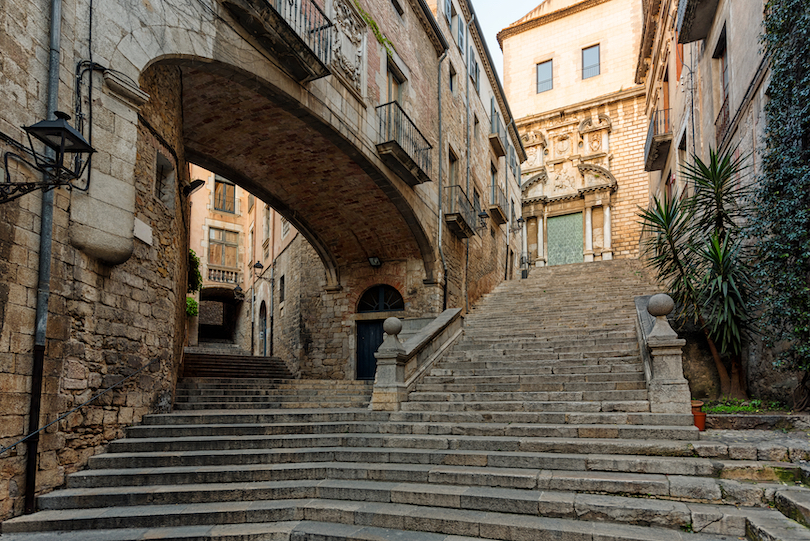 Whilst in Girona, be sure to check out the Jewish Quarter. Alternatively known as 'El Call', this well-preserved neighborhood is one of the best-maintained Jewish quarters in Europe. It offers a glimpse into the life and traditions of the medieval Jewish community.
As you stroll through its labyrinthine streets, you'll discover narrow alleys, ancient buildings, and hidden courtyards that harken back to Girona's vibrant past. The Jewish Quarter features notable landmarks such as the Bonastruc ça Porta Center, the former synagogue that now houses the Museum of Jewish History.
Exploring this historic district provides a fascinating insight into the coexistence of Jewish and Christian cultures during the Middle Ages. It's a place of profound significance, evoking emotions of reverence and respect for the resilience of the Jewish community in Girona.
Where to Stay in Girona
For first-time visitors or those short on time, the best area to stay in Girona is the Old Town (Barri Vell). Here, you'll find cobbled streets, ancient architecture and proximity to iconic landmarks like the Girona Cathedral and the Jewish Quarter.
In terms of accommodation in this area, Hotel Nord 1901 is a standout choice. Set in a restored building, this boutique hotel exudes charm and elegance. Its best features are a lovely garden terrace, a refreshing pool and well-appointed rooms.
Another area we recommend staying in is Eixample, a more modern district with a vibrant atmosphere, trendy shops and a wide selection of restaurants. Staying here offers easy access to Girona's cultural attractions and a taste of its contemporary lifestyle.
Hotel Ultonia is near the train station and the Eixample district. Its top-notch amenities include spacious and modern rooms, a rooftop terrace with stunning city views and proximity to the main tourist attractions in Girona, making it an ideal base for city exploration.
How to get to Girona
Getting to Girona is relatively straightforward, thanks to its strategic location and excellent transportation connections.
If arriving internationally, the most common route is flying into Barcelona El Prat Airport, about 100 kilometers from Girona. From there, you can take a 1-hour train ride from Barcelona Sants station to Girona – services run frequently throughout the day.
For some travelers, direct flight options into Girona-Costa Brava Airport are possible from major European cities like Amsterdam, Gatwick, Warsaw and Thessaloniki.
Alternatively, you can drive to the city via the AP-7 highway, which connects to Barcelona and provides access to France to the north.
Best Time to Visit Girona
Although average temperatures of 29°C (84°F) can be a bit hot for sightseeing sometimes, July and August are when most people visit. Flight prices are at their most expensive though with many locals heading off on holiday to avoid the heat. The Costa Brava's idyllic beaches are just an hour away, however, if you need to cool off.
Spring is a much more comfortable time to visit temperature-wise though April and May are also amongst the rainiest months in Girona. The city also hosts some of its biggest festivals such as Semana Santa, the Temps de Flors and Sant Joan celebrations with accommodation prices being higher as a result.
Autumn too is lovely for sightseeing with swimming still possible at the coast. Temperatures average 21 to 24°C (70 to 75°F) in September and October and there are lower prices and fewer crowds. It does rain more than in summer though.
Map of Things to do in Girona, Spain
© OpenStreetMap © MapTiler © Touropia