Famed for its towering skyline that looks out over Victoria Harbor, the city of Hong Kong is an enthralling place to visit, combining history, culture, and entertainment in one enticing package. Once a British colony, Hong Kong was returned to China in 1997. As such, it developed a distinct identity that is different from that of the mainland.
Wandering around its bustling streets is a captivating experience; Taoist and Buddhist temples can be found here and there, alongside fantastic museums such as the Hong Kong Museum of History and more.
A fun place to visit, there are loads of brilliant restaurants, bars and entertainment options available to visitors – such as Disneyland and Ocean Park – and nature is never very far away in the form of its delightful public parks. In addition to these tourist attractions in Hong Kong, there are breathtaking views on offer from such places as Victoria Park and aboard the Star Ferry. With so much to see and do, Hong Kong really does have it all.
See also: Where to Stay in Hong Kong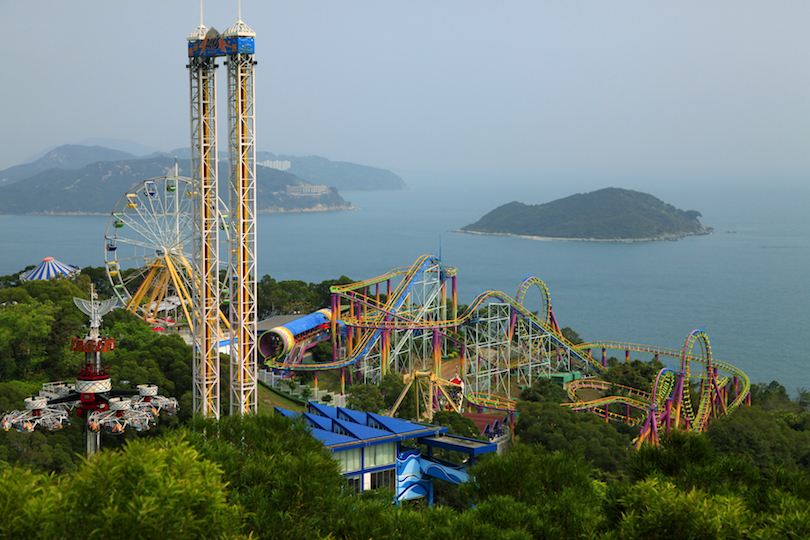 A perfect day out for all the family, exploring Ocean Park's wealth of attractions is loads of fun. It's an oceanarium, animal theme park and amusement park rolled into one.
Opened in 1977, it is as entertaining as it is educational. Giant pandas, orcas, dolphins and more can be found within the park.
The Rapids ride in the rainforest part of the park is great fun to go on, and the Dragon rollercoaster will certainly set your heart racing as you shoot around the tracks. With so many rides to enjoy and a plethora of animals and fish to see, Ocean Park certainly won't disappoint with all that it has to offer.
16. Wong Tai Sin Temple
[SEE MAP]
Located in the north of Kowloon, Wong Tai Sin Temple is a lovely Taoist temple that is dedicated to the Great Immortal Wong: a deity who was famed for their healing powers.
Featuring traditional Chinese architecture, the temple's red pillars, golden roof, and beautiful halls are now a popular tourist destination and there is a great portrait of Confucius on display.
The kau cim practice of fortune telling is very popular here and many worshipers come to request answers from the sacred oracle.
The oldest temple in Hong Kong, Man Mo dates back to 1847. Worshipers still come here to pay their respects to the literature god Man and the martial god Mo.
While there are several such temples in Hong Kong, the most popular and most frequented one is at Sheung Wan.
An atmospheric place, the temple is a peaceful and quiet spot, perfect for contemplation. It is well worth stopping by if you're in the area.
14. Tsim Sha Tsui East Promenade
[SEE MAP]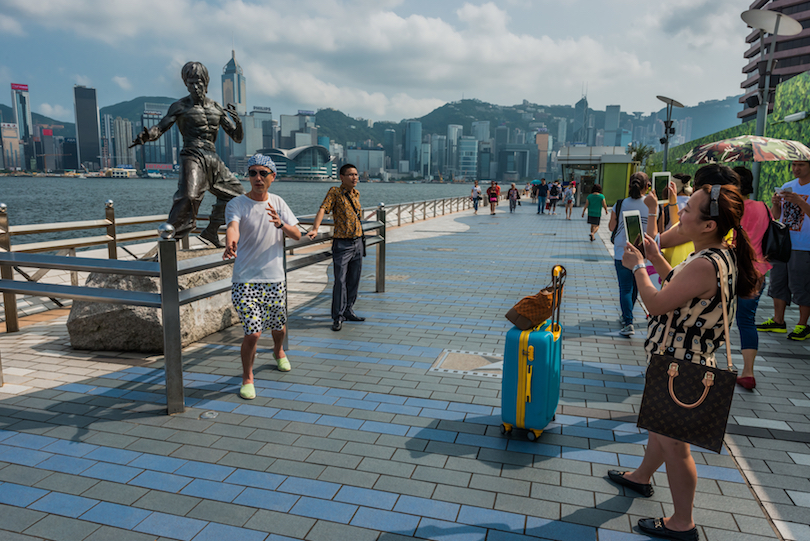 Walking along the Tsim Sha Tsui East Promenade is an unforgettable experience and the view of Hong Kong's skyline is awe-inspiring to behold.
While ambling along, you'll pass the historical Clock Tower, the Hong Kong Cultural Centre and the Hong Kong Space Museum. There are various cafes and restaurants for you to stop off at.
The promenade is even more special at night when the Hong Kong skyline stands out dramatically against the sky and every night at 8pm the dazzling Symphony of Lights lights up the night sky with sychronised lasers and searchlights.
Located on the 100th floor of the International Commerce Centre, the views from Sky100 are simply divine; you can see all of Hong Kong and Victoria Harbor laid out below you.
The 360-degree observation deck has a cafe where you can grab a bite to eat or drink while taking in the views, as well as a virtual reality attraction and photo booth.
The panoramas on offer are just as stunning at night, when the city's myriad of lights twinkle below you, glittering off the water around them.
This lovely, laidback seaside town is the perfect place to head from Hong Kong if you want to escape the city for a bit. Its serene settings will replenish you after all the sightseeing.
Located on the Sai Kung Peninsula, the town of the same name has lots of restaurants and bars for visitors to choose from; many opt to take a boat trip aboard an old junk.
With lots of activities on offer such as sailing, scuba diving and sunbathing – as well as partying in the evening – Sai Kung is an excellent choice for a day trip.
11. Ten Thousand Buddhas Monastery
[SEE MAP]
With just under 13,000 Buddha's contained within the monastery, the Ten Thousand Buddhas Monastery sells itself slightly short, although visitors will surely come away impressed with its wealth of amazing sights.
Completed in 1957, the path up to the Buddhist temple is absolutely stunning to walk along; 500 life-sized golden Buddha's line the way. At the top, the nine-tier pagoda and temple are just as delightful to wander around as even more Buddhas can be found everywhere you look.
Located in Pai Tau Village, the monastery is definitely worth checking out for its fantastic architecture, scenic setting amongt the hills and endless array of Buddhas.
If you're looking for a relaxing spot to unwind after a hectic morning of sightseeing, Hong Kong Park is the place for you.
Tucked away amidst the towering skyscrapers, the park's landscaped gardens and rock gardens perfectly complement the natural landscape, which has two lovely lakes at its center. Many locals come to practice tai chi or relax amidst the greenery.
A peaceful place, the park also includes the Hong Kong Visual Arts Centre, the Flagstaff House Museum of Teaware, and a little cafe if you want to grab a drink and watch the world go by.
This scenic ridge is one of the most popular parts of a hiking trail that takes you through five country parks. Nature lovers will absolutely adore the wonderful countryside.
The Dragon's Back is located in Shek O Country Park, and the highlight on the hike is the remarkable view from Shek O Peak. Here, you can gaze out over beaches, bays, and roving hills; the scenery is stunning.
With trails of varying lengths, hiking the Dragon's Back will make you feel like you are a million miles away from the busy streets of Hong Kong. You'll return to the city refreshed and ready to explore yet more of its fantastic sights.
8. Hong Kong Museum of History
[SEE MAP]
This fascinating museum is lovely to wander around and is the perfect place to head to if you want to understand more about Hong Kong's rich history and cultural heritage.
The extensive collection focuses on natural history, ethnography, and archaeology, and the 4,000 exhibits remarkably cover over 400 million years of history, with folk costumes, ancient carvings, and fossils all featuring.
Both entertaining and educational, the Hong Kong Museum of History in Kowloon will take you on a whirlwind journey through the ages. Highlights include the Napier Column, a cannon barrel dating to 1650 and a fantastic bridal sedan chair while the reconstructed fortifications in the museum will really help you imagine how the First Opium War which so effected Hong Kong's history took place.
7. Happy Valley Racecourse
[SEE MAP]
Happy Valley Racecourse is loads of fun to visit and is definitely worth checking out when in Hong Kong; there is an infectious party atmosphere about the place.
While many people come to gamble, just as many come to take in the ambiance; themed nights such as Oktoberfest and Carnival only add to the sense of fun as people dress up for the occasion.
First opened in 1846, Wednesday night is the main night on which to visit. A good mix of locals and tourists make up the lively crowd. Put a bet down and who knows, maybe you'll come away with some winnings in addition to memories of a fun night out.
6. Hong Kong Disneyland
[SEE MAP]
Asia's second Disneyland, Hong Kong's version is located on Lantau Island and its wealth of fun rides and attractions make it a perfect place for the whole family to enjoy.
Opened in 2005, there are seven themed areas for visitors to explore. Chinese culture and Feng Shui principles that channel good energy have harmoniously been incorporated alongside sections such as Main Street, USA, Fantasyland, and Toy Story Land.
Loads of fun to wander around, Disneyland has a plethora of rides and attractions; highlights include the majestic Sleeping Beauty Castle, the exhilarating Space Mountain rollercoaster which will certainly set your heart racing and, of course, the spectacular daytime parades where all of your favourite Disney friends such as Mickey Mouse and Pluto make an appearance.
First opened in 1888, the Peak Tram is enjoyed by both locals and tourists alike, who use the funicular to travel to the upper parts of Hong Kong Island.
With fantastic views of the Hong Kong skyline and Victoria Harbor, it is well worth checking out when in the city; riding the funicular is a popular attraction in itself.
Taking you right up to The Peak in Victoria Park, the funicular railway is a useful means of transport and at the top, even more incredible views await.
4. Chi Lin Nunnery & Nan Lian Garden
[SEE MAP]
Displaying some wonderful Tang Dynasty architecture, the Chi Lin Nunnery is a treat to visit. The wonderful Nan Lian Gardens in front are a peaceful haven, tucked away from Hong Kong's bustling streets.
The Buddhist temple complex is marvelous to wander around. Its sixteen fine halls are home to some stunning statues and carvings, such as the exquisite golden Sakyamuni Buddha and the delightfully carved Guanyin who is the goddess of mercy.
The prettily landscaped gardens are a lovely spot to spend some time, and perfectly complement the traditional architecture of the pagoda, bell tower, and library of the nunnery, which was founded in 1934.
3. Tian Tan Buddha Statue
[SEE MAP]
Mark McLaughlin / Flickr
Located on Lantau Island to the west of Hong Kong, the Tian Tan Buddha is spectacular to gaze upon and is often known as the 'Big Buddha' due to its colossal size.
Completed in 1993, the bronze statue impressively sits atop a hill with trees surrounding it. Its peaceful location is very appropriate as it symbolizes mankind's harmonious relationship with the natural world.
Weighing in at over 250 metric tons, the weighty statue is a very popular tourist attraction. The delightful views from the upper platform only add to the perfect scene.
First opened in 1888, riding the Star Ferry is an absolute must when visiting Hong Kong; it is one of the most scenic ferry rides in the world.
Part of the city's public transportation network, the ferries transport locals and tourists between Kowloon and Hong Kong Island. The skylines at either end are stunning.
Crossing Victoria Harbor on the ferry is a memorable affair and you may have to jostle your way to one of the highly valued window seats to catch a glimpse of the amazing panoramas. The views are just as special at night when the skyscrapers light up before you.
Named after Queen Victoria, this delightful park is located on the north of Hong Kong Island. The stunning views from its summit make it one of the most popular tourist attractions in the city.
To reach the top, visitors can take one of the world's steepest funiculars, the Peak Tram. The panoramas are incredible; you can see Hong Kong and the glittering Victoria Harbor below you. The views are just as spectacular at night as the city lights up before your eyes.
There is loads to do in Victoria Park. Many locals head to Hong Kong's largest public park to play football and basketball or go swimming and practice tai chi. A peaceful place, the park hosts numerous events over the year, of which the Lunar New Year Fair is undoubtedly the most popular as fireworks pop off around the city, making for an unforgettable spectacle.