Sandwiched between Russia and China, the land-locked nation of Mongolia is one of the most adventurous places to visit in Asia. Famed for its endless, empty steppe, its rich nomadic culture, and Genghis Khan, the vast country begs to be explored, with a myriad of amazing tourist attractions for visitors to checkout.
Home to majestic mountains, picturesque plains, and the desolate Gobi Desert, Mongolia's wonderfully wild landscapes are breathtaking, with remote yurts found here and there. Besides experiencing nomads' hospitality, other things to do in Mongolia include horseback trekking and camel riding through the spectacular scenery.
In addition, many fascinating festivals highlight Mongolia's rich history, culture, and time-honored traditions.
In this post, we'll cover:
15. Khorgo-Terkh National Park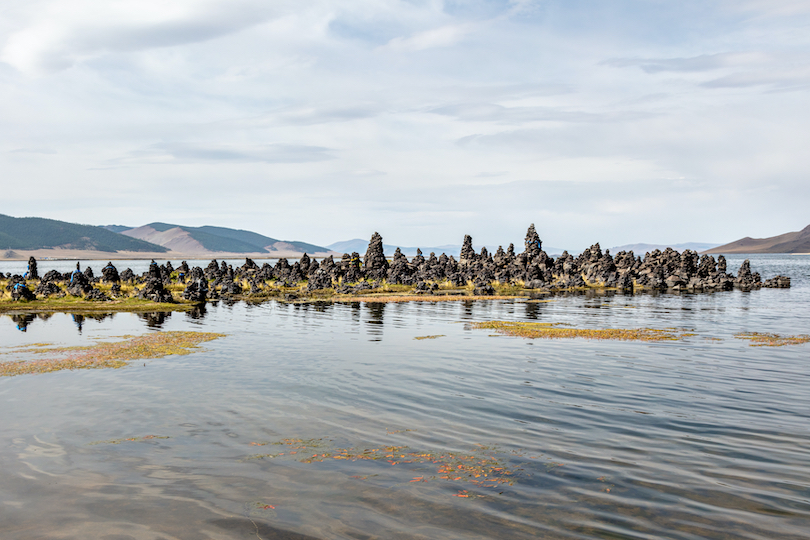 Lying in the alluring and attractive Arkhangai Province of central Mongolia, Khorgo-Terkh National Park boasts splendid scenery and dramatic landscapes. Centered around the reflective waters of Terkhiin Tsagaan Nuur or 'Great White Lake', the park is home to endless hills, steppe, and a large volcanic field.
Its other standout feature is the lofty 2,240-metre-high Khorgo Mountain, a dormant volcano with a cavernous crater that offers outstanding views of the nearby lake from its summit. The national park is a lovely place to visit, and hiking, swimming, camping, and horse trekking are all popular pastimes.
14. Bayanzag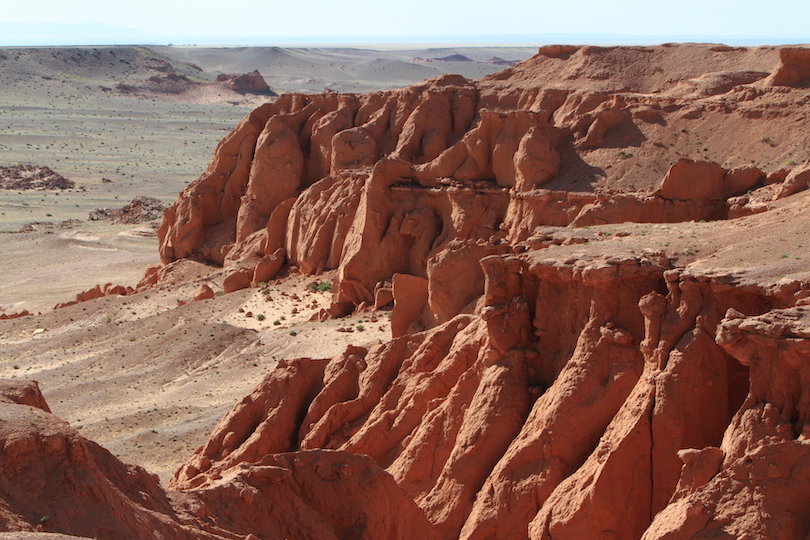 More commonly known as the 'Flaming Cliffs', Bayanzag is a breathtakingly beautiful part of Gobi Gurvansaikhan National Park, found in the south center of the country. The stunning sandstone cliffs were so nicknamed due to their ruddy hue by the paleontologist Roy Chapman Andrews, who excavated the area in the 1920s.
Over the years, a number of fascinating fossils and dinosaur eggs have been uncovered here among its delightfully desolate landscapes. While there is not all that much to do at Bayanzag besides clamber over the cliffs and take in the endless emptiness, the Flaming Cliffs certainly make for an epic sight, particularly when lit up at sunset.
13. Tsenkher Hot Springs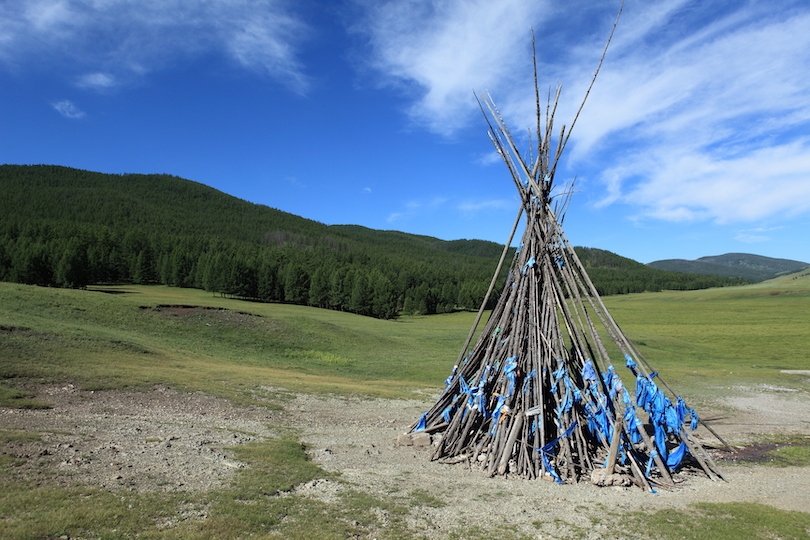 Set among the verdant foothills of the Khangai Mountains, the steaming and soothing Tsenkher Hot Springs have long been noted for their healing properties. Lying in Arkhangai Province, the springs are located in an idyllic spot surrounded by wonderful woods and rolling hills.
Reputed to be the second-hottest in the whole of Mongolia, they are heated by volcanic sources from the nearby mountains. Nowadays, visitors to the Tsenkher Hot Springs can stay in the various resorts that dot the region and relax and unwind in outdoor pools, indoor baths, and spas.
In addition, hiking and horseback riding are very pleasant to do in the picturesque hills and valleys.
12. Gandan Monastery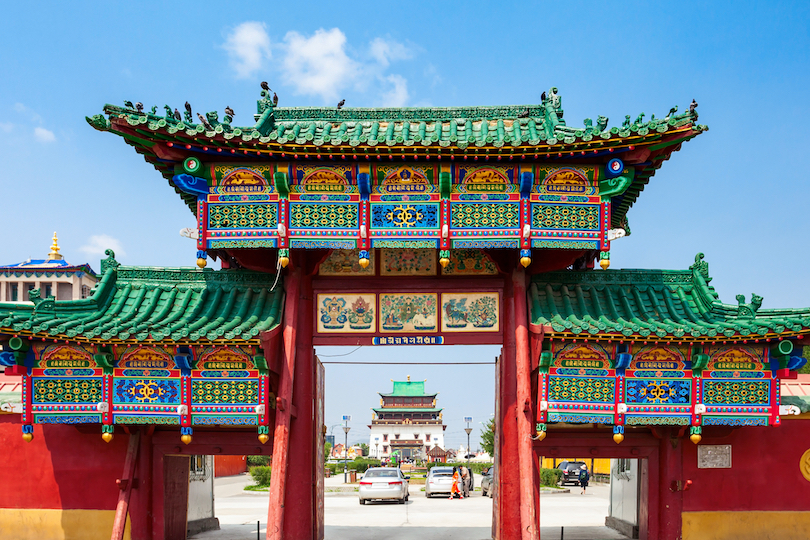 One of the most important and impressive monasteries in Mongolia, Gandan lies in the heart of the nation's capital, Ulaanbaatar. First erected in 1809, it has been rebuilt and restored numerous times over the years, thankfully escaping unscathed from the religious purges of the 1930s. Exhibiting astounding architecture that draws on Chinese, Mongol, and Tibetan influences, the monastery is home to terrific temples and brilliant Buddhist icons and images.
Of the many superb statues, its 26.5-metre-high gold-cased likeness of Avalokitesvara is the star attraction. Meaning 'Great Place of Complete Joy' in Tibetan, Gandan Monastery is amazing to visit. It's still in use to this day, with monks performing daily rites and ceremonies in its grounds.
11. Tsagaan Suvarga
Set in a scenic and secluded spot in the southeast of the country, Tsagaan Suvarga is yet another of Mongolia's incredible natural sights. Stretching over 400 meters in length, the rugged cliffs reach 60 meters in height and boast an astonishing array of colors. Alongside its red and white layers of clay are pastel shades of purples and orange, while the bright blue sky stands out delightfully above.
Often called the 'White Stupa' due to its radiant resemblance to the ritual sites from afar, Tsagaan Suvarga looks out imperiously over the ululating hills that lie around it. Besides basking in the views and hiking around its stunning scenery, visitors can camp at the site and visit the ancient petroglyphs etched into the rock nearby.
10. Khongoryn Els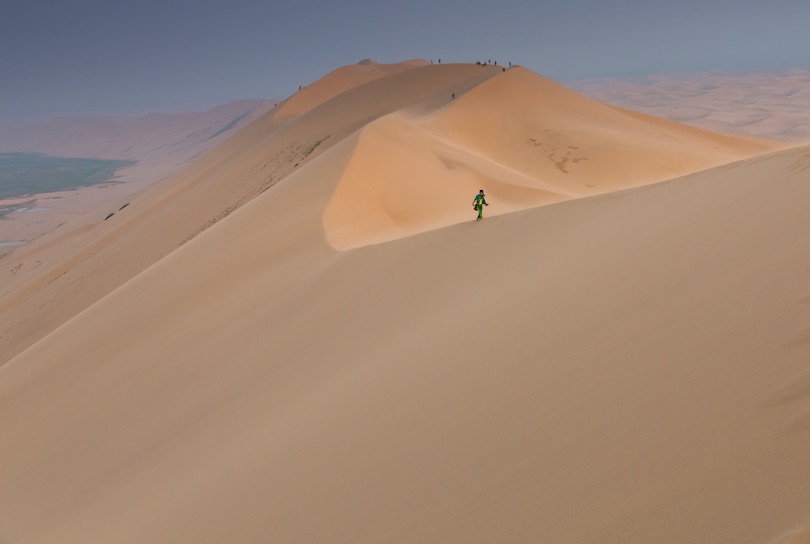 Covering a huge swathe of Gobi Gurvansaikhan National Park, Khongoryn Els is an awe-inspiring sight like no other. Known as the 'Singing Dunes' due to the distinctive sound the sand makes as the wind blows, the enormous dunes reach up to 300 meters in height and stretch for a barely-believable 100 kilometers in length.
While the constantly shifting sands make hiking up to the top of an arduous task, it is well worth it: the views of the endless sand all around you is divine. As the desert landscapes are so spellbinding, camping and camel trekking among the dunes is one of the most magical and memorable things to do in Mongolia.
9. Erdene Zuu Monastery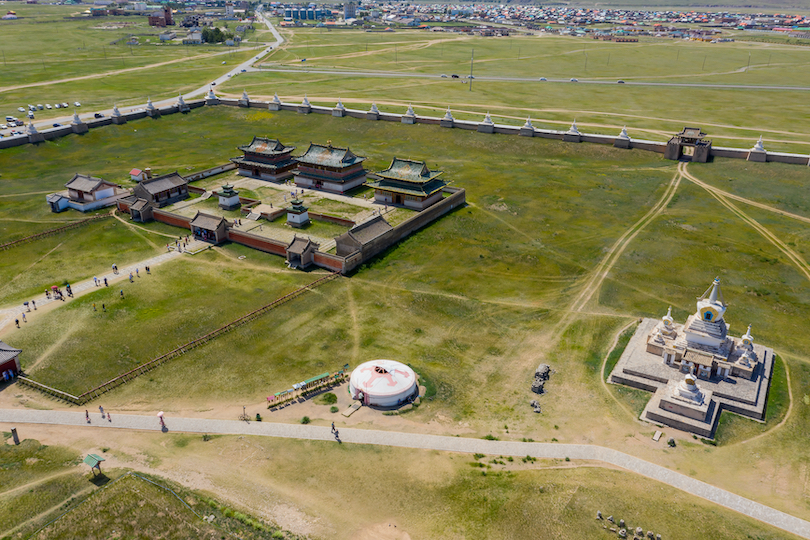 The first Buddhist monastery in Mongolia, Erdene Zuu was founded in 1585. At its peak, it boasted 62 temples, which housed more than a thousand monks. Located next to Karakorum, the former capital of the Mongol Empire (and actually built out of its ruins), the monastery now lies behind a long wall dotted with shining stupas.
Although it suffered persecution and neglect during communist times, there are still some lovely statues and carvings to check out, as well as a handful of impressive temples and ceremonial halls.
Once again an active Buddhist monastery, visitors to Erdene Zuu can watch daily ceremonies and learn more about the complex's rich history and heritage at its marvelous museum.
8. Khustain Nuruu National Park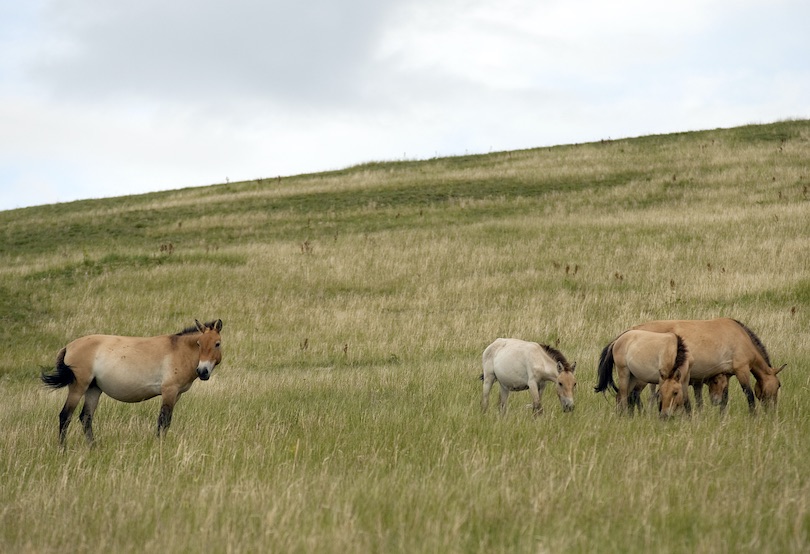 Mostly known as being home to the wonderfully wild and free takhi, a breed of Mongolian horse once thought extinct, Khustain Nuruu National Park protects and preserves their natural habitat. Established in 1993, the park encompasses scenic steppe and low-lying mountains and lies around a hundred kilometers to the west of Ulaanbaatar.
Due to its stunning scenery and renowned residents, the national park is very popular. Many people who visit stay in gers or go horseback trekking through the wilderness. In addition to the takhi, Khustain Nuruu is home to deer, boar, lynx and wolves, with dawn and dusk the best time to catch a glimpse of them.
7. Genghis Khan Statue Complex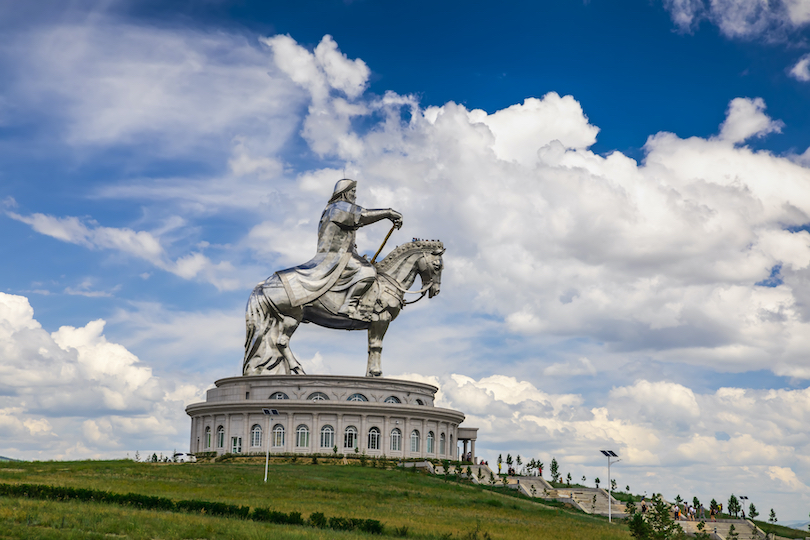 Lying just over 50 kilometers to the east of Ulaanbaatar, this captivating complex is home to one of the nation's most iconic symbols – the enormous Genghis Khan Equestrian Statue. Sat atop his mighty steed, the fearsome founder of the Mongol Empire looks out over the surrounding steppe, dominating and defining the landscape with his sheer size and scale.
Made out of sparkling stainless steel, the spectacular statue towers to a massive 40 meters, with commanding views to be enjoyed from the horse's head. While it is certainly the complex's standout feature, there is also a great museum on offer showcasing ancient Mongolian artifacts.
6. Lake Khovsgol
Surrounded by majestic mountains, forests, and valleys, Lake Khovsgol lies in the far north of the country in a lovely national park of the same name. Formed over two million years ago, it is one of the largest lakes in the land, containing almost 70 percent of the nation's fresh water supply.
Known as the 'Blue Pearl of Mongolia' due to its deep, dark waters, the lake is an increasingly popular tourist destination thanks to its delightful and dramatic scenery. As well as hiking along the lakeshore and swimming in its waters, visitors to Lake Khovsgol can go wildlife watching in the gorgeous landscapes that lie nearby.
5. Horse Riding in Orkhon Valley
For millennia, Orkhon Valley was considered the epicenter of steppe life, culture, and power, with countless khans and kingdoms originating here. As such, it is now littered with historical sights and cultural landmarks: magnificent monuments, monasteries, and memorials are found alongside the remains of the once-great city of Karakorum. In addition, the valley boasts beautiful scenery, with sparkling waterfalls and flower-filled meadows spied here and there.
The area is best explored on horseback. Set almost perfectly in the center of Mongolia, Orkhon Valley is a fantastic place to experience the country's rich pastoral traditions and nomadic ways of life as you stay in gers and follow in the footsteps of the khans.
4. Golden Eagle Festival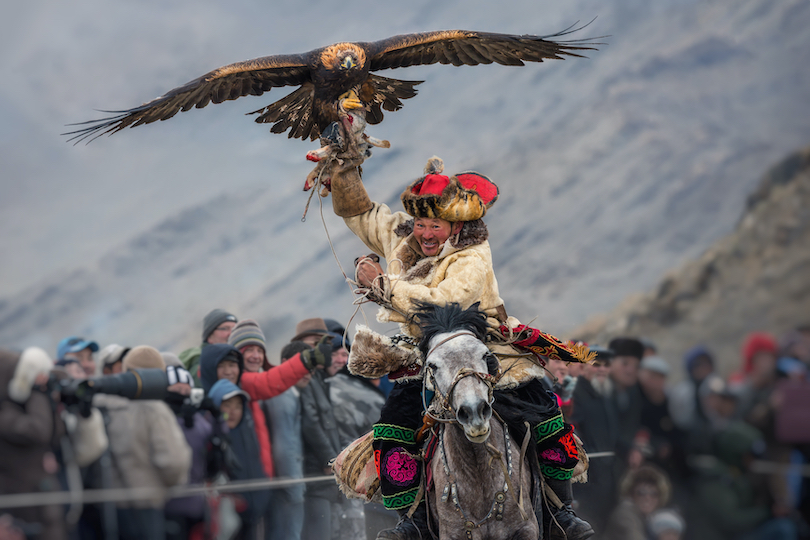 Held every year in Olgii in the far west of Mongolia, the Golden Eagle Festival is a spectacular show sure to set your spirits soaring. Over the course of a weekend in October, a hundred or so Kazakh eagle hunters come to celebrate their heritage through competitions, cultural exhibitions and ceremonies.
Dressed to impress in traditional attire, the hunters compete over a number of categories, and their eagles are rated on speed, agility, and accuracy. Besides their heart-stopping hunts, there are also camel races, horse games, and archery to enjoy. A fascinating festival like no other, Olgii's eagles certainly are exhilarating to watch, with loads of great photo ops to be had of all the events and festivities.
3. Camel Riding in the Gobi Desert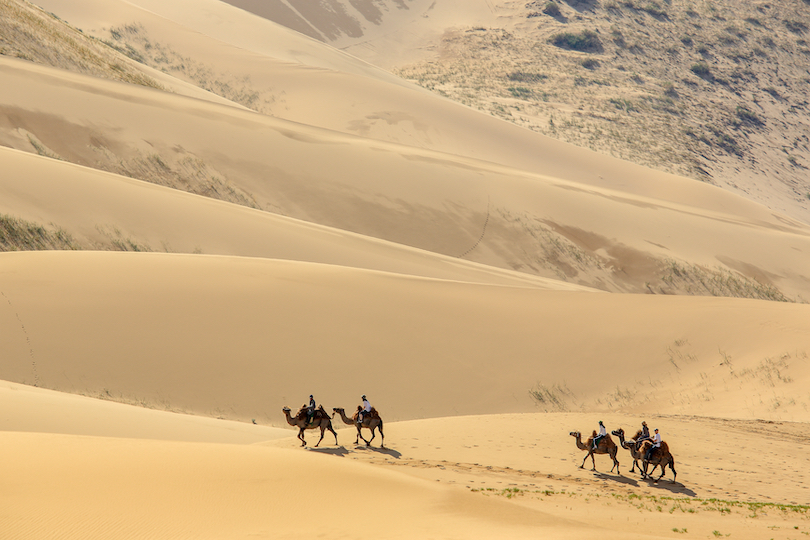 The largest desert region in Asia, the Gobi Desert covers an endless expanse of bleak yet beautiful landscapes in the south of Mongolia. Bounded by prominent peaks, plateaus, and plains, its basin is home to everything from scenic and secluded oases and salty rivers to ancient rock formations and dramatic gorges.
Due to its harsh and unforgiving – yet undoubtedly alluring and attractive – landscapes and scenery, the Gobi Desert is exciting to explore: camel riding through its dunes is an unforgettable experience. Among its many highlights are the cliffs, caves, and canyons of Yolyn Am and Dungeneegyn Am and the singing dunes of Khongoryn Els – all of which lie within Gobi Gurvansaikhan National Park.
2. Stay in a Ger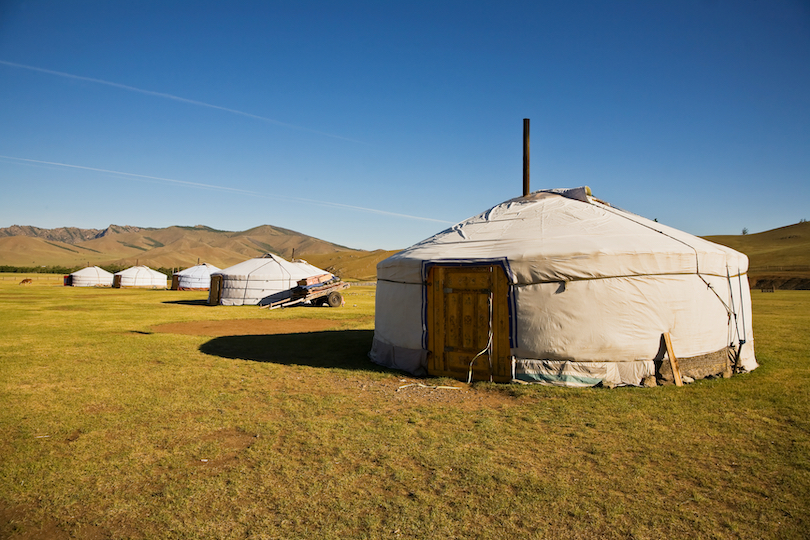 While it is famed for Genghis Khan and the Golden Horde, Mongolia's nomadic traditions are still very much alive, with over 30 percent of its population subscribing to this ancient way of life. As such, you'll certainly come across lots of gers or yurts as you travel around Mongolia's majestic mountains, desert, and steppe.
Staying in one of these warm and welcoming round tents is a great way to learn more about Mongolia's rich cultural heritage as you converse with local families, try milk tea, and sample delicious food. After experiencing this humbling hospitality, you can wake up after a relaxing night's sleep and explore the breathtaking nature that lies all around.
1. Naadam Festival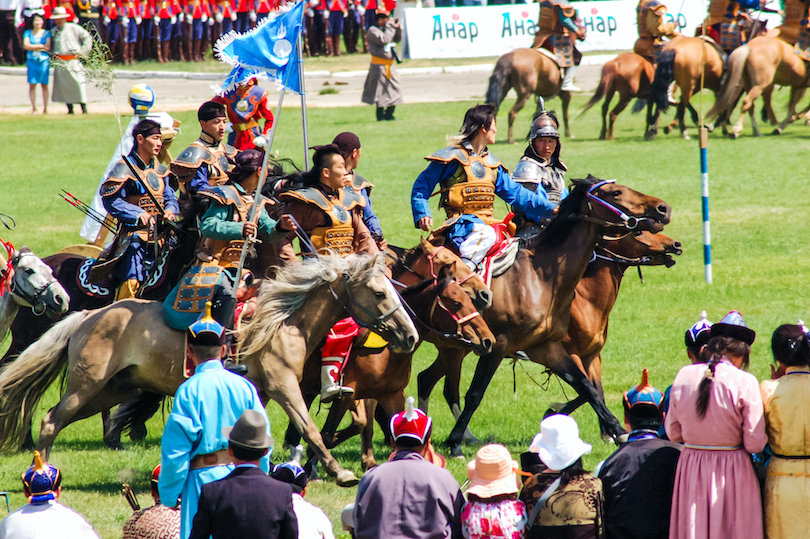 Showcasing and celebrating Mongolia's rich history, heritage, and culture, Naadam Festival is held every year in the nation's capital of Ulaanbaatar. Believed to predate the times of Genghis Khan, the centuries-old festivities see athletes compete ferociously at archery, horse racing, and wrestling, with traditional dances and celebrations also taking place.
While the fiercely contested competitions once tested soldiers' military prowess, the festival now commemorates and celebrates the country's independence. Held during the National Holiday – which runs from 11 to 13 July – the colorful and chaotic Naadam Festival is definitely one of the best things to see and do when visiting Mongolia.
Map of Things to Do in Mongolia