Renowned around the world for its endless steppe, nomadic culture, and of course, Genghis Khan, Mongolia is a breathtakingly beautiful place to explore that will delight nature lovers and outdoor aficionados alike.
While it is precisely for its wild and rugged landscapes and endless nothingness that people visit Mongolia, the landlocked nation also has a number of gorgeous alpine lakes for you to enjoy, as well as towering mountains and the desolate Gobi Desert.
Map of Mongolia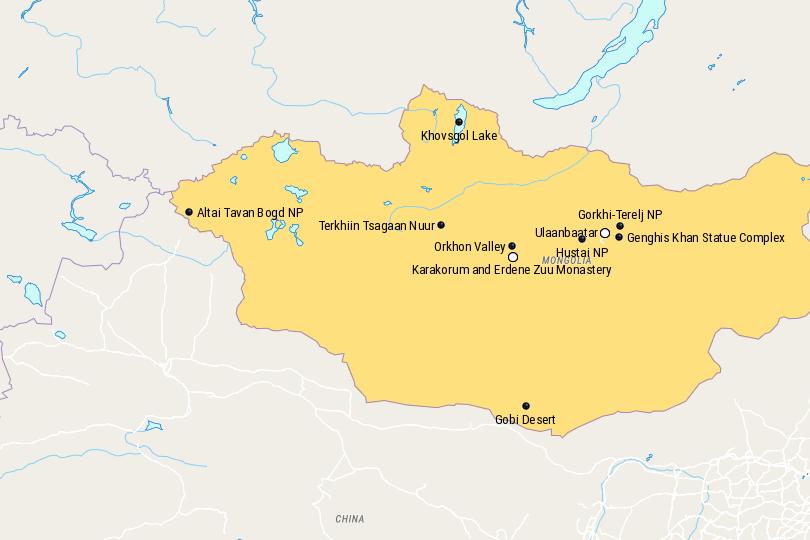 © OpenStreetMap © MapTiler © Touropia
Hidden away among the vastness of the scenery are remote yurt camps for you to experience the time-honored traditions of Mongolian nomads and their famed generosity and hospitality. Plan your trip to this undiscovered Asian travel destination with our list of the best places to visit in Mongolia.
10. Karakorum and Erdene Zuu Monastery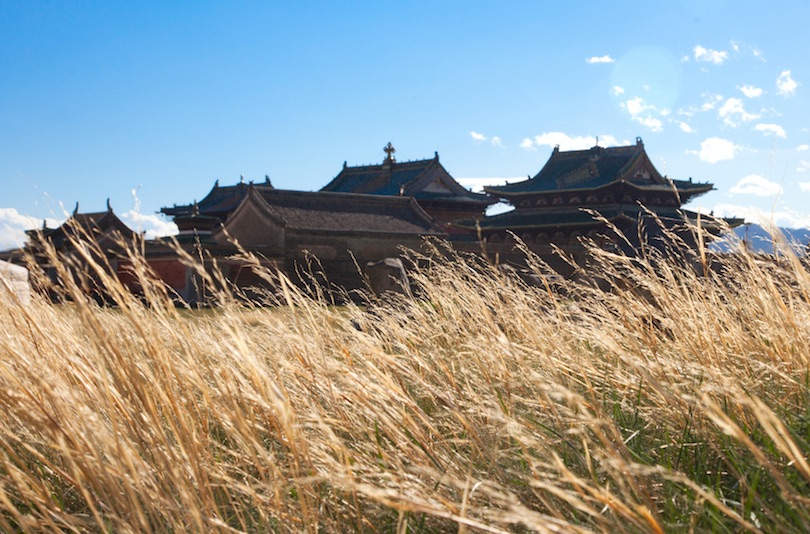 © Aleksandr Frolov / Dreamstime
Once the capital of the Mongol Empire, Karakorum is a fascinating place that is certainly worth a visit if you're interested in learning more about the history and culture of the Mongols. Known to locals as Har Horin, the ancient city was visited by Marco Polo all the way back in the 13th century. Nowadays, however, the once-great city is but ruins, with endless sky and steppe in every direction.
The main sight is the majestic Erdene Zuu Monastery, which was built out of the remnants of the ruined city in 1585; the plethora of stupas lining its long wall certainly do look incredible. One of the earliest surviving Buddhist monasteries in the country, Erdene Zuu has three beautiful temples, with lots of lovely statues and carvings.
Besides this impressive sight, Karakorum has some smaller ruined stupas, buildings, and archaeological sites for you to wander around, although these are decidedly less spectacular.
9. Terkhiin Tsagaan Nuur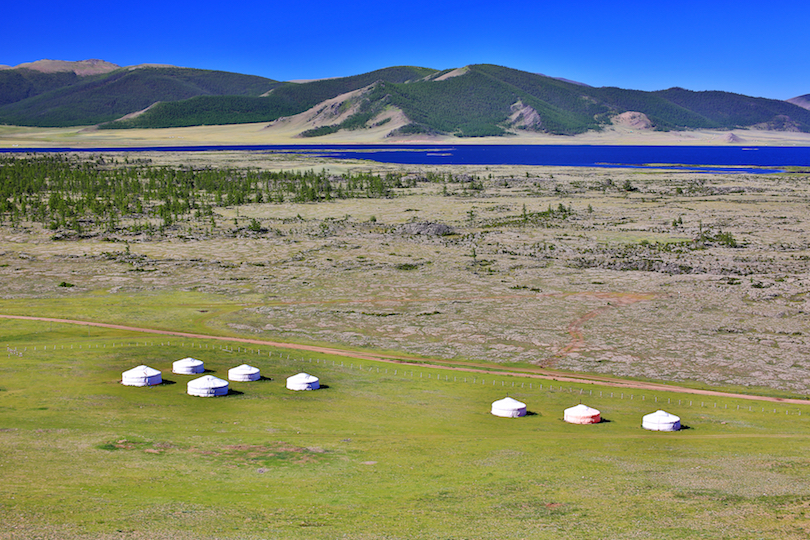 © Eldelik / Dreamstime
Meaning 'Great White Lake' in English, Terkhiin Tsagaan Nuur is aptly named, as its reflective waters beautifully mirror the skies and clouds above. Stretching into the distance, the lake's tranquil waters are surrounded by gently rolling hills, and the idyllic scenery is perfectly complemented by the white yurts and scatterings of horses that line its shores.
Due to its remote nature, Terkhiin Tsagaan Nuur is a very peaceful place to camp for a couple of nights. There are several great hikes you can do in the surrounding area, with Khorgo Volcano particularly worth a visit.
In addition, many people go horseback riding around the freshwater lake or climb to the top of one of the nearby hills for an even better look out over the gorgeous scenery.
8. Orkhon Valley
© Pierre Jean Durieu / Dreamstime
Lying almost slap bang in the middle of Mongolia, it's in the scenic Orkhon Valley where the sacred mountain-forest of Otuken was believed to be. Ruling over the place where the ancestor spirits resided granted the ruler the divine right to rule on Earth. This meant that its possession was considered to be absolutely crucial to each Turkic state that rose, ruled, and declined amongst the steppe.
Consequently, a wealth of interesting historic sights and cultural landmarks litter its mountainous terrain. The eighth-century Orkhon monuments and the Tuvkhun Hermitage are the most impressive of the lot, alongside the ruins of Karakorum and Erdene Zuu Monastery.
There is something quite spiritual about traveling through the endless empty landscapes surrounding the valley; you barely see another soul for days other than the flocks of livestock and the herds of horses that meander across the steppe in between the occasional yurt.
7. Genghis Khan Statue Complex
© Hecke01 / Dreamstime
Simply breathtaking, the gigantic statue of Genghis Khan atop his horse glimmers in the light as he imperiously looks out over all the steppe and mountains surrounding the complex. Towering to a height of 40 meters, the statue was built in 2008 to honor the 800th anniversary of the founding of the Mongol Empire. Its sheer size and scale are certainly fitting of the man who rose to rule such a huge swathe of territory and is a national hero in the country.
The Genghis Khan Statue Complex lies around 50 kilometers outside of Ulaanbaatar. Once you arrive, you'll find souvenir shops, a restaurant, and an archaeological museum for you to check out. From the top of the horse's head, you can enjoy some awesome views out over the surrounding countryside, and a close-up view of Genghis Khan gazing out towards the horizon.
6. Ulaanbaatar
Home to almost half of the country's population, the sprawling city of Ulaanbaatar is Mongolia's capital, as well as its cultural, administrative, and commercial heart. Located in the delightfully named Valley of the Golden Cradle, at the point where the Selbe and Tuul Rivers meet, the city is a strange yet intoxicating mix of urban and nomadic lifestyles.
While its downtown is a bit of an eyesore, with Soviet-era buildings lying alongside modern monstrosities, there are some enchanting old monasteries scattered about here and there: Choijin Lama and Gandantegchinlen are the best of the bunch and tucked away in the endless sprawl, you can still find a yurt or two.
When it comes to its museums and art galleries, Ulaanbaatar is truly blessed. It is well worth spending a couple of days trawling its extensive collections and artifacts: the Bogd Khan Winter Palace and Mongolia National Modert Art Gallery are particularly delightful to peruse.
5. Altai Tavan Bogd National Park
© Edwardje / Dreamstime
Covering a vast expanse of territory that includes everything from the Tavan Bogd massif to the glittering lakes of Dayan, Khoton, and Khurgan, Altai Tavan Bogd National Park will delight nature lovers and outdoor aficionados alike.
Located in the western corner of the country, the national park is home to some of the most spectacular scenery in Mongolia. The towering Tavan Bogd Mountains loom over the three large freshwater lakes that lie among them.
Due to its remote location, there is a very untouched and unspoiled feel about the place, with lots of wonderful fauna and flora to discover. You may be lucky enough to see ibex, brown bears, and grey wolves, with majestic golden eagles swooping overhead.
Besides the many stunning landscapes that lend themselves perfectly to hiking, rock climbing, river rafting, and skiing, the park is also a fantastic place to head if you want to gain a deeper understanding and appreciation for nomad life: there are many Kazakh and Tuvan families that you can either visit or stay with.
4. Khovsgol Lake
© Kairi Aun / Dreamstime
One of the largest lakes in the whole of Mongolia, Khövsgöl is often nicknamed 'the younger sister,' due to its proximity to the famous Lake Baikal that lies around 200 kilometers to its northeast in Russia. Surrounded by a glorious national park of the same name that is home to lots of towering mountains and sweeping valleys, Khövsgöl Lake is set in a stunning location.
While its waters are relatively poor in terms of fish and marine life, Khövsgöl Lake remarkably contains almost 70 percent of the country's freshwater and was formed over two million years ago.
In stark contrast to the glimmering lake, the national park boasts a wealth of wildlife. While hiking along its scenic trails, you can sometimes spot ibex, elk, and the occasional brown bear, with incredible views of the lake and its many dramatic landscapes also on display.
3. Hustai National Park
© OlivierLauren / Dreamstime
Lying just a short distance away from the capital of Ulaanbaatar, Hustai National Park is a fantastic place to head if you want to visit the renowned Mongolian steppe, while the beautiful Khentii Mountains add some variety to the scenery.
Traveling through the national park is an absolute delight as you pass small herds of wild horses making their way across the steppe with nothing else in sight other than faint mountains off in the distance.
The sheer expanse of nothingness is mind-boggling. While drinking in the magnificent scenery to your heart's content is delightful, there's always a slight feeling of relief when you finally come across a small cluster of yurts.
2. Gorkhi-Terelj National Park
© Hecke01 / Dreamstime
One of the most popular places to visit in Mongolia, Gorkhi-Terelj National Park's alpine scenery is impressive. Its glorious mountain peaks are home to picturesque valleys, roaring rivers, and craggy rock formations, with charming yurt camps found here and there. As such, there are a plethora of great outdoor activities for you to try out, with hiking, rock climbing, and river rafting all being popular pastimes.
Horseback riding through the epic scenery is an unforgettable feeling and really is a must if you want to have the quintessential Mongolian experience. Although parts of the park can get busy due to its popularity and proximity to Ulaanbaatar, most of its dramatic landscapes remain pristine and untouched.
With glacial lakes, hot springs, and a Buddhist monastery also on offer, Gorkhi-Terelj National Park really is a natural paradise just waiting to be explored.
1. Gobi Desert
© Midkhat Izmaylov / Dreamstime
The harsh, unforgiving climes of the endless Gobi Desert certainly aren't for the faint-hearted; that's what makes them so exhilarating to explore. With infinite dunes, ancient rock formations, and desolate desert stretching out before you, venturing into the Gobi Desert is the adventure of a lifetime.
Tucked away among this bleak yet strangely alluring landscape are a wealth of amazing natural sights, with rugged cliffs, plunging canyons, and cavernous caves all on show alongside picturesque desert oases and saltwater rivers.
While the main attractions are the incredible singing sand dunes of Khongor and the marvelous scenery of Yolyn Am and Dungeneegyn, you really can't go wrong in the Gobi Desert (providing you stick to the path) as everything is just so majestic.