The undisputed favorite of Indonesia's more than 17,000 islands, Bali lives up to its reputation as the quintessential tropical paradise.
Known for its captivating landscapes, vibrant culture and spiritual ambiance, Bali has become a top destination for globetrotters seeking an unforgettable experience. This tropical paradise offers a seamless blend of pristine beaches, lush rice terraces, mystical temples and warm hospitality, creating a tapestry of wonders that captivate the soul.
Known as the Island of the Gods, Bali's culture is dominated by a unique form of Hinduism that's evident in every aspect of Balinese life, from the temples that ornament every corner of the island to the daily offerings found in every home.
While some areas in Bali have suffered from over-commercialism in recent years, there are still places to visit in Bali that appear untouched by time. Whether exploring the distinctive culture of the Balinese people, scuba diving in coral reefs, climbing an ancient volcano or sunbathing on a broad stretch of beach, Bali has a bit of paradise to offer every visitor.
In this post, we'll cover:
22. Canggu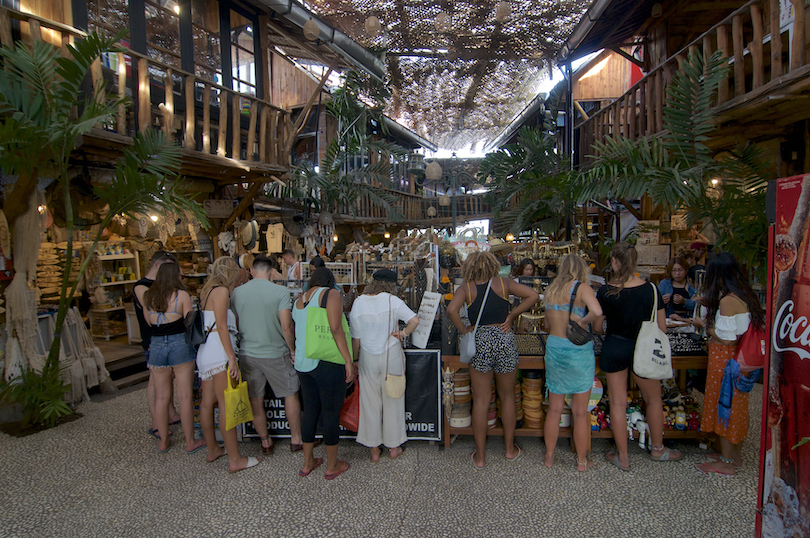 Over on Bali's southwestern coast, Canggu is a vibrant and rapidly evolving destination that offers a unique blend of laid-back charm and modern attractions.
With its picturesque paddy fields, stunning beaches and thriving surf culture, Canggu has become a magnet for surfers, digital nomads and travelers seeking a more relaxed and bohemian atmosphere.
The area boasts a plethora of trendy cafes, stylish boutiques and hip beach clubs, creating a buzzing social scene, particularly at night. Visitors can explore the famous Echo Beach, known for its world-class surf breaks and breathtaking sunsets, or venture inland to discover serene rice terraces and traditional Balinese villages.
For those seeking relaxation and self-care, Canggu also offers a world-class wellness scene, with numerous yoga studios and retreats.
21. Nusa Penida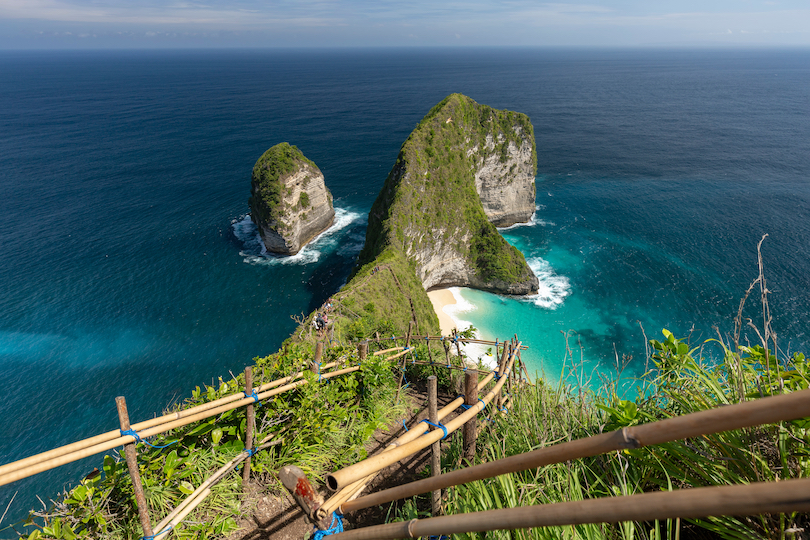 Tucked off Bali's southeastern coast, Nusa Penida is a place of rugged beauty and unspoiled landscapes.
It is renowned for its breathtaking cliffs, shimmering turquoise waters and pristine white sand beaches and offers a tranquil escape from the bustling mainland.
Nusa Penida's dramatic coastal features, including the iconic Kelingking Beach and Broken Beach, leave visitors in awe of nature's artistry. Snorkeling and diving enthusiasts will be captivated by the vibrant marine life surrounding Crystal Bay and Manta Point.
At the same time, tourists venturing into the island's interior will find lush jungles, cascading waterfalls and traditional villages where they can experience the local way of life.
While the infrastructure is less developed than Bali's main tourist areas, the raw beauty and sense of adventure make Nusa Penida a must-visit destination for those seeking off-the-beaten-path experiences.
20. Sekumpul Waterfall
Bali has many outstanding waterfalls, and Sekumpul Waterfall is right up there with the most impressive.
Situated in the highlands of Bali's northern region, it enchants visitors with its powerful cascades and lush surroundings. You must trek through dense forests, cross streams, and navigate rocky terrain to reach it. But once you are there, the sight of multiple towering waterfalls plunging into a serene pool below will leave you breathless.
The sheer size and grandeur of the falls create a mesmerizing spectacle, and the misty atmosphere adds to the enchantment. Nature lovers and photographers will be in their element, immersing themselves in the serenity and majestic beauty of the falls.
19. Jimbaran
Over on Bali's southwestern coast, Jimbaran is an attractive coastal village that seamlessly blends traditional charm with modern luxury. Best known for its pristine beaches and stunning sunsets, Jimbaran offers a serene and laid-back atmosphere to relax or explore.
The 3 km long crescent-shaped Jimbaran Bay is lined with golden sand and swaying palm trees, providing the perfect setting for relaxation and beachside dining. Seafood lovers can indulge in a mouthwatering feast of freshly grilled seafood at local beachfront restaurants.
Jimbaran is also home to several luxury resorts and spas, offering world-class amenities and rejuvenating treatments that will invigorate and de-stress you.
For those seeking cultural immersion, the nearby Uluwatu Temple is a must-visit. Perched atop a cliff with breathtaking views of the Indian Ocean, it provides a fascinating glimpse into Bali's cultural heritage.
Surfers should head to Balangan Beach and Dreamland Beach for their exceptional swell.
18. Sidemen Valley
Bali isn't all beaches, spa resorts and vibrant nightlife. It also has its fair share of lush countryside. One good place to see this is at the Sidemen Valley.
This serene valley resides on the eastern part of the island and comprises breathtaking landscapes, terraced rice fields and traditional Balinese villages.
It is a haven for nature lovers, offering opportunities for scenic hikes, cycling tours and leisurely walks through the countryside. For those needing a place to stay, the valley offers numerous accommodation options, from boutique resorts to homestays. They allow visitors to immerse themselves in the local culture and enjoy warm Balinese hospitality.
Exploring Sidemen presents authentic Balinese life, with artisans crafting intricate handicrafts and locals tending to their rice fields. Subsequently, the beauty and tranquillity of the valley make it an ideal destination for those seeking a peaceful retreat and a deeper connection with nature and Balinese traditions.
17. West Bali National Park
The West Bali National Park lies on the western tip of Bali. The only national park on the island, it is a pristine and biodiverse nature reserve that showcases the island's natural wonders.
The park encompasses dense rainforests, mangrove forests, savannahs and coral reefs. It is home to many species of flora and fauna, including endangered species like the Bali Starling and Javan Rusa deer.
As a haven for nature and wildlife lovers, visitors can embark on guided treks or birdwatching expeditions. They can also explore the underwater world through snorkeling or diving in the park's vibrant marine ecosystems.
The park's iconic Pemuteran Bay is a popular spot for diving and turtle conservation. While just off the peninsula's northeast shore, Menjangan Island is home to historic Hindu temples, indigenous barking deer and stunning coral reefs.
16. Bedugul
If you are finding the tropical heat of Bali too oppressive, make a point of visiting Bedugul. Nestled in the central highlands, it is a scenic retreat that offers a refreshing escape from the blazing sun.
This quaint mountain town is known for its cooler climate and stunning natural beauty. Think serene lakes, lush forests and misty landscapes that will leave a lump in your throat.
The iconic Ulun Danu Beratan Temple, situated on the shores of Lake Beratan, is a must-visit attraction. It features intricate Balinese architecture and captivating reflections in the water that make terrific photographs.
Bedugul is also home to the Bali Botanic Garden, a haven for plant enthusiasts and the Bali Treetop Adventure Park, offering thrilling treetop obstacle courses amidst the forest canopy. Additionally, the area is renowned for its fresh produce, and visitors can indulge in farm-to-table dining experiences and shop at local markets.
15. Jatiluwih
Bali is famous for its stunning rice terraces, with Jatiluwih being one of the best places to see them.
Offering a fascinating glimpse into the island's agricultural heritage, it boasts expansive terraced fields that cascade down the rolling hills, creating a breathtaking tapestry of vibrant green hues.
The area is known for its traditional Subak irrigation system, which has sustained rice cultivation for centuries. Travelers can explore the terraces on foot or rent a bicycle to immerse themselves in the serene countryside.
Along the way, encounters with local farmers and glimpses of traditional Balinese village life are commonplace. Jatiluwih also offers panoramic viewpoints, such as the Pura Luhur Batukaru Temple, where visitors can marvel at the majestic landscapes.
If you can, visit Jatiluwih at dusk when the setting sun's colors give the landscape a magical Insta-worthy glow.
14. Nusa Dua
Nestled on Bali's southern coast, Nusa Dua is a renowned resort enclave that offers travelers a luxurious and upscale experience.
Known for its pristine beaches, crystal-clear waters and world-class resorts, Nusa Dua presents a tranquil and sophisticated atmosphere. The area boasts a collection of high-end hotels, elegant villas and upscale dining establishments, catering to discerning travelers seeking comfort and relaxation.
Nusa Dua's palm-fringed beaches provide an idyllic setting for sunbathing, swimming and water sports activities. Golf enthusiasts can tee off at the prestigious Bali National Golf Club.
In contrast, culture enthusiasts can explore the nearby Pasifika Museum, showcasing an extensive art collection sourced from across the Asia-Pacific region. Nusa Dua is also famous for its water-blow phenomenon, where crashing waves create dramatic water sprays.
If you head to Nusa Dua, remember it is a very upmarket part of Bali. So prices are higher here than in most other places on the island.
13. Pura Lempuyang
Pura Lempuyang, known as the 'Gateway to Heaven', is a sacred Hindu temple complex. It is situated on the slopes of Mount Lempuyang in East Bali, 600 meters above sea level.
This iconic temple has gained global recognition for its breathtaking views and spiritual significance. The main attraction is the picturesque split-gate entrance, which frames a magnificent vista of Mount Agung, Bali's highest volcano.
Visitors must ascend a long staircase with several temples along the way to reach the summit, making it a spiritual pilgrimage for many. The temple complex offers a serene and peaceful atmosphere, allowing you to connect with their spirituality and immerse yourself in Balinese Hindu culture.
Seeing the temple bathed in a golden glow as the sun rises is also a genuinely ethereal experience if you can wake up early enough.
12. Tukad Cepung Waterfall
If you want to see a breathtaking waterfall, Tukad Cepung Waterfall should be high on your list.
It resides within a cave in Tembuku village, part of the Bangli regency on the island, approximately 30 km from Ubud.
You'll need to take a short hike through lush greenery and narrow paths to get there. Once you arrive, you'll be greeted with a towering cliff surrounding the waterfall, creating a unique and picturesque setting.
The waterfall cascades into a shallow pool, inviting visitors to dip in its crystal-clear waters. The natural rock formations surrounding the waterfall add to its charm and offer great photo opportunities.
When sunlight filters through the narrow canyon, it creates a stunning ambiance that illuminates the cascading water, making for a magical experience.
Visitors can relax, meditate, or soak in the natural beauty of the surroundings. Try to head there between 9 am and 11 am to see it at its best.
11. Mount Agung
Mount Agung, Bali's highest volcano, beckons adventurers and nature enthusiasts with its awe-inspiring beauty and spiritual significance.
Offering a challenging yet rewarding trekking experience, ascending to the top of this active volcano rewards hikers with breathtaking panoramic views of the island and surrounding landscapes. The trek to it takes you through diverse terrains, including lush forests, rugged trails and volcanic ash fields.
Mount Agung holds deep spiritual significance for the Balinese people. The Besakih Temple, known as the 'Mother Temple of Bali', sits at the volcano's base. Visitors can explore the temple and witness traditional ceremonies, immersing themselves in the island's rich cultural heritage.
While trekking Mount Agung is one of the more demanding things to do in Bali and requires physical endurance, the experience offers a profound connection with nature and a glimpse into the island's spiritual traditions. If you go early enough, you can also witness a spectacular sunrise at the summit, creating a truly unforgettable moment.
10. Sanur Beach
Located in the village of Denpasar in southeast Bali, quiet Sanur Beach is a popular destination for older visitors, which has earned the spot the nickname "Snore Beach." That's a bit of a misnomer, however, as there is plenty of things to do at this beach resort.
In addition to the area's well-kept beach, Sanur has several important historic sites, including the Blanjong Temple, which contains a column bearing inscriptions that date back to the 9th century. The nearby Le Mayeur Museum was once home to Belgian impressionist Adrian Jean Le Mayeur and features many of the artist's works.
Tourists can also explore the nearby mangrove forest or take a boat trip to the neighboring islands for a change of scene.
9. Nusa Lembongan
Nusa Lembongan, a small island off the southeast coast of Bali, is a tropical paradise that attracts visitors with its pristine beaches, azure waters and relaxed island vibe. Accessible by a short boat ride, it provides another tranquil escape from the busier parts of Bali.
The island is known for its stunning coastal scenery, including Dream Beach, Mushroom Bay and Devil's Tear, where dramatic waves crash against rugged cliffs. Snorkeling and diving enthusiasts, in particular, will marvel at the vibrant coral reefs and diverse marine life around Nusa Lembongan.
Exploring the island by bicycle or scooter reveals picturesque landscapes of lush jungles, charming villages, and seaweed farms. Visitors can indulge in beachside dining, especially fresh seafood and enjoy breathtaking sunsets.
8. Lovina
Over on Bali's northern coast, Lovina is a charming coastal town renowned for its tranquil beaches, dolphin sightings and colorful coral reefs.
Offering a relaxed and laid-back atmosphere, its black sand beaches are perfect for sunbathing, swimming and walking past the breaking waves.
Lovina is particularly famous for its early morning dolphin-watching tours, where visitors can witness pods of dolphins frolicking in the ocean. Snorkelers and divers should also enjoy exploring the vibrant underwater world, teeming with tropical fish and beautiful coral formations.
The town boasts various accommodation options, ranging from budget-friendly guesthouses to luxury resorts. Away from the beaches, visitors can also explore nearby attractions like Banjar Hot Springs and Brahma Vihara Arama, a historic Buddhist temple.
7. Pura Luhur Uluwatu
Perched dramatically on a cliff overlooking the Indian Ocean, Pura Luhur Uluwatu is a majestic temple in Bali that offers a captivating blend of cultural heritage and breathtaking views.
For any traveler to Bali, this sacred temple is a must-visit destination, known for its stunning sunset vistas and traditional Balinese architecture.
As one of the six key temples believed to be Bali's spiritual pillars, Pura Luhur Uluwatu exudes a sense of ancient spirituality and tranquility. Tourists can explore the temple complex, adorned with intricate stone carvings and guarded by cheeky resident monkeys.
The Kecak fire dance performance, held against the backdrop of the setting sun, is a mesmerizing cultural experience.
The temple's cliffside location also offers panoramic views of the ocean and rugged coastline, making it an ideal spot for photography and reflection.
6. Mount Batur
While it's not the highest point on Bali, Mount Batur is situated on one of the island's most dramatic landscapes. Dominating the northeastern section of Bali, the 1,717-meter (5,633-foot) peak is a sometimes-active volcano that includes four craters, a lake and several villages.
Offering a thrilling experience for those with an adventurous spirit, the sunrise trek to its summit is a popular activity. It provides breathtaking panoramic views of the surrounding landscapes, including Lake Batur, which you'll want to savor.
The journey starts in the early morning, and as the sun emerges, the sky transforms into a palette of colors. Witnessing the sunrise from the summit is a truly unforgettable experience.
The trek takes approximately two to three hours, passing through volcanic landscapes and unique flora. After descending, visitors can relax in the hot springs at the volcano's base.
5. Kuta Beach
Once a sleepy fishing village, Kuta gained fame as a great spot for surfing during the 1970s, and it has remained Bali's premier vacation destination ever since. Located on the southern point of the island in the village of Kelurahan, the long, broad stretch of sand one of the best-maintained and most scenic beaches on the island.
Known for its active nightlife, the southern section of the beach is usually crowded, day or night. A short stroll to the north end of the beach, however, offers visitors a quiet sense of solitude.
The beach has various restaurants, bars and shops lining it, making it a hub of activity. Visitors can indulge in delicious local cuisine, shop for souvenirs, or enjoy the energetic nightlife with beachfront clubs and live music venues. Many of which stay open until the wee hours of the morning.
4. Pura Besakih
Located on the slopes of Gunung Agung, Bali's highest mountain, Pura Besakih is considered the most important of the "kayangan jagat," the nine directional temples built to protect the island from evil.
The temple was named after the dragon god that believers say lives within the depths of the mountain. The temple complex includes more than 28 structures built on seven ascending terraces.
Overall, Pura Besakih is a place of pilgrimage for the Balinese people and is often the site of vibrant ceremonies and religious festivals. It offers a unique opportunity for travelers to witness the island's rich spiritual traditions, dating back thousands of years.
Visitors can explore the intricate architecture, stone carvings and beautiful pagodas which feature on the temple grounds. The sweeping views of the surrounding mountains and valleys adds to the awe-inspiring experience. Participating in an organized tour is the best way to view the site as the self-designated guides on site can be aggressively demanding.
3. Seminyak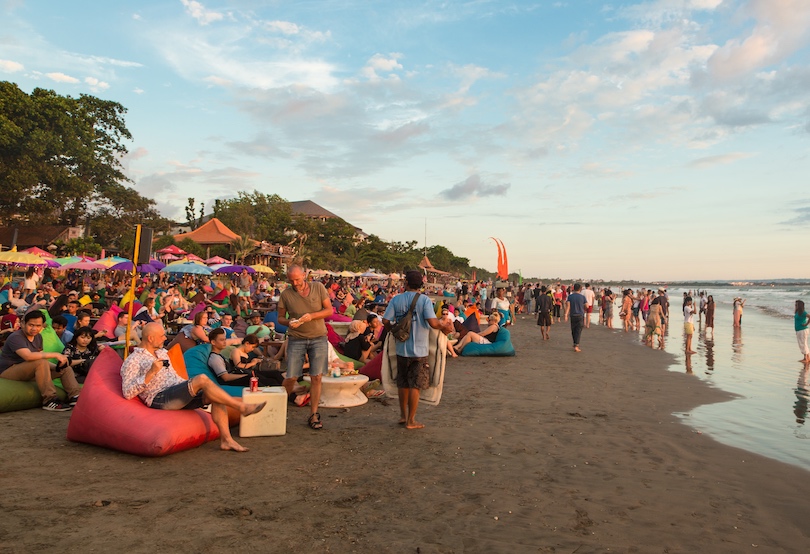 Located on the southwestern coast of Bali, Seminyak is a small town that has been encompassed by the city of Kuta's expansive growth. Despite its proximity to Kuta, Seminyak is one of the island's most exclusive vacation destinations.
From its high-end boutiques and five-star restaurants to its luxury hotels and spas, the city attract attracts well-heeled travelers from around the world. Although the surf is too treacherous for most swimmers, Seminyak Beach offers visitors panoramic views of the Indian Ocean and of the professional surfers who flock to this area to ride the big waves too.
After dark, the town comes alive with bustling nightlife, including beachfront bars and clubs where you can dance the night away.
2. Tanah Lot
Situated on a large rock, Tanah Lot is one of the most famous Hindu temples in Bali. It has been a part of Balinese mythology for centuries. The temple is one of 7 sea temples, each within eyesight of the next, to form a chain along the south-western coast of Bali.
Tanah Lot is one of the most popular tourist attractions in Bali and the whole area can be very busy, especially in the late afternoons and before sunset. The area between the car park and the beach adjacent to the temple is a maze of souvenir shops selling just about every Balinese trinket imaginable.
Once visitors have fought their way through the souvenir vendors to the beach, they will see the magnificent temple perched on a rock just a few meters offshore. The natural beauty of the surroundings, with the temple silhouette against the ocean backdrop, creates a truly mesmerizing scene.
1. Ubud
Perched among the terraced rice fields that climb up the foothills of Bali's central mountains, Ubud is considered the island's cultural heart. Ubud is home to the island's most important museums, including the Neka Art Museum with its expansive collection of Balinese paintings. There are dance and music performances every day throughout the city as well as numerous art galleries and craft shops to explore.
Although Ubud has long been valued as a great place to learn about Balinese culture, tourism in Ubud boomed exponentially after it was featured in the book and movie "Eat, Pray, Love." Fortunately, it only takes a short walk or bicycle ride to escape from the crowds and commercialism.
Nature lovers will find solace in the nearby Monkey Forest, a sacred sanctuary inhabited by playful macaque monkeys. Ubud is surrounded by gently rolling rice paddies which create a beautiful impression of greenness. The countryside offers opportunities for trekking, cycling and visiting traditional villages, such as the famous Tegalalang Rice Terrace.
If that sounds too energetic for you, Ubud's wellness and yoga retreats are famous worldwide, providing a chance to rejuvenate your mind, body and soul.
Map of Places to Visit in Bali
© OpenStreetMap © MapTiler © Touropia