Bali has without a doubt, the best range of accommodation in Indonesia. Most of the budget hotels on the island can be found in Kuta, where most of the backpackers are heading. This list however presents the best luxury resorts in Bali, as rated by visitors. Many of the five-star resorts are clustered in Nusa Dua, Seminyak and Ubud. Ubud's hotels and resorts cater to those who prefer spas and cultural pursuits over surfing and other beach activities. Nusa Dua and Seminyak are located on the beach but the atmosphere is much more sophisticated and laid-back than Kuta.
Bali has become famous for its large collection of private luxury villas for rent, complete with staff and top-class levels of service. Besides Ubud and the greater Seminyak area these private villas can also be found in the south around Jimbaran and Uluwatu, in Sanur as well as Lovina in north Bali.
10. Jamahal Private Resort & SPA
[SEE MAP]
The Jamahal Private Resort & Spa is situated on the southern edge of Bali. A private beach is just a few steps away from the hotel, allowing for water sports and sunbathing. The hotel features one, two or three bedroom villas. Some of the more luxurious villas include private swimming pools while all villas have high-speed Internet, cable television, and private gardens. A contemporary resort style accommodation, the Jamahal Private Resort & Spa is surrounded by tropical gardens. There is also a swimming pool and an Indonesian spa, which includes a number of treatments and massages.
9. Komaneka at Bisma
[SEE MAP]
Located in Ubud, the Komaneka at Bisma is known as one the best Bali luxury resorts. The resort offers a fitness center and an outdoor pool as well as babysitting and other child services. The luxury rooms feature a flat screen TV with cable and satellite channels. All rooms are air conditioned and come with a safe, refrigerator and a mini bar.
8. The Samaya Villas Bali
[SEE MAP]
Situated directly on the beach in Seminyak, the Samaya Villas provides easy access to nearby attractions. Guests cano walk to the Legian area, where they will find shopping, dining, and entertainment options. There are twenty four villas at the hotel. The villa style accommodations at the Samaya Villas offer a variety of choices, including king and queen sized selections with private plunge pools or Jacuzzis.
7. Alam Ubud Villas Bali
[SEE MAP]
Located in a tropical forest, only minutes away from the center of Ubud, Alam Ubud is spaciously set within a 4 hectare garden landscape. The resort provides comfortable accommodation, world class facilities and the celebrated Balinese hospitality.
6. The Chedi Club at Tanah Gajah Bali
[SEE MAP]
Located only three kilometers from the center of Ubud, Tanah Gajah takes its name from the nearby Goa Gajah elephant temple. Spacious accommodations are designed with comfort and privacy in mind. The villas are set in the natural beauty Ubud. Each villa is thoughtfully decorated and furnished with artistic flair, graceful furniture and local. The restaurant and club lounge overlook lush rice paddies. This open-air pavilion features day beds in a cozy lounge, where cocktails and afternoon tea is served.
Established in 2010, Pandawas Villas is inspired from the epic Mahabharata. There are 4 luxury villa rooms: Yudistra, Bima, Sahadewa and Nakula each with an expansive dresser and a large double ensuite bathroom and a central lounge. The restaurant serves many cuisines. There is also a Krishna entertainment room where children can enjoy games and books.
4. The Bale Resort Bali
[SEE MAP]
The Bale, overlooking the Indian Ocean, is a healing retreat for adults only with just 29 pavilions all with their own private pools. A sandy beach and an impressive list of spa treatments with holistic programs completes the experience. Calmness reigns in the pavilions. The entire place has a sense of total peace and tranquility with walkways through cooling courtyards and refreshing water pools. Guests can practice yoga, tai chi or choose from an amazing spa menu from Reiki to personally orientated treatments.
Located in Ubud, the Samaya Bali offers well-appointed rooms with air conditioning and wireless internet access. The Samaya Bali has a day spa on-site, offering a range of massage treatments and beauty therapy. The hotel's garden is a peaceful spot to sit and relax. In addition to an outdoor pool and a steam room, the hotel features a spa & wellness center and a sauna. The rooms feature a large tv with satellite channels.
2. The Purist Villa & Spa Bali
[SEE MAP]
The Purist Villas and Spa in Ubud is a small boutique hotel resort. The suites are housed in series of seven unique and private villas combining luxury with traditional elements from several islands of Indonesia. Some of the houses come from other islands such as Java and Timor. These huts are at the inside transformed into real designers hideaways, while at the outside it shows all the typical woodcarvings and other features used in some island. Three of the villas have their own private pools with a separate Balinese hut with mattresses and cushions. Four villas have a more minimal style with Balinese artifacts, and white limestone floorings.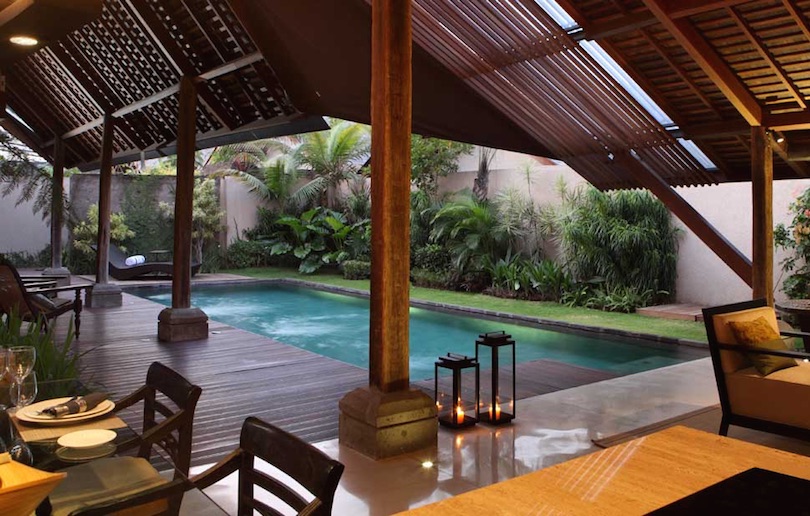 The Ametis Villa is characterized by a combination of modern comfort and traditional element of Bali, making it a distinctive resort. The 14 guestrooms at the Ametis Villa provide all the essential amenities needed by the leisure traveler. This Bali luxury resort contains all of the facilities and conveniences you would expect from a hotel in its class. Facilities available include massage, spa and a private beach.