Lombok's allure lies in its intriguing culture, gorgeous beaches, vast and verdant landscape and its trio of paradise islands known as the Gili Islands. Lombok is an Indonesian getaway that attracts hedonistic backpackers, adventurous families and laid-back vacationers to spend days lingering in its sparkling waters, lounging on luminous sands, snorkeling in aquatic scenery and hiking through its volcanic interior.
With fast boats connecting the islands, the best way to travel around Lombok's mainland is to catch a local bus or hire yourself a vehicle. The Gilis are motor-free, which means the only public transport is horse-powered, so don't expect to get anywhere fast.
Slip easily into simple island life and stay at one of the many homely, locally run beach bungalow resorts that dot the beaches. There are some more high-end accommodation options available, but don't expect to be forking out too much cash; life here is low-budget and centered around living off the land.
In this post, we'll cover:
Map of Towns in Lombok
© OpenStreetMap © MapTiler © Touropia
Spend your time hiking up Lombok's highest peak: Mount Rinjani, learn how to surf at some of the spectacular surf beaches, or seek out old mosques in rustic villages. Find out more of where the best places to stay in Lombok are below.
Gili Trawangan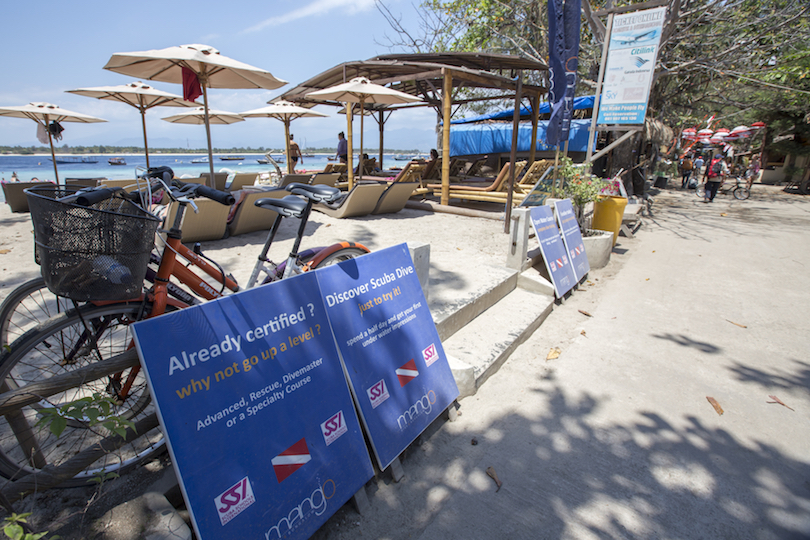 © Mohd Kafii Isa / Dreamstime
The biggest of the three islands that sit just off the coast of Lombok, Gili Trawangan is the place to go to party. The pleasant island is a beach paradise with white sands and turquoise waters. There are no cars or motorbikes so it's best to hire a bicycle to visit its many beaches. Try out some snorkeling or take a boat out on a fishing trip. Parties on Trawangan often continue until the next morning and are a great opportunity to meet people if you are traveling alone.
There's a wide range of choice when it comes to eating out and accommodation, but prices are higher here when compared to the rest of Lombok. There are, however, a wide choice of mid-range lodgings.
Best Places to Stay in Gili Trawangan
luxury
Oceano Jambuluwuk Resort – Supremely stylish and elegant, this hotel is located in the quieter, northern part of Gili Trawangan. You can enjoy your tropical retreat surrounded by palm trees, lush gardens, and the sound of waves gently lapping the nearby beach. Rooms are tastefully decorated and come with views of the pool – or you could opt for a beachfront suite. There are also three different places to eat here, meaning you'll be spoilt for choice when it comes to all things tasty at this boutique hotel offering.
midrange
Kaleydo Villas – A ten-minute walk from Gili Trawangan Harbor (making it very convenient for arrivals or departures), Kaleydo Villas is a genuine piece of paradise. Staff here are extremely helpful, going a long way to make your stay perfect. Suites range from deluxe suites to royal villas complete with their very own pools! Everything here is stylish and well thought out; enjoy breakfast delivered to your room's terrace every morning. The Turtle Conservation area is a two-minute walk away, as well.
budget
Blue Marlin Trawangan – The Blue Marlin is set on a beach in the south of the island, very close to Gili Trawangan Art Market; the Turtle Conservation is less than a mile away. Back at the hotel, you can spend time lounging in the long outdoor pool, chilling out on the beach, eating dinner with a sea view, or simply unwinding in the tranquil rooms. Close to the jetty, this hotel also makes for a great base to do some island hopping.
Gili Air
© Mathieu Paltz / Dreamstime
Gili Air is a lush and green island with stunning beaches and blooming banks of coral that are just asking to be explored. Stay in a budget jungle bungalow or a mid-range beach villa complete with a pool; there is plenty of accommodation to choose from and many laid-back local eateries for you to enjoy.
Hiring a bicycle is the best way to get around here, with pathways around the island passing through stunning natural scenery. At high tide, the waters just off Gili Air are home to groups of turtles which can be easily spotted whilst snorkeling. Boats run regularly from here to Lombok or you can catch the smaller local boats to the next island along for a spot of island hopping.
Best Places to Stay in Gili Air
midrange
Mola2 Resort Gili Air – With a location that's not only close to the harbor but also very close to the gorgeous white sand of Gili Air Beach, this slice of luxurious accommodation is run by helpful and attentive staff who'll make sure your holiday runs smoothly. Large, spacious, and with high ceilings – as well as touches of modern, quirky design, the rooms here are very cool. The restaurant is warm, welcoming and perfect for a candlelit dinner.
budget
Sunrise Resort – As you might be able to tell from the name, the sunrises from this hotel are quite amazing. The rooms at Sunrise Resort feature balconies looking into the lush tropical garden – or out across the sea – where you can spend time reclining on daybeds or swinging in a hammock reading a book. Located right on Sunrise Beach, where you can be snorkeling with colorful fish amongst the coral just moments after leaving your room. The courteous staff create a calm and friendly atmosphere.
Kaluku Gili Resort – Kaluku Gili Resort is set on the beachfront – and very close to a beach where it's all about turtle conservation. You can choose from either a room with a pool view or your own bungalow – complete with tall thatched roof, its own terrace, and luxurious outdoor showers! At this 3-star offering, you can enjoy spectacular sunrises over Mount Rinjani from the beach restaurant just before you tuck into a delicious breakfast – served to you on the sand.
Gili Meno
© Phuongphoto / Dreamstime
The smallest of the Gili Islands, Gili Meno is less developed, much quieter, and much more budget friendly. Island life on Meno is laid-back and friendly; locals welcome families who are attracted to holiday here by the island's clean, safe beaches and chilled atmosphere. As with the other islands, cycling or walking are the main modes of transport. Snorkeling is one of the top activities on Meno; the pure white beaches give way to turquoise waters where you can spend hours just drifting and exploring the underwater seascape.
Reasonably priced backpacker-style bungalows and family-friendly beach resorts offer great value for money. The resorts often come with restaurants attached, serving fresh seafood and cocktails that go perfectly with a Gili sunset.
Best Places to Stay in Gili Meno
midrange
Hotel Villa Bagus – Just a two-minute walk to the beach, this 4-star hotel boasts wooden bungalows with terraces (complete with their own daybeds) that overlook the pool. Breakfast is served directly to your room: it's fresh and delicious every day. The staff are friendly and attentive and make sure the whole resort is kept spotlessly clean and well maintained. Staying here is all about strolls on the sand, snorkeling trips, tours to see turtles, and generally unwinding in the peace and quiet of nature.
Seri Resort Gili Meno – Located right on a white sand beach, Seri Resort is an amazing place for watching sunrises (if you're up early enough). You won't want to move from this place because it's that lovely; a slice of simple sophistication where you can snorkel around the coral just off the beach or simply lounge around the pool all day. Nearby is the Gili Meno Salt Lake, just half a mile away. Back at the hotel, bungalows at this 4-star slice of paradise are modern and clean.
budget
Meno Dream Resort – This is a B&B with a resort feel to it – and a whole lot of heart, too. Staff are amazingly warm and helpful here and provide a friendly, personal service. The rooms are all white walls and dark wood floors and furniture, making them feel stylish and relaxed. There's a small outdoor swimming pool here, and Meno Dream Resort is just a five-minute walk to the beach. Rooms come with air conditioning and ensuite bathrooms.
Senggigi
Senggigi is all about sitting back and taking in spectacular sunsets from one of the many beachside bars. As Senggigi is the main tourist spot on Lombok, it's home to tourist-focused restaurants, ticket touts and travel agents. Senggigi is popular with local tourists who spend Sunday afternoons socializing at the seaside. Stay near the main beach if you're looking to take the fast boat that connects to the Gili islands and Bali.
Accommodation is plentiful and very affordable. Spend a couple of nights in a budget homestay and be treated to breakfast local style, or shell out a bit more cash for a luxury villa or beach-side pool.
Best Places to Stay in Senggigi
luxury
Katamaran Hotel & Resort – This hotel has impeccable service and incredibly welcoming staff – you really don't need to worry about a thing when you stay at the Katamaran. The modern rooms are chic, spacious and beautifully decorated, complete with touches of traditional Lombok design; there are even inside-outside showers here. Some rooms come with private pools or Jacuzzis. Here, you can try out cooking classes, enjoy the fitness center, or just relax on the beach.
midrange
Kebun Villas & Resort – Featuring a unique, long, infinity pool with views out into the rainforest, Kebun Villas & Resort is a luxury tropical oasis. You can enjoy your time surrounded by Lombok's natural wonders – this hotel is actually located on the side of a mountain. The perfect place to let your hair down, there's a laid-back atmosphere at this hotel – helped by the luxury yet traditional feel of the rooms. Very close to Malimbu Beach as well as shops and restaurants.
budget
Sunsethouse Lombok – This relaxing hotel boasts a peaceful atmosphere and a five-minute walk to the beach. Its rooms are modern, and decorated in neutral, chilled-out colors; they come with big French doors that open up either to the garden or onto the beach itself. Staff provide a high level of service and there's tasty food served at the onsite restaurant – plus delicious cocktails, too. The fantastic pool at Sunsethouse Lombok looks out across the ocean, making it great for a sunset swim.
Kuta Beach
Stunning Kuta beach is a long stretch of white sand in the south of Lombok. A great location to stay in order to explore the beaches on the south of the island; Kuta beach boasts healthy reefs and dramatic scenery. Surrounded by lush landscapes, the hills and peaks around the shore offer fantastic views across Kuta and its waters.
Along the beach, cafes and restaurants serve local and international food to hungry travelers, and chilled surf shops sell all the equipment you need for making the most of island life. The international airport is close by and there is public transport that connects to the nearby towns, but it can be unreliable, so hiring a car is more convenient. Value for money accommodation isn't easy to come by in Kuta beach area, but homestays do offer better value for money; for a little more, stay in a hotel on the road that leads to the beach or further inland. Better value can be found in the form of mid-priced hotels with pools.
Best Places to Stay in Kuta Beach
midrange
Origin Lombok – Origin Lombok is billed as the island's very first yoga and wellness resort, so it's a great place to go if you're looking to unwind in beautiful surroundings. Featuring modern buildings, outdoor terraces, a swimming pool with verdant gardens, and a restaurant serving up healthy (and delicious) food, activities range from practicing yoga and spa treatments to scuba diving and cycling. Kuta Beach is just over one mile from this 4-star hotel, plus Kuta Hills – a great spot for hiking – is just nearby, too.
budget
Puri Rinjani Bungalows – A beachfront property complete with a large outdoor swimming pool and its own on-site restaurant, Puri Rinjani Bungalows – as the name suggests – consists of separate bungalows, great for a couple or a family with plenty of space to spread out. Though not complimentary, the hotel also offers a laundry service, massage treatments, airport shuttles, as well as car and bicycle rental. Though it's only 3-star, it feels more upscale thanks to its delicious food and well-maintained facilities.
Tetebatu

Tiny Tetebatu is made up of a small cluster of roads with a smattering of accommodation choices. The main attraction to this village is its proximity to the national park. As such, the area surrounding Tetebatu is littered with waterfalls and abundant natural gems. If you like hiking in tropical landscapes, then spend a few nights tucked away in Tetebatu taking in the rice fields, the overflowing fruit trees, the lush rainforest and the spice plantations. The area is a veritable paradise for nature lovers.
Choose from accommodation with views across farmland or perhaps a mountain resort.
Guest houses here are all mainly low budget and run by friendly families who can help you to arrange trekking tours or organize transport to your next destination.
Best Places to Stay in Tetebatu
Les Rizieres Lombok – Looking for a traditional Lombok stay? Then Les Rizieres is the place for you. Set in amongst picturesque rice fields in a beautiful, traditional villa, the views of nearby Mount Rinjani from here are spectacular. Of course, the nearby mountain means ample opportunities for treks and hikes, too. With chances to try local specialties in the restaurant and learn about Sasak culture, you don't get much more authentic than this.
Senaru
If you want to try out trekking during your visit to Lombok, then you should head to the stunning village of Senaru. Located along one of the ridges of Mount Rinjani, an active volcano in the center of Rinjani National Park, Senaru is the jumping-off point for hikers who are keen to make it to Rinjani's summit. Even if you aren't planning on climbing to the top of a volcano, Senaru is still a truly special spot. Stunning hiking routes wind past waterfalls and under jungle canopies.
Guesthouses are nestled along the ridge of the mountain and naturally offer incredible views. There is a selection of accommodation that runs from luxury rooms with big bathrooms and all the amenities, to more humble lodges which are budget friendly but clean and welcoming.
Best Places to Stay in Senaru
Dragonfly Senaru Lodge – High up on a hillside with absolutely stunning mountain views, Dragonfly Senaru Lodge is the place to come for those who truly want to get away from it all. Beds in each lodge room are comfortable and come with the all-important mosquito net. This is definitely a great place for those who want to get into the outdoors – there's a beautiful waterfall just a few steps from the Lodge, plus it's a great start for jungle strolls or more serious trekking.
Tanjung
Tanjung is home to some prestigious holiday resorts, so if you want to stay in luxury surroundings during your Lombok trip, then Tanjung has the accommodation and dining options for you. Hotel rooms look out onto pools and manicured gardens, which give way to the sandy beach that lends itself to lazy days sunbathing.
There is the chance to explore local culture at the town's traditional market, where you can pick up some fresh fruit. For a spot of golf, try out the golf course nearby. Elsewhere, you can take a stroll along the charming marina. Tanjung also has a transport hub where you can catch buses to other Lombok destinations.
Best Places to Stay in Tanjung
Mina Tanjung Hotel – Watching the sunset from this authentic hotel is dreamy – the Gili Islands in the foreground, Bali in the background, the sea all around – it's hard not to fall in love with the view. The rooms are great; they're in a boutique style, traditional Lombok mixed with modern comfort. The open-air restaurant features local fare and Western cuisine; you can choose to sit in a beautiful private booth overlooking the sea (ideal for couples). You can check-in at any time here – very convenient!
Selong Belanak
Sun, sand and surfing; Selong Belanak's sloping crescent beach is its big draw. The clean beach attracts many surfers who come here to try out the waves in a beautiful setting.
One end of the beach is used by local families who fish the waters. Watching their daily routine makes for interesting viewing and will give you insight into the lives of locals. Scatterings of food stalls set up along the sand sell the freshly caught fish that are served with spicy sambal. Sit back and relax after a busy morning surfing and tuck into lunch with your toes in the sand.
Accommodation is very reasonably priced: charming lodgings that boast sweeping scenic views, swimming pools and restaurants. Hiring your own transport is the best way to get around the area, otherwise you can catch a ride on a local bus.
Best Places to Stay in Selong Belanak
Tiki Lodge – With chilled tropical gardens – featuring a restaurant, bar, relaxed pool area, and an amazing treehouse-esque terrace – Tiki Lodge is the sort of place you come to get away from it all in a slice of verdant luxury. The rooms themselves are tasteful, each being its own lodge (in four different sizes) complete with private terrace, meaning your own space to relax after a day at the nearby beach. Everything is decorated with a French touch, thanks to the owners.
Mataram
Sprawling Mataram is Lombok's largest city and is where many of the island's Orang Sasak people live. The city is the island's center for administration and is home to hospitals and transport hubs. A good place to stay in Lombok in order to travel to more remote areas of Lombok, the city has a port with regular ferry service, a bus station and is close to the island's airport.
There are some interesting cultural sites to see in the city along its wide lanes and tree-lined boulevards. Hang out with the local youth scene in the air-conditioned malls, adventure along back-streets on a motorbike and sample local delicacies in the markets; this is the place to come to find out about modern-day life on the island. Accommodation comes in the form of squeaky clean new hotels, which are very budget friendly.
Best Places to Stay in Mataram
Golden Palace Hotel Lombok – A modern hotel with simple, contemporary rooms, the Golden Palace Hotel is set in a large building where you'll find all the amenities you need to make your stay as relaxing and enjoyable as possible. Think rooftop terrace, gym, spa, and infinity pool – as well as five different options for food and even karaoke rooms; the room rates also include a complimentary breakfast. This 4-star offering is situated near a slice of culture at Museum Negeri Nusa Tenggara Barat and also the Pura Meru Hindu temple.