Encompassing Arizona, Colorado, Nevada, New Mexico, and Utah, the Southwest of the States is home to some of the country's most iconic natural sights, with the Grand Canyon, Arches National Park, and Monument Valley just the tip of the iceberg in terms of what the region has to offer.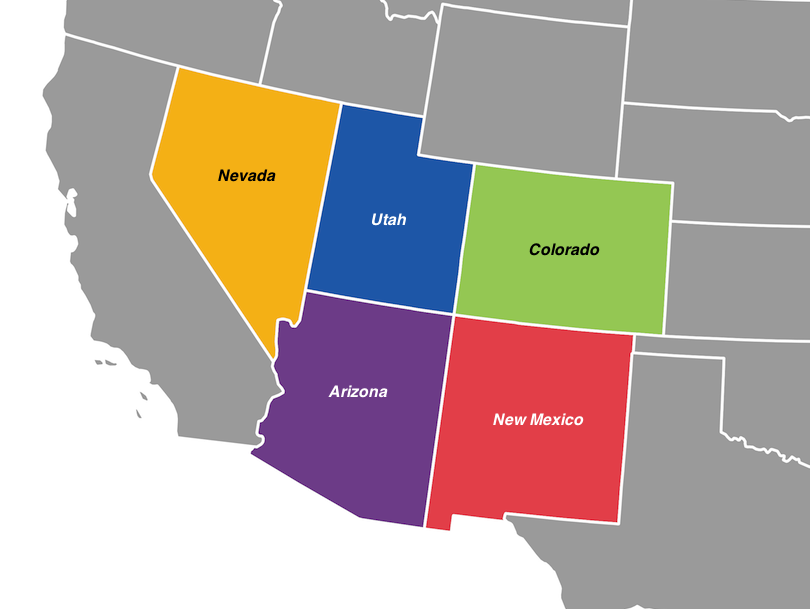 Much of the Southwest is dominated by the Mojave, Sonoran, and Chihuahuan Deserts. Slicing through these desolate and unforgiving landscapes are the Colorado River and the Rio Grande, and mountains, gorges, canyons, and rock formations scar the land.
With a long and interesting history, as well as a vibrant cultural make-up that draws on American, Mexican, and Native American influences, the Southwestern states really are a delight to explore.
Arizona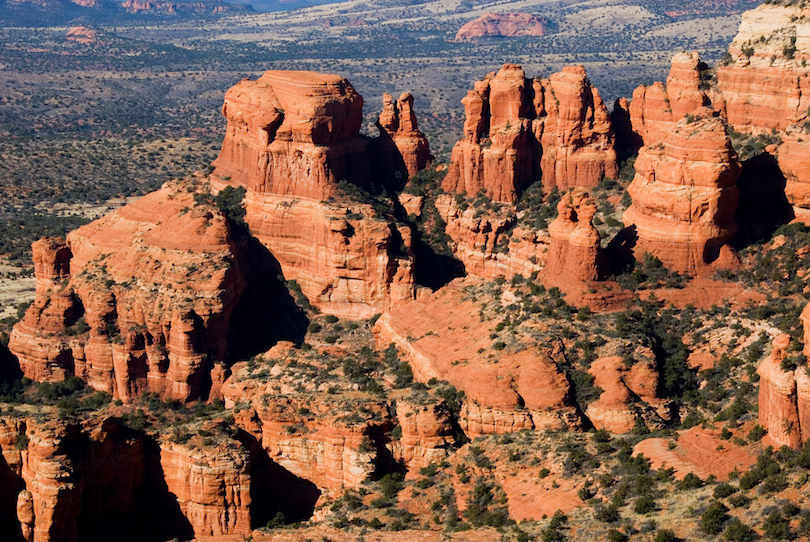 Home to not only Lake Mead and the iconic Monument Valley but to the Grand Canyon too, Arizona is awash with famous natural landmarks; its stunning desert scenery needs to be seen to be believed.
Due to its breathtaking landscapes that include endless desert, dramatic plateaus, and plunging canyons – as well as glistening lakes and the Colorado River – Arizona really is an outdoor lover's dream. Hordes of people come here to hike, cycle, horseback ride, or camp in its fantastic nature reserves; Grand Canyon National Park, Glen Canyon National Recreation Area, and Petrified Forest National Park are among the very best.
While Arizona is known for its arresting panoramas, it is also famed for being home to the Navajo Nation. Many visitors come here to learn about its people's rich culture, customs, and identity.
In addition to this, towns and cities such as Flagstaff, Sedona, and Tucson boast a plethora of interesting historical sights and cultural landmarks. The state's capital of Phoenix is a lively place with lots of nightlife and a wealth of interesting museums.
Colorado
Boasting a startling array of different landscapes, Colorado really does have something for everyone to enjoy. In one part of the state, you'll find the Rocky Mountains rising dramatically before you, and in another, endless plains and desert stretch to the horizon, along with rural farmlands, canyons, and the Colorado River.
Owing to its remarkable variety of habitats, 'Colorful Colorado' has attractions that cater to every interest. While some head to its delightful wine country, others visit the impressive Ancestral Puebloan ruins in Mesa Verde National Park or take a trip around the majestic scenery in the Great Sand Dunes National Park.
Outdoor activities are another one of Colorado's main draws, with whitewater rafting, hiking, and climbing all very popular. In winter people take their skis and head to the snowy slopes of Aspen, Breckenridge, or Vail.
Away from the gorgeous scenery and incredible range of things to see and do, Colorado also has a number of great towns and cities on offer. Boulder and Colorado Springs are particularly popular due to their scenic settings, and Denver – the state capital – boasts all the amenities that you'd expect from a bustling city of its size.
Nevada
Lying between California and Utah in the southwest corner of the States, Nevada may be renowned for being home to Las Vegas, but it certainly has much more to offer than just casinos, nightclubs, and glitzy performances.
While most of its landmass is located within the Great Basin, Nevada actually has lots of lovely desert scenery to show off. Some of its most special features are the Mojave Desert, Lake Mead National Recreation Area, and the iconic Hoover Dam. Its wild, remote, and unforgiving territory led to Nevada becoming one of the frontier states; because of this, gambling and other entertainment options are on offer in Reno and 'Sin City' – Las Vegas.
Although much of the state is quite sparsely populated, towns such as Carson City, the former trading post of Genoa, and the eerie yet strangely beautiful ghost towns around Ely are all home to some impressive monuments and museums documenting this part of the country's history.
New Mexico
Although often overlooked by visitors to the Southwest, New Mexico is a gem just waiting to be discovered. Beautiful mountain ranges, desolate desert scenery, and fascinating towns exhibiting a mix of American, Mexican, and Native American influences all await the hardy adventurer.
Defined in many ways by the Rio Grande, which runs from north to south through the state, New Mexico is a land of contrasts. The imposing Rocky Mountains loom above the Great Plains and the rugged desolation that makes up the rest of its territory.
The ancient landscapes have long been home to Native Americans, and lots of Ancestral Puebloan ruins can be found here and there; the most impressive sites are in Chaco Canyon and at Bandelier National Monument.
This rich cultural heritage still lives on in towns and cities such as Sante Fe, Albuquerque, and Farmington. What makes New Mexico particularly fascinating to visit is its past as a Spanish colony, which led to the current mix of Hispanic, American, and Native American cultures we see today.
As well as offering an appealing combination of history, culture, and nature, New Mexico also provides a fantastic array of outdoor activities for you to enjoy. Hiking, climbing, and camping are all popular, while enviable skiing opportunities await you at Taos.
Utah
Home to the 'Mighty 5,' Utah on its own has more than enough outstanding natural sights and beautiful landscapes to rival most countries. The national parks of Arches, Bryce Canyon, Canyonlands, Capitol Reef, and Zion all rank among its very best.
It really does have a stunning array of breathtaking scenery for visitors to check out. Discover towering mountains, sprawling forests, incredible rock formations, and desolate desert habitats.
Of course, with all these fascinating ecosystems comes a variety of uniquely American wildlife. Nature lovers will have their dreams come true when they take the time to head into the great outdoors here.
Due to its remarkable number of national parks and monuments, Utah is an outdoor lover's dream. Hiking, horseback riding, and camping are all favorite pastimes of both locals and tourists, while skiing, snowboarding, and boating all have their fans too.
In addition to the national parks already mentioned, the Glen Canyon National Recreation Area – which includes the glimmering Lake Powell – is well worth a visit. Don't forget Goblin Valley State Park's intriguing sandstone formations and Dead Horse Point State Park with its spectacular gorge.
While the state is renowned for its astounding scenery and beauty, it is also famed for being home to the Mormon church, which has its headquarters in Salt Lake City. Although its many towns and cities each have their own attractions and sights, most people simply use places such as Cedar City, Moab, and Provo as gateways to the natural wonders that surround them.