As the world looks for ways to find better work-life balance, it's no surprise the Colorado has once again come to the forefront. Home to world-class skiing, seemingly impossible landscapes and cozy towns, the Centennial State quickly gets you dreaming.

It all begins in the Front Range where the eastern plains hit a vast wall of sandstone, shale, and quartzite otherwise known as the Rocky Mountains. This is where you'll find Denver, ready to deliver your grand outdoor visions with breweries and urban parks, waiting on your return.

Nearby are other mountain towns, spread along the range and the famed Interstate 70. Dotting the landscape are ski resorts as riveting as the surrounding peaks, connected by enthralling drives that take you to more remote destinations.
Map of Places to Visit in Colorado
© OpenStreetMap © MapTiler © Touropia

Beyond the towns and resorts are unique monuments, hot springs, and sand dunes that prove Colorado to be a contrasting place. Rich in historical and cultural attractions as well as in natural beauty, the best places to visit in Colorado have something special to offer every visitor.
18. Colorado National Monument

The Colorado Rockies are synonymous with the Centennial State. By comparison, the Colorado National Monument is an impostor. It's a scene straight out of neighboring Utah's Big Five, with dramatic buttes, cliffs, and monoliths coating the landscape, so no vista is the same.

In Grand Junction, western Colorado, you won't find yourself far from the monument. The park is easily accessible thanks to the Rim Rock Drive that spans 23 miles through the monument delivering red rock canyons, desert flora, and stunning skylines in spades.

You'll find yourself stopping often to admire the scenery. Even more so to tackle the local trails that take you deep into the desert wilderness. Otto's Trail is an easy, short hike that brings you through juniper woodlands to views of the Sentinel Spire, Monument Canyon and the Pipe Organ.

17. Crested Butte

The first of many ski towns in our guide, Crested Butte is known for its steep descents and charming downtown. As the crow flies, Crested Butte is a mere eleven miles from the famous town of Aspen, yet if you were to drive between the two, it would be over 100 miles. That's the simplest way to describe the rugged and awe-inspiring mountains the surrounds Crested Butte.

Other resorts in Colorado go heavy on glamour. That's not Crested Butte's style. Yes, it's a popular ski resort, but for all the winter vacationers, the local vibe remains strong. A lot of that is due to the resort's remote location. Those that make the trip will experience a tight-knit community and be surrounded by like-minded folks.
16. Glenwood Springs

You'll quickly wear out your hiking boots as you explore Colorado. When you're in the need of some R&R, make a beeline for Glenwood Springs. Along the famous I-70 highway, home to some of the best ski towns in America, Glenwood Springs features rejuvenating hot springs.

In total, there are 16 hot springs to pick between. All of which have turned Glenwood Springs into a resort town. It boasts revitalizing geothermic waters that will help you soothe the aches and pains before tackling more adventures.

Once you're ready, Glenwood Springs is a great base from which to explore. Within minutes you can be exploring the White River National Forest, or becoming acquainted with the inspiring Glenwood Canyon, home to the turquoise Hanging Lake.

15. Maroon Bells-Snowmass Wilderness

Just a brief trip from Aspen, Maroon Bells-Snowmass Wilderness is one of the best examples of the grandiosity of the Rocky Mountains. It's here that you'll find heavenly alpine lakes that are thousands of feet above sea level. They make way for vast collections of green pines and colorful aspens that quickly disperse as mountains carved by glaciers rise like knives out of the valley.

After driving into the veritable wilderness, you'll be presented with almost 200 miles of hiking trails. These help you discover a spectacular array of landscapes that will help you appreciate this stunning yet unheralded destination.

Alongside day and overnight hikes, the Maroon Bells-Snowmass Wilderness is lined with mountain biking tracks. Both riding and hiking trails take you into the remote wilderness where fishing abounds and refreshing lake swims reward those who put in the miles.

14. Durango

In 1881, the mining town of Durango was founded and has been a source of fascination ever since. The railroad, which was established at the same time, remains. For locals it's an ornament to the past and an for us travelers, a beautiful insight into this charming community.

Durango's Wild West architecture and booming mountains have also caught the eye of Hollywood's filmmakers. It was here such classics as Butch Cassidy and the Sundance Kid, and National Lampoon's Vacation were shot. It's not hard to find yourself in the same scenes from along the bustling Animas River to downtown Durango.

Speaking of, Durango has more restaurants per capita that San Fran. It's a haven for foodies, especially those who love artisan treats from the homegrown chocolate to jams and honeys. With the appetite stored away, make the most of local national parks, archaeological sites or along local rivers that are a fishing mecca.
13. Steamboat Springs

Known as Ski Town USA, Steamboat Springs offers some of the best powder skiing (and riding) in the United States. But it was a thriving community long before the ski lifts and vacationers. It was a continues to be a town rooted in ranching heritage, a place that has always appreciated its beautiful, natural surroundings.

A day on the slopes brings fun groomers, complex moguls and deep champagne powder. However, it ends on Main Street where you'll find over 100 bars and restaurants ready to take your après-ski to the next level. Importantly, at Steamboat Springs, you can leave behind rapid expansion and designer retail to enjoy local culture and artisans.

When the need for rejuvenation appears, learn how the town got its name with a visit to the Strawberry Park Hot Springs for natural pools that reach 105 degrees.

12. Dinosaur National Monument

There's more to Colorado that chasing the gnar and climbing epic peaks. All up, there have been over 60,000 dinosaur fossil discoveries in the state. The rich history of dinosaur discoveries began in Colorado in 1876 and is not preserved and celebrated in the state's northwest at the Dinosaur National Monument.

It all begins at the Quarry Exhibit Hall, which stands atop the Carnegie Dinosaur Quarry. Not much can prepare you for the sight of dinosaur fossils, carefully preserved and embedded in vast rock walls. But that's what you'll find here, a museum that looks just like a real excavation.

But it wouldn't be Colorado if the monument didn't also feature rafting, hiking, fishing, and a scenic drive. All of which help make the Dinosaur National Monument an amazing look into the state's ancient history.
11. Telluride

In the foothills of the San Juan Mountains, Telluride delivers for couples, families, and friends 365 days a year. Like Aspen, Telluride evokes visions of rich vacationers, but it's an experience that is worth weathering the elevated cost.

Mesmerizing alpine scenery welcomes you with open arms on arrival. The roads, sweeping around giant mountains, turn a short journey, as the crow flies, into an hours-long affair. Telluride is more remote than other mountain towns like Vail, but that only helps make it more special.

More than other ski towns, Telluride hikes are just as good as its skiing. When the snow melts, trade the snowboard or ski for a trek to the 265-foot Bridal Falls, one of the few noteworthy waterfalls in Colorado. If you're up for some thrill-seeking, the venture along the Telluride Via Ferrata that has you scrambling along the cliff's edge strapped in a harness.
10. Breckenridge
Owing to the establishment of Breckenridge in the 1850s, the famous ski resort is as well rounded as any in our guide. Yes, the slopes attract many travelers seeking to shred, but the town's Historic Main Street makes Breckenridge as fun off the hill as it is on it.

Whether it's summer or winter, Breckenridge's chief thoroughfare is lined with restaurants, breweries, and fantastic shopping (trinkets to high-end art) all found within 19th century architecture that evokes the vibe of the Old West. It makes for the perfect start and end to what is sure to be a day of adventure.

In the warmer months venture into the hills on a long, view-packed hike, fish or kayak along nearby waterways or ride the toboggan that takes you through the mountains. This ride also runs during the winter, where Breckenridge comes to life as a world-class resort, boasting the highest ski lift in the United States.
9. Black Canyon of the Gunnison
Arizona may have its Grand Canyon, but Colorado's Black Canyon of the Gunnison is one that will long linger in your memory. Boasting a 3,000-foot drop, the vast canyon and surround geography will have you in a trance and consistently reaching for your camera.

The name of the stunning canyon is derived from the lack of sunlight much of it receives. Such is the narrow and vast drop that some sections of the canyon enjoy as little as half an hour of light. Thus, the Black Canyon is a mix of shadow and bouncing sunlight.

If you don't feel like leaving the rental car, you can drive along the Rim Drive home to a dozen stunning viewpoints. You can also hike deep into the canyon on a full-day trek or kayaking through the towering crevasse along the Gunnison River.
8. Vail
Since the 1960s, Vail has been at the forefront of snow sports in the United States. There are few ski destinations so popular and while some may become fearful of the crowds, Vail's famous Back Bowls ensures there is plenty of skiable terrain to go around.

But first, let's be clear about one thing. Vail isn't cheap. Yes, ski and snowboard vacations are never cheap, but Vail takes it to another level. You can expect high-end hotels, restaurants, and designer retail. But before you scratch this resort from your plans, there are nearby towns such as Silverthorne and Frisco that allow you to stay in proximity to not just Vail, but Breckenridge and other resorts like Keystone.

With over 3,400 feet of vertical rise, Vail's front face is massive. In total, the resort has just shy of 200 runs, spread between beginner and expert terrain. But on a powder day, it's what lies beyond that makes Vail a must visit.
7. Great Sand Dunes National Park
OakleyOriginals / Flickr
It's hard to appreciate the sheer scale of the Great Sand Dunes National Park until you're standing in the center of it. Even as the GPS says 5 miles from your destination, the rolling dunes look like mere three-foot waves in the shadow of the Rocky Mountains.

However, once you've entered the national park, these rolling waves grow into giant behemoths before your very eyes. The initial collection of a dozen dunes has been surpassed by dozens more, each bigger and more grandiose than the last.

Once you're at the dune's edge, looking up, you'll begin to understand just how impressive the Great Sand Dunes are. So too, will you begin to wonder how in the world such a unique expanse can exist in an otherwise mountainous terrain?

As you explore the tallest sand dunes on the continent, one that features Star Dune at 750 feet, be sure to carry a toboggan or sandboard for a thrilling ride back down into the valley.
6. Boulder
Located just a few miles to the northwest of Denver, Boulder is a college town nestled against the foothills of the Rocky Mountains. The mountains and trails attract many travelers to Boulder. But spend time in town, and you'll quickly fall in love with Boulder's active community, one that enjoys capping a day of fun with even more joy across the restaurant tables and outdoor patios.

At the heart of the city culture is the Pearl Street Mall. This is a happening thoroughfare akin to the Yellow Brick Road that delivers restaurants, galleries, shops, and bars in spades. It brings the community together and is topped off with a hearty round of street music.

In addition to the shopping street, Boulder is the home of the University of Colorado Boulder. On campus, there is a national historic district, museums, and planetariums. The university also hosts the Colorado Shakespeare Festival, which attracts over 20,000 fans.

Now that you've had a healthy dose of Boulder culture, it's time to explore. Eldorado Canyon State Park and the Flatirons are in easy reach, bringing memorable outdoor adventures.
5. Aspen
Few ski towns in North America evoke the same boujie, elite vibe as Aspen. Set in the Roaring Fork Valley, Aspen is surrounded by snow-capped mountains that sparkle thanks to the state's 300 days' worth of sun.

The town boasts some of the best architecture of any resort in the United States, thanks to its genuine Victorian-era buildings that have stayed the course as Aspen rose to prominence. From town, you can catch an enclosed gondola to the resort proper where a day of fine powder skiing awaits.
After a long day on the slopes, locals and travelers mix wearing for après-ski in their trendy snow gear, creating a resort atmosphere only matched by Vail.

However, thanks to its history, architecture and tight-knit community, Aspen is a year-round destination. Forego the skiing and enjoy fine local dining, movie festivals, and hiking trails that are teeming with beautiful views of far-off peaks.
4. Colorado Springs
Whether you're a local looking for a weekend away, or a far-flung traveler trying to complete Colorado, be sure to add Colorado Springs to the itinerary.

One sight not to miss is the aptly named Garden of the Gods. The term "garden" barely does it justice as the sharp, towering burnt orange peaks surrounded by lush vegetation cannot be described with a single noun. Alongside fellow hikers, you'll spot climbers making their way to the narrow peaks and mountain bikers flying along the tracks.

If you've been dreaming of completing a 14'er (14,000 ft mountain), drive out of Colorado Springs to Pike National Forest. It's here you'll find the drive-able Pikes Peak standing at 14,115 feet.

But in town, culture and history abound. After a day of hiking, check out the many local breweries, the National Museum of WW2 (an open-air museum) and the 19th century Glen Eyrie Castle.
3. Denver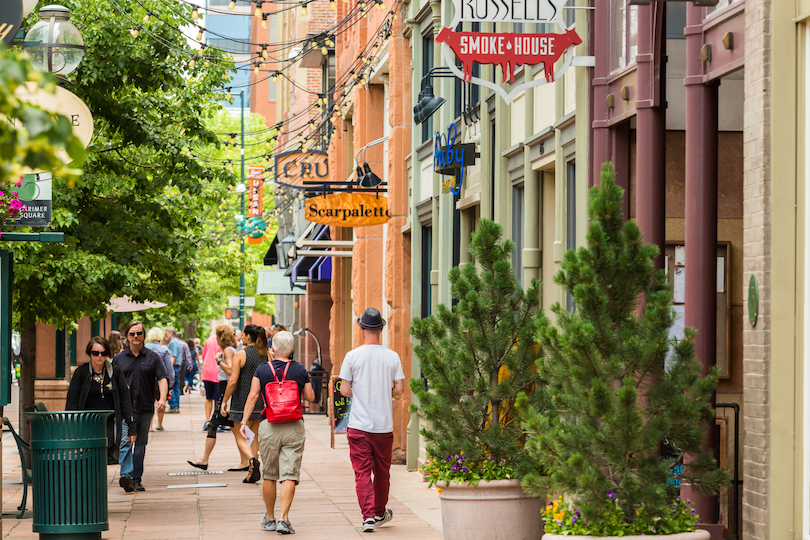 Nicknamed the "Mile-High City" because it sits exactly a mile high in altitude above sea level, Denver is Colorado's capital and largest city.
For modern travelers, Denver has represented the doorway into Colorful Colorado. It's the common arrival point for those seeking the slopes at Vail and Breckenridge or the rolling dunes at Great Sand Dunes National Park. But Denver represents what Colorado is all about in the 21st century: good beer, great food, easy access to the outdoors, and a few too many Subarus.

Denver is Colorado's capital in more ways than one. Politics aside, it is at the forefront of the state's booming population and offers travelers and locals a wide variety of attractions. Beyond the breweries and trendy neighborhoods like LoDo or the River North Arts District, visitors have plenty of live sport and music to enjoy.

Beyond catching the Broncos (NFL) or the Nuggets (NBA) in action, one mustn't miss a chance to see their favorite artists at the postcard-worthy Red Rocks Amphitheater. For history lovers, check out Larimer Square to travel back to the Old West.
2. Mesa Verde
The history of the Centennial State stretches well beyond the well-documented western expansion. Before ranches, IPAs, and ski bums made themselves at home here, Native Americans made their mark upon the landscape. Mesa Verde presents the prime example.

Forget what you know about cliff dwellings, from the cliffside homes in Rhode Island to the remarkable Cinque Terre. Mesa Verde is different, a unique and otherworldly look at ancient architecture and a way of life that has been lost. These dwellings are akin to those found in Petra, Jordan. Painstakingly carved out of the rock and dirt to create a rich community for the Ancestral Pueblo who called this place home for seven decades until the 14th century.
At the center of it all is the Cliff Palace. The well-preserved palace can be explored on a ranger-led tour, which brings context to a spellbinding place. Ladders take you higher and higher to wondrous views of Mesa Verde and the surrounding expanse.
1. Rocky Mountain National Park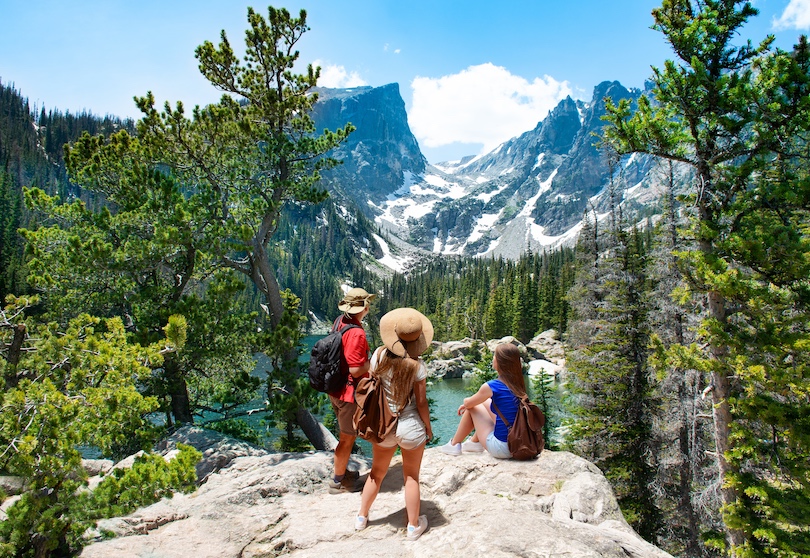 The land stretching from Denver to Fort Collins is often referred to as the Front Range. It marks the abrupt end of the state's flat eastern plains, once caused by the stupendous peaks of the Rockies. At the heart of this is the Rocky Mountain National Park, one that post a centurion of peaks that soar above 10,000 feet towards the heavens.

As you make your way towards the park, you'll quickly find yourself enamored with one of the most spectacular sights, not just in Colorado, but the United States. Of the dozens of stunning peaks, the tallest is known as Longs Peak, which stands at over 14,000 feet.

It's safe to say the national park has attracted adventurous hikers and climbers for decades. While you can hastily pursue the storied peaks, the park's main road, Trail Ridge Road, takes you up above 12,000 feet. From there, you can complete several short strolls and day hikes, where elk and bighorn sheep abound.