The capital and largest city of Colorado, Denver is known as the 'Mile-High City' as it is located at the foot of the rearing Rocky Mountains. As such, there is a wealth of wilderness to be explored nearby with picturesque parks and gardens also to be found in town. A lively yet laid back place, Denver lies at the heart of a fast-growing metropolitan area with the city acting as an important economic, political and cultural center for the region.
As well as being home to interesting historic tourist attractions and many museums, some splendid shopping and nightlife are also among the things to do in Denver. Add in the scenic setting, and more than 300 days of sunshine a year, and it is no wonder that Denver is regularly ranked among the best places to live in the United States.
17. History Colorado Center
Jeffrey Beall / Flickr
Set in the middle of the city is the History Colorado Center which offers a fascinating look at the history of the American West. Through interesting and interactive exhibits, you'll learn about how the state was settled and how its pioneering and individualistic spirit came to be.
Opened in 2012, it boasts a colossal collection, with everything from photographs and prints to age-old artifacts, artworks, and archaeological findings on show. The museum's delightful displays and dioramas also look at the daily lives of Ancestral Puebloans, as well as Colorado's many mountains and mines.
16. The International Church of Cannabis
A very unique and unusual place to visit in Denver is The International Church of Cannabis, just a short drive to the south of the city center. Elevationists, as the religion's members are known, use cannabis as a sacrament to accelerate and deepen self-discovery. Their headquarters are located in a lovely old converted Lutheran church.
Although the century-old church exhibits some exquisite architecture, it is the incredible interior decoration which really makes for a spellbinding and psychedelic sight. Painted by world-famous artist Okuda San Miguel in glorious technicolor, the walls and ceiling are filled with geometric shapes and graffiti-inspired images of people and animals.
15. Coors Field
When in town it is well worth going to watch the Colorado Rockies play a Major League Baseball game at colossal Coors Field. As it has a capacity of over 50,000 people, and a reputation for being a hitter's park, games at this ballpark are always fun to watch thanks to its electrifying atmosphere.
First opened in 1995 in downtown Denver, the state-of-the-art stadium boasts fantastic facilities and views of its pitch, with even the far-off Rocky Mountains spied from its higher stands. Besides enjoying the ambience, visitors can also try out their batting skills at its interactive area. On-site there's also a souvenir store and a microbrewery which sells craft beers from the Coors Brewery.
14. 16th Street Mall
Stretching over two kilometers in length is 16th Street Mall, lined by more than 300 locally-owned shops and chain stores. Home to countless excellent restaurants and entertainment venues, it's a very popular place to visit for locals and tourists alike.
Dotted with pretty flower beds, park benches, and tall trees, the massive transit mall was opened in 1982. To get around, catch the free shuttle bus permitted on its pedestrian-only streets. In addition to dining and shopping 'til your heart's content, you can also watch the many superb street performers.
13. Denver Performing Arts Complex
An incredible place to visit, the Denver Performing Arts Complex is home to not one, not two but 10 world-class performance spaces! It is the place to head to watch ballet, opera, or a play, with the massive complex covering four blocks of the city center.
Often referred to locally as 'the plex', the sprawling site certainly has something for everyone to enjoy, from classical and contemporary dance to choirs, concerts, and comedy acts. The Denver Performing Arts Complex also hosts classes and workshops during the year.
12. Wings Over the Rockies Air & Space Museum
Just 15 minutes' drive to the east of downtown is the wonderful Wings Over the Rockies Air & Space Museum. Housed in a huge hangar you can find dozens of gleaming aircraft and space vehicles, with other arresting artifacts and exhibitions also on display.
Once an Air Force training base, it was turned into a museum in 1994 to preserve the history of its operations. Besides many military planes, it also has captivating civilian and space crafts to peruse. Plus interesting interactive exhibits about the history of aviation and space exploration.
11. Union Station
Much more than just Denver's main transportation hub, the historic Union Station is teeming with life, and is well worth visiting, even if you aren't planning on traveling.
First opened in 1881, before burning down a decade later, the restored railway station is remarkably well-preserved with its fabulous Beaux-arts facade topped by an iconic 'travel by train' sign.
Inside is just as stunning. The massive main hall is sumptuously decorated with leather couches and lanterns, and lined with swanky restaurants and bars, cosy cafes, and boutiques.
10. Larimer Square
The first designated local historic district in Denver, Larimer Square is lined by lovely old buildings which house countless art galleries, shops and restaurants. The square was the first site to be settled in the city with the former pioneer camp slowly turning into the main business area over the decades.
A century and a half later, Larimer Square remains the heart and soul of the city and has lots to see and do. Besides its bountiful bars and boutiques, it also has arresting architecture with some great dining and entertainment to be had in the evenings.
9. Washington Park
Washington Park attracts locals and tourists with its appealing ambience and an array of outdoor activities on offer. Sprawled over a huge area, its meticulously landscaped lawns, lakes and flower gardens are just a short distance to the south of the city center.
Established in 1899, the park has paths to stroll, picnic areas and playing fields, as well as a recreation center and tennis courts. You'll also find historic homes hugging the edges of the park which exhibit very attractive architecture and brickwork.
8. Colorado State Capitol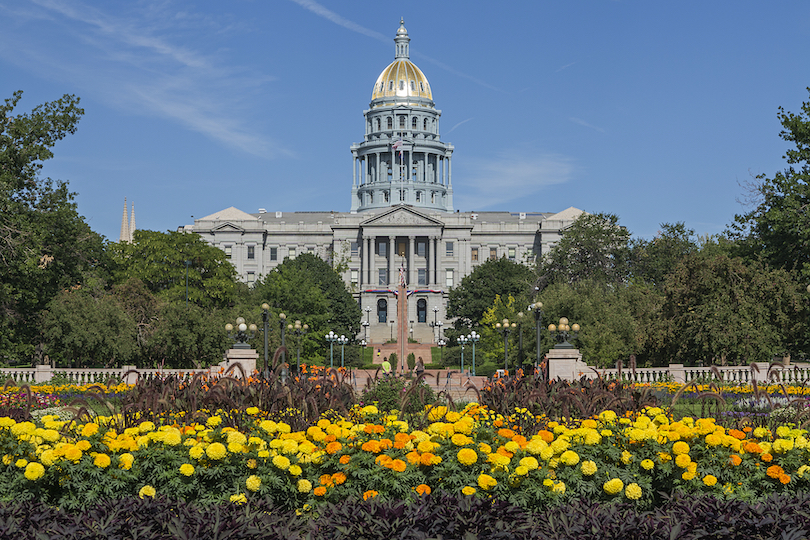 Perched atop a small hill in the center of the city is the Colorado State Capitol which certainly makes for a spellbinding sight. Boasting a grand exterior and glittering golden dome, the state's seat of government can be found at the east end of Civic Center Park.
Mostly made of materials sourced from Colorado, it is modeled on the United States Capitol with the beautiful building completed in 1901.
Inside the cavernous capitol is coated in marble with portraits and stained glass windows lining the halls and chambers. Besides learning about its history in a small but informative museum, visitors can also enjoy fantastic views out over the city and the Rockies from its viewing platform.
7. Denver Zoo
A family-friendly place to visit, the world-class Denver Zoo is home to more than 4,000 animals. In spacious enclosures that mimic their natural habitats, you can find everything, from lions and tigers to gorillas and grizzly bears. There are interesting, educational exhibits wherever you look.
Since opening in 1896, the zoo has expanded considerably and now covers a large part of City Park. Wandering around places such as Elephant Passage, Predator Ridge, and Primate Panorama is a treat as you can see the animals up close and personal.
Through displays and demonstrations, you'll learn about these remarkable residents and how they normally live in the wild.
6. Molly Brown House Museum
Steven Martin / Flickr
Set just a stone's throw from the Colorado State Capitol is the Molly Brown House Museum. This museum offers an interesting insight into the life and times of this incredible woman. Despite having been a philanthropist, theater performer and progressive activist, Margaret Brown is now most famous for having survived the sinking of the RMS Titanic.
Her former home now acts as a museum and houses excellent exhibits and artifacts on her life and achievements, plus the era of Colorado history in which she lived. Almost as impressive as her work in the women's suffrage movement and experiences aboard the Titanic is the breathtaking building itself. Wonderfully well-preserved, it dates back to 1887 and showcases some stunning Queen Anne-style architecture.
5. Denver Art Museum
Lying just a few blocks away is another of the city's standout sights; the extraordinary Denver Art Museum. Boasting a collection of some 70,000 or so astonishing artworks, it is a must-visit.
Founded back in 1893, the museum's modern building exhibits a delightfully different and daring design, and its galleries include everything, from African and Asian art to Native American and Oceanic paintings, photos, and prints.
Set over several buildings are innovative and interactive installations with renowned works by famed artists, such as Vincent van Gogh, Auguste Renoir, and Winslow Homer on display.
4. Denver Museum of Nature & Science
A very educational place to visit when in town is the delightful Denver Museum of Nature & Science. Located at the eastern end of City Park, it has an array of exhibits and activities to enjoy. These on the natural history of the state, as well as that of the Earth and universe too.
Perusing its permanent exhibitions is a treat as they look at everything, from the fauna and flora of the Rocky Mountains to dinosaurs, Egyptian mummies, and robots. The museum also has a planetarium and IMAX theater, with classes, lectures and workshops held throughout the year.
3. Mount Evans Scenic Byway
Winding its way through the Rocky Mountains is the majestic Mount Evans Scenic Byway, fittingly known as the 'road into the sky'. The highest paved road in the whole of North America, it takes you up to the heady height of 4,310 meters, passing stupendous scenery and jaw-dropping viewpoints on the way.
Starting to the west of the city, the beautiful byway stretches 45 kilometers in length and remarkably gains over 2,000 meters in elevation. As such, it is an absolute delight to drive along and has lovely lakes and trails for you to stop off at along the route. While there are a plethora of phenomenal views to be enjoyed, the best of all is to be found at its endpoint which lies just below the lofty summit of Mount Evans.
2. Red Rocks Park and Amphitheater
One of the most renowned tourist attractions in Denver, the Red Rocks Park and Amphitheater, is found just 20 minutes' drive to the southwest of the city center. Besides its stunning sandstone rock formations, it is also famed for its outstanding outdoor amphitheater. This boasts excellent acoustics and an intoxicating ambience which attracts big-name artists.
Set between two hulking 120 meter-high sandstone rocks, the natural amphitheater has long been a world-class venue with everyone from, The Beatles and Jimi Hendrix to John Denver, U2 and Neil Young having performed there.
In addition to watching a concert or basking in the breathtaking views out over Denver, visitors can also go hiking amidst the red rock formations or stop by the site's Colorado Music Hall of Fame.
1. Denver Botanic Gardens
Home to a myriad of plants and flowers, trees and shrubs, the Denver Botanic Gardens are worth a visit when in town. One of the largest and loveliest botanical gardens in the States, it sprawls over a huge part of Cheesman Park, with other serene and scenic sections to be found at both Chatfield and Mount Goliath.
Since first opening in 1951, it has expanded considerably and now includes flora from as far away as Africa, Asia, and Australia. In total it has over 50 peaceful and picturesque gardens to wander around. Exotic and rare orchids lie alongside sparkling waterfalls, and there are pretty pavilions and a glorious Japanese garden.
With its numerous art installations, outdoor concerts in the summer months, and a magical Christmas lights show to enjoy in winter, the Denver Botanic Gardens are a year-round attraction.
Map of Things to Do in Denver