With an abundance of natural beauty, endless opportunities to get outdoors and a high quality of life, Boulder has quickly become a must-see destination. Facing the spectacular Front Range of the Rocky Mountains and surrounded by wildflowers, some people say that Boulder is a city within a vast park.
At any time of year, enjoying the arts and culture within the downtown and university areas are among the top things to do in Boulder. Or carve up the slopes in the backcountry. The active lifestyle permeates into the local culture, making exploring the city of Boulder a unique and enjoyable experience.
In this post, we'll cover:
12. County Farmers Market
Comprising two popular farmers' markets, Boulder and Longmont, the Country Farmers Market is the place to go for fresh local produce. Originally established to cut out the middleman, it has grown in popularity to become a top attraction in Boulder, Colorado.
The ability to get outdoors, enjoy the sunshine and interact with local farmers is what makes any farmer's market great, and these two are no exception. You will also find vendors selling handicrafts, homemade food, and artwork.
The Boulder Farmers Market is held on Wednesday and Saturday throughout the year on 13th Street. While you can find the Longmont Market on 5th Avenue on Wednesdays and at the Boulder Country Fairgrounds on Saturdays.
11. National Center for Atmospheric Research
Young and old alike will love taking part in the many interactive exhibits found at the National Center for Atmospheric Research aka NCAR. As both a research center and a science museum, visitors are incredibly close to where all the magic happens.
The focus here is on our climate, the atmosphere, our changing weather systems and even the galaxy. Both fun and educational, The NCAR will help you become more aware about the changing world we live in.
With no cost to enter, this museum is one of the best free activities to do in Boulder. Engage in the many facilities, interesting lectures and programs, while discovering the powers of science.
10. Leanin' Tree
Jennifer Boyer / Flickr
When in Boulder, Colorado, you will have the opportunity to visit and experience one of America's largest privately owned collections of Western Art. This spectacular museum houses over 250 paintings that explore Western landscapes, wildlife and the culture of the pioneers.
Inside the Leanin' Tree Museum of Western Art you will find work by renowned artists such as Frank McCarthy, Allan Houser and the impressive Bill Hughes. Beyond paintings, there are also more than a hundred bronze sculptures on display.
Once you have completed walking through the museum, make sure to explore the Leanin' Tree Gift Shop. Not just any old gift shop, you will find a comprehensive collection of unique greeting cards, both humorous and heartfelt.
For those interested, there is also a series of free greeting card manufacturing tours from Monday to Friday, for fascinating information you didn't know you needed.
9. Avery Brewing Company
To quench your thirst in Boulder, there are few better places to pay a visit to than Avery Brewing Company. Since Avery Brewing opened its doors in 1993, they have been serving a wide range of craft beers that have kept locals coming back for more.
To fully appreciate the level of skill and effort that goes into creating their wonderful brews, then you must take a behind-the-scenes tour of their brewery. On the tour, you will start from the very beginning of the process with your guide taking you through each step on the way to bottling. Most importantly, you can sample some of their creations as you walk.
Additionally, you can do a simpler tour of their tap room. Either way, be sure to try several blends and bring home your favorites.
8. University of Colorado at Boulder
In the heart of Boulder, the University of Colorado's campus is a center for research and culture. But even for those not in class, there is much to see and do on campus.
The campus is a beautiful one with wide open spaces, classic academic buildings and the impressive football stadium. You can take a step back in time and explore the university's history at the CU Heritage Center. Highlights include a campus replica made of LEGO and moon rock collected by astronauts on Apollo 15.
Other fun activities include taking a photo of the picture-perfect Varsity Bridge while you can also watch Shakespeare plays under the stars at the beautiful Mary Rippon Outdoor Theater. One of the biggest planetariums west of Chicago is also found on campus. Full of interactive exhibits, live talks and performances, the Fiske Planetarium is one to check out.
7. Celestial Seasonings Tea Factory
beautifulcataya / Flickr
As one of the largest tea manufacturers in the USA, a tour of the Celestial Seasonings Tea Factory is one of the top things to do in Boulder. The tea company was founded in 1969 and has grown to be a prominent exporter of tea around the world.
The tea leaves and herbs are planted and harvested right here in the Rocky Mountains. Later they are dried, blended and packaged before being sent across the US and internationally.
To explore the history of the factory and how it grew to be big enough to serve over 1.6 billion cups of tea annually, then join a free tour. On the tour, you will also learn about the tea-making process, along with how they create different blends.
Finish up with a hot cup of Celestial Seasonings tea after your 45-minute tour. There is also an extensive gift shop on-site.
6. Flagstaff Mountain
Just fifteen minutes out of town, Flagstaff Mountain is a popular hiking destination for locals. If you've brought along your hiking boots, why not add a bit of trekking to your time in Boulder, Colorado?
Within the Front Range of the Rocky Mountains, Flagstaff Mountain is 6,983 feet (2,128 meters) tall. A popular hiking trail to the summit is a five mile (eight kilometer) trek that ends with stunning views of Boulder and the surrounding mountains.
If you feel like saving the effort for another one of the listed activities, then jump in the car and drive to the top of Flagstaff Mountain. Not only will you see amazing views, but you will also be in the right shape to enjoy one of America's most romantic restaurants, Flagstaff House.
Within a historic building built in 1929, dine above the clouds for an unforgettable experience.
5. Boulder Creek Path
sk / Flickr
At 5.5 miles long, the Boulder Creek Path is a scenic trail that is easily accessible on the back of a bike. Rather than walk everywhere, kick back and enjoy a relaxing ride through picturesque landscapes as you stare up at the soaring mountain ranges.
Beginning at the University of Colorado at Boulder's East Campus, the well-maintained trail is a pleasure to ride on. The flat, paved path allows you time to take your mind off things and simply enjoy the sights.
Turn around where the Fourmile Creek connects to Boulder Creek for the return journey. The Boulder Canyon Trail is also found along the path for a possible side-trip into the mountains.
4. Eldorado Canyon State Park
It should come as no surprise that Boulder is home to an abundance of jaw-dropping outdoor areas. One of the more renowned, however, is the Eldorado Canyon State Park.
This park has something for everyone with hiking trails for all abilities. The park is known for its spectacular sandstone cliffs, home to some of the best rock climbing in the USA. Those who love to climb will find more than a thousand technical routes through the park.
For something more relaxing, you can go fishing in South Boulder Creek, or simply swim in the cool waters. Pack a lunch and enjoy a picnic surrounded by storybook scenery.
3. Pearl Street Mall
For a little bit of everything, shopping, dining and the arts, then you must head to the Pearl Street Mall. This iconic attraction has enough to keep you busy for hours on end as you jump from gallery to gallery and between the abundance of boutique stores.
As you walk through the mall, the beat from street performers echoes beautifully through the walkways. But there is more to the mall than just shopping. Here you will find happening nightlife and some of the best restaurants in Boulder to try.
If you are someone that has to pick up a souvenir wherever they go, then make sure to stop by The Wind. Here you will find local gifts, arts and crafts that will help you remember your time in Boulder.
2. Chautauqua Park
Technically a part of Boulder Mountain Park, Chautauqua Park is one of the most photogenic locations within the city's boundaries. Since the park was founded in the 19th century, it has wowed visitors with stunning views, wildlife and leafy vegetation.
It has since become a National Historic Landmark, but because of lower promotion, the park is never as busy as others in Boulder. That means more space for you to roam and more peace when soaking in the views.
1. The Flatirons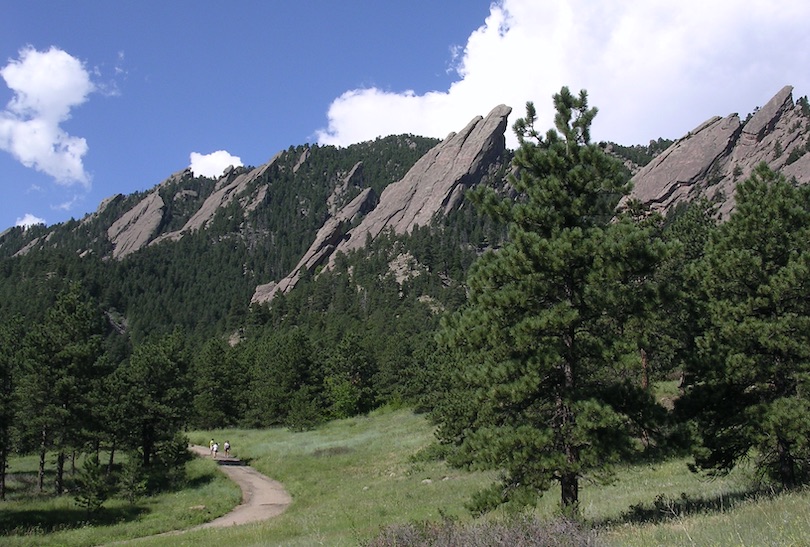 The best thing to do in Boulder is to spend time exploring the iconic Flatirons. The Flatirons are a collection of dramatic rock walls that are found to the side of intimidating Green Mountain.
There are several trails through the area that take you right up to the spectacular rock walls. Allowing you to stare up and admire the sheer size. There are also basic trails that give you the chance to leisurely make your way through the park.
If you are ready for a true heart-in-mouth adventure, then you can rock climb the Flatirons, a popular activity since the 1940s.
Map of Things to Do in Boulder, Colorado