One of the most rewarding states to visit, 'Colorful Colorado' is packed with incredible scenery, sights, and cities. Defined by the Rocky Mountains that run down its middle, the state has many different sides to it and diverse attractions.
The lively state capital of Denver has a wealth of things to do, while other Colorado cities are more known for their outdoor activities and proximity to pristine nature sights. Skiing at mountain resort towns, such as Aspen and Steamboat Springs, is popular. Then there's the thriving cultural scenes and nightlife of college towns, like Boulder and Fort Collins.
With beautiful mountains and forests only ever a short drive away, the best cities in Colorado offer the perfect mix of culture, nature, and history.
In this post, we'll cover:
12. Steamboat Springs
Nestled in the northwest of the state, Steamboat Springs boasts some of the best champagne powder skiing in the world. Nicknamed 'Ski Town USA', it has a well-preserved historic district to explore and also offers some excellent outdoor activities in the summer months.
Set in a scenic spot alongside the Yampa River, the town was founded in 1876 and is named for the numerous hot springs that dot the area. Once a railway hub, its Old Town is now home to countless shops, restaurants, and bars, as well as its historic sights.
The main reason that everyone visits, however, is for its stupendous skiing and super soft snow. In summer, visitors can enjoy everything from horseback riding and golfing to hiking, mountain biking, and kayaking amidst spectacular surroundings.
11. Canon City
Situated just forty-five minutes' drive southwest of Colorado Springs, Cañon City straddles the Arkansas River and lies at the foot of the majestic Rocky Mountains. As such, it offers all kinds of epic outdoor activities, with river rafting and rock climbing particularly popular pastimes.
The city's standout sight is undoubtedly the ginormous Royal Gorge that lies nearby and is home to the country's highest suspension bridge, an aerial cable car and much, much more. Besides rafting along its river or climbing up its steep cliffs, there are also scenic drives and train rides to enjoy through the winding canyon.
While most people visit for its ample adventure activities, Cañon City's Historic Downtown also has some great museums to check out that offer a fascinating look into the area's past.
10. Glenwood Springs
For centuries, people have flocked to Glenwood Springs for the natural hot springs that flow amidst the stunning scenery of the Rocky Mountains. While its relaxing waters are still the town's main draw, it also has some wonderful hiking, mountain biking, and watersports for visitors to enjoy.
Set at the spot where the Colorado and Roaring Fork rivers meet, the town sprung up around the hot springs in the late 1800s. Besides swimming, you can hike to see waterfalls and lakes in the mountains or go fly-fishing, kayaking, and whitewater rafting along the river.
Due to its numerous hotels and shops, Glenwood Springs also makes for a great base from which to visit both Vail and Aspen's ski resorts, which lie just under an hour away.
9. Grand Junction
As it is the largest city in the state's Western Slope region, Grand Junction is often used as a base from which to explore the nearby landscape. While the Colorado National Monument and Grand Mesa are undoubtedly its main attractions, it also has a thriving arts and culture scene to delve into.
So named due to its setting at the confluence of the Colorado and Gunnison Rivers, Grand Junction has long been an important commercial and transportation hub. As such, its downtown is packed with shops and restaurants. It also has some fantastic public artworks and interesting museums to visit.
From here, there are a number of scenic drives to enjoy around the surrounding canyons, mesas, and desert. Besides hiking, horseback riding, and mountain biking, you can also try out some of its great wineries.
8. Loveland
Located in the Front Range region, the delightfully named Loveland is the perfect place to visit if you appreciate both art and the great outdoors. Besides boasting one of the largest sculpture gardens in the US, the city has countless public artworks to check out and lies next to some lovely nature.
Nicknamed 'Sweetheart City', it is nationally known for its annual Valentine re-mailing program where post is returned to the sender, hand-stamped with a cachet and verse to celebrate the romantic day. In addition to the numerous events held for Valentine's Day, Loveland's other main draws are its splendid Sculpture in the Park show and excellent art museum.
On top of this, it is perfectly placed for exploring Estes Park and Rocky Mountain National Park, while Fort Collins and Boulder both lie just a short drive away.
7. Pueblo
Offering up a magnificent mix of culture, cuisine, and history, Pueblo can be found at the confluence of the Arkansas River and Fountain Creek. Aside from all its attractions, the city is most known for hosting the colorful and chaotic Colorado State Fair in late August of each year.
Established as a trading post by some of Colorado's earliest pioneers, the city later flourished as a railway hub and steel manufacturing center. Nowadays, its historic heart is packed with beautiful old buildings and has galleries, museums, and a wonderful waterfront plaza to stop by.
Aside from delving into its rich history and heritage, and sampling its delicious Mexican cuisine, the best thing to do in Pueblo is attend the Colorado State Fair. Over the course of two weeks, carnivals, concerts, and rodeos are held, and a festive atmosphere takes over Steel City.
6. Fort Collins
Fort Collins is the most populous city in the north of Colorado and has myriad amazing things to see and do. Set amidst the foothills of the Rockies, it has a vibrant historic district to explore and a lively youthful feel thanks to its large student population.
Dotted with delightful historic buildings, Fort Collins' charming Old Town was originally founded as a military outpost in 1864. Now home to countless bars and breweries, as well as shops and eateries, it is a very fun area to explore and offers some great live music and nightlife.
While much of the city's cultural life revolves around the students and campus of the Colorado State University, you can also enjoy some awesome outdoor adventure activities in the nearby mountains.
5. Aspen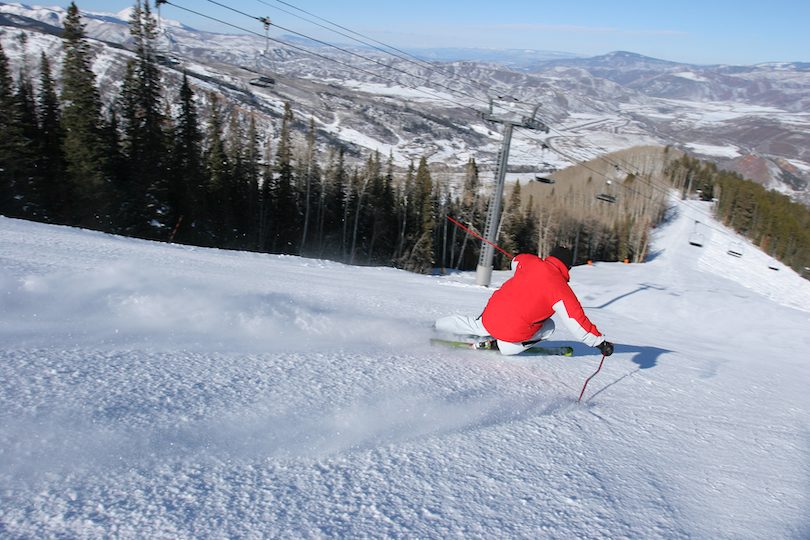 One of the most famous ski resorts in the world, the marvelous mountain town of Aspen has a whole host of wonderful winter sports for visitors. Set in the center of the state in a remote part of the Rockies, it really is a treat to visit due to its scenic setting, chic ambience, and epic outdoor activities.
Once a mining town, it was transformed into a top tourist destination in the mid-twentieth century and has attracted the rich and famous ever since. As such, its downtown is home to all kinds of upscale boutiques and gourmet restaurants with trendy bars and luxury hotels also dotted about.
In total, the town has four fantastic ski slopes for you to shoot down that all boast champagne powder snow. While most people visit in winter, its many mountains also offer up some great hiking and biking in the summer months.
4. Durango
While Durango is most known for its historic narrow gauge railroad, the small city has much more going for it and lies amidst some spellbinding scenery in the southwest of the state. Aside from all its outdoor activities, the town has a scattering of historic sites to check out and a lovely Old West look and feel.
Established back in 1880 by a railway company, its main draw is undoubtedly still the Durango and Silverton Narrow Gauge Railroad. Widely considered to be one of the most scenic train journeys in the States, it winds its way through the surrounding mountains and forests, which also offer brilliant hiking, mountain biking, and skiing.
In addition to exploring Durango's atmospheric downtown, the city is also conveniently located for visiting incredible archaeological sites at Mesa Verde, Chimney Rock and Spring Creek.
3. Boulder
Set amidst the foothills of the Rocky Mountains, the lively yet laid back college town of Boulder has something for everyone to enjoy. Besides its thriving dining and cultural scenes, the city has an astounding array of outdoor activities with its residents renowned for their healthy lifestyles.
As Boulder is home to the main campus of the University of Colorado, there are numerous art galleries and museums, with lectures, cultural events, and music shows regularly taking place. Thanks to this, there is a buzzing atmosphere about its downtown which contains countless shops and restaurants, as well as pretty parks and Victorian buildings.
As it lies next to so much spectacular scenery and nature, locals and visitors alike can enjoy hiking and mountain biking along its trails, with rock climbing and kayaking also popular pastimes.
2. Colorado Springs
The second-largest city in the state behind Denver, Colorado Springs has long been a popular tourist destination due to its scenic setting and array of enticing tourist attractions. Lying at the foot of the Rocky Mountains, it has some superb museums and historic sites to visit and a wealth of outdoor activities to enjoy.
In town you can find interesting places, such as the Cheyenne Mountain Zoo and Pioneer Museum, while the huge Air Force Academy and Olympic Training Center count among its standout sights.
Not to be missed are the remarkable rock formations of the Garden of the Gods and Pikes Peak, which actually inspired the song 'America the Beautiful'. Besides hiking and mountain biking about its picturesque parks, you can explore the gigantic Cave of the Winds or stop by the souvenir shops and restaurants of Old Colorado City.
1. Denver
One of the fastest growing cities in the States, Colorado's capital Denver is a great place to live, visit and explore. Blessed with year-round warm weather and blue skies, the cosmopolitan city acts as an important economic and cultural hub for the Front Range region.
Known as the 'Mile-High City', its diverse neighborhoods are a treat to explore being home to art galleries and museums, and boasting splendid shopping, dining, and nightlife. In addition, you can also watch amazing shows at the enormous Denver Performing Arts Complex or catch a game of one of the city's four pro sports teams.
On top of all this, Denver has scenic parks for you to walk or cycle around with world-class skiing to be had in the nearby mountains.
Map of Cities in Colorado
© OpenStreetMap © MapTiler © Touropia