Set in the southwest corner of Colorado is the small town of Durango, which boasts an enticing mix of historic sites and cultural tourist attractions. As it is surrounded by majestic mountains, valleys and forests with canyons and desert lying nearby, there are plenty of epic outdoor adventure activities and other active thing to do in Durango.
While most people visit Durango for its excellent hiking, mountain biking and skiing, the former mining town also has a charming historic center to explore. Its top attraction, however, is the Durango and Silverton Narrow Gauge Railroad, one of the most scenic train journeys in the States.
With a number of important and impressive archaeological sites such as Mesa Verde also nearby, Durango is definitely well worth checking out if you have the chance.
In this post, we'll cover:
11. Durango Wildlife Museum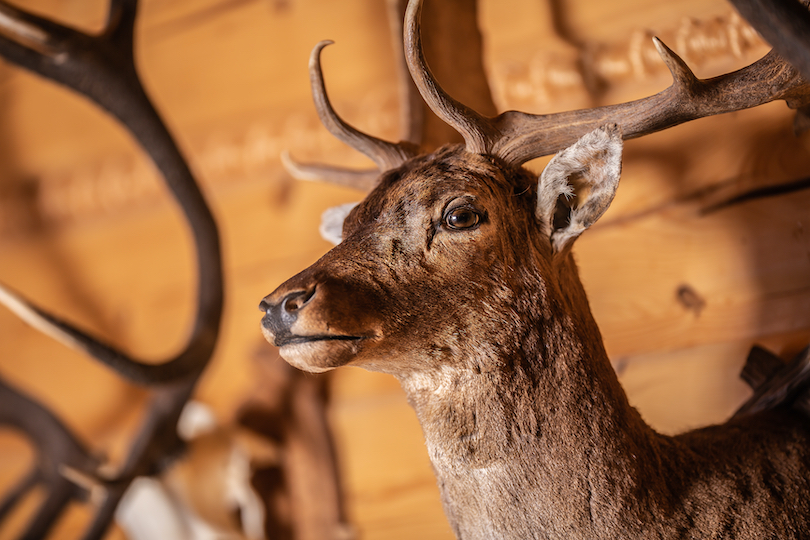 Located to the north of the town center is the Durango Wildlife Museum which lies on the banks of the Animas River. As well as being home to educational exhibits on the area's nature and wildlife, it also has a fish hatchery that keeps the nearby rivers and lakes stocked with salmon and trout.
As well as watching a video on how the hatchery operates, visitors can feed the thousands of fish which swim about in huge shoals in outdoor ponds and tanks. In the adjoining museum you can learn all about Colorado's local wildlife and its diverse ecosystems and habitats. There are informative displays, photo exhibitions, and mounted animals and fish on show.
10. Go Mountain Biking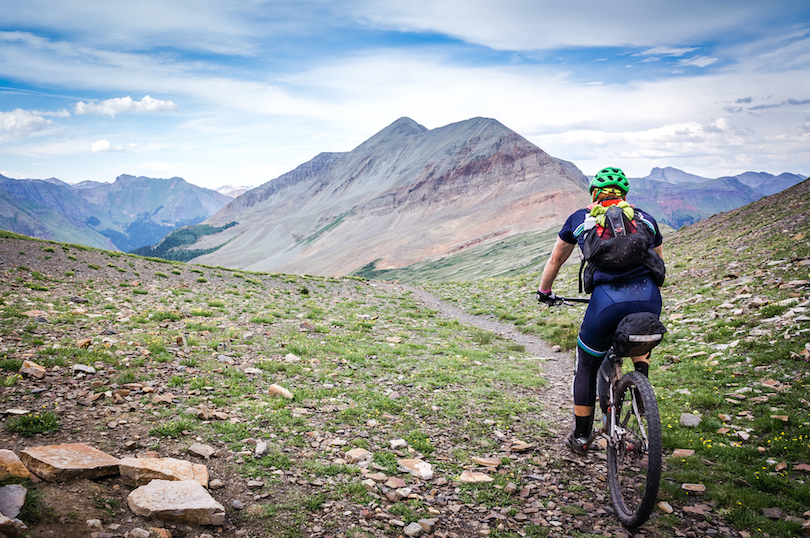 Since Durango is surrounded by stunning scenery and landscapes, it is no surprise that the town is a popular place to go mountain biking. Snaking their way through the nearby mountains, valleys, and desert are countless trails to shoot along with epic nature and views wherever you go.
While some paths are simple enough to cycle along, others are more challenging and technical, featuring steep descents, jumps, and slickrock sections. The best places to go mountain biking are Horse Gulch, which has fifty kilometres of trails to explore, and the desert confines of Cortez, which lie further afield. In addition, Engineer Mountain's epic descent also isn't far away while the scenic Colorado Trail starts just on the edge of town.
9. Colorado Trail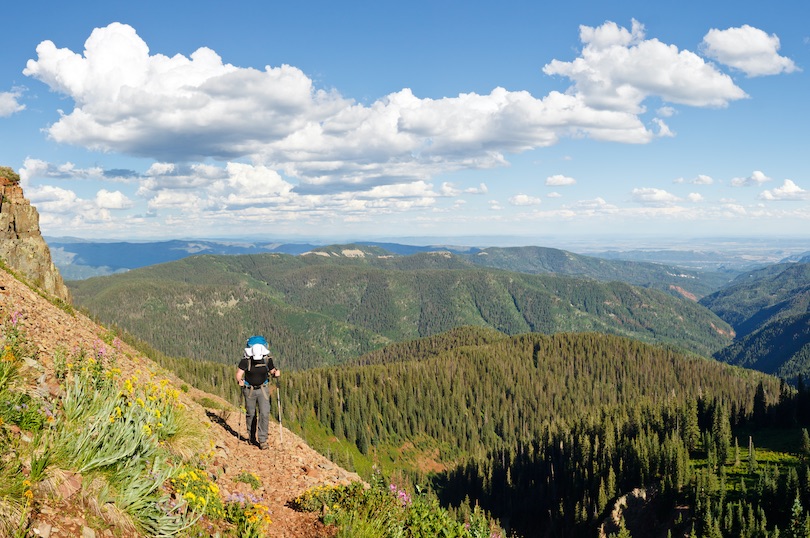 One of the most picturesque places to enjoy hiking and mountain biking is along the Colorado Trail which remarkably runs all the way from Durango to Denver. Stretching for 485 miles in total, it takes you past majestic mountains and spectacular scenery, with the trail starting just on the northern outskirts of town.
Although only a handful of hikers usually complete the trail in its entirety, locals and tourists alike enjoy hiking, biking, and even horseback riding along the parts that lie closest to Durango.
Starting off at Junction Creek, the trail follows a shimmering stream before taking you up to Gudy's Rest. Here you can bask in beautiful views before either continuing into the mountains or heading back into town.
8. Animas River Rafting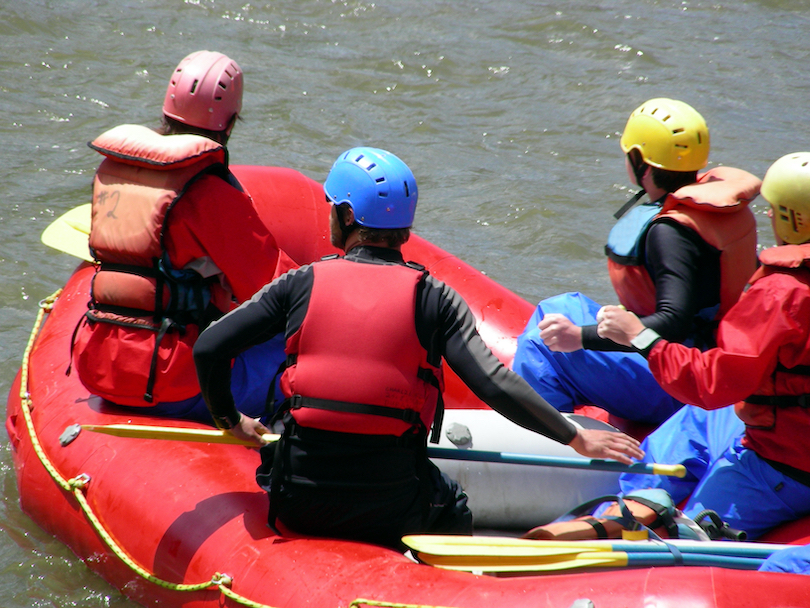 If you're after an exciting and adrenaline-filled day out then you can't beat rafting down the Animas River. This winds its way through town and has roaring rapids to navigate. A couple of tour companies run excursions from Durango that cater to all ages and abilities. Stupendous scenery, nature and, of course, fun times are guaranteed!
While the Lower Animas River is calmer and suitable for families and inexperienced rafters, the upper part of the river has a more challenging class of rapids to attempt. When you're not frantically paddling your way past rocks and craggy canyon walls, you can sit back, relax and take in the marvelous mountains and forests that lie to either side of the river.
7. Historic Downtown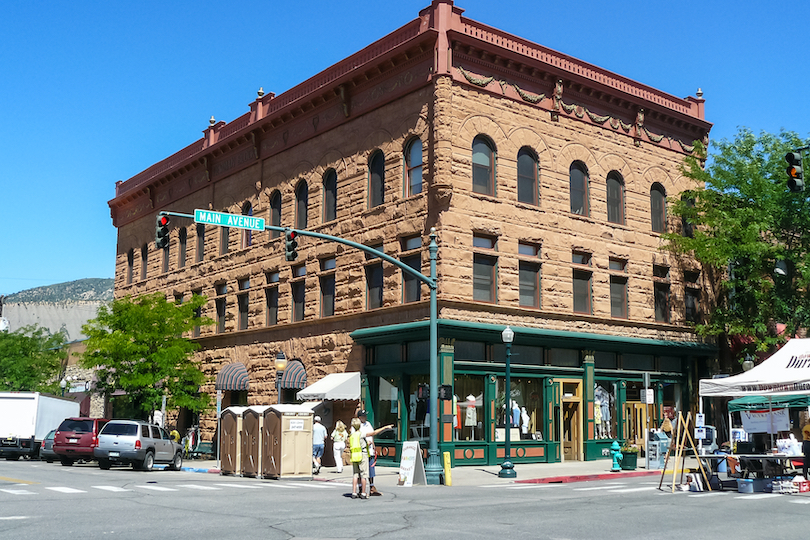 Making up much of the center of Durango is its lovely Historic Downtown district centered around Main Avenue. As well as being full of handsome historic buildings, its streets are lined by cafes and restaurants with some excellent art galleries and unique boutiques also on offer.
Although most people head to Durango to explore its great outdoors, this historic part of town is definitely worth wandering around for its attractive architecture and handful of arresting landmarks.
These include the Strater Hotel and General Palmer Hotel, both of which were erected in the 1890s shortly after the town was founded. In addition, one of its top tourist attractions, the Durango and Silverton Narrow Gauge Railroad depot, can be found nearby.
6. Animas River Trail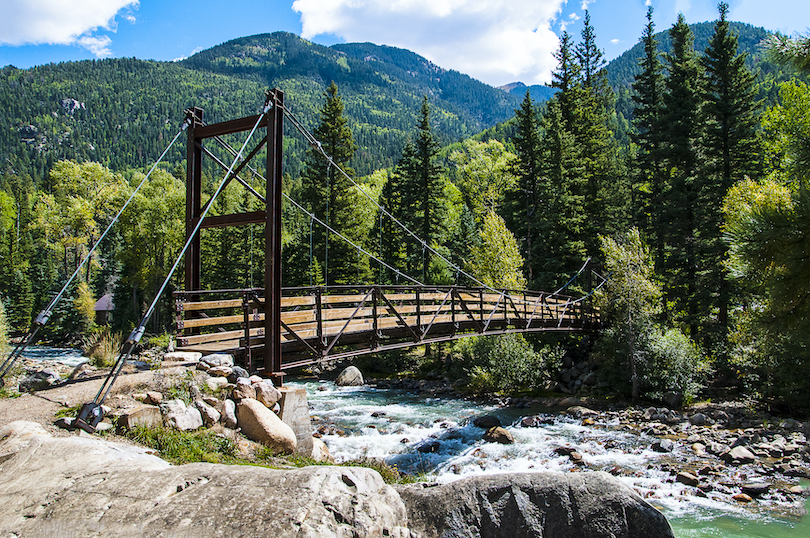 Yet another of Durango's trails, this popular path meanders its way along the banks of the Animas River. Starting in Animas City Park, it stretches just under seven miles and passes through and by various parks, public artwork,s and picnic spots along the way.
Very accessible to all, the Animas River Trail is a firm favorite with locals and tourists who enjoy strolling, jogging, and cycling along it.
Besides enjoying the scenery and gazing out over the river, you can also watch the Durango and Silverton Narrow Gauge Railroad in action as the tracks run alongside the trail in places. The trail also connects you to various spots where you can go kayaking, fishing, and tubing.
5. San Juan Skyway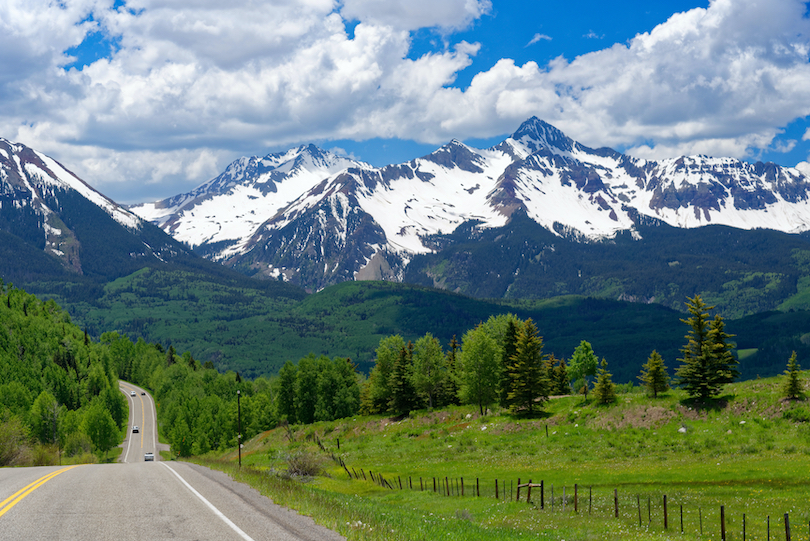 Aptly known as 'the road to the sky', the San Juan Skyway is an incredible All-American Road that takes you through the spellbinding scenery of the soaring San Juan Mountains. Along the way you'll enjoy dramatic views of the mounts and their lofty passes, and vast valleys and forests.
Founded in 1988, the remarkable route forms a long loop through the southwest part of the state and stretches 230 miles in length. While it is possible to complete in just five hours, in reality it can take days as there is so much to see along the way.
Besides its awe-inspiring views and nature, there are ancient Indian pueblo ruins, abandoned old mines, and relaxing hot springs to stop off at before you get back to Durango.
4. San Juan National Forest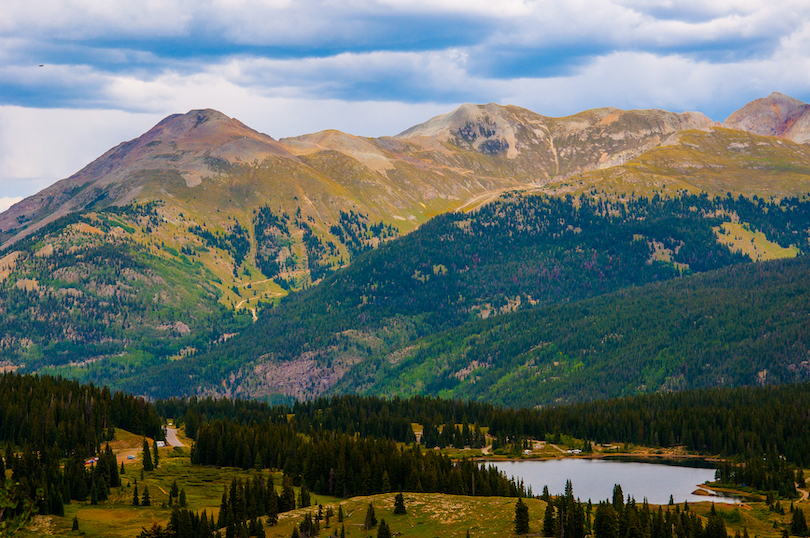 Covering a huge swathe of the southwest of Colorado is the scenic San Juan National Forest that lies just a short drive to the north of town. Sure to delight nature lovers and outdoor enthusiasts, its wild reaches offer untold recreational opportunities, such as hiking, mountain biking, river rafting, skiing, and snowmobiling.
Established in 1905 by President Theodore Roosevelt, it protects the vast tracts of ponderosa pines that coat the southern section of the San Juan Mountains. In addition, alpine wilderness areas can be found hidden away among the verdant forest with rushing rivers and gorges also dotted about.
Other than hiking and cycling along its numerous trails, visitors can also enjoy the sublime scenery while driving along the San Juan Skyway.
3. Mesa Verde National Park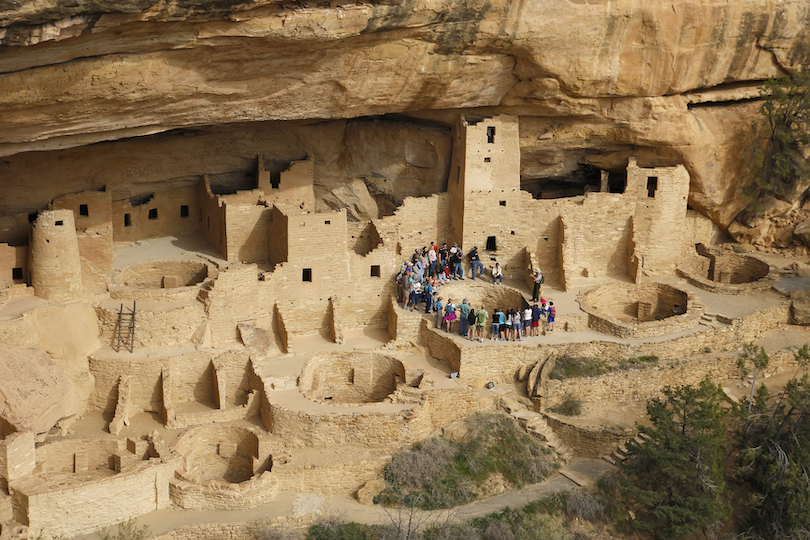 Boasting some of the best-preserved Ancestral Puebloan archaeological sites in the States, Mesa Verde National Park is a must-see. Nestled in the southwest corner of the state, its amazing cliff dwellings and rock art sites lie just forty minutes drive from Durango.
Scattered about the park's massive mesas, canyons and valleys are a staggering array of sites. More than 5,000 ancient stone structures and petroglyphs are protected within its confines. Believed to have been inhabited between 600 to 1300 AD, each makes for a stunning sight with the colossal Cliff Palace being the undoubted highlight.
In its excellent archaeological museum you can learn all about the Ancestral Pueblo People and the astounding artworks and architecture they left behind.
2. Purgatory Resort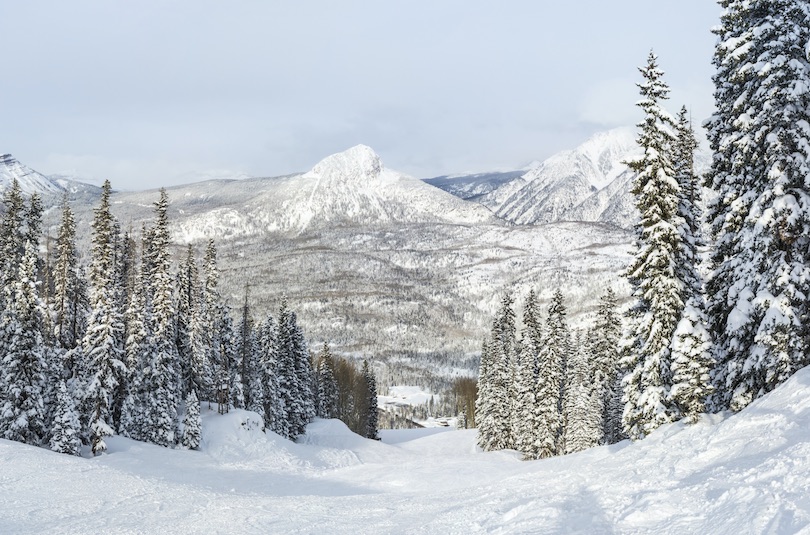 While Durango's scenic surroundings lend themselves perfectly to hiking and mountain biking in the sunny summer months, in winter everyone heads to the nearby Purgatory Resort to enjoy skiing and snowboarding. Located a half an hour's drive to the north of town, it has 105 trails to shoot down with epic views and stupendous snow-coated scenery.
Since opening in 1965, the resort has expanded considerably and now encompasses a huge skiable area that is serviced by eleven ski lifts. Its slopes have a total vertical drop of over 2,000 feet with some suitable for beginners and others for intermediates and experts. In addition it has cozy condos, bars and restaurants with great hiking and mountain biking also on offer in the summer.
1. Durango and Silverton Narrow Gauge Railroad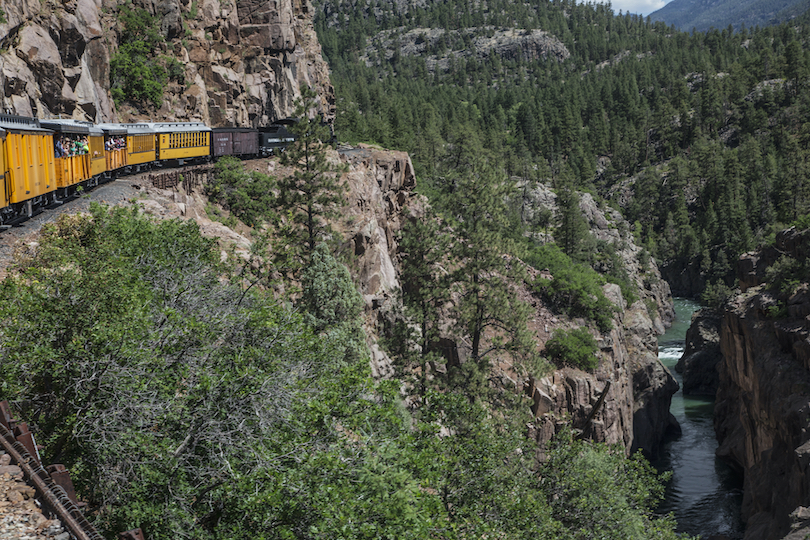 One of the most visually arresting train journeys in the States, taking a ride on the Durango and Silverton Narrow Gauge Railroad is the highlight of many people's trip to the town. Originally built in 1882 to transport gold and silver between the two towns, it now instead acts as a tourist and heritage line with the route stretching 45 miles in length.
Now a National Historic Landmark, its tracks wind their way through the San Juan Mountains with the trip usually taking three and a half hours one way. As it slowly makes its way to Silverton, the classic steam locomotive and its charming old carriages pass dramatic scenery and steep drops which offer fabulous photos and views.
Map of Things to Do in Durango