Mesa Verde, which in Spanish means green table, is an area that occupies part of the Colorado Plateau, in the west Colorado. It is best known for its many archaeological sites, including 600 cliff dwellings. On June 29, 1906, President Theodore Roosevelt created the Mesa Verde National Park to help protect these and the approximately 5,000 other archaeological sites found there.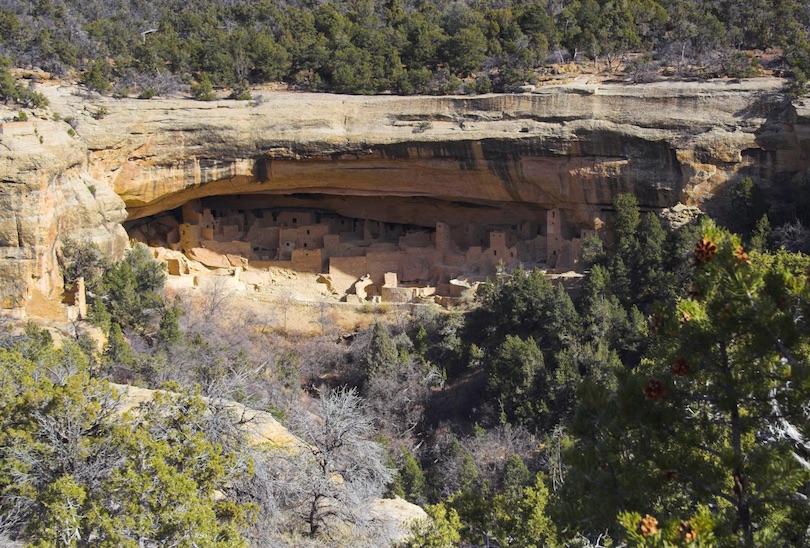 Ancestral Puebloans lived on the Mesa Verde from about 550 to 1300, long before Europeans explored North America. For nearly 600 years, they and their descendants flourished in this area, primarily living on the mesa tops.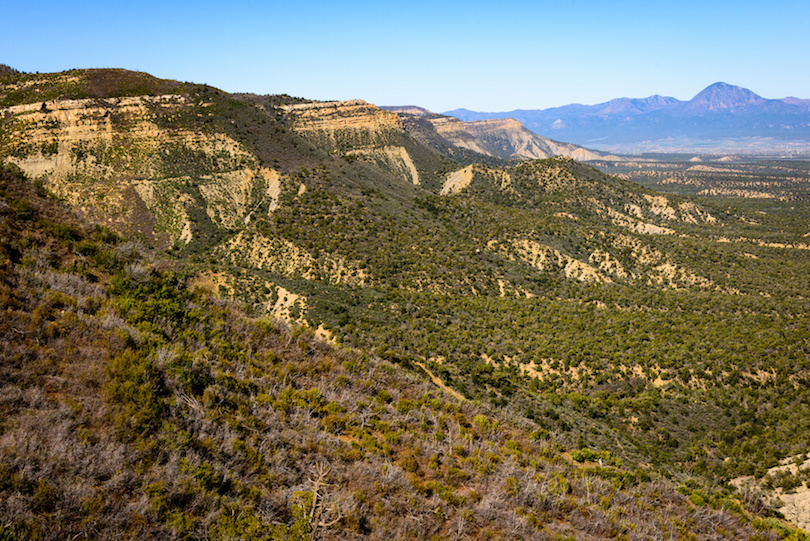 They were skilled at farming without irrigation, also called dryland farming. They were successful in using this method to grow corn, which they started cultivating in 450. Surprisingly, it was not until the late 1190s that they started to build and live in the cliff dwellings that are so popular today.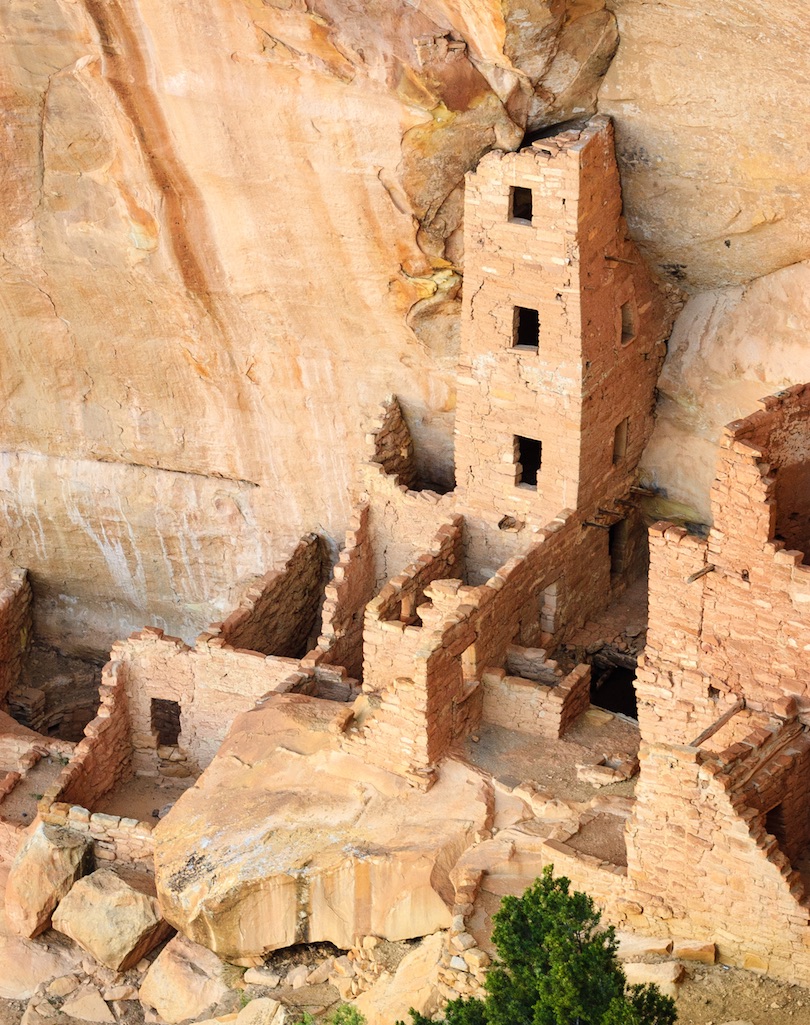 Typically, the Puebloans built these structures near springs and in the alcoves that occurred naturally in the cliffs. This gave them protection from the elements as well as from intruders. The buildings ranged from one-room storage units to villages of more than 150 rooms.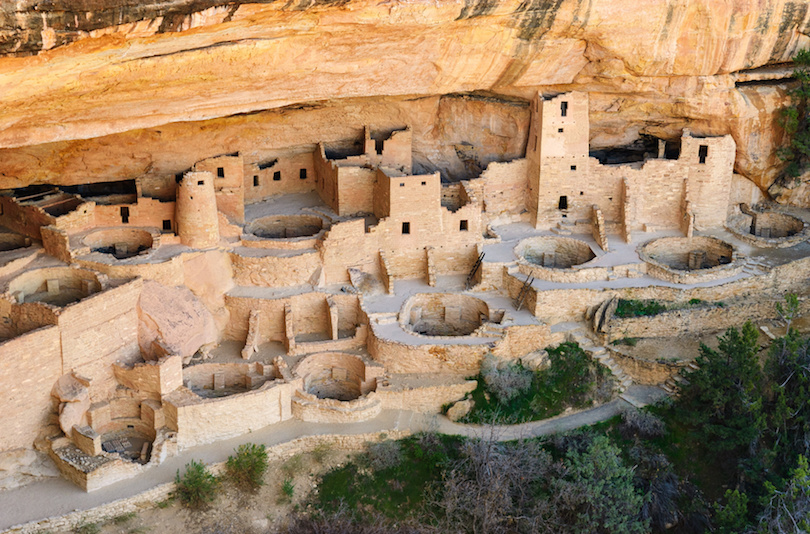 The Cliff Palace is the largest cliff dwelling found in North America. The Ancient Puebloans constructed it from sandstone bricks, and mortar made from ash, clay and water. It encompassed 150 rooms, 76 open areas and at least 20 kivas (ceremonial rooms). Twenty-five to thirty of the rooms seem to have basic residential features. Archaeologists believe that approximately 100 people lived in this one large structure.
It is interesting to note that in the underground areas, such as the kivas, the temperature usually remains constant, near 50 degrees all year round.
The Ancestral Puebloans used colorful plaster on the inside and outside of their walls in order to brighten them. Some used brushes or their fingers to paint designs. They were traders as well as artists. Evidence of trade with the other tribes includes the finding of artifacts such as turquoise from New Mexico, copper bells from Mexico and shells from the Gulf of California.
Climatic change and increased population placed the communities under stress and by the late 1270s, the Ancestral Puebloan population began migrating to what is now New Mexico and Arizona, and by 1300, their occupation of Mesa Verde had ended. Their descendants today include the Hopi in Arizona and 19 Rio Grande pueblos in New Mexico, including the Taos, the Santo Domingo and the Zuni.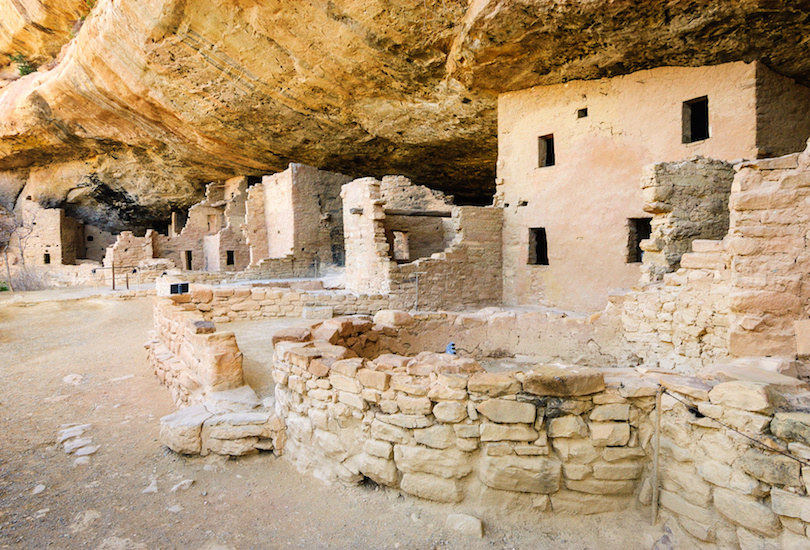 When President Roosevelt created the Mesa Verde National Park in 1906, he established it to "preserve the works of man." Thanks to him, it has been possible to preserve the natural and cultural resources found in Mesa Verde, especially the sites built by the Ancestral Puebloans. Hopefully, these intriguing structures will continue to be preserved for the generations to come.