Nestled away in the northeastern corner of the States, New England is made up of Connecticut, Maine, Massachusetts, New Hampshire, Rhode Island, and Vermont. Each state boasts its own array of amazing historical sights and scenic spots.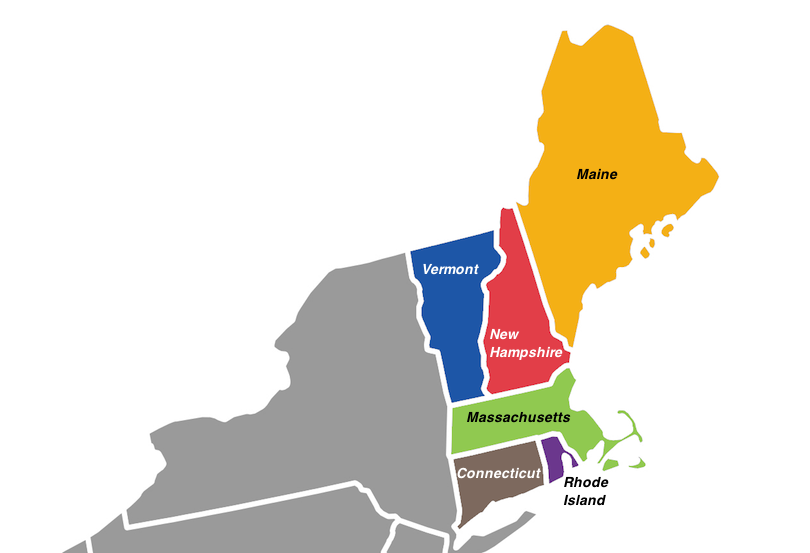 As the region was one of the first parts of the United States to be settled, there are lots of monuments and museums that look back at its rich past, and New England is also renowned as being the birthplace of the American Revolution.
While much of its landmass is made up of picturesque countryside and rural areas, numerous hills and mountain ranges dot its six states. Its long and scenic Atlantic coastline is home to some fantastic cities and towns, such as Boston, Providence, and Portland.
Due to its astounding natural sights – which include the White Mountains, Cape Cod's beautiful beaches and Acadia National Park – New England is also a fantastic place to explore the great outdoors, with hiking, camping, and skiing among its most popular activities. Indeed many people head to New England in the autumn months for its fantastic fall foliage when the whole region is coated in a majestic sea of yellows, oranges and reds.
Connecticut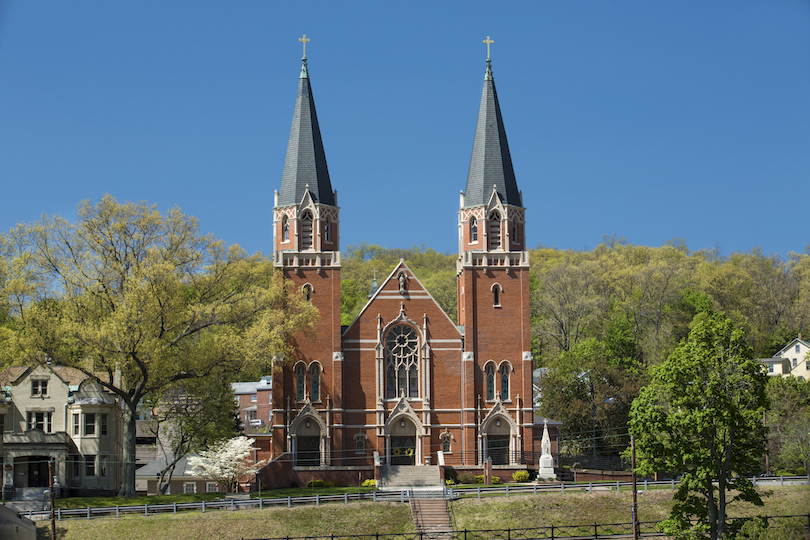 While much of Connecticut is made up of picturesque rolling hills, rural areas, and scenic countryside, its coastline is equally delightful to explore, as beautiful beaches and cities dot its shores. The other main geographical feature is the Connecticut River, which divides the state in two and gave it its name.
The southernmost state in New England, Connecticut was one of the original 13 colonies of the US. As such, its towns and cities are awash with history; Mystic and New London both boast historic old seaports. The major cities of Bridgeport, Stamford, and Norwalk are also well worth checking out, as they all feature fantastic dining spots and great nightlife scenes.
Another important and interesting place to visit in Connecticut is Hartford, the state capital. The area surrounding it is known as the Knowledge Corridor due to the huge number of educational institutions located here. With 29 colleges and universities dotted around, it is a very important seat of learning in the US, and there is a vivacious and youthful feel to it.
The main attraction in Connecticut, however, is undoubtedly Yale – one of the oldest and most prestigious universities in the world. Its huge campus is home to lots of fascinating museums and art collections for visitors to check out.
Maine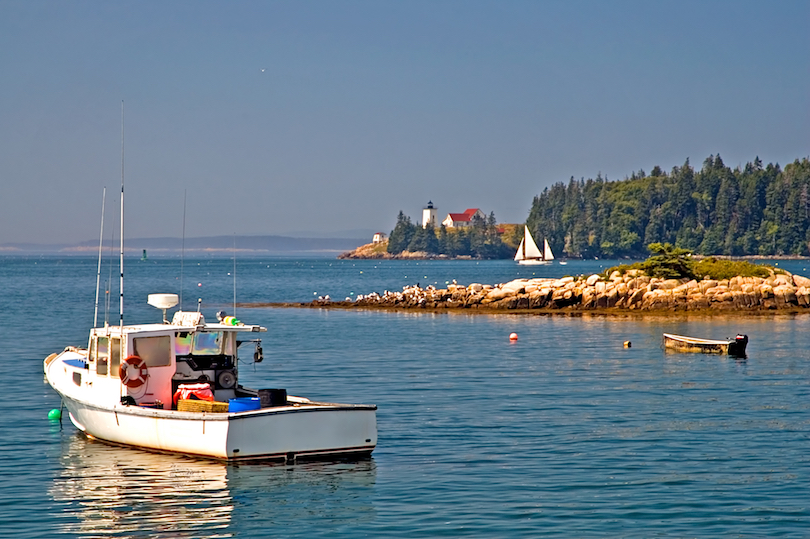 The most northeastern state in the US, Maine is a delightful place to visit. Its rugged yet scenic coastline is home to lots of charming fishing villages, while its forest-coated interior is wonderfully wild. There is loads of untouched and unspoiled nature to soak up.
Hiking, cycling, and camping are all very popular, while the coastal region with its myriad of little islands lends itself perfectly to swimming, surfing, kayaking, and sailing. The spectacular Acadia National Park and the sparkling Rangeley Lakes rank among its most popular natural spots and fall foliage destinations when they look particularly majestic with all of their trees painted in a bright array of colors.
During the autumn months, Kennebunk and Bangor are also very popular for the lovely fall colors on display. In winter, many people also head to Black Mountain, Eaton Mountain, and Sunday River to go skiing or snowboarding.
While Maine's majestic outdoor life is what most people come for, the state also has some interesting towns and cities to discover. The charming coastal cities of Brunswick and Portland are well worth a visit, alongside the state capital Augusta.
Massachusetts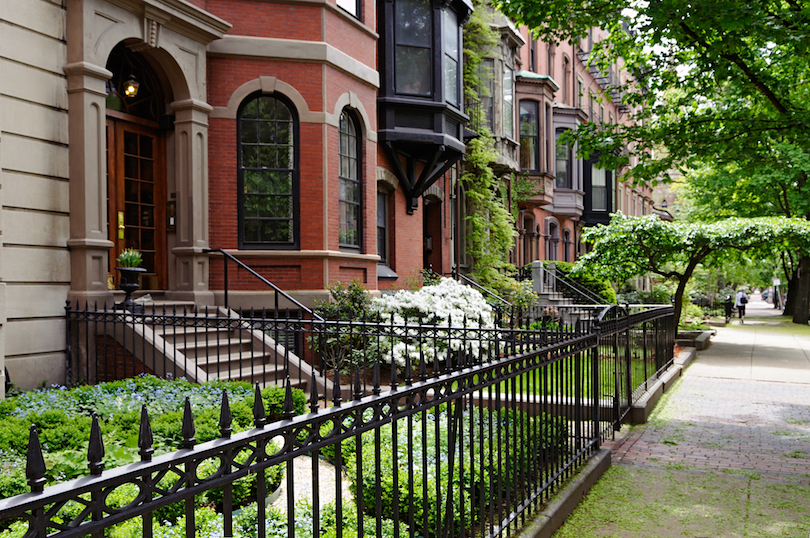 With a plethora of different sides to it, Massachusetts has something for everyone to enjoy. History lovers come to learn more about the American Revolution, holidaymakers flock to Cape Cod's fantastic beaches, and others enjoy Boston's wealth of cultural landmarks, historic buildings, or museums.
As the birthplace of the American Revolution, the state is littered with interesting monuments and museums. Many people head to Minute Man National Historical Park to learn more about the events and people that shaped the nation. As one of the original 13 colonies, there is also lots of settler history on show; this is best explored at Plimoth Plantation and Old Sturbridge Village.
While Boston is certainly a city that shouldn't be missed out on, there are a number of other fascinating places to visit in the state. Call in to Salem, home of the infamous 'Salem Witch Trials,' and Cambridge, which boasts both Harvard and MIT – two of the best universities in the world.
Away from its cities, towns, and wealth of historical sites, Massachusetts is actually a stunning part of the country to visit. Martha's Vineyard is a popular vacation spot for the rich and famous, while the beautiful Boston Harbor Islands and Cape Cod are among its most beautiful natural attractions.
New Hampshire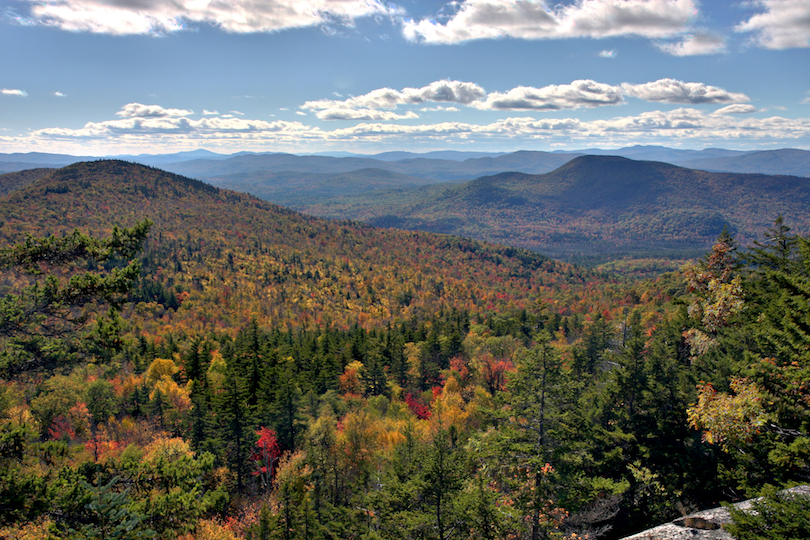 From the rugged White Mountains in the north and the glittering lakes hidden away among its many hills and forests to its small yet scenic Atlantic coastline, New Hampshire boasts an astounding array of landscapes. It's no wonder that hiking, skiing, and camping are all popular pastimes with locals and tourists alike.
While most of the tourism in the state revolves around its fantastic natural features, the capital city of Concord is well worth a visit. If time allows, squeeze in a trip to Manchester – a revitalized and thriving mill town – and Portsmouth, a historic seaport which lies in easy reach of lots of lovely beaches and coastal scenery.
One of the state's most popular attractions is White Mountain National Forest, which boasts a stunning range of beautiful views and majestic peaks with fall being a particularly wonderful time of year to visit. The Appalachian Trail also runs through it, and Lake Winnipesaukee – one of the largest lakes in the States – is worth a trip too.
In addition to this, New Hampshire is home to the tallest mountain in the whole of the Northeast; Mount Washington attracts hikers and skiers, who come for its network of trails and pistes – and, of course, the glorious scenery on show.
Rhode Island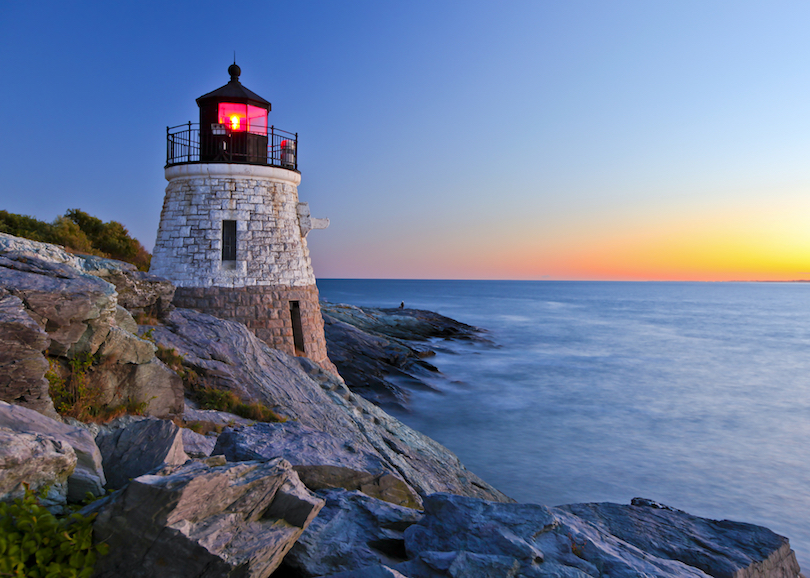 Although Rhode Island may be the smallest state in the United States, it certainly packs a punch with all that it has to offer. Visitors are certain to enjoy its beautiful coastline, which includes both Narragansett Bay's lovely beaches and the stunning scenery of Block Island.
It is not without reason that Rhode Island is known as the 'Ocean State'; the Atlantic Ocean or Narragansett Bay are never far away. While much of its coastline is quite developed, with the major cities of Providence and Newport lining the shore, there are nice pockets of nature to be found dotted about here and there.
As Rhode Island was one of the first states to be settled in the US, there are lots of interesting and important historical sights and cultural landmarks on show. Jameston is packed with old buildings, monuments, and museums, and Newport boasts many National Historic Landmarks.
A wide range of cultural events and local festivals take place in Rhode Island's many towns and cities, with Autumnfest in Woonsocket attracting huge crowds every Columbus Day Weekend.
Vermont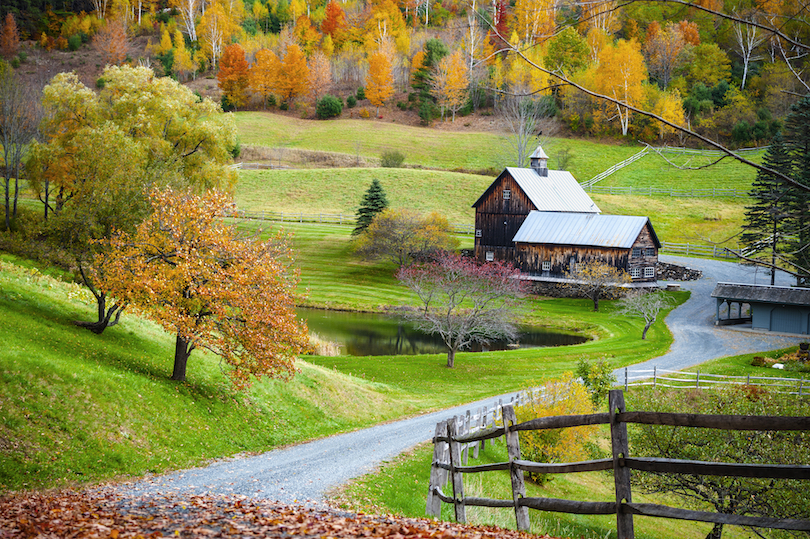 While the whole of New England is famed for its beautiful fall foliage, Vermont is one of the most popular destinations to enjoy it with the Shires of Vermont Byway and the scenic Route 100 attracting lots of holidaymakers each and every year. Indeed Vermont is very rural in nature and so wonderful farmland, forests, and the Green Mountains cover most of its territory, with charming villages to discover along your journey.
As lots of farms and old mill towns dot its many hills and valleys, it's no wonder that Vermont boasts some fantastic local produce. You can sample or buy souvenirs of any of its main exports in either the little villages you come across, or its larger towns such as Bennington, Brattleboro, and Montpelier, the state capital.
While these towns have thriving arts and culture scenes, museums, and galleries for you to visit, Vermont's real appeal is its gorgeous and never-ending landscape, which changes so drastically from season to season.
Fall is the best time of year to hike or cycle around the many wooded mountains and enjoy the amazing scenery; however, summer lends itself perfectly to swimming, sailing, or fishing in its plentiful lakes. Visit in winter to enjoy ski resorts such as Stowe – 'the Aspen of the East.'