Divided in two by the Connecticut River that runs through it, the state of Connecticut is a beautiful place to explore that is all too often overlooked by visitors, who instead head to nearby New York or Boston. This means that you can see the authentic side of New England without the crowds, and there certainly is a lot for you to experience.
As it was one of the original 13 colonies, the state is home to many of the country's oldest towns and settlements. As such, there is a myriad of fascinating historical tourist attractions and cultural landmarks, with many of the best places to visit in Connecticut relate to the area's rich seafaring past.
With many of its main cities to be found on the Long Island Sound, there is a gorgeous stretch of scenic shoreline for you to discover, while many excellent state parks lie waiting in its interior.
10. Hammonasset Beach State Park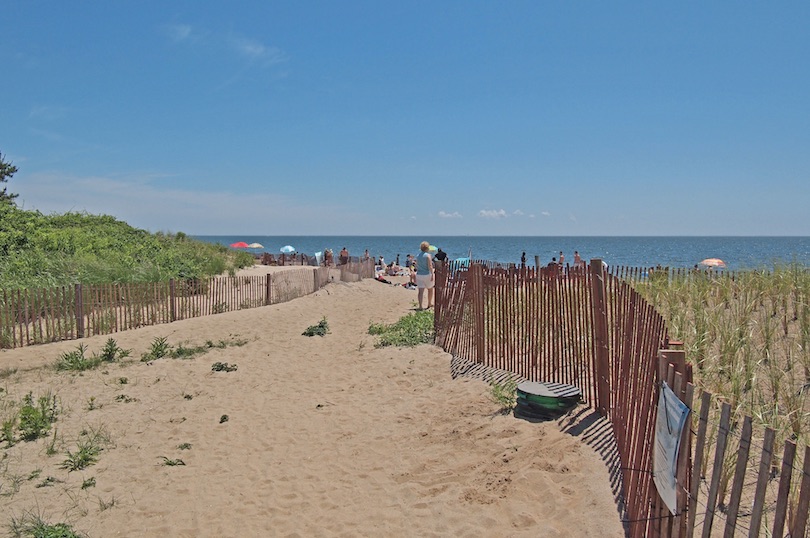 rickpilot / Flickr
Home to the largest beach in the state, Hammonasset Beach State Park is a great place to head to if you just want to kick back, relax, and lounge on its inviting sands while taking in some rays. Although it is a popular place to visit, especially in summer, there is more than enough sand to go around: there is a very peaceful and relaxing feel to it, as it never gets too crowded.
In addition to its expansive beach, the state park has loads of enjoyable recreational activities for you to enjoy, with cycling, hiking, and camping all popular pastimes. Its tranquil waters lend themselves perfectly to swimming, fishing, and boating.
While visiting Hammonasset Beach State Park, it is well worth stopping by the Meigs Point Nature Center to explore its saltwater marshes and catch a glimpse of some of the beautiful birds and wildlife that call the area home.
9. Gillette Castle State Park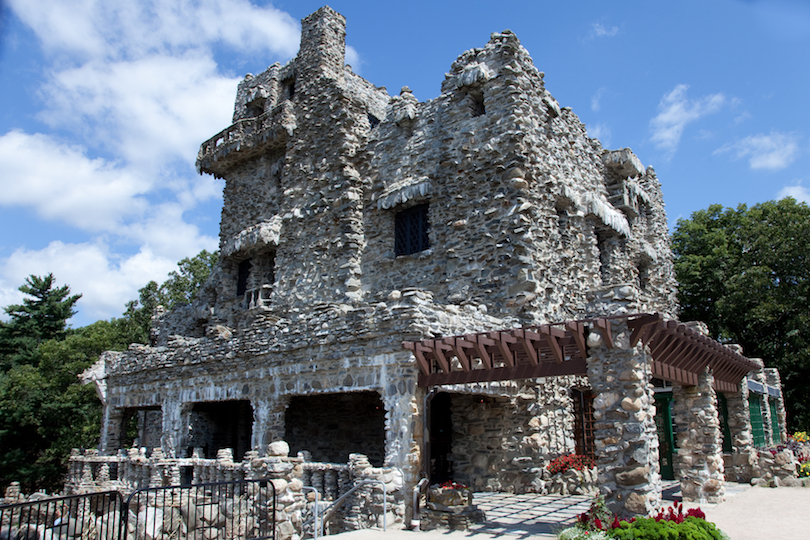 Very impressive and distinctive to behold, Gillette Castle was designed and built between 1914 and 1919 by the actor William Gillette, after who it is named. Now a popular tourist destination, the "medieval castle" once acted as his private residence, and the interior is just as unique and special to gaze upon as its exterior.
Inside is full of amazing treasures and oddities, such as carved wooden light switches and Steampunk-like door latches with secret doors, passageways, and custom-built furniture also on show.
Spreading away from the castle is a lovely state park full of elegant gardens and beautiful woodland, with lots of great hiking trails for you to stroll along. Views from the castle of the surrounding grounds are simply stunning.
8. Norwalk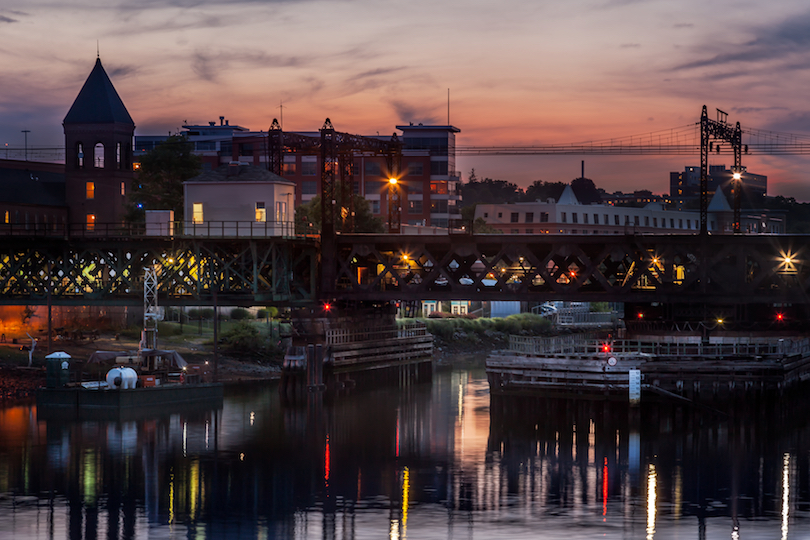 Lying on the banks of the Norwalk River, just a stone's throw away from the Atlantic Ocean, the town of the same name boasts a proud maritime history. It's along its crumbling but lively waterfront that you can find most of its main attractions.
While there are lots of shops, restaurants, and bars for you to delve into, alongside a couple of museums and art center, the undoubted highlight is its aquarium, which is home to lots of brightly colored fish and marine mammals. There's also an IMAX cinema on offer.
Due to its proximity to New York, you can easily get in and out of the city in no time at all, and New Haven isn't far away if you want to simply stop by Norwalk on your way from one to the other.
7. Silver Sands State Park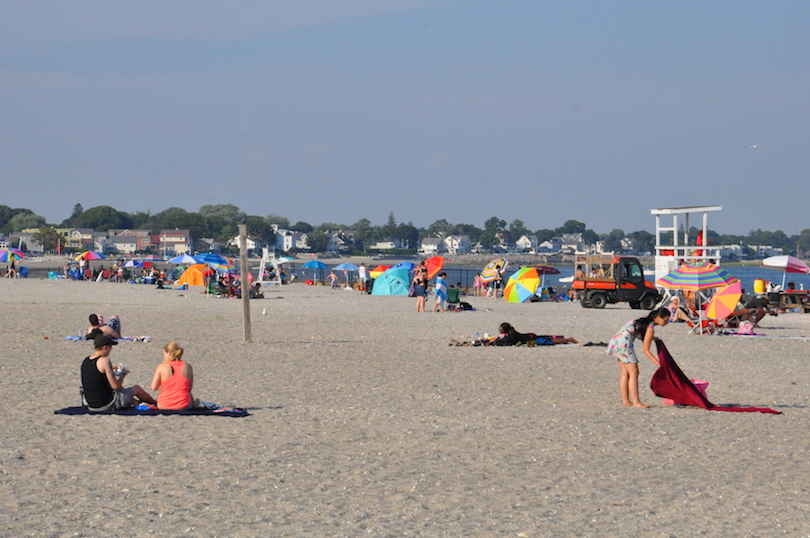 Located on Long Island Sound in the city of Milford, Silver Sands State Park encompasses a huge variety of different landscapes and ecosystems; woods, marshes, dunes, and beaches are all found hugging the Atlantic Ocean shoreline. The wild and rugged scenery is beautiful, and there are loads of great hiking trails for you to explore that meander their way through the state park.
A delightful place to take a picnic or go swimming in the sea, Silver Sands State Park has a very peaceful feel to it, and lots of different types of birds can be seen swirling in the cool breeze that sweeps in from the Atlantic.
While it can be tempting to cross the sandbar to the far-off Charles Island, make sure to check when the tides are, as you don't want to be left stranded there overnight!
6. Stamford
Due to its proximity to New York, Stamford is home to lots of large corporations and a number of Fortune 500 companies. In recent years, this has helped see an increase in fine dining options, with lots of great shops and bars also popping up.
Lying along the Long Island Sound coastline, the state's third-largest city is a pleasant place to spend some time. Wandering around its downtown area feels like you're in New York itself due to its lively feel and multicultural make-up.
There is certainly a lot for you to see and do in Stamford, with plenty of recreational activities, parks, and beaches for you to check out at Cove Island Park and Cummings Park. In addition to this, the southernmost part of the city, Shippan Point, has some impressive architecture, as well as great views of Long Island.
5. Stonington
Founded all the way back in 1662, the small town of Stonington is remarkably the oldest settlement in Connecticut and is well worth visiting if you're looking for a quiet, peaceful getaway.
As it is located on an indented stretch of coastline with both Mason's Island and Fischer's Island lying not too far offshore, it should come as no surprise to learn that Stonington boasts a rich maritime history. One of its main attractions is its beautiful old lighthouse that once warned fishermen of the perilous coastline ahead.
With lots of old sea captain's cottages also on show, the town is very charming to wander around and boasts lovely views out over the sea. On top of all this, several wineries can be found in the area; it is well worth trying some of the region's delicious local wines and produce if you have the chance.
4. New London
Due to its strategic location at the mouth of the Thames River, just where the Long Island Sound meets the Atlantic Ocean, New London has long been an important seaport, and this rich seafaring past is evident wherever you go in town.
While its heyday has long been and gone, there is still lots of magnificent architecture scattered about here and there. The US Coast Guard Academy and US Naval Submarine Base are still located in town.
The city's one-time wealth is still evident in some parts of New London, with interesting historical sights and cultural landmarks related to its whaling past and important role during the American Revolutionary War all on display.
3. Mystic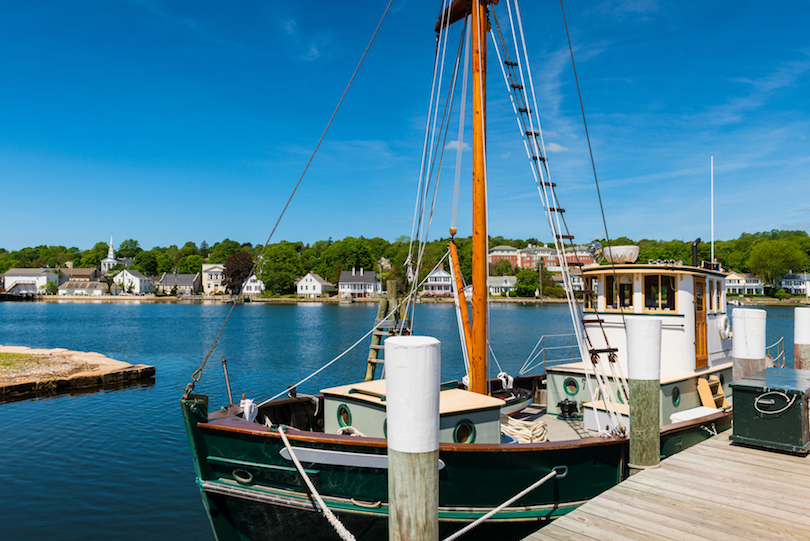 A very popular place to visit in Connecticut among both locals and tourists alike, the historic seaport of Mystic is full of fantastic things to see and do, and its beautiful harbor really is picture-perfect.
Straddling the banks of the Mystic River, the town used to be one of the most important shipbuilding ports and whaling centers in the country – as such, wealth poured in from all around the US.
As a result, there is some lovely architecture nestled alongside its many waterways, with picturesque marinas full of yachts and boats also on show. Mystic's rich maritime heritage really shines through wherever you go; its wonderful Seaport Museum is not only the most popular attraction in town, but the state at large. It is also well worth checking out the town's fantastic aquarium and the majestic historic vessels that are tied up in port.
2. Hartford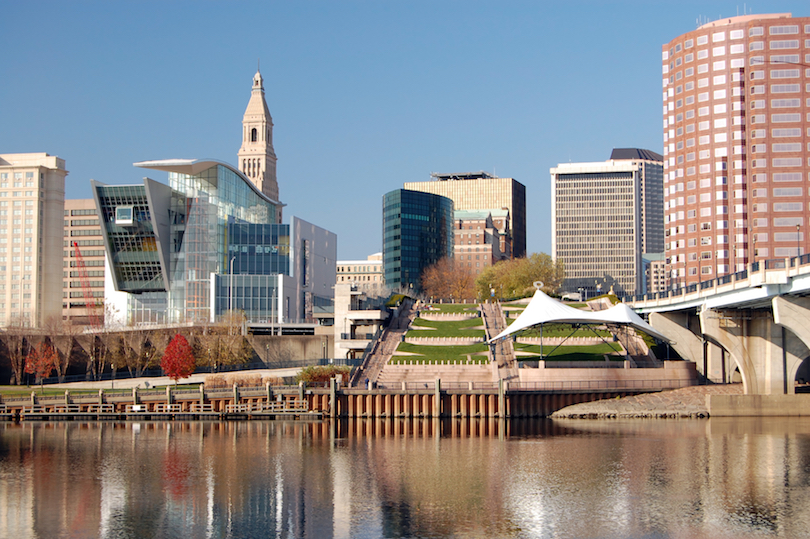 The state capital of Connecticut, Hartford lies at the center of the Knowledge Corridor, which stretches to Springfield in Massachusetts. All in all, there are a remarkable 29 colleges and universities found in the area, with around 120,000 students split between them.
Indeed, the city has always been closely connected to learning and the written word. Its once-thriving publishing industry attracted such renowned names as Mark Twain and Harriet Beecher Stowe to Hartford.
As well as visiting interesting museums dedicated to the life and works of these famous authors, visitors can also enjoy the many magnificent old buildings found around town. Among the most impressive are the beautiful State Capitol building, Old State House, and the Governor's Residence.
As it is one of the oldest cities in the whole of the US, there are loads of significant historical sights and cultural landmarks scattered around Hartford for visitors to check out.
1. New Haven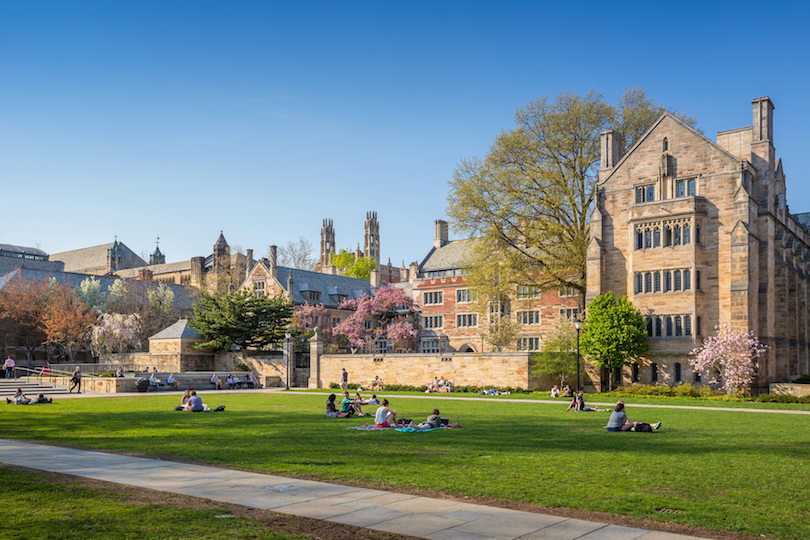 The second-largest city in Connecticut, New Haven is famous for being home to the prestigious Yale University; its wealth of impressive buildings and pretty parks are what most people come to see. Taking a tour around the 300-year-old campus is simply a must. It has a fantastic art gallery as well as some brilliant museums, monuments, and libraries.
While most of New Haven's main attractions are found at the Yale University campus, it is well worth venturing further afield, as there are lots of great shops, restaurants, and bars to be found around its lively downtown area.
In addition to this, the nearby state parks of West Rock and Sleeping Giant offer up a plethora of great outdoor activities, with hiking and cycling being particularly popular. All in all, New Haven is a wonderful place to visit with a lot going for it.
Map of the Best Places to Visit in Connecticut
© OpenStreetMap © MapTiler © Touropia