Despite its relatively small size, Connecticut's cosmopolitan capital Hartford is packed with fun and interesting attractions. One of the oldest cities in the country, it has countless important historic sights and impressive museums to check out while its position at the center of the Knowledge Corridor lends it a lively, youthful feel.
While atmospheric old buildings, churches and monuments can be found here and there, Hartford is also known as the 'Insurance Capital of the World' due to all the headquarters of massive companies that dot its downtown. Thanks in part to these bustling businesses, it has lots of sublime restaurants, food trucks and farmers' markets for you to try out and a thriving cultural scene to delve into.
Besides a couple of brilliant theaters, the city hosts plenty of concerts, cultural events and festivals over the course of the year. While all these things to do in Hartford, will keep you busy for a while, it's gorgeous green spaces and well-tended parks are never far away for you to enjoy and relax in.
12. Connecticut Historical Society Museum
Sage Ross / Wikipedia
Offering up a fascinating look into the rich history, culture and heritage of the state is the excellent Connecticut Historical Society Museum in the West End of Hartford. Located within its magnificent Colonial Revival mansion are countless artifacts and exhibits for visitors to peruse with everything from centuries-old manuscripts and rare illustrations to photos, pamphlets and furniture on display.
One of the oldest historical societies in the States, it was remarkably founded back in 1825 with its comprehensive collection of important items, documents and photos now numbering in the millions.
As you stroll about its galleries, you'll learn about the founding of Connecticut and what life, leisure and work was like for both early settlers and Native Americans while other exhibits focus on WWII, women's suffrage and folk costumes of New England.
11. Bushnell Park
As it lies right in the center of the city and is bordered by the Connecticut State Capitol, it is almost impossible to visit Hartford and not go for a walk around the picturesque Bushnell Park. Noted for being the first public park in all of America, it was established in 1868 with all kinds of monuments, memorials and playgrounds now studding its pretty green spaces.
Now a focal point of downtown, it sprawls across a huge area with plenty of paths, a pond and even a performance pavilion being dotted about amidst its lush lawns and pockets of flowers, shrubs and trees. Highlights include its elegant Corning Fountain, gigantic Soldiers and Sailors Memorial Arch and its lovely 1914 Stein and Goldstein carousel which features 48 hand-carved wooden horses.
10. West Hartford Reservoir
Lying on the outskirts of Connecticut's capital is another scenic and serene spot for you to explore: the West Hartford Reservoir recreation area. Asides from being home to six large reservoirs, it has a wealth of gorgeous nature trails for visitors to hike or bike along with pristine woodlands, dramatic rock formations and fantastic views all on show.
Sure to delight nature lovers and outdoor aficionados alike, the massive reserve has more than thirty miles of paved and unpaved paths for people to walk, run or jog along with cross-country skiing and snow shoeing on offer in the cold winter months.
Described as 'West Hartford's version of Central Park', its forests and reservoirs really are a treat to traipse around with formations such as Fish Rock and Dragon Rock counting among its standout sights.
9. Hartford Stage
Staib / Wikipedia
If instead of the great outdoors it is a spellbinding show that you are after, then the award-winning Hartford Stage is definitely the place to go. At its intimate auditorium in the center of town you can watch classic plays and contemporary dramas with epic musicals, holiday specials and innovative, international works also featuring in its packed schedule of events.
Since 1963, the regional theater and its vast cast of actors has educated, entertained and enlightened innumerable audiences with world-class performances and plays. While the Hartford Stage has won numerous Tonys over the years, among other awards, it is now also known for the excellent classes, workshops and community events it puts on for the younger generation of aspiring actors.
8. Connecticut Science Center
Just a stone's throw from the theater is another institution that is well worth checking out when in Hartford: the brilliant Connecticut Science Center. Home to over 160 hands-on STEM exhibits, four educational labs and a state-of-the-art 3D theater, its enthralling experiments, fun DIY activities and live demonstrations are sure to delight young and old alike.
Only opened in 2009, the museum occupies a sparkling, specially built nine-storey building with its extensive galleries looking at everything from the cosmos and robotics to sight, sound and problem solving.
In addition to all its interactive exhibits and science shows, it also has a peaceful Butterfly Encounter and lovely rooftop garden for you to wander around with touch tanks full of marine life dotted about next to hurricane simulators, a space pod and magnetic ball wall.
7. Old State House
Formerly the Connecticut State Capitol, the attractive Old State House is now instead preserved as a National Historic Landmark. Exhibiting an array of architectural styles, the charming centuries-old building lies right in the center of Hartford, in between the theater and science museum.
Built back in 1796 by renowned architect Charles Bulfinch, it features a pretty portico and gleaming cupola with green lawns lying all around the red brick building. In use until 1878, it now houses a small museum of curiosities and natural history displays and also hosts concerts, community events and a fantastic farmers' market.
On tours of its interior, you can learn about its fascinating past and explore its wonderfully restored chambers lined by portraits, paintings and informative plaques.
6. Bushnell Center for Performing Arts
Right next to the picturesque park of the same name you can find the phenomenal Bushnell Center for Performing Arts. Widely regarded to be the biggest and best venue of its kind in Connecticut, it puts on all kinds of plays, operas and musicals as well as concerts, dance shows and comedy nights at its two atmospheric theaters.
While the much larger Mortensen Hall boasts an absolutely astounding Art Deco interior with huge hand-painted murals coating its ceiling, the smaller, more modern Belding Theater also has its own luxurious features with private boxes overlooking its orchestra.
At both you can enjoy unforgettable performances with choirs, ballets, conferences and film festivals all also regularly featuring. On top of this, the Bushnell hosts countless classes and competitions for kids over the course of the year.
5. Harriet Beecher Stowe Center
Now protected as a historic house museum, the splendid Harriet Beecher Stowe Center offers up a very interesting insight into the life and legacy of the famous author and abolitionist. It was here in the west of Hartford that she lived for the last 23 years of her life with artifacts and exhibits, photos and manuscripts now exploring her umpteen achievements.
Set right next to the Mark Twain House, the cottage-style property has lots of well-preserved rooms for you to amble around, replete with original furnishings and memorabilia. In addition to learning all about her 1852 novel Uncle Tom's Cabin, exhibits also cover subjects such as abolition, African American history and changing racial attitudes in America.
Asides from exploring her old home and its visitor center, the pretty property also has the quaint Queen Anne-style Katharine Seymour Day House for guests to check out.
4. Connecticut State Capitol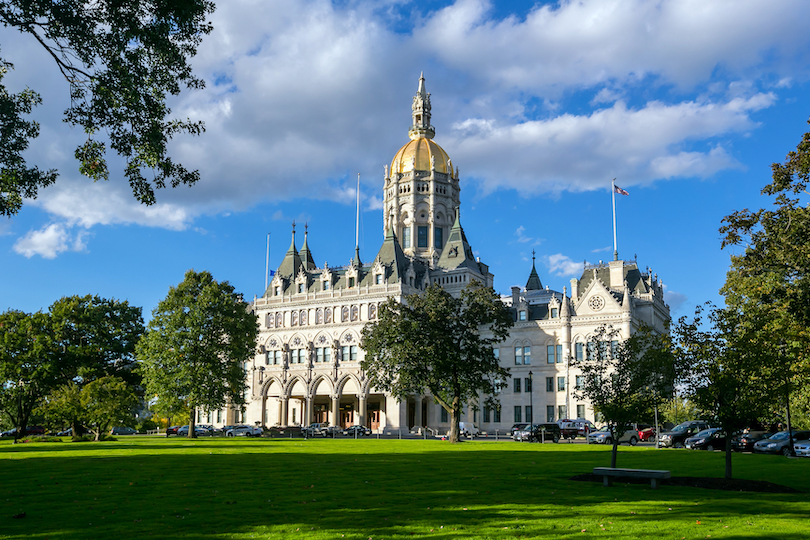 One of the most important and impressive buildings in the whole of the Land of Steady Habits is the colossal Connecticut State Capitol. Lying along one side of Bushnell Park, it dominates and defines its surroundings with its glorious golden dome rising dramatically above the rest of its exquisite Eastlake style architecture.
Built between 1872 and 1878, it is the state's third capitol building since the American Revolution. Made from marble, its exterior is adorned with ornately decorated facades with striking statues and sculptures featuring alongside divine reliefs, medallions and tympana.
Besides basking in its beauty and snapping photos of its fine features, visitors can also venture inside its equally attractive interior which contains historic artifacts and artworks, stained glass windows and a rotunda.
3. Elizabeth Park
Also located in the west of town is the idyllic Elizabeth Park which is home to all kinds of colorful plants, flowers, trees and shrubs. While it is mostly known for its ravishing rose garden which is the third largest in the States, its gorgeous green spaces have ponds, greenhouses and a cafe for you to enjoy with bowling lawns and tennis courts also on offer.
Named after Elizabeth Pond whose financier husband gifted the land to the city, it was first opened to the public in 1897. Since then, generations of locals and tourists have come to stroll around its blooming tulip, perennial and horticultural gardens. The highlight though has to be its rose garden which impressively contains over 15,000 bushes with more than 800 colorful kinds on show.
2. Wadsworth Atheneum Museum of Art
The oldest art museum in the entire country, the exceptional Wadsworth Atheneum Museum of Art boasts an incredible collection of paintings, porcelains and sculptures. Set right in the city center, it has grand galleries full of amazing artworks for visitors to peruse with its thousands of decorative arts making up much of its extensive holdings.
Established in 1842, it occupies a distinctive castle-like building in the heart of downtown with four more modern-looking wings having been added over the years as its collection expanded.
Exploring its light and airy rooms really is a treat as masterpieces by Dali, Monet and Renoir can be spied next to contemporary works by Andy Warhol and Jackson Pollock among others. In addition to all this, it also displays Hudson River School landscapes and ancient Roman, Greek and Egyptian bronzes.
1. Mark Twain House & Museum
Arguably the most popular tourist attraction in Hartford is the excellent Mark Twain House & Museum in the West End of town. It was here that Samuel Langhorne Clemens lived from 1874 to 1891 and wrote iconic works like The Adventures of Tom Sawyer, Life on the Mississippi and Adventures of Huckleberry Finn under his pen name Mark Twain.
Purposely built for the family one year prior, the magical mansion boasts some attractive if eclectic American High Gothic architecture with some saying it was designed to look like a riverboat. Aside from taking in its fine features, guests can take tours of the National Historic Landmark and hear all about the life and legacy of one of America's most beloved authors.
While its rooms are packed with authentic artifacts, furniture and memorabilia, interesting exhibits on Mark Twain, his characters and novels can be found in the museum's visitor center.
Map of Things to do in Hartford, CT