Stretching all the way from British Columbia in Canada right down to New Mexico in the southwest of the United States, the Rocky Mountains are simply awe-inspiring. Parts of the impressive mountain range are located in Colorado, Idaho, Montana, New Mexico, Utah, and Wyoming.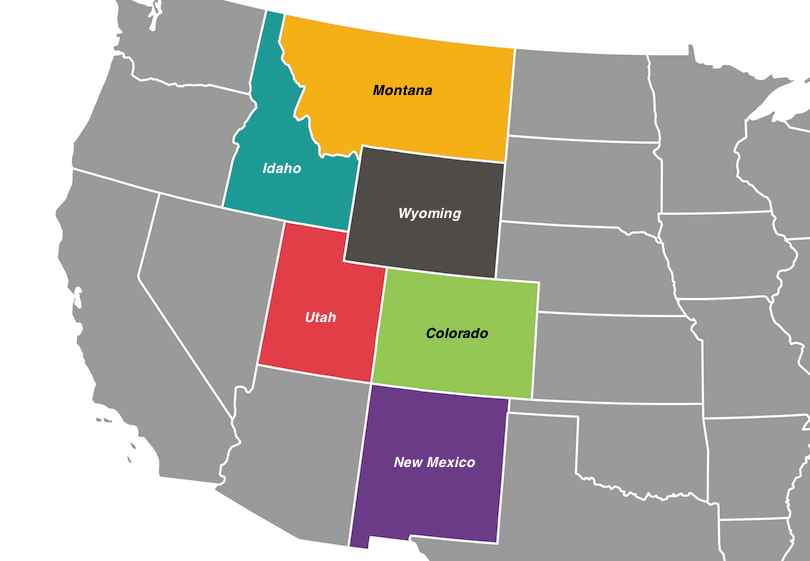 This beautiful part of the US is now characterized by the wonderful mountains that dot the region. Lots of lovely lakes, rivers, forests, and desert scenery can be found scattered around its many national parks that include such pearls as Great Sand Dunes, Grand Teton, and of course, Yellowstone.
As much of the Rocky Mountain states is made up of wild, rugged, and unforgiving landscapes, it is quite sparsely populated, so lends itself perfectly to all kinds of incredible outdoor activities. Denver is the only major city of note.
In this post, we'll cover:
Colorado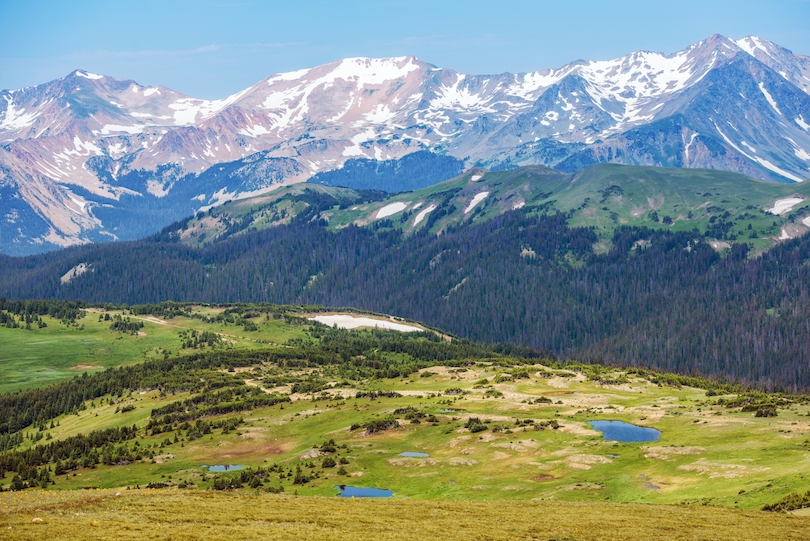 With a nickname like 'Colorful Colorado,' it's fitting that the state is awash with a stunning array of different landscapes for you to explore. The snow-capped Rocky Mountains lie next to rusty red canyons and a patchwork of farms and rural areas, with the sparkling waters of the Colorado River twisting through it all.
Colorado is a land of contrasts. Its fascinating towns and cities also exhibit a wide range of different outlooks and attitudes. The progressive college towns of Boulder and Fort Collins feel a world away from Denver, the lively state capital, and the ski resort towns of Aspen, Breckenridge, and Vail.
While all these cities are well worth visiting for their wealth of historical sights, cultural landmarks, and fun outdoor activities, the scenic city of Colorado Springs shouldn't be missed; it is located in a lovely spot with lots of incredible natural attractions nearby.
The remarkable variety in terms of its landscapes and settlements also extends to the plethora of great things that the state has for you to see and do. The Rocky Mountains are one of its main draws for the breathtaking scenery and fantastic hiking, climbing, and skiing they offer. Colorado's incredible wine country with all its delightful vineyards and wineries is also well worth a visit.
In addition to this, Great Sand Dunes National Park has some awesome nature to enjoy, while history aficionados will certainly want to head to Mesa Verde National Park to see the age-old Ancestral Puebloan ruins.
Idaho
Boasting a wide range of wild, rugged landscapes, the mountain-covered state of Idaho is a marvelous place. Lots of lakes, forests, and rivers are found alongside desolate desert habitats, and of course, the majestic Rocky Mountains themselves.
With so much spectacular scenery, Idaho is a nature lover's dream. Some of its most impressive natural sights are the volcanic landscapes at Craters of the Moon National Monument and the City of Rocks National Reserve, which both attract lots of hikers and climbers.
The undoubted highlight is Yellowstone National Park, which is not only the oldest national park in the world, but one of the most popular in the US. Partially located in both Montana and Wyoming, it is home to lots of awe-inspiring geysers, hot springs, and wildlife; Yellowstone Lake and Old Faithful are among its many must-see sights.
While its beautiful nature is what many people come for, Idaho also has some wonderful cities to check out. Boise, the state capital and largest city, sports some fascinating historical sights and a vibrant downtown, while both Sandpoint and Sun Valley are great to visit if you're looking to go skiing.
History also abounds, with Custer Ghost Town and the Lewis and Clark National Historic Trail well worth visiting. In addition to this, the state's magnificent scenery lends itself perfectly to all kinds of outdoor activities; skiing, snowboarding, and snowmobiling are all popular in winter, and mountain biking, boating, and whitewater rafting in summer.
Montana
Lying on the border with Canada in the north of the US, Montana is appropriately known as 'Big Sky Country.' The endless low-lying plains, prairies, and meadows in the east of the state really do have wide-open skies above them. In the west, it's an entirely different story, as the Rocky Mountains soar dramatically before you.
One of the largest states in the country, Montana is awash with stunning scenery. One of its main attractions is the fantastic Glacier National Park, which has lots of lakes, valleys, and glaciers for you to discover amongst the Rockies. The Upper Missouri River Breaks National Monument is also worth visiting for its badlands that exhibit wonderful rock formations, while Yellowstone National Park is another of the state's most popular natural sights.
Despite having no large cities of note, there are some lovely places to visit. Billings and Missoula are located in delightful settings, with mountains nearby, and the Little Bighorn Battlefield National Monument offers a fascinating look at America's past, with reenactments of the famous battle taking place regularly.
New Mexico
Home to some awe-inspiring desert scenery as well as the Rocky Mountains and the Great Plains, New Mexico is a beautiful part of the country to visit.
While much of the state is made up of desolate, arid landscapes, amazing natural sights punctuate its uninviting environment. The Rio Grande, for instance, divides the state in two, and both Chaco Culture National Historical Park and Bandelier National Monument boast some very impressive canyons, with a number of fascinating Ancestral Puebloan ruins also dotted around.
There are a lot of interesting historical sites and cultural landmarks in New Mexico, with its many towns and cities exhibiting American, Mexican, Native American, and Spanish influences; Sante Fe and Albuquerque are particularly worth visiting.
While often considered to be part of the Southwest region of the US, New Mexico is sometimes grouped with the Rocky Mountain states; the majestic mountain range extends into its northern territory and provides locals and tourists alike with a plethora of brilliant hiking, rock climbing, and camping opportunities.
Utah
Another state that is often grouped alongside the other Southwest states, Utah is again home to part of the Rocky Mountains. The towering peaks make up just one of its fantastic natural features, along with the incredible national parks of Arches, Bryce Canyon, and Canyonlands, with Capitol Reef and Zion making up the rest of its 'Mighty Five.'
Needless to say, Utah really is a breathtakingly beautiful place to visit. Everywhere you go, you'll come across stunning scenery and epic landscapes, which offer up every type of outdoor activity imaginable. Glen Canyon National Recreation Area is great for boating, hiking, and camping, while skiing and snowboarding can be enjoyed in the ski resorts of Ogden, Park City, and Provo.
As the state is renowned for its remarkable array of national parks and natural monuments, Utah's cities and towns are mainly used as gateways to the beautiful nature surrounding them. Both Cedar City and Moab are great bases if you want to explore the nearby scenery.
The main city of note is Salt Lake City, which is home to the headquarters of the Mormon church and lots of historical and cultural sites, with the Rocky Mountains forming an impressive backdrop to the city.
Wyoming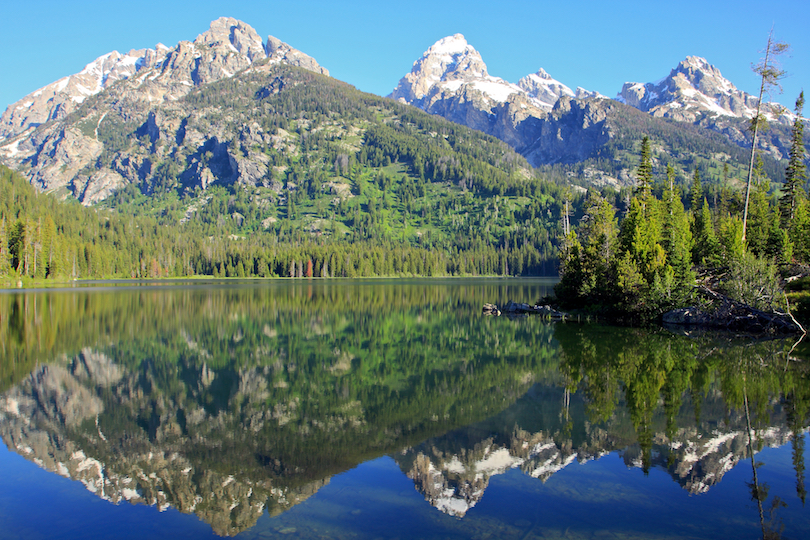 As the least populated state in the US, Wyoming is a wonderfully wild and untouched place, with its wide-open plains and desert contrasting beautifully with the towering Rocky Mountains.
With unspoiled nature, sweeping vistas, and awe-inspiring scenery, Wyoming more than deserves its nickname of 'the Cowboy State.' Exploring its dramatic landscapes on horseback and camping under the stars or staying on a ranch is an unforgettable experience. While Yellowstone National Park understandably attracts the most visitors with its vast array of natural sights, Bighorn Canyon National Recreation Area and Grand Teton National Park are both well worth a visit, with hiking, climbing and skiing all on offer.
Buffalo is worth checking out for all its beautiful old historic buildings, and Casper has lots of great museums and art galleries for you to enjoy. But Wyoming's real draw is the marvelous nature all around you. Cody, Green River, and Jackson are three of the best towns to stay in for their scenic settings and proximity to incredible natural sights.