Lying at the heart of some truly astounding scenery, the small city of Moab is an excellent base from which to explore the south of Utah. Set not far from the Colorado River in a dry and desolate part of Canyon Country, it is also perfectly placed for visiting the Arches and Canyonlands national parks, both of which lie nearby.
In addition to all the massive mesas, beautiful buttes and elegant arches dotting the region, there are many exhilarating outdoor adventure activities to enjoy. Besides rock climbing and whitewater rafting, other things to do in Moab include hiking, mountain biking and camping, with scenic off-road drives also popular. With prehistoric petroglyphs and age-old dinosaur fossils to be found in museums and scenic and secluded settings, Moab has a wealth of incredible tourist attractions right on its doorstep.
In this post, we'll cover:
11. Potash Road
Winding alongside the rushing waters of the Colorado River is the phenomenal Potash Road, which takes you past some stunning landscapes. Stretching for 27 kilometers in total, it starts just to the north of Moab and ends at the border of Canyonlands National Park.
Besides offering fantastic views of the river and the striking sandstone cliffs towering over it, the road passes by ancient dinosaur tracks and prehistoric petroglyphs. Along the way, there is an abundance of delightful desert to explore, with some epic hiking, mountain biking, and rock climbing to be had amidst its desolate confines.
Also known as the Lower Colorado Scenic Byway, the Potash Road is one of the most rewarding routes to travel along, with arresting arches, massive mesas and gaping gorges wherever you go.
10. Birthing Scene
Set just to the southwest of Moab in a secluded spot is the Birthing Scene – a remarkable rock art panel. Now a popular tourist attraction, the unique image can be found on the side of a large boulder, not far from the fabulous Funnel Arch.
The most captivating of the carvings covering the boulder, the artwork shows a woman giving birth, with the baby being delivered feet first. Thought to date back centuries, if not millennia, it and the other extraordinary etchings were created by various cultures, with the Ancestral Puebloans, Fremont, and Ute all leaving their mark. In addition to abstract shapes and anthropomorphic images, you'll find humans, horses, and hunting scenes.
As it is easy to access and is in excellent condition, the breathtaking Birthing Scene is well worth visiting if you have the chance, with plenty of attractive landscapes to be enjoyed on the way to the site.
9. Hole 'N the Rock
Located just under 20 minutes' drive from Moab is the incredible Hole 'N the Rock, an unconventional home hewn into the side of an enormous sandstone bluff. Full of intriguing furnishings, original artworks, and 1950s kitsch, it makes for a great stop when driving around the state.
What started as a small cave where cowboys camped was slowly turned into a magnificent human-made engineering marvel by the Christensen brothers. Over 12 years, Albert excavated a huge area, eventually chiselling out 14 remarkable rock rooms for him and his wife Gladys to live in. He also made a fireplace, a large bathtub, and sturdy pillars to hold up the ceiling. There's even a carved sculpture of Franklin D. Roosevelt outside.
Visitors can now wander around the Hole 'N the Rock and marvel at its astonishing architecture as well as check out its trading post, tourist shop, and petting zoo. Albert and Gladys, who respectively died in 1957 and 1974, are laid to rest in a small cove not far from the cave they called home.
8. Moab Giants Dinosaur Park
A fascinating, fun, and family-friendly place to visit, the marvelous Moab Giants Dinosaur Park lies just 15 minutes' drive from Moab. Through exciting, interactive, and educational exhibits and activities, you'll learn everything there is to know about the ancient, awe-inspiring animals that once roamed around Utah's red rock landscapes.
Besides boasting a phenomenal 5D paleoaquarium where you can watch massive Megalodons swim underwater, there is also a terrific trail to wander along lined by more than a hundred life-sized dinosaurs. Amidst the park's delightful yet desolate scenery, you can also try your hand at palaeontology and unearth dusty dinosaur bones at its dig-it-out site.
There is an excellent museum where you can peruse fossil footprints and prehistoric paleontological findings, and a 3D theater takes you back to the time of the dinosaurs.
7. Wilson Arch
Set in a scenic and serene spot to the south of Moab is the wonderful Wilson Arch, which can be found just a short walk from US Highway 191. Unlike many of the other astounding and elegant arches in the state, it is free to visit and very easy to access, with plenty of signs pointing the way.
Named after Joe Wilson, an early pioneer to the area, the sandstone arch towers to 14 metres and spans an impressive 28 meters. Formed over the millennia by the roaring wind and rain, it makes for a spectacular sight, with its ruddy hues standing out delightfully against the bright blue skies above.
While most people simply come to snap some photos or enjoy a picnic, more adventurous visitors can climb to the top of Wilson Arch and rappel their way back to the desert floor.
6. River rafting
Rafting on the mighty Colorado River is an exhilarating and unforgettable way to explore Moab's scenic surroundings. One of the most notorious whitewater rivers in the world, its wild waters take you through stunning red rock canyons, with breathtaking scenery and sights on show wherever you go.
As river rafting is such a popular activity, plenty of tour providers can be found in the center of Moab, with various durations and destinations for visitors to choose from. While some picturesque places such as Westwater Canyon have rushing rapids and narrow gaps to navigate, other parts are more peaceful, with serene spots where you can stop and swim or enjoy a picnic.
Suitable for beginners, families, and experienced paddlers alike, rafting along the Colorado River makes for a memorable experience.
5. Corona Arch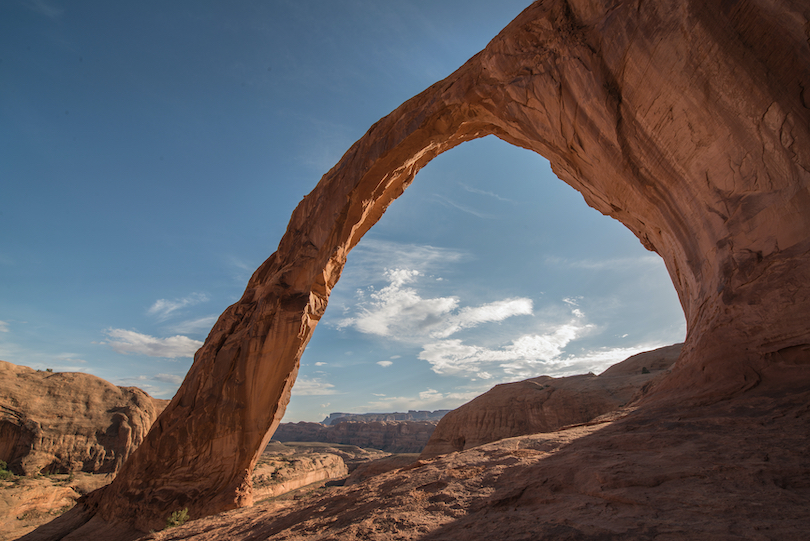 Just 20 minutes' drive from the center of Moab is one of the biggest and best arches in the area – the captivating Corona Arch. Set at the end of a short scenic trail that's easy and accessible to all, the sensational sandstone arch offers fantastic photo opportunities.
Starting at the phenomenal Potash Road, the trail meanders past crumbling cliffs and craggy canyons. After 2.4 kilometers, you'll reach the elegant arch. Towering to 32 meters and reaching 42 meters at its widest point, its spectacular span of sandstone makes for a fine sight.
In addition to this standout sight, the trail passes by Pinto Arch and Bowtie Arch, with parts of the pretty path following old abandoned railway tracks that used to haul potash away from the nearby mine.
4. Hell's Revenge 4X4 Trail
Another of Moab's outstanding outdoor adventure opportunities is the hazardous and hair-raising Hell's Revenge 4X4 Trail. Thrilling to drive along, it takes you up steep climbs, down sheer descents, and past dizzying drops, with stunning scenery, views and landscapes along the way.
Stretching 10.5 kilometers in length, the tough trail can be found just a short drive to the northeast of town in a barren yet beautiful part of red rock country. Besides passing over slickrock and through sandy stretches, it takes you along the top of rugged rocky ridges, over massive mounds and precipitous ledges, with loose rubble to navigate here and there.
Thankfully, the most challenging sections all have shortcuts, and the route is only recommended for experienced drivers using hardy 4X4s. It is well worth checking out for its gorgeous scenery and the divine views from the trail over the Moab Valley and Arches National Park.
3. Dead Horse Point State Park
Set around 45 minutes' drive to the southwest of Moab, Dead Horse Point State Park boasts delightful desert landscapes and dramatic panoramas. While it is renowned for its stunning views out over Canyonlands National Park, it also has lots of excellent outdoor activities to enjoy, with hiking, mountain biking, and camping being particularly popular.
Despite its small size, the park certainly packs a punch: the views on offer from its overlook are among the most breathtaking on Earth. Towering over 600 metres above the Colorado River, the viewpoint looks out over craggy and colorful canyons, with the La Sal Mountains lingering in the distance.
This is the state park's main attraction, and it has appeared in countless films over the years. There are also some great trails where you can hike or bike along its rugged rim.
2. Canyonlands National Park
Home to an incredible array of arches, mesas, buttes, and spires, Canyonlands National Park is the largest and wildest of Utah's Mighty Five. Set just half an hour to the southwest of Moab, it has four scenic, secluded sections for you to visit, with jaw-dropping sights wherever you go.
At Island in the Sky, for instance, there are superb views to be enjoyed over the rest of the park, with craggy canyons and massive mesas stretching over the horizon. In contrast, the Needles and Maze districts have rugged and remote reaches to explore, with epic hiking and mountain biking on offer. One of the most famous and photographed sights in the park is Horseshoe Canyon, another delightful district boasting phenomenal pictographs, petroglyphs and panoramas.
Formed over millennia, Canyonlands National Park's lovely landscapes and striking scenery just begs to be explored, with various outdoor activities on offer.
1. Arches National Park
An incredible place to explore, Arches National Park is located just a stone's throw away from Moab in Utah's captivating Canyon Country. Remarkably, it is home to the greatest concentration of natural arches on Earth, with more than two thousand of them dotted about its confines.
Shaped and sculpted by the wind and rain over many millennia, their sandstone silhouettes make for a spectacular sight. While the lovely Landscape Arch appears to be very graceful with its slender sliver of sandstone stretching 88 meters in length, the Devil's Garden area has lots of eroded arches with a wind-swept and weathered look to them. The most famous of all is the dainty Delicate Arch, which is one of the state's most important sights.
With so many beautiful landscapes to hike, mountain bike or rock climb around and so many unique and unusual rock formations on show, Arches National Park is not to be missed when in Moab.
Map of Things to Do in Moab, Utah