Utah translates to people of the mountains. Its rich heritage is borne in exploration, one that led to the discoveries of some of America's most treasured destinations. Its sun-soaked desert landscapes filled with mesas, buttes and hoodoos along with world-class winter adventures make the Beehive State a worthy destination all year long.
Utah has been delivering epic road trips for generations. Journeying between the state's Big Five national parks is, for many, a rite of passage. They are, of course, some of the top places to visit in Utah but as you'll soon realize, there are many more layers to discover.
Map of Places to visit in Utah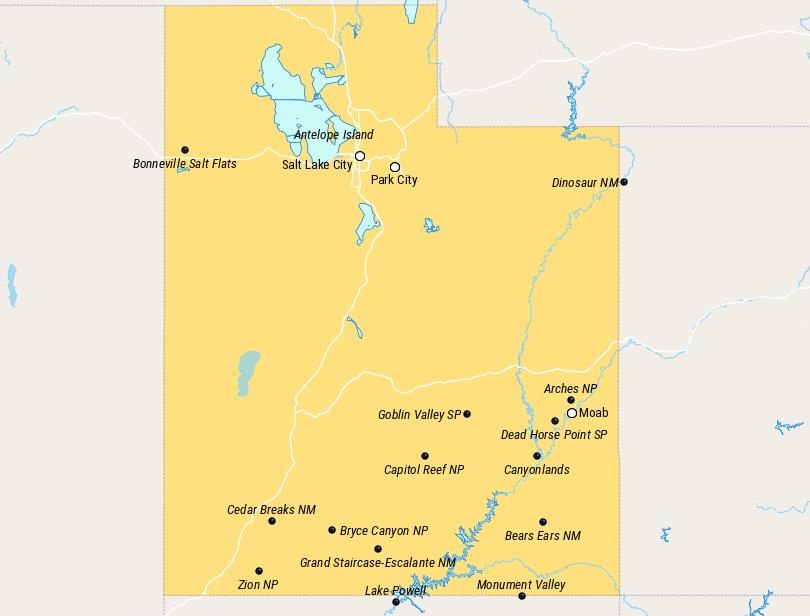 © OpenStreetMap © MapTiler © Touropia
State parks and monuments are spread throughout. These bring more local culture and history, plus significant Native American heritage. In addition, the state's capital, Salt Lake City, proves to be far more than just a launchpad for adventures.
18. Dead Horse Point State Park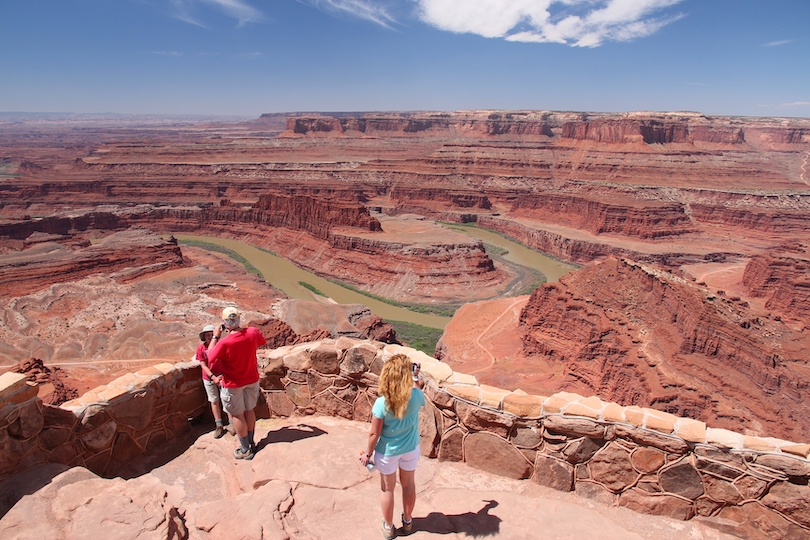 One of several must-see destinations minutes from Moab, Dead Horse Point State Park, boasts one of the best views in Utah. The state park is home to high desert woodland that leads to jaw-dropping canyons which sparkle when the sun rises and falls.
But the star of the show is Dead Horse Point. The point is a mesa that continues to narrow until there's nothing but cliffs ahead, to the left and right. Back in the day, cowboys corralled horses here. Today, it's an incredible overlook that showcases the Colorado River, making close to a 360-degree turn through a landscape packed with buttes and canyons.
From this point you can head along the East or West Rim trails to further views. The latter being more popular for its addition detours and views towards Canyonlands National Park.
17. Goblin Valley State Park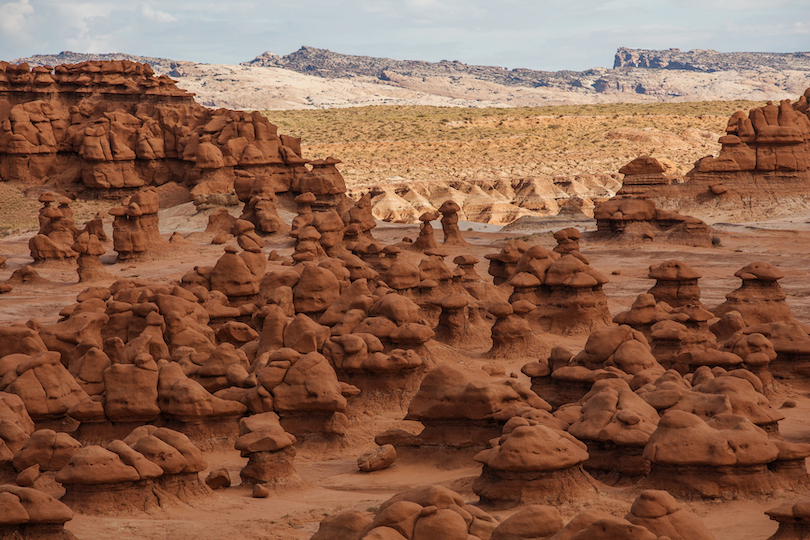 If you get bored with hoodoos, take things to another level by admiring the hobbit like rocks within Goblin Valley State Park. Not far from Bryce Canyon, this park takes your regular hoodoo and transforms them into mythical looking creatures.
However, these peculiar, mushroom-shaped formations are, in fact, Entrada Sandstone pillars that have been eroded over millions of years. They are spread apart like a kooky looking community. It makes for a different experience than neighboring Bryce, ensuring you should visit both.
There are three hikes through the mystical Goblin Valley State Park, which will deliver an up-close experience with the rock residents. But it also presents the opportunity to admire ancient petroglyphs created by the Fremont and Paiute tribes.
Aside from hiking, travelers can try their hand at canyoneering or explore on a mountain bike.
16. Bonneville Salt Flats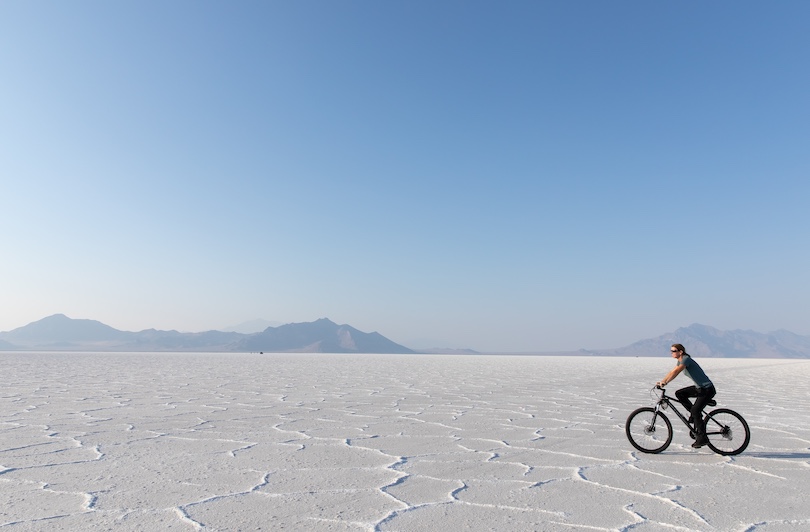 Whether you're interested in head scratching optical illusions or just want to drive fast, there are plenty of reasons to travel to Bonneville Salt Flats. A fun ninety-minute drive west of Salt Lake City, you'll venture from one salty expanse to another. However, rather than a lake, the inch (or sometimes five feet) of salt creates some marvelous photography.
Getting to the flats is easy. What you choose to do when there is up to you. The road it ends abruptly, and you're welcome to drive onto the salty flats. The temptation for speed is ever present, but beware – the ground is not always solid.
After taking a quick spin, place your camera close to the ground so your reflection and distant self come into view. The best time to visit is at sunrise or sunset, when the mix of colors creates a stunning landscape.
15. Dinosaur National Monument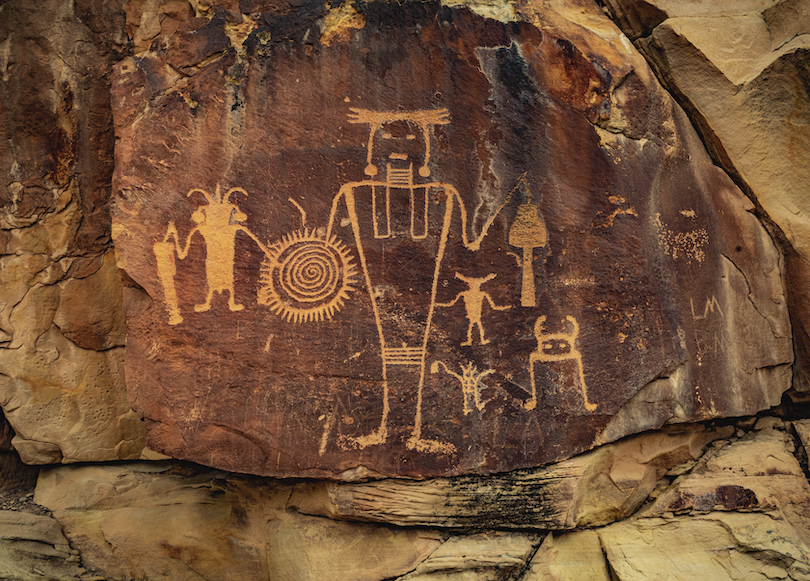 A designated UNESCO cultural site, the Dinosaur National Monument, is a wondrous look into the discovery of thousands of prehistoric fossils. These bones date back 160 million years and can be seen embedded into the vast cliff within the Carnegie Quarry.
It all began in 1909 when paleontologist, Earl Douglass discovered eight dinosaur tailbones. Over time, that number grew to 1,500 fossils, providing the quarry with international fame. But why so many in one place? The amount is unusual, leading scientist to believe the quarry was a prehistoric watering hole.
In 1915 it became Dinosaur National Monument. Today you can admire the cliff wall and embark on several short hikes around the monument, where you'll uncover a vast rolling desert punctuated by a river that offers great rafting.
14. Monument Valley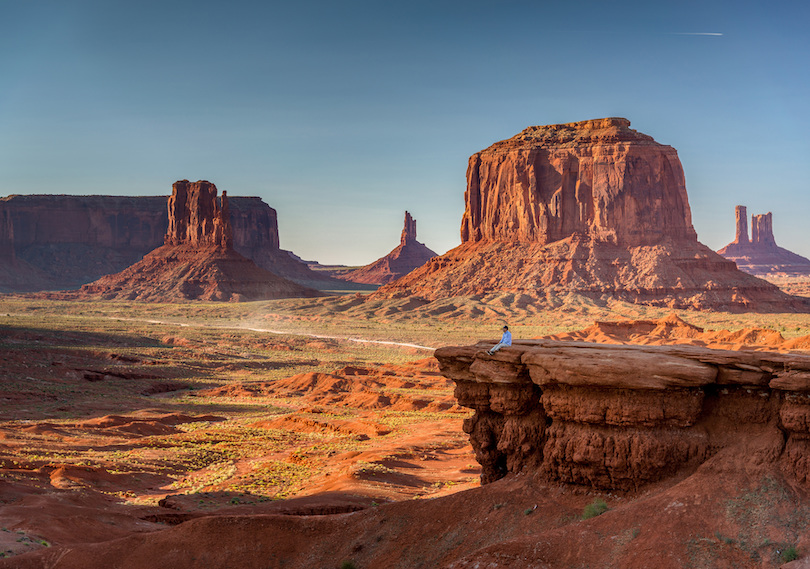 It's a picture you can hear, the red rock buttes of Monument Valley complemented with the distinct twang of rustic guitar. For generations, old Western films used this very image as a backdrop to iconic flicks. But it's a real place, one found within the Monument Valley Navajo Tribal Park.
Straddling the border between Utah and Arizona, the park is home to the 17-mile Valley Drive. This is a road whose stark black color is interrupted only by straight yellow lines. On either side is a vast expanse of red and orange, with a tinge of green desert flora hanging on for dear life.
It's a dramatic landscape that has been made famous by van lifers showcasing the road as it heads straight well into the distance. Along the way, there are numerous pullouts, but to explore further, one needs a Navajo guide.
13. Bears Ears National Monument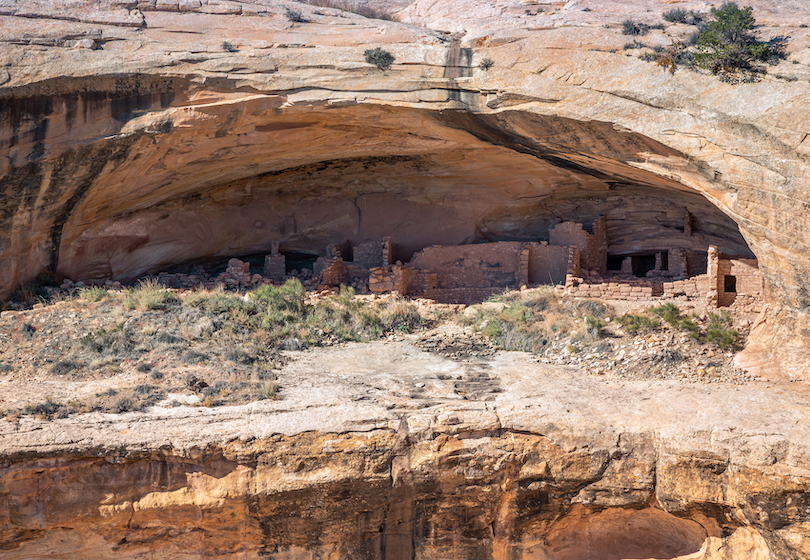 The fight to protect Bears Ears National Monument has been splashed across our TV screens over the last few years. It's all the more reason to visit this important place to learn more about its importance to Native American communities such as the Zuni, Ute and Hopis.
Visitors to Bears Ears National Monument won't have to go far to find fascinating rock art, ancient cliff dwellings and significant sites that have been at the forefront of local life for hundreds of years. This is a land that has long been sacred and it's easy to see why.
Wide open mountain meadows quickly dissipate as they reach the edge of sandstone canyons. On the edge of the San Juan, cliff dwellings such as the River House Ruin, once home to generations of tribes, offer a glimpse into the past as the land now stands frozen in time.
12. Grand Staircase-Escalante National Monument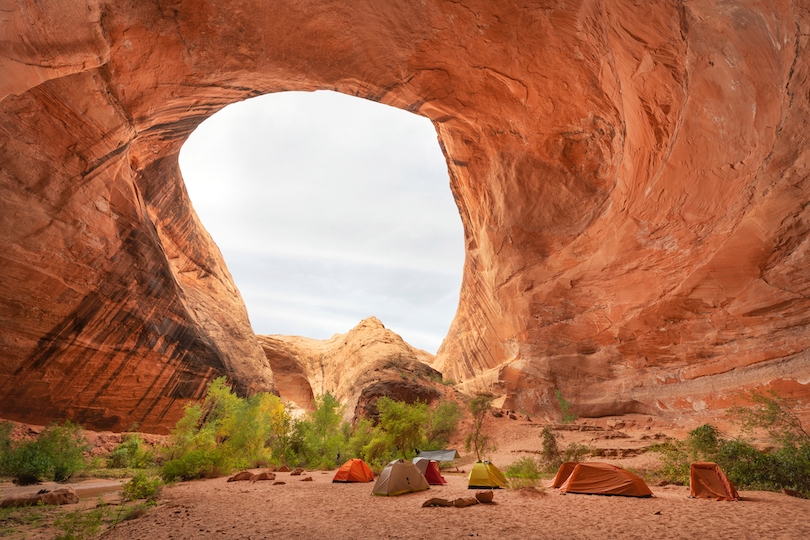 For thousands of years, Native American tribes such as the Paiute, Navajo and Hopi called the breathtaking Grand Staircase-Escalante National Monument home. In 1996, it became a protected monument, ensuring the significant cultural and historic sites are protected for generations to come.
The monument is a massive expanse of land hiding secrets around every corner. The archaeological sites, along with the Escalante canyons, are the star attraction. Here, centuries of river flow have carved deep and slender slot canyons that make for epic day hikes and even multi-day expeditions.
With no official entrances, the monument can often feel remote and a true desert wilderness. As travelers converge within the more popular national parks, it's easy to escape the crowds whether on foot or via 4WD. If you choose the latter, Cottonwood Canyon Road provides 47 miles of epic views, including the main canyons, the Paria River Valley and Grosvenor Arch.
11. Cedar Breaks National Monument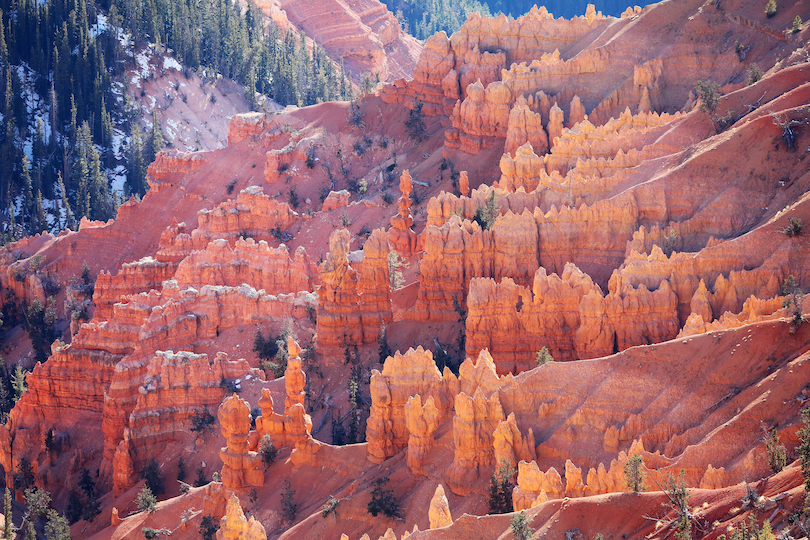 If you fell in love with Bryce Canyon, then you'll want to spend time exploring Cedar Breaks National Monument. The monument is a smaller, yet equally beautiful landscape filled with hoodoos and a sprawling amphitheater 2,000 feet deep.
Like Bryce, Cedar Breaks erodes from the top down, exposing the eye-catching platforms in the valley. From the rim, you'll stand at over 10,000 feet above sea level. From fall to spring, you can expect the massive expanse of yellow, orange and red to be complemented by a hearty dose of snow.
Just as in the more famous national parks in Utah, you can see Cedar Breaks National Monument along a scenic road. The Rim Drive delivers views and memorable hikes. Spectra Point and Ramparts Overlook Trail is the cream of the crop, taking you from the plateau to the edge of Cedar Breaks Amphitheater across four miles.
10. Lake Powell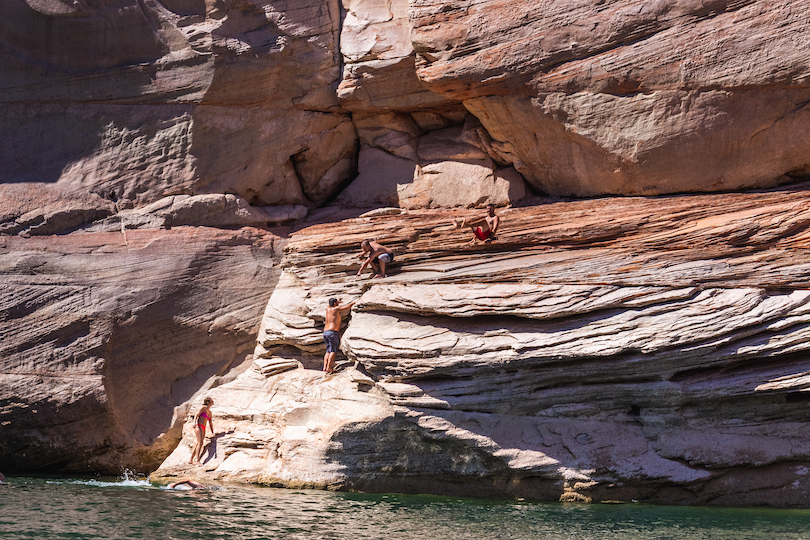 The winding, slender nature of Lake Powell sets it apart from other famous lakes in America's west, including Lake Tahoe. Lake Powell accentuates the red rock canyon vibe of Utah by adding an enormous body of water that has a longer coastline that most American states.
Lake Powell is surrounded by soaring canyon walls and meandering across Utah and into Arizona in a snake-like manner. Because of this, from any given perspective, you'll never understand the sheer scale of this impressive lake. Thankfully, there are many ways to explore the lake that will have you appreciating its unique beauty.
Hiking trails spread along the lake's shoreline, bringing you to postcard-worthy views. But getting around the 280 square mile lake is no easy task. Thanks to the rolling rock walls, driving is limited. You're best off exploring on a boat to explore the flooded canyon country.
Numerous attractions can also be found here, including canyons that are home to Anasazi ruins. The lake has also served as a shooting location for dozens of television series and films, including both the 1968 and 2001 versions of Planet of the Apes.
9. Antelope Island
Around 90 minutes from Salt Lake City, Antelope Island presents impressive views of the Great Salt Lake with plenty more to discover. The island is the largest on the record-breaking lake at 15 miles long and is named after the pronghorn antelope that roamed the space when it was discovered in 1845.
Three years later, Antelope Island's began what would become a rich ranching heritage before becoming a state park. It was during this time that 12 bison were introduced, the beginnings of what would become a modern day herd of over 550 beasts.
A winding road takes you through the state park, allowing you to see the herd and quickly load up on photographs. But the chance to see pronghorn antelope, the continent's fastest animal (and distant relative to the giraffe) attracts many visitors. Mule deer, bighorn sheep and coyotes are other common sights.
8. Moab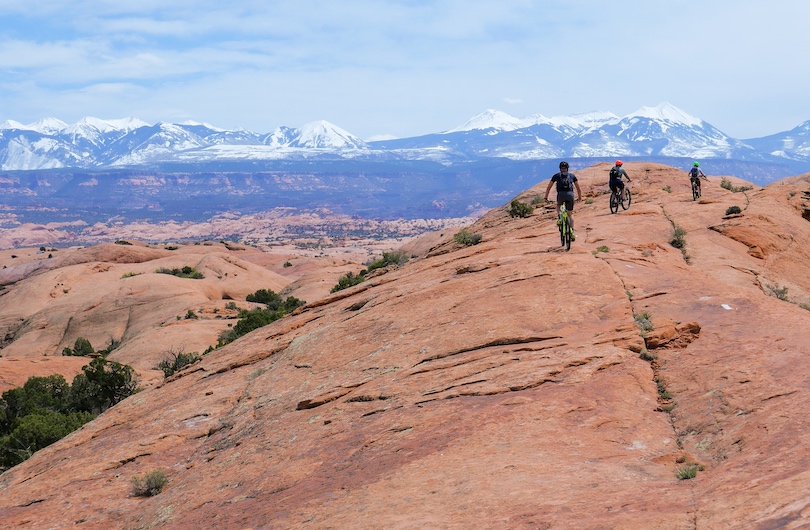 In eastern Utah, Moab has become America's face of outdoor recreation. It's here that mountain bikers, rock climbers and hikers converge into a mass of outdoor enthusiasts, it what will become a long season under the Utah sun.
Wherever you find yourself in Moab, you're just minutes from some of the most spectacular landscapes in the country. This includes both Arches and Canyonlands. It's no surprise that the rather remote town boasts such a transient community, which is also why it's such a fun place to be.
With an official population of just over 5,000 folks, it's both a small village yet a bustling town with a fabulous atmosphere. When you aren't ripping up the trails on Potash Road or rafting down the nearby Colorado River on world class rapids, Woody's Tavern is the place to trade stories with seasoned adventurers.
7. Park City
After a simple yet scenic drive from the state capital, you'll find yourself in one of the United States' best adventure playgrounds. Park City may be famous for its role in the 2002 Winter Olympics, but you can rest assured that it's a year-round destination.
Long before skiers and snowboarders came to town in droves, Park City was a 19th century mining town. It boomed upon the completion of the Transcontinental Railroad and thus, has plenty of historic architecture and a charming main street.
This part of town is where you'll find a great collection of restaurants and bars, ready to help reflect on a day of fun. In the summer, you'll have a packed itinerary of local hikes, fishing, rafting and swimming. Come winter, prepare for a memorable day on the slopes and the arrival of January's Sundance Film Festival.
6. Salt Lake City
Salt Lake City is the most common gateway to the many highlights around Utah. From the state's capital you can access the Big Five national parks, go skiing in Park City and biking in Moab. However, there are plenty of reasons to stick around for a little first.
The city is the home of the Mormon church and some of the top attractions in Salt Lake City include Temple Square home to the Salt Lake Temple. The square features memorable architecture, including the temple, plus the Gothic-Revival Assembly Hall and the Tabernacle, home to the church's famous choir.
From Temple Square, you'll find the remainder of downtown SLC to be extremely walkable. But within a quick drive, you'll find yourself on the edge of Great Salt Lake, the largest of its kind in North America. To see it from above, make your way to the summit of Ensign Peak.
5. Capitol Reef National Park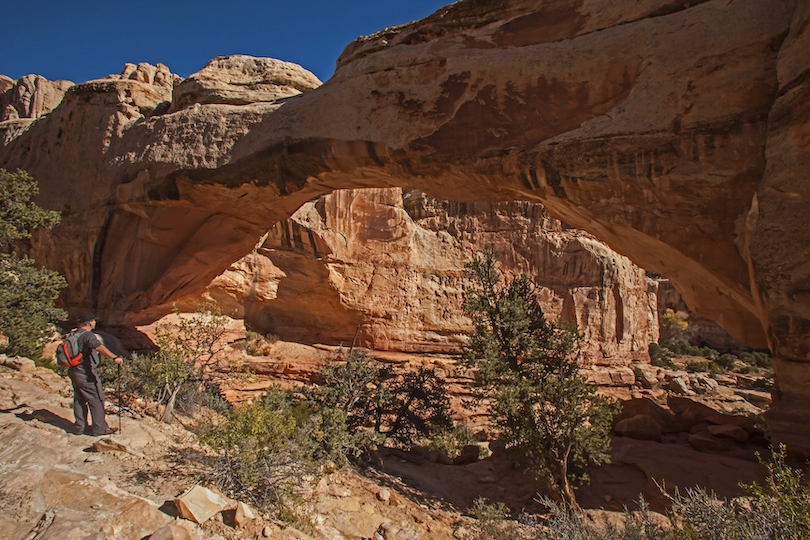 Out of Utah's Big Five, Capitol Reef National Park can get lost among the flurry of hoodoos, arches and canyon. However, place this national park in a different state and explorers would be singing a different tune. Thus, it's not a place to be missed.
Capitol Reef was formed thanks to a collection of major geological events that saw a conglomerate of different rock as old as 270 million years settle in the region. Then a major mountain building event saw the Waterpocket Fold expose these rocks, placing them thousands of feet higher than the valley below.
Overtime, literal pockets of water continue to erode the rock, creating more hoodoos, arches, rugged cliffs and narrow gorges. When viewing the fold from a distance, it indeed looks like a sedimentary reef and an eye-opening collection of warm colors.
Hikes such the Rim Overlook and Capitol Gorge bring you away from the main drag and into the heart of the park.
4. Canyonlands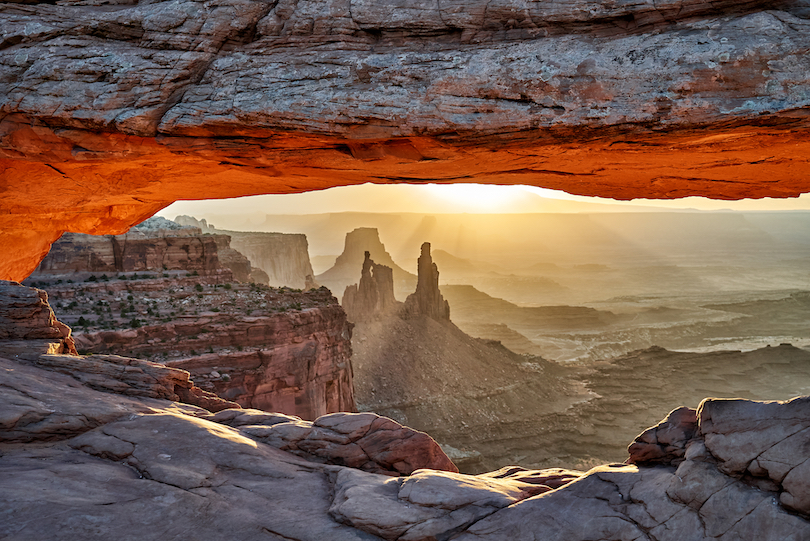 Back in the 1800s, the Wild West was in full swing. It was here, in what is now Canyonlands National Park, that Butch Cassidy and the Wild Bunch Gang would hide out for weeks on end until the heat from their latest heist subsided.
Fast forward to the modern day and hikers can make their way to Robbers Roost, the infamous canyon home to the old outlaws. It's just one of the many worthwhile hikes that allows you to dive deep into exploring this magical place.
Despite this historic connection, the most popular part of Canyonlands is the Island in the Sky. The name alone should pique your interest and it doesn't disappoint. At the center of the island is Mesa Arch. The arch itself is impressive, but the views are more so. From elevation, you can gaze upon a maze of canyons spread as far as the eye can see.
3. Arches National Park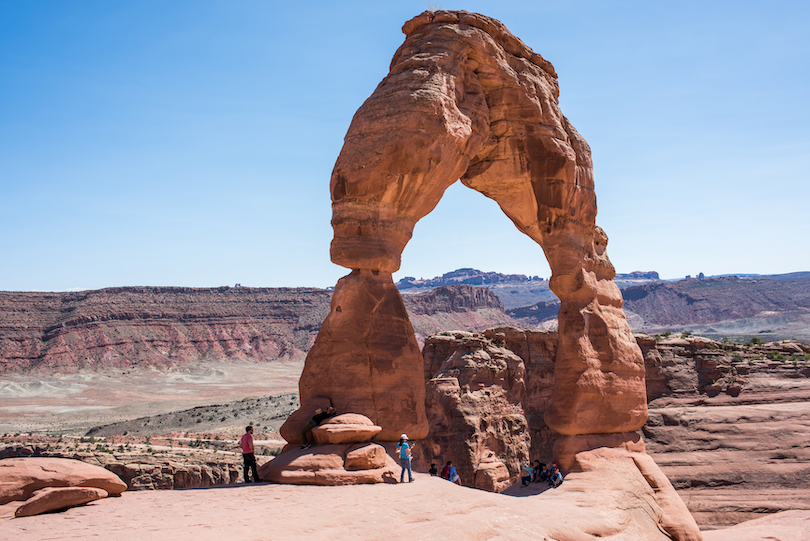 The name Arches National Park is an apt description of this incredible landscape. Yep, spoiler alert, there are a ton of natural stone arches here. In fact, there are more than 2,000. Each was painstakingly formed across the span of 100 million years.
It's hard to imagine what this landscape may have looked like back then. But it now is home to some of Mother Nature's best work, featuring the largest collection of arches on earth. The best part? You don't even have to work hard to see them.
Arches National Park presents visitors with a 36-mile scenic drive that is a veritable highlight reel. Spread along the road are famous arches such as Delicate Arch and the Fiery Furnace. The former being the largest free-standing arch in the national park and the latter the perfect sunset spot.
But there's more than just arches here. Short side trails take you into the desert wilderness where you'll uncover such memorable gems as Balanced Rock.
2. Bryce Canyon National Park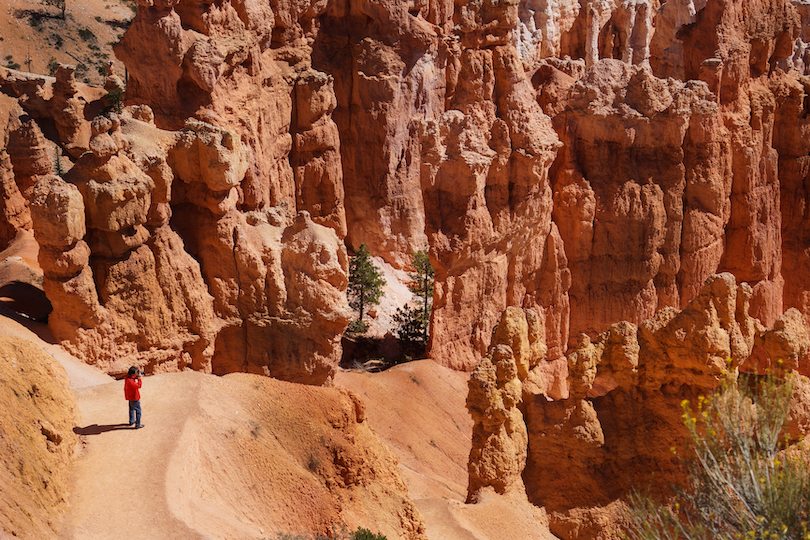 In southern Utah, Bryce Canyon National Park is home to towering spires and a gorgeous amphitheater carved by wind and time. The spires, aka hoodoos, aren't uncommon throughout the world. Yet here, you'll find the largest collection of these fascinating rock columns on earth.
As you enter the park, you'll already find yourself at a high elevation. In fact, as you explore, you'll mostly stand above the marvelous creations below. Erosion, which has occurred over thousands of years, has essentially carved the park from the top down.
Bryce Canyon is particularly arresting during sunrise and sunset. It's here, in the low hanging light, that the shadows do their best work, illuminating and darkening different hoodoos and canyons to create a living piece of art.
Utah does a great job of making its parks accessible. That trend continues here with wheelchair accessible trails and an abundance of short treks that take to the park's best spots like the Fairyland amphitheater and Bryce Point.
1. Zion National Park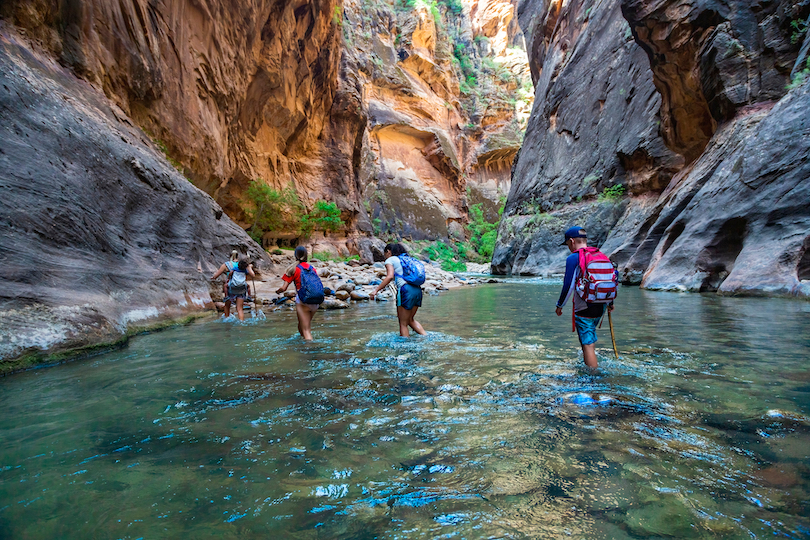 Even among America's National Parks, few can match the stunning beauty of Zion National Park. Situated near Springdale in southern Utah, is the cream of the crop in a state that arguably has the best collection of national parks. It's the pinnacle of the Big Five and the centerpiece of epic road trips that connect them all.
Nothing can quite prepare you for the majestic landscapes within Zion. It's a place that is so utterly Utah, yet out of this world. Unlike many other parks in the American Southwest, where visitors look down from the rim of a canyon, visitors to Zion walk on the canyon floor and look up. The sprawling mix of burnt orange rocks, lush desert flora and startling cliffs make for unforgettable views and photographs wherever you look.
Running east to west through the national park is the Zion-Mount Carmel Highway. This winding road will deliver you to a litany of spectacular pullouts and trailheads that allow you to venture deep into the park, particularly the mesmerizing Zion Canyon.
Boasting a thousand-foot drop, the canyon's shadows dance as the sun moves and is home to famous short hikes such as Angel's Landing. It's a hiker's paradise. But one should be warned, the views are as grand as the cliffs are daunting.