Renowned for its spectacular mountain vistas and sparkling alpine lakes, Grand Teton National Park can be found in Northwest Wyoming just outside of Jackson. Sure to delight both nature lovers and outdoor enthusiasts alike, its dramatic landscapes and vast swath of pristine, untouched wilderness just beg to be explored with remarkable scenery and views wherever you go.
Established in 1929, it is named after Grand Teton, the highest peak in the range, which towers to an astonishing 13,775 feet in height. Far below, you can find verdant forests and twinkling lakes to visit with rushing rivers and striking rock formations also dotted about. Due to its diverse array of landscapes, there are plenty of things to do in Grand Teton National Park from hiking, biking and camping to fishing, swimming and kayaking with even rock climbing and skiing being on offer.
With lots of wonderful wildlife also residing within the park such as moose, elk, bison and bears, Grand Teton National Park really is a treat to visit.
In this post, we'll cover:
12. Paintbrush Canyon Trail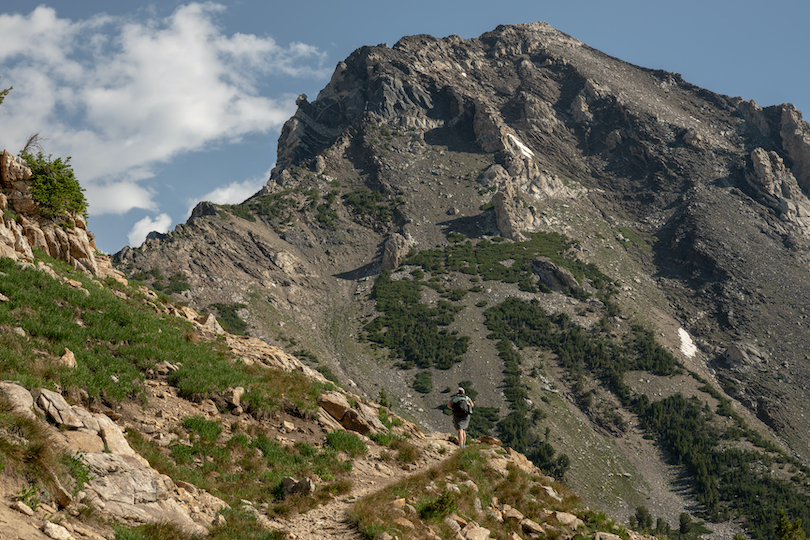 One of the most rewarding hikes in all Grand Teton, the phenomenal Paintbrush Canyon Trail takes you past lots of spellbinding scenery with stunning views and nature wherever you look. While it is quite long and strenuous, the terrific trail is definitely well worth hiking along for all the amazing sights you can expect to see.
Stretching just over 9 miles in length, it meanders its way along the shores of secluded lakes, over rugged ridges and beneath massive mountain peaks. Very popular with nature lovers and outdoor enthusiasts, it starts at String Lake before steeply rising up through Paintbrush Canyon until it reaches the idyllic Holly Lake which is ringed in by marvelous mountains.
Over the course of its rambling route, the trail gains almost 4,000 feet in elevation with its highest point being the Paintbrush Divide which towers to a lofty 10,700 metres. Particularly hardy hikers can also continue along the Cascade Canyon Trail which forms a large loop with the trail.
11. Chapel of the Sacred Heart
Set along the southern shores of Jackson Lake you can find the lovely little Chapel of the Sacred Heart which is a very popular photo spot and wedding venue. Aside from its scenic setting, it has a wonderful rustic look and feel and offers up stupendous views over the lake's reflective waters.
Located not far from Jackson Lake Dam, the charming chapel was built in the 1930s and looks very much like a cozy log cabin as it is made almost entirely out of wood. Inside is just as attractive as hand-hewn pews, sculptures and crosses can be found next to two absolutely gorgeous stained-glass windows.
Besides taking in its peaceful ambience and exquisite architecture, guests can also snap photos of the chapel or enjoy a picnic next to the lake while basking in its beautiful views.
10. Moose Wilson Road
Winding its way through vast forests and valleys with mighty mountains rising up dramatically in the distance, the Moose Wilson Road really is a delight to drive along. Connecting the two towns to one another, it is one of the most popular scenic routes to take in Teton and it is easy to see why.
Mostly paved, with some parts being just gravel and dirt, the road reaches 25 miles in length and takes you through the humongous Jackson Hole valley. Along particularly wild stretches, you can sometimes spot moose, beavers and even black bears in the untouched wilderness to either side of the route.
Along the way, the narrow and winding road also passes wetlands and waterways with there being countless trails and the Jackson Hole Mountain Resort for you to stop off at should you want to ski or explore the great outdoors.
9. Taggart Lake
Nestled amidst lush woodlands and soaring mountains, Taggart Lake is one of the most popular and picture-perfect places to visit in the park. Quite easy to hike to, its reflective waters lie at the foot of the massive and majestic Teton Range, not far from both Bradley Lake and Avalanche Canyon.
In total, the roundtrip to the lake and back stretches 3 miles in length with the trail taking you through pristine forests and flower-filled meadows and alongside bubbling creeks. Once you arrive, you'll be greeted by some of the most breath-taking views imaginable as the prominent peaks rise up so spectacularly about the lake.
Besides taking in the striking scenery and views, visitors can sit and enjoy a picnic along its shores and snap photos of the lake which was carved out of the rock by slow moving glaciers over the course of the millennia.
8. Signal Mountain Summit Road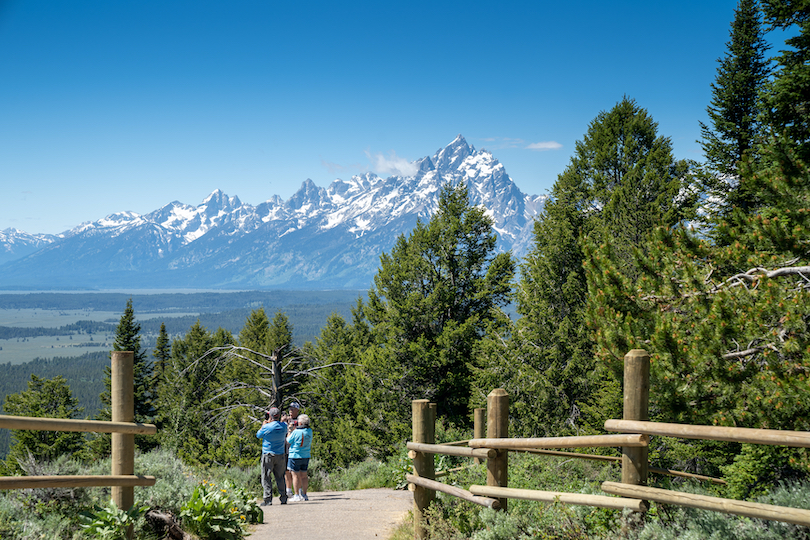 Due to its solitary setting, Signal Mountain boasts some of the best views in the park with Jackson Hole, Jackson Lake and the towering Teton Range to be spied off in the distance. To reach its lofty summit, visitors can drive along a narrow, winding road that twists and turns its way up to the top of its protruding peak.
Stretching 4.3 miles in length, the rambling route is quite steep in parts and passes through lovely forests and meadows with spellbinding scenery and nature to be enjoyed the whole way. As it gains over 800 feet in elevation, after only fifteen minutes' drive you'll find yourself high above the valley below.
From its secluded summit which reaches 2,350 metres in height, you can bask in phenomenal views of the mountains and valleys, forests and lakes of Grand Teton National Park.
7. Jackson Lake
One of the park's main features is the enormous Jackson Lake which offers up all kinds of excellent outdoor activities and wildlife viewing opportunities. Surrounded by massive mountains, it is a treat to visit with marinas, lodges and campsites lying along its scenic shores.
Gouged out of the rock by glaciers, the huge natural lake was greatly enlarged by the building of the Jackson Lake Dam in 1911. Nowadays, its reflective and welcoming waters stretch 15 miles in length, reaching 7 miles at their widest point.
Besides fishing, swimming and boating, visitors can take superb sightseeing cruises around the lake or watch out for wildlife such as elk, bison and bears along its untouched western shore. In addition, lots of incredible hiking, mountain biking and camping can be had in the forests and mountains that surround Jackson Lake.
6. Mormon Row Historic District
Despite all its stunning landscapes, scenery and nature, one of the most photographed spots in the park is the Mormon Row Historic District. With dramatic mountains rising up in the background, the atmospheric old homesteads certainly make for some fabulous photos and as such attract visitors from all around the globe.
In the 1890s, Mormon settlers moved to the area and erected the rickety, rustic-looking farms, barns and houses we can see today. Now appearing weathered and aged, the 27 historic wooden buildings form a perfect pastoral scene and are one of the most iconic images of the park.
Aside from snapping photos of both Moulton Barn and the Chambers Homestead, two of the most popular structures to photo, visitors can sometimes spy antelope and other animals roaming about the surrounding fields, farms and fertile plains.
5. Cascade Canyon Trail
If instead of scenic drives and historic sites it is a challenging outdoor adventure you are after, then you'll certainly want to check out the Cascade Canyon Trail. One of the park's most popular and picturesque hikes, the enticing out and back trail can be found not far from Moose.
In total, the round-trip stretches almost 14 miles in length with the trail starting at Jenny Lake before taking you up into the craggy Cascade Canyon. On the way, you'll pass through magnificent meadows and lush forests with rushing streams, rock formations and twinkling waterfalls all also on show.
Although it can get crowded, the somewhat steep and strenuous trail is definitely well worth hiking along with Hidden Falls' cacophonous cascade and the views from Inspiration Peak counting among its most spectacular sights. To cut a couple of miles off the total distance, visitors can always hop on a boat from the south shore of Jenny Lake and skip the first part of the trail.
4. Teton Park Road
Winding its way along the base of the majestic mountain range of the same name, Teton Park Road is absolutely lovely to drive along with staggering views and scenery wherever you look. As well as connecting Moose to Jackson Lake Junction, it passes many of the park's standout tourist attractions like Jenny Lake and the Snake River Overlook.
Over the course of its 20 miles, the delightful route takes you through vast valleys and forests with countless soaring mountains and glittering lakes lying alongside it. While awe-inspiring views of the Teton Range are guaranteed the whole way along, you can also sometimes spy moose, bison and bears in the pristine wilderness to either side.
On top of all this, Teton Park Road has numerous pull-offs and overlooks where you can stop and take in the scenery and views with lots of trailheads also lying along the route.
3. Chapel of the Transfiguration
Located on the outskirts of Moose, not too far from Mormon Row, is yet another of the park's many interesting historic sights: the Chapel of the Transfiguration. What makes the small log chapel so remarkable and so worth visiting is that it was designed so worshipers can enjoy epic views of the Teton Range from their pews.
Made almost entirely out of wood, the charming chapel was built in 1925 and has a wonderful rustic look and feel. As well as an attractive little entrance canopy, the complex has a small bell tower and sacristy with aspen pews, a hand-hewn altar and stained-glass windows decorating its interior.
Its main attraction is, however, undoubtedly the stupendous view from the large window behind its altar which beautifully frames the incredible Cathedral Group of peaks, far off in the distance.
2. Grand Teton
The mightiest of the park's many peaks, the hulking great Grand Teton rises up impressively above the rest of the rugged range. Due to its sheer size, scale and splendor, it has long been a popular mountaineering destination with countless experienced climbers attempting the arduous ascent to its snow-coated summit each year.
Towering to a colossal 13,775 feet in total, it is the second-highest mountain in the state with its jagged and protruding peak being visible for miles all around. To reach its lofty summit, hardy adventurers have to hike, climb and scrabble up the craggy mountainside with some rappelling also thrown in for good measure.
Since the first successful summit in the late nineteenth century, 38 routes to the top of Grand Teton have been established with both the Owen-Spalding Route and Upper Exum Ridge Route counting among the most popular.
1. Jenny Lake
Nestled at the foot of the remarkable mountain range you can find one of the park's standout sights and central features: the gorgeous Jenny Lake. Besides offering up all kinds of outstanding outdoor activities, the lovely lake really is a must-visit for its striking scenery and fabulous views.
Formed millennia ago by slow-moving glaciers, its deep and reflective waters are hemmed in by majestic mountains and lush forests with canyons and waterfalls also lying nearby. Due to all of the exquisite scenery on show, lots of people come here to paint or photo the arresting landscapes or try some of its excellent outdoor activities.
While fishing, swimming and kayaking out on the lake are all great fun, some splendid hiking and biking can be had along the numerous trails that weave their way along its shoreline. With camping, lodges and sightseeing cruises also being on offer, it is easy to see why Jenny Lake is the highlight of many people's visit to Grand Teton National Park.
Map of Things to do in Grand Teton National Park