Yellowstone is not just the first national park in the United States. It is also the world's first national park. Yellowstone is also one of the most unique national parks in the world. Because it lies on top of a super-volcano, the area is literally a hotbed of geothermal activity. It is also home to more wild animals than just about any place in the United States.
This park is, in fact, one of the few places where rare creatures, such as the gray wolf and grizzly bears, are seen on a fairly regular basis. An overview of the top tourist attractions in Yellowstone National Park:
See also: Where to Stay in Yellowstone
10. West Thumb Geyser Basin
[SEE MAP]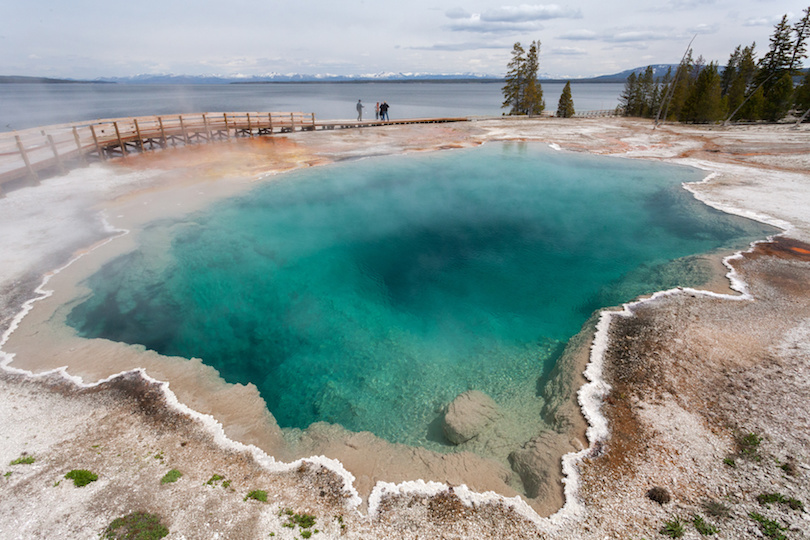 The West Thumb Geyser Basin is located on the shores of Yellowstone Lake. Although this is one of the smallest geyser basins in Yellowstone, it does contain a well-known geothermal feature, the Fishing Cone Geyser. Before 1911, anglers who were fishing in Yellowstone Lake near this geyser would sometimes plunk their catch still on the hook into the cone's boiling water, effectively cooking it alive. That practice was outlawed in 1911. The West Thumb Basin is also home to several other geysers, bubbling mud pots, and hot springs, including the park's deepest pool, the Abyss Pool. West Thumb Bay, where this basin is located, gets its name because Yellowstone Lake was described by an early expedition party as looking like a hand. And this western bay was said to look like the thumb of that hand.
9. Yellowstone Lake
[SEE MAP]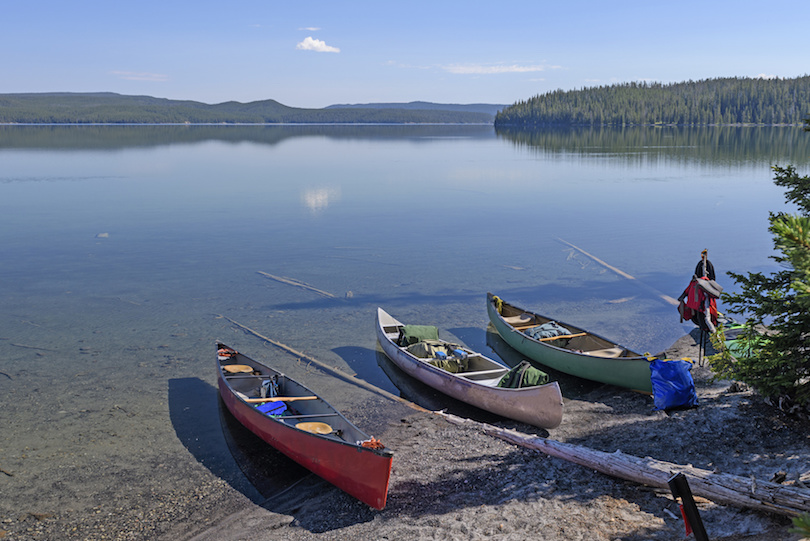 This is a very large lake — in fact the largest freshwater lake above 7,000 feet (2,100 meters) in North America. It is also a very unusual lake. Underneath its surface lie geysers, hot springs and canyons that are up to 390 feet (120 meters) deep. There is also a spot in Yellowstone Lake's Mary Bay where water temperatures of 252 degrees F have been recorded. From the surface, though, this body of water looks — for the most part — just like any other lake in the United States. And both fishing — permit required — and boating are allowed on Yellowstone Lake, which contains several different species of fish, including cutthroat trout and longnose suckers. Visitors who want to stay near this lake should book their accommodations at either the Lake Yellowstone Hotel, which was originally built in 1891, or the Lake Lodge Cabins.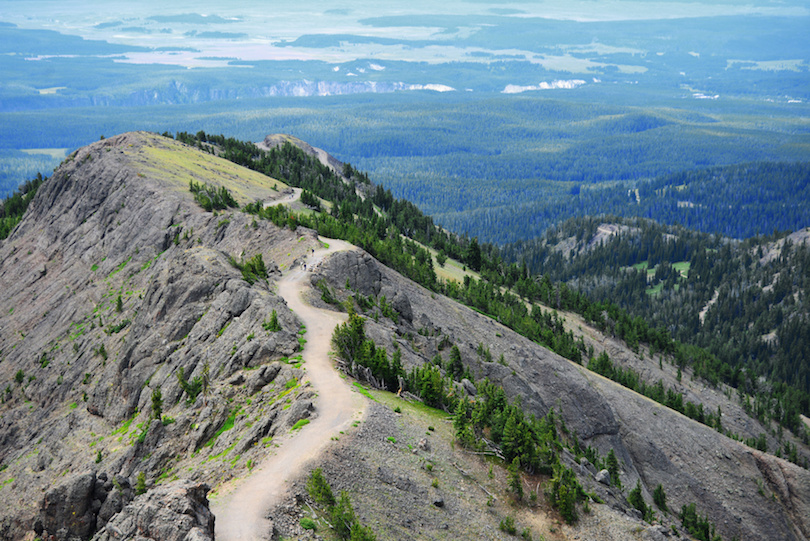 This mountain peak was named for Henry D. Washburn who led the Washburn-Langford-Doane Expedition that explored Yellowstone Park in 1870. Mount Washburn is one of the most popular places to hike in Yellowstone. There are two trails that ascend the mountain — one that starts at the Dunraven Pass Trailhead and another that begins at the Chittenden Road parking lot. Both offer breathtaking views of the surrounding area, but because of their popularity, they can be crowded during the peak tourism season. Although these trails are considered fairly easy, the high elevation does affect some hikers. Wild animals, including mountain goats and bears, can sometimes be seen from these trails.
7. Norris Geyser Basin
[SEE MAP]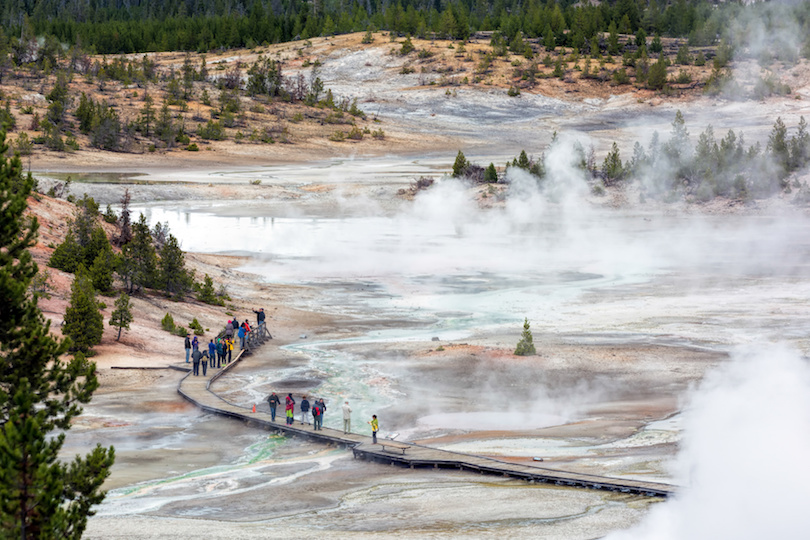 The Norris Geyser Basin is the oldest in Yellowstone. It is also the hottest and contains rare acid geysers. Norris is divided into two sections, the Porcelain Basin and the Back Basin. The Porcelain Basin area contains hundreds of geothermal features in a concentrated area, while the attractions in the forested Back Basin are spread out. One of the Back Basin's most impressive features is the Steamboat Geyser, which is the tallest in the world. Steamboat can shoot water 300 to 400 feet (120 meters) in the air. Sadly, it is unpredictable, so there is no way to known exactly when it will erupt. The Norris Geyser Basin is a very dynamic area where change is the norm. For example, the Echinus Geyser was once a very regular performer, erupting approximately every 35 to 75 minutes. But in 1998, that changed. And now it only spouts rarely.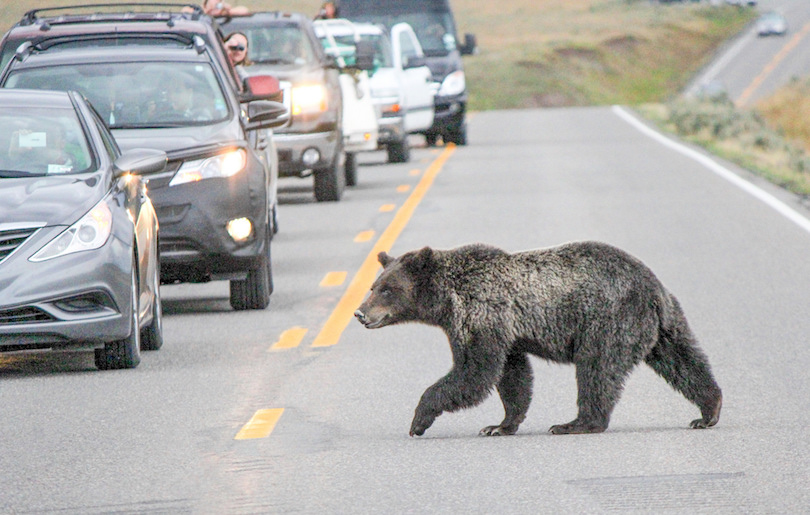 Because this valley is centrally, it is one of the most popular places for visitors to go to see wildlife. Large herds of buffalo can often be seen grazing on this valley's meadows, and it's not uncommon to spot elk, pronghorn antelopes and bears, as well. Fortunately, there are numerous turnouts in Hayden Valley where visitors can park to get a better view of the picturesque valley and its wildlife. Hayden Valley also boasts two trails where hikers can get an up-close-and personal view of the beautiful area. The Hayden Valley Trail runs from Yellowstone Lake to the Grand Canyon of the Yellowstone and shadows the Yellowstone River. The Mary Mountain Trail follows an old wagon trail and is said to be the park's most popular trail. Caution must be taken when hiking in the valley, as bears often roam in this area.
5. Mammoth Hot Springs
[SEE MAP]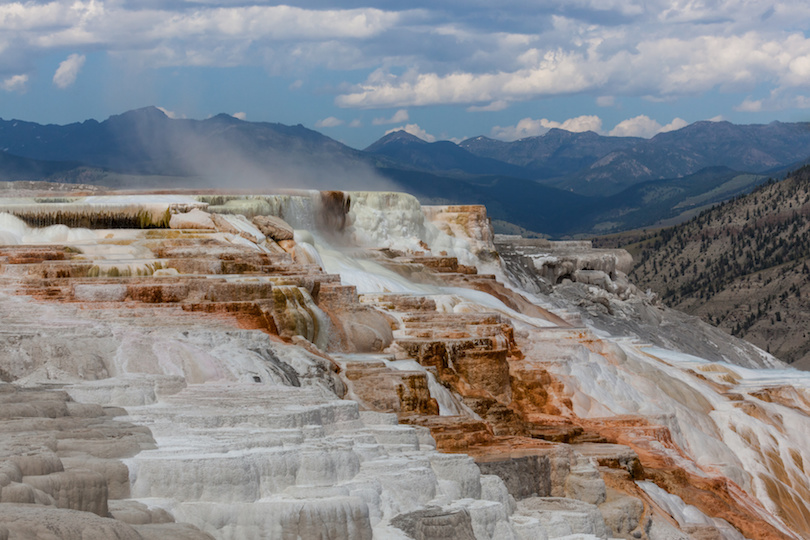 At Mammoth Hot Springs, steaming hot water flows over travertine terraces, creating a beautiful but otherworldly scene. Some people have even described Mammoth Hot Springs as a cave turned inside out. The Mammoth Hot Springs area is divided into two sections, the Upper and Lower Terraces. Each section contains numerous hot springs and a variety of interesting looking formations. This region of the park is also a good place to look for elk. They can often be seen hanging around the Mammoth Hot Spring visitor center. Though they appear tame, it is best that visitors always give them a wide berth, especially during the fall rutting season when the males can be particularly dangerous. Female elk with babies have also been known to charge visitors if they believe that they are getting too close to their young ones.
4. Midway Geyser Basin
[SEE MAP]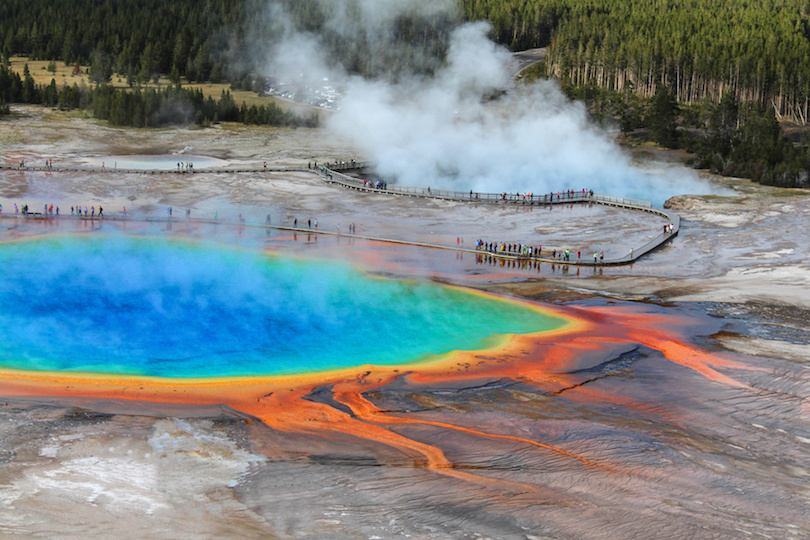 Located — as its name suggests — between the Upper and Lower Geyser Basins, Midway is one of the smallest basins in Yellowstone. It also contains the Grand Prismatic Hot Spring, which is the most photographed geothermal feature in the park. This huge, 120-foot (37-meter) deep hot spring is famous for its surreal, vivid coloring. Its center is a gorgeous cerulean hue that would be stunning on its own. But it's not alone. Instead, the blue is surrounded by fiery reds, yellows and oranges. This geyser basin is also home to Excelsior, which was once the largest geyser in the world. Sadly, this geyser, which once spouted water as high as 300 feet, hasn't erupted since the 1880s. It is still, however, an active thermal spring.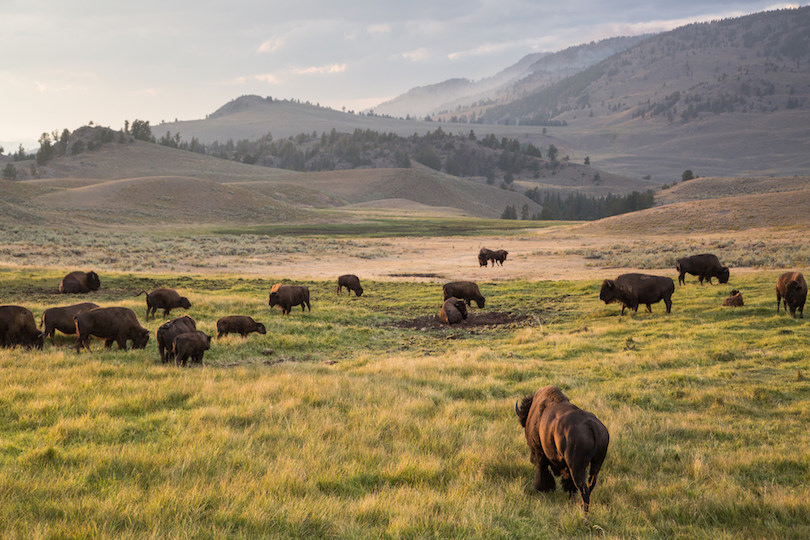 Sometimes referred to as America's Serengeti, this section of Yellowstone provides some of the best wildlife viewing in the park. Located in the northeastern corner of Yellowstone, the Lamar Valley is home to large herds of buffalo and is also where visitors have the best chance of spotting wolves. At least one wolf pack, sometimes two, typically reside in this valley. In fact, the Lamar Valley was where one of the park's most famous packs, the Druids, once resided. Other creatures that can be spotted in the Lamar Valley on a fairly regular basis are pronghorn antelope, elk, coyotes and bears. Bears and wolves can be best observed either early in the morning or late in the evening.
2. Grand Canyon of the Yellowstone
[SEE MAP]
This rugged, colorful canyon was carved out by the powerful Yellowstone River over thousands of years. The Grand Canyon of Yellowstone's most famous attractions are its two very stunning and large waterfalls — the Upper Falls and the Lower Falls. The Lower Falls, are twice as tall as Niagara Falls, plunging approximately 300 feet (90 meters) while the Upper Falls tumble 109 feet (33 meters). Several hot springs and steam vents can also be seen in the area. For those who would like to stay in this area, there are accommodations available in Canyon Village, including hotel rooms and RV and tent sites.
1. Upper Geyser Basin
[SEE MAP]
The upper geyser basin is, arguably, the most popular attraction in Yellowstone. It is the largest geyser basin in the park and also contains the largest concentration of hot springs in the world. It is also home to Yellowstone National Park's most famous geyser, Old Faithful. This geyser is very popular with visitors because the park can predict fairly accurately when it will erupt, and the intervals between eruptions are fairly short — between 60 to 110 minutes. Besides Old Faithful, there are more than 150 geysers in this basin, as well as hot springs and fumaroles. The park has built a nice path through the Upper Geyser Basin, which makes it easy to view the many fascinating geothermal features in the area.