Renowned for both its cowboy culture and Old West look and feel, Cheyenne is the capital and largest city of Wyoming. Set in the southeast of the state, just a stone's throw from Colorado, it has a wealth of great things for you to see and do with many of its attractions relating to either rodeos and railroads or the Wild West.
While ambling around town, you'll come across lots of well-preserved historic sites with impressive buildings and art installations set alongside magnificent museums, mansions and monuments. Aside from exploring the western-themed tourist attractions in Cheyenne, visitors can also venture out into the great outdoors themselves with both historic ranches and state parks to be found nearby.
With so many things to do in Cheyenne, the city is definitely well worth checking out if you have the chance with July being one of the best times of year to visit. This is when the fun and festive Cheyenne Frontier Days festival takes place, and thousands of people descend upon the town to celebrate and watch the world's largest outdoor rodeo.
In this post, we'll cover:
12. Historic Governors' Mansion
Tony Webster / Flickr
Located right in the center of the city, the Historic Governors' Mansion is a very interesting place to visit that exhibits some exquisite architecture. Once home to the state governors of Wyoming and their families, it is now instead preserved as part of an historic house museum.
Built back in 1904, it features some striking Colonial Revival-style architecture with a grand portico and sturdy Corinthian columns fronting its facade. Its elegant interior is just as arresting as fabulous furnishings and period pieces from different decades decorate its stately rooms and suites.
Besides seeing the Governor's Den and the pretty property's lavish library, you can also explore its basement fallout shelter which was built during the Cold War. Now an National Historic Landmark, the massive mansion housed Wyoming's governors right up until 1976 when it was replaced by the current official residence.
11. Terry Bison Ranch
Set just fifteen minutes' drive south of the center, Terry Bison Ranch sprawls across a huge area and has a wealth of wonderful animals, activities and attractions for guests to enjoy. As well as boasting over 2,500 head of bison, it has a fun train journey through the prairies for you to take with ATVing, horseback riding and even fishing all also on offer.
Straddling the Wyoming – Colorado border, the working ranch encompasses endless grasslands and rolling hills where its huge herd can roam free. Aside from feeding bison by hand and taking part in cattle drives, guests can also see ostriches, camels and llamas alongside other exotic animals.
In addition to all this, there is a Wild West-themed restaurant, saloon and Trading Post for visitors to stop by while young ones can enjoy pony rides and a Ferris wheel at its Kids' Corral.
10. Cheyenne Depot Plaza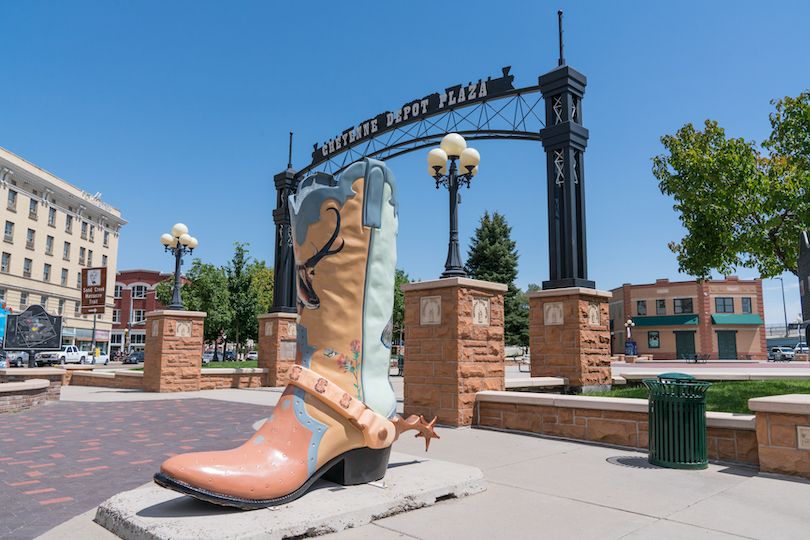 One of the most popular places in town, Cheyenne Depot Plaza lies right in front of the magnificent museum of the same name. Home to lots of statues and monuments with beautiful historic buildings lying all around, the enormous outdoor area is where many of the city's main community events and festivals take place.
Aside from stopping by the museum and marveling at its impressive architecture, visitors can read the numerous informative plaques dotted about that highlight the history of the downtown district. While wandering about, you'll also come across interesting art installations with brightly-colored cowboy boot sculptures located alongside superb statues of horses and influential figures.
Surrounded by shops and restaurants, the plaza is one of the main meeting spots in Cheyenne as it holds innumerable concerts, cultural events and festivals each and every year.
9. Big Boy Steam Engine
The largest steam engine in the world, the appropriately named Big Boy can be found just a short drive from the center in the picturesque Holliday Park. One of only eight on display in the country, the humongous locomotive certainly makes for a staggering sight due its sheer size and scale.
Built in 1941, the distinctive steam engine with its unique 4-8-8-4 wheel arrangement was designed specifically to haul heavy freight over the Wasatch Mountains between Wyoming and Utah. While its coal-fired engine was remarkably powerful, in just a couple of decades the Big Boy was replaced by more modern diesel and gas turbine-electric locomotives.
Besides ambling around the train and taking in all its fine features, visitors to the park can also read all about the history of the Big Boy Steam Engine on an informative display that lies alongside it.
8. Boots of Cheyenne
While strolling around town, you are almost certain to come across some of the brilliant Boots of Cheyenne at some point or other. Now numbering more than twenty-five in total, the stupendous sculptures are exquisitely painted with each of them highlighting a particular aspect of Cheyenne or Wyoming's rich history, culture and heritage.
What started out in 2004 as a local art initiative to raise money for the Cheyenne Depot Museum has since turned into one of the city's top tourist attractions and most popular photo ops. Playing on Cheyenne's Old West identity and cowboy culture, the 'These Boots Were Made For Talking' project encouraged artists to tell the city's story, using the two meter-tall cowboy boots as a canvas.
As well as making for some fantastic photos, the big boots also teach you more about the city and state as each one has a number you can call to hear what inspired the artist and the meaning behind each of their images and artworks.
7. Frontier Days Old West Museum
Steve Borsch / Flickr
Another great way to delve into Cheyenne's fascinating past is to visit the Frontier Days Old West Museum which lies just five minutes' drive north of the center. Besides being home to all kinds of interesting artifacts and exhibits on the American West, it also shines a light on the fun and festive Frontier Days which is remarkably the largest outdoor rodeo in the world.
Founded in 1978, the cultural and historical center is actually located in Frontier Park on the same grounds where the enormous, annual rodeo takes place. As well as learning about the history of the competition and seeing its Hall of Fame, you can also peruse galleries full of saddles and trophies, cowboy art and photos with the site also containing a huge collection of horse-drawn carriages.
On top of this, the museum has countless exhibits for visitors to explore on Cheyenne's pioneer past and the expansion of the American West.
6. Cheyenne Botanic Gardens
Larry Jacobsen / Flickr
A very peaceful and picturesque place to amble around, the idyllic Cheyenne Botanic Gardens can be found right next door to the Frontier Days Old West Museum. Located within Lions Park, it has lots of pretty parts to explore with colorful plants, flowers, trees and shrubs wherever you look.
Since being established in 1977, the gorgeous gardens have expanded considerably with little ponds and pockets of woods now lying alongside lovingly landscaped rose, herb and perennial sections. In addition, it also encompasses an arboretum and fun children's village as well as a Garden Labyrinth, cacti display and some wonderful water features.
The highlight however is undoubtedly its charming conservatory which is home to tropical plants, a koi pond and vegetable plots. Over the years, the beautiful botanical garden has won numerous awards for its excellent community programs and renewable energy initiatives.
5. Wyoming State Capitol
Certainly the city's standout symbol and sight, the Wyoming State Capitol lies right in the heart of Cheyenne, rising up dramatically above its surroundings. The state's seat of government, it exhibits some astounding architecture with tours taking you all around its elegant interior.
Built between 1886 and 1890, the colossal Capitol boasts a striking facade with its glittering golden dome towering to over forty meters in height. Besides taking in all the fetching features of the huge Renaissance Revival-style building, you can also venture inside and explore its stately rooms and legislative chambers.
While they are delightfully decorated with fantastic furnishings, colorful murals and sparkling marble on show, its stained-glass dome and rotunda are often cited as its most remarkable features. After having visited the National Historic Landmark, it is well worth wandering around its grounds as numerous statues and monuments of important figures and events dot its lush lawns.
4. Curt Gowdy State Park
Erin Kinney / Flickr
Home to lots of stunning landscapes, scenery and nature, Curt Gowdy State Park really is a treat to explore with countless outdoor activities and amenities being on offer. Set just half an hour's drive west of town, its sprawling and scenic confines feel a world away from the hustle and bustle of the city center.
Protected as part of a park since 1971, it includes everything from rolling hills and rocky outcrops to flower-filled meadows and verdant woods with three large reservoirs and their reflective waters also dotted about. Nestled amidst the foothills of the Laramie Mountains, the park's loftiest point reaches 7,500 feet in height with lots of lovely hiking, mountain biking and horseback riding to be had along its 30 miles of tantalizing trails.
In addition, visitors can enjoy some splendid fishing, boating and water skiing out on the lake and stay overnight at its cosy campsites and cabins.
3. Cheyenne Depot Museum
Besides the Wyoming State Capitol, one of the most important and impressive buildings in town is the popular Cheyenne Depot Museum. Once a depot for the Union Pacific Railroad, it now instead contains interesting artifacts and exhibits on the history of the railways and how they helped open up the American West to settlement and development.
One of the last grand depots from the golden age of train travel, the stunning sandstone station was erected in the 1880s and showcases some incredible Richardsonian Romanesque architecture. Just over a century later however it was closed down with the well-preserved building being reopened as a museum in 1993.
Nowadays visitors can stroll around the National Historic Landmark and learn about Cheyenne and the Transcontinental Railroad's past through artifacts, engines and exhibits with a massive model train set also being on show.
2. Wyoming State Museum
Smallbones / Wikipedia
If you want to learn yet more about the rich history, culture and nature of not just Cheyenne but the state too, then you'll certainly want to stop by the superb Wyoming State Museum. Set right next to the State Capitol, its interactive exhibits will teach you all there is to know about the Cowboy State.
Remarkably founded back in 1895, the magnificent museum covers everything from fauna, flora and fossils found in the state to Native American culture and early pioneer settlements. In addition, it has sections dedicated to mining, ranching and the National Park Service with its fun hands-on activities really bringing the subjects to life.
Aside from perusing its galleries full of artifacts and exhibits on the natural and human history of Wyoming, visitors can attend talks and cultural events with temporary exhibitions also regularly held at the museum.
1. Cheyenne Frontier Days
One of the largest events of its kind around, the fantastic Cheyenne Frontier Days festival bills itself as the 'World's Largest Outdoor Rodeo and Western Celebration'. Over ten fun-filled days, rodeos and races, concerts and parades all take place, with thousands upon thousands of visitors descending upon the town for the annual extravaganza.
Since 1897, Cheyenne has hosted the colorful and chaotic celebration which features everything from bull riding and barrel racing to steer wrestling, roping and trick riding. Aside from watching all the incredible competitors, visitors can stop by either Old Frontier Town or the Indian Village; both of which are home to countless vendors with exhibits, activities and events all also on offer.
On top of this, there are the fabulous floats and antique horse-drawn carriages of the Grand Parade to see while air shows, carnival games and amazing music concerts by big country acts all also take place. Centered around the last week of July, the unforgettable Cheyenne Frontier Days are certainly not to be missed when in town.
Map of Things to do in Cheyenne, Wyoming