One of the largest countries in the world, the United States in North America stretches all the way from the Atlantic Ocean on one coast to the Pacific Ocean on the other. The wild and remote Alaska, separated from the contiguous US by Canada, and the volcanic archipelago of Hawaii make up its 49th and 50th states respectively.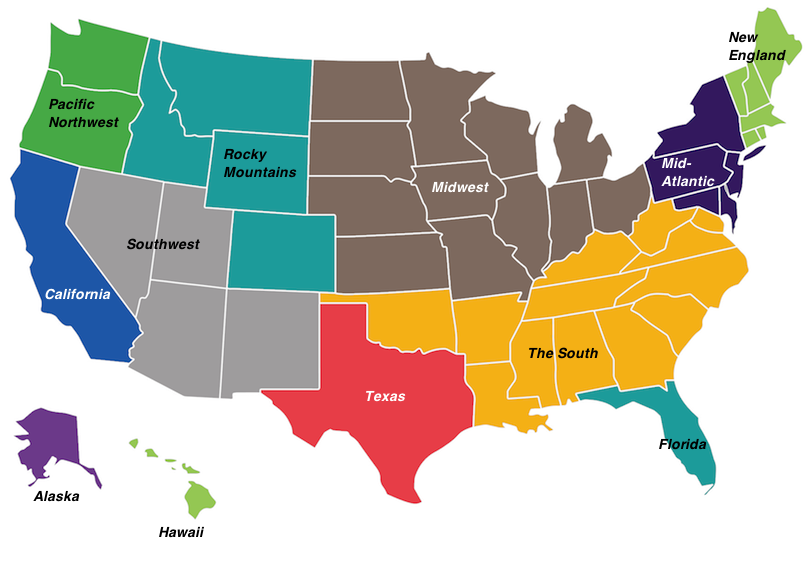 Home to an astounding array of incredible landscapes, the US boasts some of the best, most beautiful, and most famous national parks on Earth, such as Yellowstone and Yosemite, while iconic natural sights such as the Grand Canyon, Niagara Falls, and Monument Valley dot the country.
With beautiful beaches lining its long and scenic coastline, awe-inspiring mountain ranges such as the Rockies and Sierra Nevada running through its states, and wonderful regions around the Great Lakes and Great Plains, there is a lot to explore in the US; that's without even having mentioned its world-class cities such as Los Angeles, San Francisco, and New York.
New England
Encompassing the small yet scenic states of Connecticut, Maine, Massachusetts, New Hampshire, Rhode Island, and Vermont, New England is one of the oldest settled parts of the country. While traveling around, you'll come across lots of important historical sights and cultural landmarks, as well as some beautiful scenery, especially during fall foliage season.
While the interiors of the states mainly consist of pretty countryside and charming rural towns and villages, New England's long and scenic coastline is where you'll find beautiful beaches, excellent hiking trails, and bustling cities. Boston is the largest and most important region in the city.
Each of the different states has its own look, feel, and identity; while people head to Vermont to enjoy fall or to Providence and Newport in Rhode Island during the summer, Massachusetts is where people visit if they're interested in the American Revolution or want to vacation at Cape Cod. With so many interesting places to visit and so much gorgeous scenery on show, it's no wonder that New England is one of the most popular parts of the USA amongst tourists.
Mid-Atlantic
Stretching from the Atlantic Ocean right up to the Canadian border and both Lake Erie and Lake Ontario, this wonderful part of the States is awash with great things for you to see and do. The Mid-Atlantic certainly has much more to offer than just its iconic cities of New York and Washington DC.
While the Mid-Atlantic is dominated by sprawling megalopolises, there is still lots of incredible natural beauty on show, with Niagara Falls being the undoubted highlight. Its numerous mountain ranges, such as the Adirondacks and Poconos, boast a fantastic wealth of outdoor activities, with hiking, climbing, and skiing all popular.
Forming the heart of the East Coast, the Mid-Atlantic offers the perfect combination of city life and nature. While many people find it hard to tear themselves away from New York's intoxicating atmosphere, cities such as Baltimore, Buffalo, and Philadelphia are well worth a visit, while Atlantic City – known as the 'Las Vegas of the East' – has many entertainment options.
The South
Home to its own distinct culture and identity, 'The South' is more of a cultural rather than a geographical region, so neither Texas or Florida are included alongside the rest of the states that make up the southeastern corner of the US.
Famous for its hospitality, thriving jazz scene, and distinct dialect, The South is a delight to visit. Cities such as Memphis, Nashville, and New Orleans are renowned around the world for their fantastic music scenes, with the latter also home to the huge Mardi Gras celebrations.
While its cities are fascinating to explore, the nature in The South is equally alluring; the Great Smoky Mountains, Mississippi Delta, and the scenic Appalachian Trail that runs through the region are all very popular amongst locals and tourists alike.
In addition to this, many people head to the Deep South to take a tour around the beautiful bayous and sprawling plantations, as well as to learn more about the American Civil War, the Civil Rights Movement, and the sad history of slavery; all very important events that took place here in this part of the States.
Florida
With the Gulf of Mexico to one side of it and the Atlantic Ocean to the other, it should come as no surprise to learn that much of Florida's peninsula is lined with beautiful beaches and scenic coastline, which have helped earn it the nickname of 'the Sunshine State.'
Due to its warm and inviting climate, sparkling waters, and an abundance of world-class theme parks and thriving seaside cities, Florida is a top-rated holiday destination. Fort Lauderdale, Miami, and Orlando attract hordes of visitors, who come to enjoy all they have to offer.
Away from its resorts and white sandy beaches, Florida is awash with stunning nature; both Biscayne and Everglades National Park are well worth checking out, as are the Florida Keys – an incredible chain of islands that stretch down into the Caribbean.
Midwest
Home to some beautiful rolling countryside and farmland, as well as the Great Lakes in the north, the Midwest is often referred to as 'America's heartland.' Much of the nation's agriculture, industry, and manufacturing takes place in its patchwork of cities and towns.
While most of its large cities such as Chicago, Cleveland, and Detroit lie on the shores of the sparkling Great Lakes – which offer up a watersports and scenic cruises – the two large Mississippi and Ohio rivers are also home to some interesting places, such as Minneapolis and Cincinnati.
Dotted around its many waterways are lots of lovely natural sights for you to immerse yourself in. The vast wilderness of the Boundary Waters, the delightful dune and beaches in Indiana Dunes National Park, and the rolling hills and sparkling lakes in the Ozarks are all well worth checking out.
Texas
Due to its colossal size, distinctive identity, and rich cultural heritage, Texas is an exciting part of the States to explore. Many people in the state would claim to be Texan before being American, as there is a very independent spirit about the place.
Known for their larger-than-life exuberance and generosity, the Texan population is very welcoming and friendly; this is, in part, what makes visiting cities such as Dallas, Houston, and San Antonio such a memorable experience, in addition to all of the beautiful sights.
Because of its vast landmass, Texas is home to a diverse array of landscapes, with great plains and plateaus lying alongside rolling hills, rivers, and pine forests, while beautiful mountains, deserts, and canyons can be found in Big Bend National Park.
Southwest
Consisting of Arizona, Nevada, New Mexico, and Utah, the American Southwest is an absolutely incredible part of the country to visit. It is here that you'll find astounding natural sights such as the Grand Canyon, Arches National Park, and Monument Valley.
As such, it is one of the most popular regions in the States among both nature lovers and outdoor aficionados, with horseback riding, climbing, hiking, and camping being just some of the favorite pastimes.
Utah alone has the 'Mighty 5' national parks for you to enjoy. While traveling around the region, you simply can't miss out on stopping by Bryce Canyon, Canyonlands, and Zion national parks.
While most people come for its spectacular scenery – which ranges from sprawling desert and dramatic bluffs to mountains, canyons, and flatlands – the Southwest also has some enthralling cities for you to visit. 'Sin City' – Las Vegas – is the most popular of the lot.
Away from its endless casinos and entertaining nightlife, both Phoenix and Salt Lake City are fascinating cities to explore.
California
Home to world-renowned cities such as Los Angeles and San Francisco, as well as Hollywood and all the glamour that it brings, the 'Golden State' of California really does shine bright; it may be the most diverse state in the US for all that it has to offer.
Breathtakingly beautiful beaches and the rocky cliffs of Big Sur line its Pacific coastline, while the rugged Sierra Nevada mountains and arid desert of Death Valley mark its interior. California boasts a stunning array of different landscapes, with lots of amazing national parks, such as Joshua Tree, Redwood, and Yosemite. Consequently, there are loads of great outdoor activities, with mountain biking, hiking, and camping all popular.
While no visit to California can be complete without stopping by Hollywood in Los Angeles or the Golden Gate Bridge and Alcatraz in San Francisco, the cities of Santa Barbara and San Diego are also well worth visiting. Don't forget the Napa Valley, which is home to fertile vineyards and wineries that produce some of the most famous wines in the world.
Pacific Northwest
With its spectacular mountain scenery, forest-coated interior, and long, scenic coastline, the Pacific Northwest really does paint a pretty picture. Its two states of Oregon and Washington are both bursting with gorgeous natural sights.
As it is a very outdoorsy place, the Pacific Northwest is ripe for exploring. People go hiking or mountain biking through its many national parks, swimming, sailing or fishing in its numerous rivers and lakes, or rock climbing and skiing at its volcanic peaks.
Among its most popular nature reserves are those of Mount Rainier National Park and Olympic National Park; both are home to very diverse landscapes and habitats.
While much of the Pacific Northwest consists of vast wilderness and incredible scenery, the region also boasts the cities of Portland and Seattle, which are renowned for their liberal outlooks, alternative counterculture, and music scenes. Seattle is also home to world-famous companies such as Starbucks, Amazon, and Microsoft.
Rocky Mountains
Separating the West Coast from the Great Plains, the Rocky Mountains are a mecca for outdoor enthusiasts; its beautiful landscapes are home to some of the most awe-inspiring national parks in America.
Stretching all the way from British Columbia in Canada right down to New Mexico in the south of the States, the mountain range passes through a lot of different habits and climates. The region itself boasts Great Sand Dunes National Park, Glacier National Park, and Yosemite National Park amongst its many natural wonders.
Due to all the incredible scenery on show, the four states of Colorado, Idaho, Montana, and Wyoming that make up the Rocky Mountains region have lots of great hiking, rock climbing, and skiing on offer.
As the region is mostly made up of rural areas, gorgeous countryside, and, of course, dramatic mountain landscapes, there aren't many cities of note apart from Denver – the largest city in the Rocky Mountains. Instead, many people head to Colorado Springs for its beautiful setting, and to both Aspen and Vail for their fantastic ski resorts.
Alaska
The largest state in the country, Alaska really is a world unto itself. Its vast and endless forests, frozen tundra, and mountain ranges are separated from the mainland USA by Canada.
Due to its remote wilderness, Alaska is a challenging yet rewarding place to explore. It is not without reason that the sparsely inhabited state has been nicknamed 'the Last Frontier.' Indeed, much of the region is located in the Arctic, so features breathtakingly beautiful glaciers, lakes, and volcanoes. Abundant wildlife, such as brown bears, wolves, and moose, can be found in spectacular places like Glacier Bay National Park and Denali National Park, which boasts the highest peak in North America.
With so many unbelievable natural sights, Alaska is ideal for adventurers and nature lovers who want to immerse themselves in its stunning scenery, with hiking, kayaking, and fishing all very popular.
The cities of Anchorage and Homer both act as gateways to the magnificent wilderness that Alaska has to offer up, and many people come to witness the spectacular Northern Lights.
Hawaii
Located some 3,700 kilometers off California in the middle of the Pacific Ocean, the volcanic archipelago of Hawaii has long astounded visitors with its natural beauty, and it is not surprising that it's a top-rated holiday destination.
While each of the islands has its own unique features and attractions, they are all blessed with magnificent mountain scenery, and lots of pristine beaches dot their scenic shorelines. Some of the most majestic sights on show are the NaPali Coast and Waimea Canyon on Kaua'i, and Hawaii Volcanoes National Park on Big Island, while Waikiki Beach on Oahu is one of the region's most famous destinations.
Lots of fantastic resorts can be found scattered all around Hawaii's many islands. Honolulu, the capital city of the state, is many people's first port of call before they head off to one of its many idyllic beaches.
Surrounded by the sparkling waters of the Pacific Ocean, Hawaii has a wealth of brilliant outdoor activities for you to enjoy. Many people opt to take a scenic helicopter ride over the volcanic interiors of its islands, which are very hard to penetrate on foot due to their rugged nature.