Memphis, Tennessee was named after an Egyptian city, and even has its own pyramid! Though the Memphis pyramid is much flashier and more modern than the originals. The city was built along the Mississippi River.
It's a popular destination renowned for its lively music scene, flashy culture, and tasty BBQ ribs. The city's vibrant and bustling Beale Street is one of the best spots for bars and blues music! There's always something weird and wonderful going on with plenty of fun things to do in Memphis. It's also the home of the Civil Rights Museum and was the home of Elvis Presley, who moved here when he was a young teenager.
17. Blues Hall of Fame
The Blues Hall of Fame is run by The Blues Foundation and is a recent addition to Memphis. The city is renowned for its blues scene, and has been for a long time.
The hall has 10 galleries with interactive screens where you can learn all there is to know about the memorabilia and celebrated blues artists featured in the museum. It's home to the guitars of famous blues artists like Donald Dunn, Matt Murphy, and Pee Wee.
You'll also get to see their clothes, album covers, shiniest awards and much more during your visit. They have permanent and traveling exhibits, so you can keep going back! The museum is closed on Mondays and Tuesdays, but open to music fans the rest of the week.
16. Belz Museum of Asian & Judaic Art
This unique art museum was set up in 1998 by the Belz couple. Since then, the museum has grown from a small private collection to more than 1,400 artifacts from Asia and Israel. If you like art, politics, and history – you'll love it here.
Explore the exotic jade sculptures that decorate the museum, discuss the colorful art pieces from the Qing Dynasty that date as far back as 1644, and ponder the modern art pieces created by Jewish artists in Israel and brought to Memphis.
The museum also has a Holocaust Memorial Gallery, where you can come and pay tribute to the victims of the Holocaust. There's a little gift shop in the museum where you can buy cute souvenirs to take home.
15. FedExForum
This enormous arena seats over 18,000 people. It's in downtown Memphis, on Beale Street. The arena is the home court of the Memphis Tigers basketball team and has hosted lots of different NBA playoffs.
It has also hosted NCAA basketball tournaments and served as an open-air concert venue for famous performers like Ariana Grande, Elton John, and Alicia Keys and many more international pop stars who have hit the charts with their catchy lyrics and up-beat tunes.
And that's not all. The area holds boxing championships, circus acts and Hot Wheels shows. If you're looking for entertainment, top-tier sports, and music in Memphis, you'll likely end up at the FedExForum.
14. Statue of Elvis
Have you always wanted to get a picture with Elvis? Now's your chance! Head to downtown Memphis and stroll along Beale Street, you'll soon find him. Elvis is a world-renowned artist, crowned the King of Rock and Roll. He moved to Memphis when he was just 13 and kept coming back.
Tracks like It's Now or Never put him on the charts and led him to fame. When you see his statue, you'll be All Shook Up and probably find you Can't Help Falling in Love With it, pun intended!
The original statue was built in 1980 and is now in the Memphis Welcome Center. It was moved there after being weathered and worn by the elements. For three years after it was taken down there was no Elvis statue on Beale Street, but a new one was put there in 1997, to the relief of Elvis fans everywhere.
13. Slave Haven / Burkle Estate
The Burkle Estate is on 826 North Second Street, which with time has become a polemic address. The property was owned by Jacob Burkle before the Civil War and visited by herdsmen and their livestock who needed to rest along their journey.
But it is also thought that the address was visited by slaves who had escaped their owners and were using the Underground Railroad as a route to freedom. The Underground Railroad was a secret network of way stations that were connected by underground tunnels and served as safe resting spots for fleeing slaves.
The house is now a museum, so on your visit you can tour the house and explore the antique artifacts. The property is in great condition considering it was built in 1849. It's also a unique opportunity to learn about the hope that was offered to slaves who had suffered immense injustice and hardship.
12. Memphis Botanic Garden
Karen Dorsett / Flickr
These quaint and idyllic gardens are a perfect escape from the busy city streets and noisy bars of the city. If you need some peace and quiet and a breath of fresh air, this is a great option. The best part is you can escape into nature without setting foot outside of the city.
The gardens are kept prim and proper by the gardening experts that run the botanic gardens, and are best enjoyed on a sunny day, especially in spring when everything is in full bloom.
The Botanic Gardens also host gardening programs, engaging events for young kids, and much more. There's something for the whole family to get involved in. If you're an enthusiastic or aspiring gardener, come and get tips from the staff.
11. Shelby Farms Park
This extensive park has lots of trails, lakes, and ponds on its grounds that you can enjoy and explore walking, by bike, or with a quick jog. You can also fish at the park, a unique feature of this city park.
If you're coming with little ones, don't worry. The park has a playground and water play area the kids can splash and muck about in. On the other hand, if you're looking for an adrenaline kick you can have a game of laser tag or paintball or go high up into the treetops on a GoApe zipline adventure.
The park is roamed by about 15 buffalos, who graze among the visitors. There's a little gift shop and a restaurant in the park you can stop at for gifts and a bite to eat. Dogs are welcome too.
10. Mud Island River Park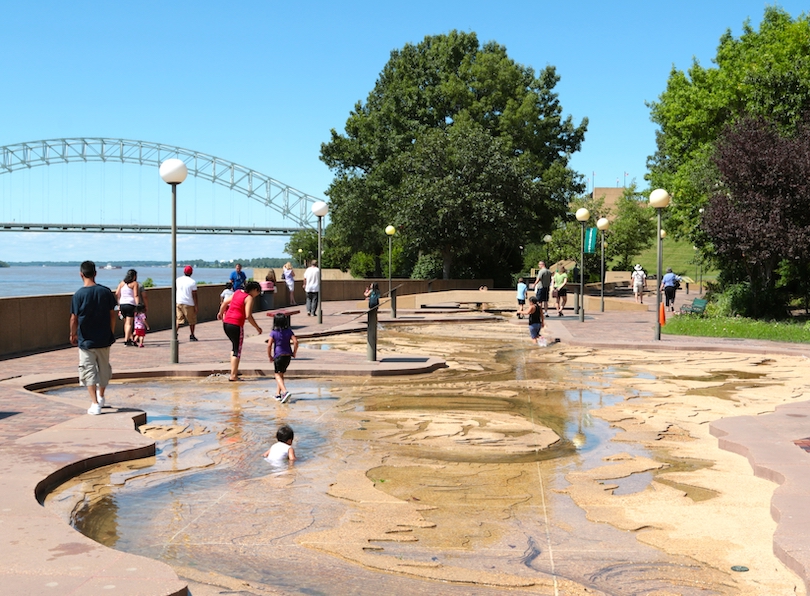 This park by the riverside isn't actually an island, but it's almost entirely surrounded by water. The Mississippi runs along on one side and the Wolf River Harbour is on the other. You can get there by crossing the Hernando de Soto Bridge from Downtown or by land on the North Mud Island Road at the other end of the island.
The park is home to the Mississippi River Museum and has a large, outdoor concert venue that hosts live music events when the weather is nice. The park has nice views of the river, a great spot for an afternoon picnic.
It's always busy on a sunny day, and is a popular spot frequented by tourists and locals alike. You can stop by for a fun afternoon outdoors and meet some locals. What's not to love?
9. Memphis Rock 'n' Soul Museum
thor2130 / Flickr
The museum is on Beale Street in downtown Memphis, inside the FedExForum entertainment complex. It showcases the Rock and Roll scene from the 1930s through to the 1970s. As you tour the museum you can listen to their informative audio guide that includes 100 banging rock and roll tunes.
There are seven different galleries in the museum, and lots of artifacts including the costumes worn and the instruments played by local rock and roll icons during their musical careers.
If you're a fan of rock and roll, you can't miss out on the chance to find out how the genre shaped Memphis, and the entire nation. There's sure to be some of your favorites on display!
8. Memphis Zoo
If you're struggling to think of an activity that suits the whole family, the zoo is a great option. You can get outdoors, learn about exotic wildlife, and spend precious time together all at once.
You'll have a giggle watching the monkeys be cheeky, be mesmerized by the size of the elephants and giraffes, and be glad there's a barrier between you and the polar bears. The zoo has lots of different species of fish, amphibians, mammals, and birds.
The zoo runs a range of activities for kids, who are even invited to come along and see what the animals get up to once it goes dark and everyone goes to bed in the zoo's unique night tour. There are also options for food and drinks in the zoo, and four cute gift shops.
7. AutoZone Park
This Minor League Baseball court was founded in 2000 and is home to the Memphis Redbirds. It's in downtown Memphis on Union Avenue, close to restaurants and hotels. The AutoZone hosts the occasional University of Memphis baseball match as well as Minor League matches.
An added twist to the courts' structure is the rooftop garden that grows food and native plants and was created to address sustainability in sports. There are lots of different seating options that suit a range of budgets and needs.
They have bars where you can stop for food and drinks, and a team shop where you can buy baseball merchandise to take home with you. The cheering crowds and top-tier sportsmanship make for a thrilling experience!
6. Peabody Ducks
The Peabody is a Hotel in Memphis that has become a very popular tourist attraction because of its peculiar live-in residents, a little flock of ducks! The ducks have been living in the hotel since the 1930s when they were put in the hotel fountain as a practical joke.
In 1940 they were trained by Bellman Pembroke to walk to and from the hotel fountain, a famous waddle now known as the Peabody Duck March. You can watch them on their march twice a day, an entertaining and comical thing to do with the kids or friends.
The ducks have gotten quite famous across the US and have been on many popular TV shows like Sesame Street. When they aren't out in the fountain they live in a $200,000 duck house on the rooftop, possibly the fanciest room in the whole hotel!
5. National Civil Rights Museum
The Civil Rights Movement in the 1950s and 1960s shook the nation. African Americans fought tirelessly for equal rights, marching for hours in long protests, and speaking out. The movement wanted to put a stop to legal racial discrimination and segregation.
Martin Luther King, Rosa Parks, Malcolm X, and many more prominent figures of the Civil Rights movement are discussed at the museum. You can stand in solidarity with Rosa on board the Cleveland Avenue bus or visit the replica Lorraine Motel room, where Luther King was assassinated, right here in Memphis.
The museum encourages visitors to think about how we can learn from history and apply it to today's world. Fighting racism is an ongoing battle, and by learning from our past we can create a better future.
4. Stax Museum of American Soul Music
Stax Records is a recording studio that opened in Memphis in 1957 under a different name. The studio became known after releasing popular soul hits, as well as blues, funk, and gospel records.
Stax is also known for organizing the Wattstax festival in 1972 to commemorate the 7th anniversary of Watts riots. The rebellion occurred in 1965 in LA, 34 people were killed and more than 3,400 were arrested.
The museum is full of memorabilia, outfits, instruments, records, photos, and costumes of the iconic American soul artists who recorded here, as well as other renowned soul musicians. There's also an old Cadillac in the building! Afterwards, head into the original recording studio, which is still in business today.
3. Beale Street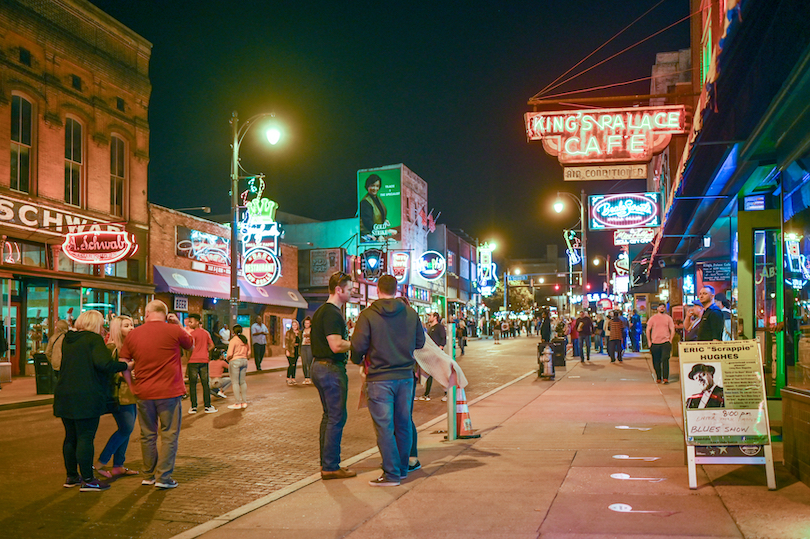 Bars, Blues, and Elvis Presley… Beale Street has it all! This street in downtown Memphis is more than just a popular tourist destination, it's been instrumental in the history of Memphis, particularly for the African American community.
It was established in 1841 and was influential during the Civil War, when black culture and commerce thrived in this area of Memphis. When yellow fever devastated the cities population in the 1870s, a former slave named Robert Church invested into restoring Beale Street. The park he built on Beale Street became a hotspot for blues musicians.
Beale Street was home to the Free Speech newspaper, was visited by Martin Luther King during a protest, and was played at by famous musicians like BB King. There are restaurants, bars, shops, and so much history to explore in Beale, don't miss it!
2. Sun Studio
If Beale Street is the home of the blues, Sun Studio is the home of rock and roll. It recorded famous artists like Howlin' Wolf, BB King, and later Elvis Presley and Johnny Cash. It opened for business on the 3rd of January in 1950 and has been legendary ever since.
On your tour of the studio, you'll get to listen to old recordings by iconic rock and roll, country and blues singers and bands, and get insight into how their careers took off and led them to stardom.
Take a picture in the studio, microphone in hand, and experience the thrill of being in a recording studio. Sun Studio still records tracks today, maybe yours could be the next big hit…
1. Graceland
Elvis Presley started his career in Memphis and lived in the city for most of his life. He built his home here, the Graceland mansion. Elvis died in 1977 in the mansion, when he was just 42. He left his fortune to his father, and it was later passed on to his daughter Lisa.
The mansion was opened to the public in 1982. You can't stay in the home, but you can stay in the nearby guest house that has 450 rooms and a 464-seat theater that hosts live music performances.
You can climb onboard one of his luxurious and private airplanes, like everything else, Elvis certainly flew in style. After touring his home and plane, head over to Elvis Presley's Memphis complex, where you can see some of his most famous outfits, guitars, and enjoy Elvis themed entertainment.
Map of Things to Do in Memphis