America's Music City, Nashville, has become one of the most popular towns in the country. Its unrivaled live music scene brings in visitors from all corners of the U.S. and the world.
While that is the focus for many, travelers soon discover there are plenty of other things to do in Nashville as they roam the city. Days begin with delicious brunch with many afternoon adventures to embark on afterwards. Getting around town is easy as it's tightly packed and the free city bikes can take you further out.
The revelry on Honky Tonk Highway starts early as the sounds of six-string guitars and cowboy boots float through the air, marking the start of yet another exciting night in Nashville.
17. Belmont Mansion
The largest house museum in Nashville is a must for art and history lovers. This Italian-style villa is known as the Belmont Mansion. Constructed back in the 1850s, this mansion was owned by the wealthiest woman in not just Nashville, but in all of Tennessee. Adelicia Acklen, originally intending it as a vacation home, created the grounds with luxurious touches, such as art galleries and a zoo.
A tour of the estate will bring you through many rooms of extravagant art and 19th-century antiques. These include Roman sculptures, treasures from a Grand Tour of Europe, and even gifts from former United States Presidents.
As a result of poor record keeping during this period, information from the enslaved workers of the estates is noticeably lacking from the tour
16. Radnor Lake State Park
If you want to escape Nashville's bustling downtown, head just ten miles south to Radnor Lake State Park. The park offers a calming and peaceful break from the city's vibrant nightlife. With numerous hiking, biking, and jogging trails, you can explore the lands while getting pristine views of Radnor Lake.
If bird watching is a hobby of yours, make sure to check out Barbara J. Mapp Aviary Education Center. Filled with interactive displays and offering ranger-led programs, this aviary is an informative resource worth a visit.
Trails are open every day from 6 am until 20 minutes after sunset. If you are in search of trail maps and additional information, head to the Tennessee State Park's website.
15. Tennessee State Museum
For a deep dive into the history of the Volunteer state, the Tennessee State Museum is a must. The museum is home to many permanent exhibits that show off the state's unique history. Ranging from the civil war to natural history and even sporting history, there is nothing that isn't covered. If you are traveling with children, there are many exhibits specifically curated with your little ones in mind that will keep them entertained while you enjoy everything on offer.
The museum is centrally located next to the Bicentennial Capitol Mall State Park. It's also within walking distance to hot spots like the Musicians Hall of Fame, many shops, and restaurants, making this a straightforward choice for your time in Nashville.
14. Musicians Hall of Fame and Museum
Music lovers seeking a unique experience should put the Musicians Hall of Fame at the top of their list. While many museums honor music legends, this is the only place that goes beyond the vocalists and covers everyone involved in the making of some of your all-time favorite records.
Everyone knows who Elvis is, but did you know his drummer Hal Blaine played in songs by Frank Sinatra and the Beach Boys as well? That's something to put on your resume! Musicians Hall of Fame really gives you an amazing behind the scenes look into the process of creating the sounds we have loved for decades. More than just informative, the exhibits also include some of the very instruments used in recording iconic tunes.
13. Cheekwood
Looking for some fresh air and relaxation? Look no further than Cheekwood Estate & Gardens. The estate features a large and lavish botanical garden. With a woodland walking trail and 12 distinct gardens, it is easy to lose yourself in the serenity.
Depending on the time of year you visit, check out the seasonal festivals hosted by the gardens. During the holiday season, "Cheekwood in Bloom" goes on. Featuring more than 150 thousand bulbs in bloom and famous Cheekwood lights, it is a spectacle you do not want to miss.
Not in Nashville during the holidays? Not to worry, art galleries at the estate have awe-inspiring temporary and permanent exhibitions year round.
12. Nashville Zoo
If you're after a fun family outing and have some animal lovers in your group, definitely head to the Nashville Zoo. Hosting an impressive variety of wildlife, you can expect to see about 350 different species and nearly 3,000 animals. From red pandas to alligators, and even clouded leopards, there is enough local and exotic wildlife to entertain everyone.
Looking for something more adventurous? Try one of the zoo's many hands-on exhibits. Some of the most popular options include Kangaroo Kickabout, where you can get up close and personal with Roos and Joeys. Lorikeet Landing is another, where parrots are present for you to see and feed.
If either of those still have you craving more thrill, check out the zipline where you can zoom over the park and animals for a real bird's eye view.
11. John Seigenthaler Pedestrian Bridge
Connecting Nashville's historic downtown with East Nashville is the John Seigenthaler Pedestrian Bridge. Formerly known as Shelby Street Pedestrian Bridge, it was constructed from 1907 to 1909. Today, it's found on the National Register of Historic Places.
Vehicles have been banned since 1998, giving visitors freedom to walk or bike the bridge safely. With four separate overlooks scattered along the walkway, pedestrians can stop and relax while enjoying views of the city. Thanks to its central location, it is easy to get back to the heart of downtown after your stroll.
A tip from locals is to visit the bridge at nighttime. With fewer crowds, you will get views of a lit up Nashville. Bonus points if you go during a full moon too!
10. RCA Studio B
Ron Bulovs / Flickr
If you haven't gotten enough music and history at the Country Music Hall of Fame, check out RCA Studio B. The historic and iconic recording studio also operates as a museum run by the Hall of Fame. Country music greats from Willie Nelson to Elvis Presley and even Carrie Underwood have recorded hits in this very studio.
While you cannot do a solo tour of the studio, guided tours are done hourly from 10:30am to 2:30pm. Engaging and knowledgeable guides will tell you how the RCA studio won fame for its "Nashville Sound" and earned Nashville its title as an international recording hotspot.
If you're a Chet Atkins fan, a fun fact is that he operated and recorded hundreds of hits at RCA!
9. Andrew Jackson's Hermitage
While we all know Andrew Jackson from the $20 bill, you can get a complete view of the Former US President's life visiting Andrew Jackson's Hermitage. Now marked as a National Historic Landmark, a tour of this Greek Revival mansion gives you a preserved view of the home life of President Jackson.
It was well known that Jackson had slaves during his presidency. Tours will bring you through tight quarters belonging to the over 150 slaves belonging to the former president, juxtaposing the luxury of Jackson's massive estate. You can also purchase a tour that includes a wagon ride through the mansion's cotton fields. Here you will see where the enslaved spent many hours working and get more insight into their time at the Hermitage.
8. Belle Meade Plantation
Formerly home to the biggest thoroughbred horse farm in the United States is the Belle Meade Plantation. A tour of the plantation that was once the residence of Nashville's most elite family, will transport you back to the Civil War era. Wander around original architecture, see the vast mansion, and learn the depths this family used their enslaved population for to earn their wealth.
It's an eye-opening experience into old southern life as you learn about one of the slave's journey to freedom. Your informative guides dress the part as well, dawning period costumes to give you the full effect.
Given the mature content of the tour, there is an age restriction of 12 years and older. However, family friendly programs are offered as well.
7. Nashville Parthenon
After a big night in Nashville, if you wake up and think you have found yourself in a "Hangover" like dream, don't fret. Instead, you've landed in Nashville's gorgeous Centennial Park. Home to a remarkable full-size replica of the Parthenon, you will have to take a step back and remind yourself you are in Tennessee and not Athens.
As unexpected as it is beautiful, you can see all sides of the Parthenon while strolling Centennial's many walking tracks. Within the structure is an art museum, housing pieces from 19th and 20th century American artists. Not to be missed is the 42-foot tall gold leaf Athena statue in the center of the Parthenon.
6. Johnny Cash Museum
Home to the world's largest collection of Johnny Cash memorabilia and artifacts is none other than the Johnny Cash Museum. Visitors do not need to be a devoted Cash listener to enjoy their time at this exhibit. Detailing the musicians' humble beginnings to love affairs and some of his most ground-breaking performances, it's hard not to be moved by the journey through Cash's life.
Home to Johnny's past costumes, handwritten lyrics, instruments, and even his marriage certificate to June Carter Cash, there is not much you cannot find here on the country music legend. If you need to break for some food or coffee, you won't miss anything. A live band covering Johnny Cash music plays at the cafe alongside the museum.
5. Gaylord Opryland Resort Gardens
With luxury suites, pools, a spa, and an assortment of activities, the Gaylord Opryland Resort is way more than just your standard hotel. But even if you're not staying at the hotel, visiting the four distinct sections of it's gardens are a must visit. They combine to provide visitors a series of opulent waterfalls, embellished fountains, and indoor boat rides.
The main section of the gardens is the Delta, covering half of the impressive indoor gardens. Here, you can embark on a riverboat tour and enjoy multiple water-inspired shows. Afterwards, wander over to the Garden Conservatory with tropical gardens and waterfalls, complete with two patio-style restaurants.
Next up is Cascades, perfect for letting the kids off the chain as they roam the interior jungle. The last section is Magnolia, which will bring you close to the exciting attraction, Soundwaves. As you explore Magnolia, you'll come across shops, recording studios and a variety of restaurants.
4. Grand Ole Opry
It's hard to imagine that the revered Grand Ole Opry began as a humble radio show back in 1925. A show that continues to this day, making it the oldest-continuously run radio presentation in the United States.
As the Opry grew in fame, so did Nashville. The iconic venue was the backbone of the city's rise to becoming the Country Music Capital of the World. No time in the city would be complete without watching a live show. But for performers, it isn't as simple as calling their agent. They have to be invited by those who've played the Opry before. Making playing here a tremendous achievement.
If you're out of time to watch a show, enjoy a backstage tour where you can stand in the iconic circle and learn all that goes on behind-the-scenes.
3. Ryman Auditorium
Formerly known as the home of the Grand Ole Opry, the Ryman Auditorium is in the heart of downtown Nashville. While it no longer hosts the Opry, Ryman remains a go-to for many great acts, including Blake Shelton, Luke Combs, and Trace Adkins.
Tours of Ryman Auditorium run daily. With self-guided options, screenings, and exhibits detailing the auditorium's construction, there is enough to keep you occupied for a good portion of the day. 

That being said, locals will tell you the best way to really experience Ryman is to see a show there yourself. The concert hall's website is updated frequently, so make sure to check if your favorite music artist will be playing during your visit.
2. Country Music Hall of Fame and Museum
Home to one of the largest musical collections in the world, the Country Music Hall of Fame and Museum deserves all the buzz it gets. It's a distinctive hallmark and a brilliant reason to visit Nashville in the first place.
Through the well curated and organized museum, visitors can learn more about country music's first and finest. This includes huge names such as Alan Jackson, Reba McEntire, and Dolly Parton.
In the Hall of Fame, you'll see incredible artifacts, including Elvis Presley's solid gold Cadillac limo and Jimmie Rodgers' guitar. With many interactive displays, visitors can have fun posing with musical instruments while learning about country music's incredible past.
1. Broadway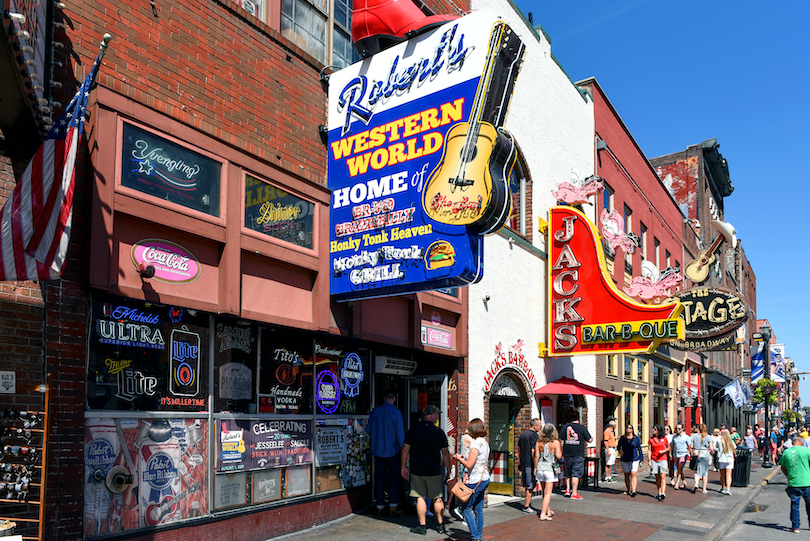 No trip to Nashville is complete without visiting the true heart of Nashville, Broadway. A lively, eclectic and all around fun place, there is a spot for everyone somewhere on the Honky Tonk Highway. Widely loved for its abundance of live music venues and shows, the tunes start early and run all night.
With an abundance of places to eat, drink, shop, and even sing karaoke, Broadway is great to visit at any time of day. It's home to venues such as Tootsies World Famous Orchid Lounge, Honky Tonk Central, and the Stage, so you will need to get your dancing shoes on and be ready for an unforgettable time.
Can't decide where to start on Broadway? No need to worry, with no cover charges, it's easy to hit as many or as little bars as you want!
Map of Things to do in Nashville