For most visitors to San Antonio, a stop at the famous Alamo is a must. This mission was the site of an epic battle that occurred in 1836 between Mexican forces and a group of Texan insurgents seeking independence from that country. But San Antonio actually has so much more to offer visitors.
It is a vibrant city with a burgeoning foodie scene, and its Riverwalk is a delightful and popular escape from the concrete jungle. There are also numerous historic missions and family-friendly tourist attractions in San Antonio.
10. McNay Art Museum
[SEE MAP]
wikipedia/Zereshk
Opened in 1954, this was the first museum of modern art in Texas. Today, the McNay Art Museum's collection contains more than 20,000 works of art, including pieces from the Medieval and Renaissance time periods as well as from the 19th- through 21st-century. The McNay also boasts an excellent collection of Southwest prints and drawings. And when you're done admiring the artwork, don't forget to take a stroll around the museum's stunning grounds where you'll find gardens, fountains, statues and a koi pond.
This museum is located in the former home of Ohio-born heiress and art connoisseur Marion McNay. When McNay died in 1950, she bequeathed her 24-room mansion set on 23 acres to the City of San Antonio. She also left the museum more than 700 works of modern art that she had collected as well as an endowment to be used to establish this museum.


9. Natural Bridge Wildlife Ranch
[SEE MAP]
flickr/Meagan
Have you always wanted to go on a safari? Then you'll love the Natural Bridge Wildlife Ranch, which is home to more than 500 animals, with representatives from 40 different species. The Natural Bridge Wildlife Ranch is a zoo where the animals roam freely and the humans are "caged up" in their cars. Each carload is given a bag of food to share with the creatures, which include ostriches, zebras and kudu.
The Natural Bridge Wildlife Ranch also boasts a walk-a-bout, where you can go for a stroll and check out other creatures, such as giraffes and lemurs. There is also a petting zoo if you have wee ones in your group or just enjoy spending your critter time up-close-and-personal.
8. San Antonio Botanical Garden
[SEE MAP]
flickr/Amy the Nurse
A visit to the San Antonio Botanical Garden is a perfect way to spend a peaceful day surrounded by the beauty of nature. You'll find several different gardens located throughout the grounds, including a beautiful rose garden and a WaterSaver Garden, which features plants that are water efficient. Then there is the Texas Native trail, where you can find more than 250 plant species that are native to the Hill country, East Texas Pineywoods and South Texas.
Before visiting the gardens, make sure to check out its website so you'll know what's in bloom. You can also print out a birding checklist online if you'd like to keep track of the more than 228 bird species that you might see in this beautiful botanical garden.
7. Mission Concepcion
[SEE MAP]
Founded in 1731, Mission Concepcion is part of the San Antonio Missions National Historic Park — which also includes Mission San Jose, Mission San Juan and Mission Espada. This historically significant mission was the site of the Battle of Concepcion, which occurred in 1835 and was fought between Mexican troops and Texas insurgents led by James Bowie. This battle is considered by many to have been the first significant skirmish of the Texas Revolution.
Today, Mission Concepcion, which is the oldest unrestored stone church in the United States, is still an active Catholic parish. Sunday mass has been held in this church uninterrupted since it was founded.
6. Natural Bridge Caverns
[SEE MAP]
flickr/Lars Plougmann
This popular attraction is a relatively new discovery. In March of 1960, four college students from nearby St. Mary's University were given permission to explore the area underneath a 60-foot (18-meter) limestone bridge. They eventually discovered these caverns, which are the largest known commercial ones in Texas. The Natural Bridge Caverns boast spectacular underground formations, including stalagmites, flowstones and stalactites.
You can choose from several different tours — which one you will want to take will depend on your interest level, walking abilities and comfort with being in caves. You could, for example, go on a standard Discovery tour, which will take you through the main caves. If you're more adventurous, you can rappel to less developed areas of the caverns where there is no commercial lighting.
5. San Antonio Market Square
[SEE MAP]
flickr/David
This historic three-block market square resembles a little slice of Mexico that has somehow been transported to the streets of San Antonio. Boasting more than 100 locally owned stores, restaurants and stalls, the San Antonio Market Square is a fun place to shop for inexpensive souvenirs and also to dine on authentic Mexican dishes. It has often been described as the largest Mexican market outside of Mexico. This colorful shopping spot was also named by Frommer's as one of America's top ten outdoor markets. The San Antonio Market Square also hosts numerous Hispanic festivals and performances throughout the year.
4. San Fernando Cathedral
[SEE MAP]
Construction on this San Antonio landmark began in 1738, and it took 15 years to complete. Today, the San Fernando Cathedral, which is also known as the Church of Nuestra Senora de la Candelaria y Guadalupe is one of the oldest cathedrals in the United States and is also the oldest standing church building remaining in Texas. It is the mother church of the Archdiocese of San Antonio, and was visited by Pope John Paul II in 1987.
The church is also said to house a tomb that contain some of the remains of the men who died defending the Alamo, but many historians dispute that claim. San Fernando Cathedral is still an active church and mass is held here throughout the week in both English and in Spanish.
3. Mission San Jose
[SEE MAP]
Founded in 1720, Mission San Jose is the largest of the missions that make up the San Antonio Missions National Historical Park. This mission, which is sometimes referred to as the Queen of the Missions, is located on the bank of the San Antonio river. During its heyday, San Jose Mission housed approximately 350 Indian neophytes. One of the mission's best known features is its very ornate Rose Window, which many consider to be one of the best examples of baroque architecture in the United States. Mission San Jose is still an active parish, and visitors can attend mass at this beautifully restored church on Sundays.

This is the second-most visited attraction in San Antonio and a popular place to enjoy a nice stroll, go shopping or grab something to eat. You could also hop aboard a boat and explore the colorful network of walkways from the San Antonio River. And every Friday and Saturday night throughout the summer, you can enjoy the lively Fiesta Noche del Rio, which features the songs and dances of Mexico, Texas, Spain and Argentina.
The Riverwalk is also known for hosting many fun events, including artisan shows as well as boat parades and races. Though a beautiful spot to visit at any time of the year, the Riverwalk is especially enchanting during the Christmas and New Year season, when the area gets decked out in literally millions of twinkling lights.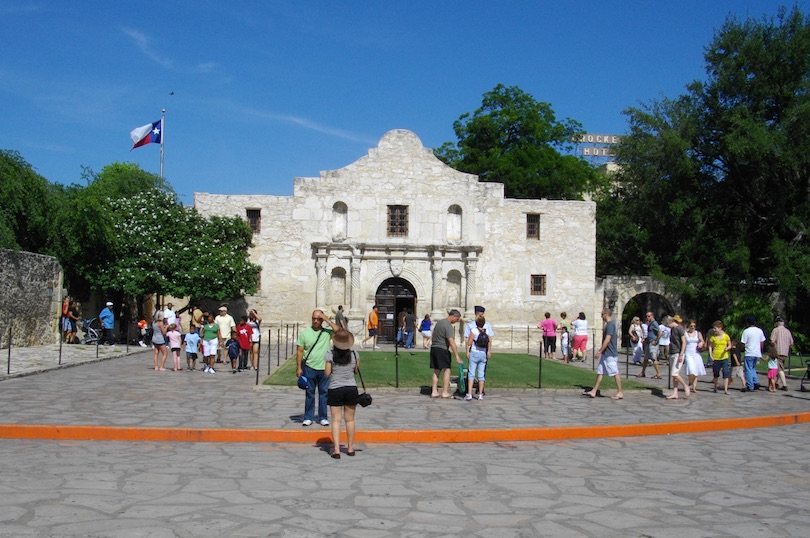 flickr/R. Crap Mariner

"Remember the Alamo!" It became the rallying cry for Texans who wanted to win independence from Mexico. It was also a reminder of what had occurred on March 1836. That is the date when thousands of Mexican forces under the leadership of General Antonio Lopez de Santa Anna stormed the Alamo, killing the 200 Texans who had been seized the mission and had defended their position for 13 days. These Texans included leaders James Bowie and William Travis as well as famous frontiersman Davy Crockett.
In April of 1836, crying "Remember the Alamo," 800 Texans led by Sam Houston were able to defeat Santa Anna. The war for Texas independence came to an end when Santa Anna in exchange for his freedom signed a treaty recognizing the state's independence. Today, the Alamo, which is smaller than most people expect, is the number one most visited site in the State of Texas.