While it is most known for being home to the Alamo, Texas' second-largest city San Antonio has much, much more for visitors to see and do besides checking out its historic Spanish missions. Set in the south centre of the state, it has countless museums and entertainment options for you to enjoy, while its scenic RiverWalk connects many of the main tourist attractions in San Antonio together.
Very multicultural in nature, the massive metropolis welcomes millions of tourists each year who come to see its sites, shop about, and visit its exciting amusement parks, animal exhibits, and aquaria. With an almost endless array of cultural landmarks and hip foodie areas to hit up and innumerable fairs, festivals, and events taking place constantly; Alamo City is certainly not to be missed when in Texas.
Map of Tourist Attractions in San Antonio
© OpenStreetMap © MapTiler © Touropia
27. Institute of Texan Cultures
Ken Lund / Flickr
A fascinating place to visit, the Institute of Texan Cultures shines a light on the various communities that have shaped the history and identity of the state. Located in Hemisfair Park, its museum and library contain millions of historic photos and countless exhibits that look at everything from music and food to stories, traditions, and religions.
Since being founded in 1968, the institute has educated generations of locals and tourists alike about the numerous national and ethnic groups that make up modern, multicultural Texas. Besides looking at each community's past and present through oral accounts, photo exhibits, and interactive displays, the ITC also inspires future generations through its cultural events, classes, and festivals.
26. Six Flags Fiesta Texas
If instead of history and culture it is thrilling rides, roller coasters, and shows you are after then Six Flags Fiesta Texas is definitely the place to go. Lying on the northwestern outskirts of San Antonio, the fun amusement park has a staggering array of attractions and entertainment options for families to enjoy with lots of shops and restaurants also being on offer.
Aptly billing itself as the 'Thrill Capital of South Texas', the expansive park is packed with dozens of hair-raising rides and roller coasters with a wild and wet water park also located on the premises. Asides from splashing about at White Water Bay, guests can explore other themed areas that include a 1920s Texan boom town and German village with scintillating shows and top-shelf entertainment taking place daily throughout the park.
25. San Antonio Museum of Art
Boasting a huge collection of paintings, sculptures and ceramics, the splendid San Antonio Museum of Art can be found just a couple of blocks west of Broadway in downtown. Spanning more than 5,000 years of human history, its 30,000 or so artifacts and artworks hail from all around the globe with its Asian, Latin American, and Native American holdings being particularly impressive.
Situated towards the northern end of the Riverwalk, the museum was established back in 1981 with it now being housed in a cool castle-like building that was formerly the Lone Star Brewery. Over its four floors you can peruse galleries full of ancient Egyptian, Greek, and Roman artworks with the Americas also represented alongside the Far East, India, and the US itself.
24. La Villita Historic Arts Village
Besides simply seeing some amazing art pieces, you can also buy some yourself as souvenirs at the La Villita Historic Arts Village. Located right in the heart of downtown not far from the Alamo, the rejuvenated neighborhood and all its art galleries, studios, and restaurants lie along the RiverWalk on the south bank of the San Antonio River.
Now a very popular place to visit, the lively arts community has all kinds of colorful and creative shops and studios for you to stop by with custom jewellery, ceramics, and folk art all on sale. Asides from taking in the ambience and buying a handcrafted item or two, you can also enjoy a bite to eat or drink at one of its cozy little cafes and restaurants.
23. Buckhorn Saloon
Just a stone's throw from La Villita you can find the atmospheric old Buckhorn Saloon which is one of the best places to enjoy a drink in town. The oldest drinking establishment in the state, it was first opened in 1881 with two awesome museums, a curio store, and even a shooting gallery now located on-site.
Full of fabulous furnishings and woodworks with dozens and dozens of trophy mounts studding the wall, the saloon is a great spot to sit down and enjoy a drink or meal while taking in the decor. After having sampled a fresh brew or shot some rounds at the shooting gallery, make sure to check out the Texas Ranger and Buckhorn museums which both contain antiques, displays, and animal mounts.
22. Spanish Governor's Palace
Another interesting historic sight to stop by is the sparkling white Spanish Governor's Palace in the center of the city. Although never actually used as a palace, the attractive adobe building is the only remaining example in the whole of Texas of an aristocratic eighteenth century Spanish-Colonial in-town residence.
Now protected as part of a National Historic Landmark, the beautiful building with its spectacular cobblestone patio was formerly the seat of the Spanish government. Wonderfully well-preserved, it dates to 1749 with the one-storey structure's ten rooms being full of exquisite artifacts, exhibits, and informative plaques that highlight how a family would have lived during that time.
21. Majestic & Empire Theatres
Renelibrary / Wikipedia
Also located in the heart of downtown are the historic Majestic & Empire Theatres which put on all kinds of amazing theater performances, concerts, and comedy nights over the course of the year. An absolute must for theater lovers, the nationally recognized venues have lovingly been restored with their enormous auditoria boasting the most intricate and elegant of interiors.
While the former was built in 1929 and showcases a Spanish Mediterranean style, the latter dates to 1913 and looks much more like a European palazzo. After slow declines and closures, both theaters have benefited from renovations in recent decades with their spellbinding stages and world-class acts making them the perfect place to catch a show.
20. Briscoe Western Art Museum
Home to lots of excellent artifacts, artworks and exhibits, the brilliant Briscoe Western Art Museum can be found right in the center of town alongside the RiverWalk. Its captivating collection offers up an invaluable look at the characters and cultures, landscapes, and stories that helped shape the image and identity of the American West that we have today.
Only opened in 2013, the magnificent museum now occupies what once was the city's main public library. In its airy galleries visitors can see paintings and sketches of the West's dramatic landscapes with Native Americans, cowboys, and settlers all featuring prominently in the artworks. Aside from its sculptures and statues, there are also well-preserved artifacts and exhibits on show that highlight various aspects of life in Texas and the West over the centuries.
19. San Antonio Aquarium
Amy the Nurse / Flickr
A firm favorite with families, the San Antonio Aquarium is set just fifteen minutes' drive northwest of downtown in Leon Valley. On top of containing lots of colorful fish, reptiles, and birds, it has a fun arcade and bounce house for kids to enjoy with exciting animal encounters also being on offer.
Besides seeing tanks full of jellyfish and the aquarium's resident crocodiles, highlights include all its amazing iguanas and exotic birds with live demonstrations and feeding sessions regularly taking place. In addition to meeting some of the animals yourself, you can also stroke koi fish and stingrays in one of its touch tanks.
18. King William Historic District
Just south of downtown you can find the King William Historic District; one of the most attractive and elegant neighborhoods in the city. A treat to stroll around, its shady tree-lined streets are home to a huge number of historic houses with plenty of fine architectural features being on show.
Named after the former German Emperor, it was the first residential district to be founded in San Antonio back in 1866. As it mostly attracted affluent owners, many of its magnificent mansions are still standing today with pretty parks and a monthly market also to be found alongside the winding rivers that border it.
17. Pearl Brewery
Once the headquarters of the historic brewing company of the same name, the Pearl Brewery now instead hosts all kinds of shops, restaurants, and residences. Located just off of the northern end of the RiverWalk, the sprawling complex and its thriving community has lots for visitors to see and do with a wonderful weekend market being one of its main attractions.
Built back in 1883, its lovely yellow brick buildings, stables, and courtyards have now been restored and reimagined with boutique shops and creative cooking concepts dotted about here and there. Due to its appealing ambience, excellent cuisine and diverse array of retailers, the Pearl Brewery is very popular with locals and tourists alike.
16. Tower of the Americas
One of San Antonio's standout symbols and sights, the humongous Tower of the Americas rises up dramatically above downtown. Once the tallest observation tower in all of the States, it was erected for the 1968 World's Fair with the soaring structure set right in the centre of HemisFair Park.
Known locally as 'The Tower', it reaches a staggering 750 feet in height with elevators shooting you to the top in just 43 seconds. Besides enjoying the breathtaking views from its indoor and outdoor observation decks you can also enjoy a sumptuous meal at its revolving Chart House restaurant or watch the short 'Skies Over Texas' film at its 4D theater.
15. SeaWorld
A fun place to visit, for the whole family SeaWorld San Antonio is one of the largest marine-themed amusement parks in the world. Aside from being home to enormous tanks full of shimmering shoals of fish and massive killer whales, it also has roller coasters, rides, and a water park for you to enjoy with live shows and animal presentations taking place constantly.
Since being founded in 1988, the park has expanded considerably with everything from alligators and dolphins, to sea lions, sharks, and belugas on show with the enormous orcas being its most famous resident. After having learnt all there is to know about the amazing creatures and enjoyed its exhilarating rides and roller coasters, make sure to book a behind the scenes tour so you can meet puffins and penguins, stingrays, and seals.
14. Witte Museum
Rodriguez / Flickr
Another educational yet interesting and interactive place to stop by is the wonderful Witte Museum which is located just north of the center in Brackenridge Park. Although oft-overlooked by visitors to San Antonio, its permanent collection contains an impressive array of cave drawings, dinosaur bones, mummies, and wildlife dioramas.
Dedicated to telling the stories of the state and city from prehistory to the present, the museum was opened in 1926 and has been a popular draw with school trips ever since. Its well-designed galleries are packed with informative displays and dioramas that look at the animals, landscapes, and peoples of Texas.
In addition, replicas of log cabins teach visitors about pioneer life, while its innumerable artifacts highlight the history, culture, and heritage of the Lone Star State's Native Americans.
13. San Antonio Zoo
Home to more than 3,500 animals of some 750 or so species, the exceptional San Antonio Zoo can be found right next door to the Witte Museum in Brackenridge Park. Sprawling across a huge area, its spacious enclosures and nature exhibits are home to animals, birds, and reptiles from as far afield as Africa, Asia, and Australia.
Now boasting one of the largest collections of animals in the US, the highly rated zoo was founded in 1914. While the 'drive-through' safari with all its free roaming animals is undoubtedly the park's main highlight, its beautiful butterfly house, expansive aviary, and narrow-gauge railway also attract lots of plaudits.
12. Japanese Tea Gardens
Yet another of Brackenridge Park's top tourist attractions are the peaceful and picturesque Japanese Tea Gardens that lie alongside both the museum and zoo. Set in a former rock quarry, it has a wealth of pretty paths, ponds, and plants for you to amble past with rustic stone bridges and rock formations dotted here and there.
Much quieter than the RiverWalk, the lovingly landscaped gardens contain lots of colorful plants, flowers, trees, and shrubs with a terrific torii gate greeting you at the entrance. In addition to all this, there is also a pavilion-like pagoda and several waterfalls, while awesome outdoor concerts are held at its Sunken Garden amphitheater during the sunny summer months.
11. McNay Art Museum
Zereshk / Wikipedia
Opened in 1954, this was the first museum of modern art in Texas. Today, the McNay Art Museum's collection contains more than 20,000 works of art, including pieces from the Medieval and Renaissance time periods as well as from the 19th- through 21st-century. The McNay also boasts an excellent collection of Southwest prints and drawings. And when you're done admiring the artwork, don't forget to take a stroll around the museum's stunning grounds where you'll find gardens, fountains, statues and a koi pond.
This museum is located in the former home of Ohio-born heiress and art connoisseur Marion McNay. When McNay died in 1950, she bequeathed her 24-room mansion set on 23 acres to the City of San Antonio. She also left the museum more than 700 works of modern art that she had collected as well as an endowment to be used to establish this museum.


10. Natural Bridge Wildlife Ranch
Meagan / Flickr
Have you always wanted to go on a safari? Then you'll love the Natural Bridge Wildlife Ranch, which is home to more than 500 animals, with representatives from 40 different species. The Natural Bridge Wildlife Ranch is a zoo where the animals roam freely and the humans are "caged up" in their cars. Each carload is given a bag of food to share with the creatures, which include ostriches, zebras and kudu.
The Natural Bridge Wildlife Ranch also boasts a walk-a-bout, where you can go for a stroll and check out other creatures, such as giraffes and lemurs. There is also a petting zoo if you have wee ones in your group or just enjoy spending your critter time up-close-and-personal.
9. San Antonio Botanical Garden
A visit to the San Antonio Botanical Garden is a perfect way to spend a peaceful day surrounded by the beauty of nature. You'll find several different gardens located throughout the grounds, including a beautiful rose garden and a WaterSaver Garden, which features plants that are water efficient. Then there is the Texas Native trail, where you can find more than 250 plant species that are native to the Hill country, East Texas Pineywoods and South Texas.
Before visiting the gardens, make sure to check out its website so you'll know what's in bloom. You can also print out a birding checklist online if you'd like to keep track of the more than 228 bird species that you might see in this beautiful botanical garden.
8. Mission Concepcion
Founded in 1731, Mission Concepcion is part of the San Antonio Missions National Historic Park — which also includes Mission San Jose, Mission San Juan and Mission Espada. This historically significant mission was the site of the Battle of Concepcion, which occurred in 1835 and was fought between Mexican troops and Texas insurgents led by James Bowie. This battle is considered by many to have been the first significant skirmish of the Texas Revolution.
Today, Mission Concepcion, which is the oldest unrestored stone church in the United States, is still an active Catholic parish. Sunday mass has been held in this church uninterrupted since it was founded.
7. Natural Bridge Caverns
Lars Plougmann / Flickr
This popular attraction is a relatively new discovery. In March of 1960, four college students from nearby St. Mary's University were given permission to explore the area underneath a 60-foot (18-meter) limestone bridge. They eventually discovered these caverns, which are the largest known commercial ones in Texas. The Natural Bridge Caverns boast spectacular underground formations, including stalagmites, flowstones and stalactites.
You can choose from several different tours — which one you will want to take will depend on your interest level, walking abilities and comfort with being in caves. You could, for example, go on a standard Discovery tour, which will take you through the main caves. If you're more adventurous, you can rappel to less developed areas of the caverns where there is no commercial lighting.
6. San Antonio Market Square
David / Flickr
This historic three-block market square resembles a little slice of Mexico that has somehow been transported to the streets of San Antonio. Boasting more than 100 locally owned stores, restaurants and stalls, the San Antonio Market Square is a fun place to shop for inexpensive souvenirs and also to dine on authentic Mexican dishes. It has often been described as the largest Mexican market outside of Mexico.
While 'El Mercado' hosts some thirty or so shops, Farmers' Market Plaza boasts a whopping eighty boutiques that sell everything from handmade jewellery and pottery to clothes, musical instruments, paintings, and more.
Besides sampling some delicious Mexican cuisine in established eateries such as Mi Tierra Cafe y Panaderia or La Margarita, it is also well worth attending some of the fun and festive Hispanic cultural events and festivals that take place over the course of the year.
5. San Fernando Cathedral
Construction on this San Antonio landmark began in 1738, and it took 15 years to complete. Today, the San Fernando Cathedral, which is also known as the Church of Nuestra Senora de la Candelaria y Guadalupe is one of the oldest cathedrals in the United States and is also the oldest standing church building remaining in Texas. It is the mother church of the Archdiocese of San Antonio, and was visited by Pope John Paul II in 1987.
The church is also said to house a tomb that contain some of the remains of the men who died defending the Alamo, but many historians dispute that claim. San Fernando Cathedral is still an active church and mass is held here throughout the week in both English and in Spanish.
4. Mission San Jose
Founded in 1720, Mission San Jose is the largest of the missions that make up the San Antonio Missions National Historical Park. This mission, which is sometimes referred to as the Queen of the Missions, is located on the bank of the San Antonio river. During its heyday, San Jose Mission housed approximately 350 Indian neophytes.
One of the mission's best known features is its very ornate Rose Window, which many consider to be one of the best examples of baroque architecture in the United States. Mission San Jose is still an active parish, and visitors can attend mass at this beautifully restored church on Sundays.
3. San Antonio Missions National Historical Park
While the Alamo, San Jose, and Concepcion understandably dominate most visitors' itineraries, the city has a couple of other marvelous missions that are not to be missed when in town. Protected as part of the San Antonio Missions National Historical Park, they lie scattered about with all offering up an interesting insight into the past.
A wonderful way to see these centuries-old historic sights is to cycle along the scenic Mission Trail that connects them all together. The two that people often overlook or skip are Mission Espada and Mission San Juan; both of which exhibit some exquisite architecture and are very atmospheric to wander around.
2. River Walk

This is the second-most visited attraction in San Antonio and a popular place to enjoy a nice stroll, go shopping or grab something to eat. You could also hop aboard a boat and explore the colorful network of walkways from the San Antonio River. And every Friday and Saturday night throughout the summer, you can enjoy the lively Fiesta Noche del Rio, which features the songs and dances of Mexico, Texas, Spain and Argentina.
The Riverwalk is also known for hosting many fun events, including artisan shows as well as boat parades and races. Though a beautiful spot to visit at any time of the year, the Riverwalk is especially enchanting during the Christmas and New Year season, when the area gets decked out in literally millions of twinkling lights.
1. The Alamo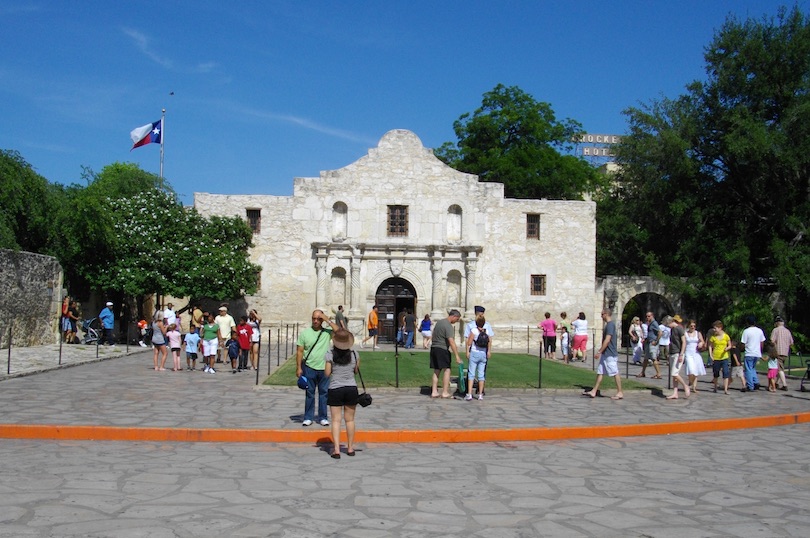 R. Crap Mariner / Flickr

"Remember the Alamo!" It became the rallying cry for Texans who wanted to win independence from Mexico. It was also a reminder of what had occurred on March 1836. That is the date when thousands of Mexican forces under the leadership of General Antonio Lopez de Santa Anna stormed the Alamo, killing the 200 Texans who had been seized the mission and had defended their position for 13 days. These Texans included leaders James Bowie and William Travis as well as famous frontiersman Davy Crockett.
In April of 1836, crying "Remember the Alamo," 800 Texans led by Sam Houston were able to defeat Santa Anna. The war for Texas independence came to an end when Santa Anna in exchange for his freedom signed a treaty recognizing the state's independence. Today, the Alamo, which is smaller than most people expect, is the number one most visited site in the State of Texas.