The second-largest and second most populous state in the whole of the country, Texas, in the south-central part of the States is a fascinating place to visit for its distinctive culture and identity. This unique heritage is proudly on display in its many cities and towns, with Austin, Dallas, and Houston among its most popular destinations.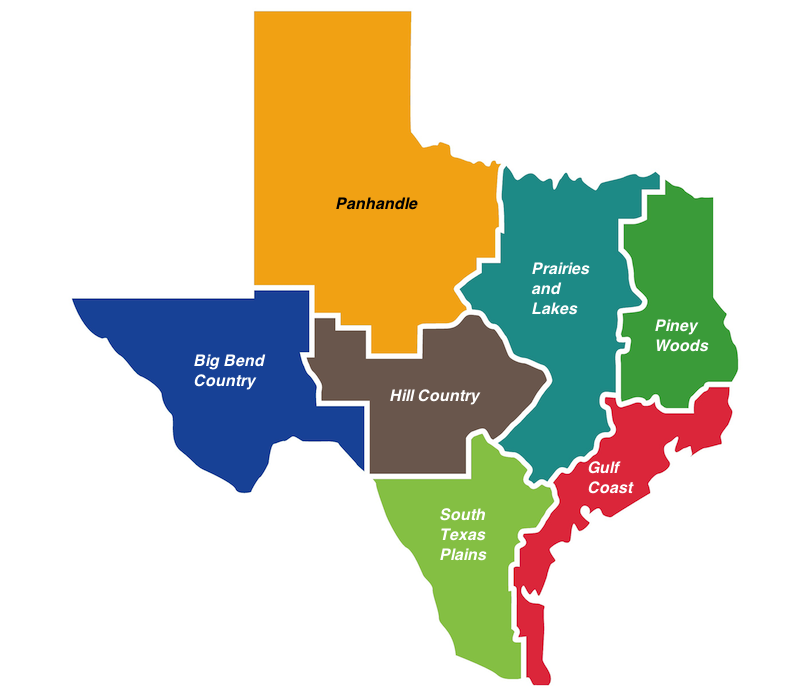 Bordered on three sides by the Rio Grande, Red River, and Sabine River, Texas boasts a wide array of different landscapes, with its famous Panhandle lying alongside expansive plains, rolling hills, rugged canyons, and its glorious Gulf of Mexico coastline.
In this post, we'll cover:
Panhandle
Located in the northwest corner of the state, the Texas Panhandle is home to endless prairies and vast grasslands, with rugged canyons and shimmering lakes dotted here and there. Due to its flat nature, dry climate, and at times featureless landscapes stretching away endlessly before you, it can be quite an unwelcoming environment, and dust storms do pass through from time to time.
Its wide-open skies and plains, however, are part of its allure, and lots of great natural sights can be found around the region. Palo Duro Canyon, for instance, exhibits some stunning rock formations and fauna and flora. Lake Meredith National Recreation Area boasts a number of awe-inspiring canyons, as well as the Canadian River and Lake Meredith itself. Due to its vast outdoor landscapes, the Panhandle is a great place to explore; hiking, mountain biking, and camping are all very popular pastimes among both locals and visitors alike.
Although sparsely populated, the Panhandle has some lovely towns and cities for you to check out. In Amarillo, Lubbock, and Wichita Falls you'll certainly be treated to the best of that famous Texan hospitality, with lots of interesting historical sights and cultural landmarks also on show.
Prairies and Lakes
Home to one of the largest metropolitan areas in the US – the Dallas-Forth Worth Metroplex – the Prairies and Lakes region, as the name would indicate, also boasts lots of beautiful countryside, with its many rivers and lakes offering up some fantastic outdoor activities.
While the main draw is understandably Dallas with its wealth of restaurants, entertainment options, and nightlife, Fort Worth is also a great place to visit. It is here, 'Where the West begins,' that you can find lots of interesting museums related to the American West, pioneers, and local cowboy and cowgirl culture. Gonzales too is worth checking out for its monuments to Texan independence, and at Mesquite, there are weekly rodeo performances for you to enjoy.
Further afield, you have lots of picturesque ranches and farmland to discover, with Dinosaur Valley State Park and Fort Worth Nature Center and Refuge two of the best places in the region to go hiking, cycling, and camping.
Piney Woods
Tucked away in the east corner of Texas, the appropriately named Piney Woods is very distinct from the rest of the state; much of its territory is covered in pine forests and evergreen trees, and this is best viewed at Big Thicket National Preserve. Other than the wonderful nature on show, this densely forested preserve has a wealth of woodland trails for you to explore, as well as lots of great camping sites.
Scattered amongst its endless pine forests are some delightful bayous, creeks, and rivers. These provide some great fishing opportunities, with various mill and oil towns also found here and there.
While there are no large cities of note located in Piney Woods, towns such as Nacogdoches and Tyler are both well worth a visit. They have lots of interesting monuments and museums related to the American Civil War as well as the Civil Rights movement.
Gulf Coast
Stretching from the state of Louisiana in the east to the border with Mexico in the south, Texas' Gulf Coast region is awash with beautiful beaches and thriving port cities, with lovely islands also found offshore.
Aside from the glittering Gulf coastline, Houston is undoubtedly the main attraction, as its streets thrum with energy and there are a wealth of great things for you to see and do. Despite its Texan identity proudly on display, it is a very multicultural place; this is evidenced by its African-American, Asian, and Latin American neighborhoods and communities.
While Corpus Christi attracts the most visitors along the Gulf Coast, there are lots of other great places that are well worth checking out. Galveston Island, Mustang Island, and Padre Island are all home to lots of resorts and great beaches, with the latter very popular among spring breakers.
South Texas Plains
Mostly made up of endless, unwelcoming desert, the South Texas Plains are also home to some of the nation's most interesting and significant historic sights. It is here that you can find the Alamo – the site of a major battle during the Texas-Mexican War which is now the most popular attraction in the state.
Also dotted around the region are lots of beautiful Spanish missions which were built during colonial times. The best examples of this wonderful architectural style are on show in San Antonio and Goliad, with each also displaying some fascinating historical and cultural artifacts in their museums.
Besides the Alamo, San Antonio has many other great things for you to see and do, with lots of museums, art galleries, and amusement parks on offer. Choke Canyon State Park and Rio Grande River Valley are bursting with gorgeous scenery and abundant nature.
Hill Country
As the name would seem to indicate, Hill Country is full of rambling hills, with canyons and rivers cutting through the otherwise arid countryside. Its cities and towns are home to a fascinating array of Texan, Mexican, and Spanish influences, which makes the region particularly interesting to travel around.
While lots of fantastic old Spanish missions are scattered around, German influences are also on display in New Braunfels and Fredericksburg, with cowboy culture found in Bandera. In addition to this, no visit to Hill Country can ever be complete without spending some time in Austin. This town is renowned for its alternative culture and for being the 'Live Music Capital of the World' due to its large number of music venues.
Nature lovers and outdoor aficionados will also revel in what the region has to offer up, with Enchanted Rock State Natural Area and Pedernales Falls State Park home to magnificent rock formations and scenic trails. Hiking, rock climbing, and camping are all popular.
Big Bend Country
Making up the southwestern corner of the state, Big Bend Country is mostly devoid of large population centers. Its vast land area is home to delightfully wild frontier country, with vast open prairies and endless desert both in abundance.
While mostly made up of a desolate and unwelcoming landscape, in the far west, you can find the magnificent Guadalupe Mountains National Park, while the Permian Basin is one of the largest petroleum-producing centers in the country. Although there aren't many cities of note, El Paso on the US-Mexican border is a great place to visit; it has a lovely downtown with lots of interesting historical sights and lively nightlife.
The main attraction, however, is Big Bend National Park, which boasts some stunning scenery with lots of amazing panoramas. The vast, rugged landscapes make for some great hiking. Cycling and kayaking along the Rio Grande's impressive canyons is an experience like no other.