Set in one of the most scenic spots of any city in the States, Seattle is located on a narrow isthmus in between the shimmering waters of Puget Sound and Lake Washington. Surrounded by vast forests and snow-capped mountains, it is fittingly nicknamed the Emerald City. It has a plethora of parks also to be found peppering its skyscraper-studded center and multitude of diverse neighborhoods.
A very vibrant and multicultural place, there are a lot of tourist attractions in Seattle to check out. As well as being renowned for its countless coffee shops and microbreweries, the city is famed just as much for its counterculture scene as it is for spawning Amazon and Starbucks. With iconic landmarks and architectural marvels to check out alongside a wonderful waterfront, Seattle is one of the best places to visit in the Pacific Northwest.
In this post, we'll cover:
25. Klondike Gold Rush National Historical Park
Jasperdo / Flickr
Located right in the city center is the excellent Klondike Gold Rush National Historical Park which offers up a fascinating look at the gold rush of 1897. Through artifacts, exhibits, and photos, visitors learn about the discovery of the precious mineral and the lives of the thousands of 'stampeders' who set off from Seattle to make their fortune.
Opened in 2006, the museum is housed in the historic Cadillac Hotel with parts of the park also to be found in Skagway in Alaska. Its interactive exhibits follow the lives of five prospectors and their varying fortunes as they make their way to the glittering gold fields in the Yukon in Canada.
24. Seattle Aquarium
A fun and family-friendly place, the fantastic Seattle Aquarium lies along the city's waterfront on Pier 59. Its enormous aquaria, tanks and pools are full of shimmering shoals of colorful fish with harbor seals, otters, and puffins also on show.
Since opening in 1977 it has been a firm favorite with locals and tourists alike due to its interesting exhibits on the Pacific Northwest's amazing marine life. As well as seeing salmon and star fish, sea horses, and sharks, visitors can touch sea cucumbers and sea urchins in its tidal tank. Its highlight though is the humongous Window on Washington Waters aquarium which hosts daily dive shows.
23. Green Lake Park
Centered on the lovely Green Lake is a pretty park that offers up all kinds of recreation activities and outdoorsy things to do in Seattle. Besides walking, running, and cycling along the paved path that encircles the lake, visitors can also take to its tranquil waters with both canoes and pedalos being available for rent.
Formed during the last ice age, the sparkling lake and its scenic shores and surroundings have been protected as part of a park since 1905. Situated in North Central Seattle, its lush green spaces, sports facilities, and playgrounds attract lots of people with the atmospheric Seattle Public Theater also to be found within its grounds.
22. Alki Beach
Although it is located just twenty minutes' drive to the southwest of Downtown Seattle, Alki Beach feels a world away from the skyscraper-studded center. Here you can relax on its welcoming sands, go swimming in the bay, and even enjoy stupendous views of the city rising up dramatically in the distance.
Stretching just over three kilometers in length, the beach's soft sands are ideal for lounging on with picnic areas and volleyball courts dotted here and there. Besides ambling along its boardwalk and taking in the views, visitors can stop by its tiny replica of the Statue of Liberty, and the Alki Point Monument which commemorates the pioneers who founded Seattle.
21. Fremont Public Sculptures
Scattered about Seattle's artsy neighborhood of Fremont are some superb public sculptures for you to check out with its colossal concrete troll being its standout sight. In total there are around ten of the arresting artworks to find with countless other murals, statues, and even neon light installations to be found in the area.
Most people, however, head straight to see the fabulous Fremont Troll which lies beneath the north end of the George Washington Memorial Bridge. Commissioned in 1990, the now iconic sculpture's unique design and setting were inspired by Scandinavian folklore with the 5.5-metre-high troll also holding an actual Volkswagen Beetle in its hand.
20. Gas Works Park
Once home to the Seattle Gas Light Company, the antiquated old plant and its site were reimagined, redeveloped, and reopened as a public park in 1975. Now it boasts some of the best views in the city thanks to its scenic setting on the north shore of Lake Union.
As parts of the plant, its pump house and towers still remain, there are some great photos to be had of its complex array of tanks and pipes which now stand as a monument to the city's industrial past. On top of its sublime views, scenery, and machinery, the Gas Works Park also has some lovely green spaces for you to explore.
19. Olympic Sculpture Park
Another popular place where you can enjoy both art and the outdoors is the Olympic Sculpture Park which lies along the edge of Elliott Bay, just a short drive from Downtown Seattle. Set on another former industrial site, it has over twenty terrific sculptures to admire and photograph with intriguing shapes and designs wherever you look.
While strolling along its picturesque paths, you'll come across striking sculptures and abstract works by artists such as Alexander Calder and Ellsworth Kelly. The scenery itself is just as impressive as the Puget Sound, and Olympic Mountains can be viewed on one side with the soaring Space Needle rising up on the other.
18. Seattle Art Museum
Home to a huge collection of artworks, the marvelous Seattle Art Museum can be found right in the center of the city. While it is particularly known for its extensive collection of Native American artifacts, it also displays everything from Renaissance portraits and paintings to decorative art and furniture from the Pacific Northwest.
Since being founded in 1933, the museum's collection has expanded considerably and now includes almost 25,000 artworks from all around the world. In addition to African, Islamic, and Oceanic art, it also has contemporary pieces by American artists for you to enjoy and regularly hosts temporary exhibitions.
17. Downtown Waterfront
Seattle's waterfront is an eclectic mixture of uses, from ocean-going freighters and state ferries crossing Puget Sound at one end to posh hotels and great seafood restaurants at the other. In between are souvenir shops, book stores, a giant Ferris wheel, the fantastic Seattle Aquarium and take-away restaurants, all with great views of Elliott Bay, Puget Sound and the Olympic Mountains to the west.
Grab some take-away food and head to Waterfront Park to take in the panoramic views while indulging in fresh seafood dishes. Relaxation doesn't get much better than this.
16. Discovery Park
Sprawling over an absolutely huge area is the delightful Discovery Park which occupies the western end of the Magnolia peninsula. Once a massive military zone, it was turned into a park in 1973 with its beautiful beaches, dunes, and meadows now being very popular with locals and tourists alike.
The largest public park in the city, it encompasses lots of scenic coastline and pristine forests and is a great place to spot some local wildlife. In addition to lounging on its sands and gazing out over the Puget Sound, there are also almost twenty kilometers of hiking trails to explore which lead you past historic buildings and to the charming West Point Lighthouse.
15. Seattle Great Wheel
Towering above the city's waterfront is the gigantic Seattle Great Wheel which boasts breathtaking views of the Seattle skyline and shimmering Puget Sound with the Olympic Mountains to be spied off in the distance.
Opened in 2012 at Pier 57, the Ferris wheel is the tallest attraction of its kind along the West Coast, reaching just over 53 meters in height. From its glass gondolas guests can bask in panoramic views in all directions with sunset being a particularly memorable time of day to enjoy a ride. Now almost synonymous with Seattle's revitalized waterfront, the Great Wheel is well worth checking out if you have the chance.
14. Sky View Observatory
Although the Great Wheel does reach a lofty height, both it and Seattle's famous Space Needle are completely dwarfed by the Columbia Center, the tallest building in the state. From the 73rd floor of the 284-metre-high skyscraper, visitors can delight in unrivaled views from what is remarkably the highest public viewing platform west of the Mississippi River.
Alongside the building the Sky View Observatory was opened in 1985 and now offers up simply spellbinding 360-degree views of Seattle and its surroundings. Besides Elliott Bay and the Olympic Mountains, you can also spot the majestic Mount Rainier as well as the much smaller Space Needle.
13. University of Washington
Just ten minutes' drive to the northeast of Downtown Seattle you can find the colossal University of Washington campus which is located at the edge of Lake Union. Very highly regarded, it has lots of beautiful old buildings and gorgeous green spaces to explore and a lively yet laidback atmosphere.
Nearly as old as the city itself, the university was founded in 1861 with magnificent Gothic-Revival halls and libraries now to be found dotted about. Its main attraction however is its picturesque quad which is lined by lovely cherry blossom trees. The campus is also home to some fine museums and a theater and regularly holds both cultural and sporting events.
12. T-Mobile Park
Unlike the city's many other parks, T-Mobile Park hosts baseball games rather than art installations and nature spots. Set just to the south of the center, the sparkling stadium is home to Major League Baseball's Seattle Mariners with games been action-packed and exciting affairs.
Widely considered to be one of the prettiest ballparks in the States, it exhibits a 'retro-modern' style with a retractable roof on show alongside a humongous scoreboard. Besides visiting its hall of fame and museum, guests can find public artworks and statues dotted around the stadium. In addition, its seats offer up fabulous views of the pitch as well as the surrounding mountains off in the distance.
11. Pioneer Square
Pioneer Square is a trendy area in the heart of Seattle's historic district. It's a place to see and be seen, where old Renaissance Revival buildings are filled with gift and other specialty shops, art galleries, wine bars and yuppie restaurants.
Its proximity to Quest and Safeco fields make it popular with sports fans on game days. Established in 1852 as Seattle's first downtown, Pioneer Square is home to the century-old Smith Tower, once the tallest building on the West Coast. Visitors, who want to know what Seattle was like before it was destroyed by fire in 1898, may want to take an underground tour.
10. Woodland Park Zoo
When in town, a very popular place to visit is the award-winning Woodland Park Zoo which is home to an astounding array of animals from all around the world. Located right next to Green Lake Park in North Central Seattle, its sprawling site has countless naturalistic exhibits for you to explore.
Since starting out as a small menagerie over a hundred years ago, the zoo's collection has expanded considerably and now includes over 300 different species. As well as jaguars and grizzlies you can spot Malayan tigers, gorillas, and Indian rhinos with exotic birds and creepy crawlies also on show.
9. Kerry Park
Despite its tiny size, Kerry Park boasts the most iconic view of the city from its setting on the south slope of Queen Anne Hill. From its prominent hillside visitors can gaze out over Downtown Seattle, the Space Needle, and Elliott Bay with the mighty Mount Rainier to be spied rising up dramatically in the background on clear days.
A must-visit, the park is named after the couple who donated its land to the city in 1927 'so that all who stop here may enjoy its view'. Besides basking in its beauty and snapping photo after photo of its spectacular sunsets, there is also the interesting abstract Changing Form sculpture to check out.
8. Chihuly Garden and Glass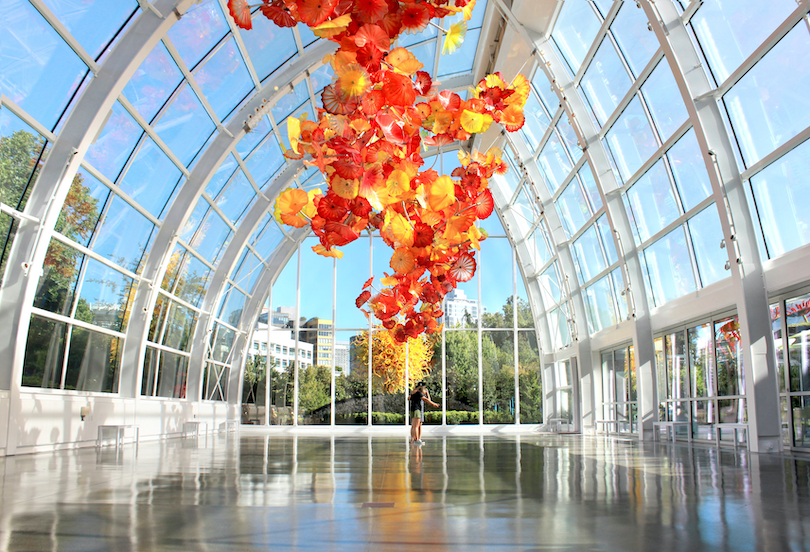 Lying almost at the foot of the Space Needle is another of the city's major attractions – the Chihuly Garden and Glass. Offering up a fascinating insight into the life and work of Dale Chihuly, a local sculptor, its galleries are full of the world-renowned artist's colorful and creative glass sculptures.
Since opening in 2012 in the Seattle Center, the astonishing exhibition has been a firm favorite of locals and tourists alike. While wandering around the sitem you'll come across gorgeous glassworks in all different sizes, shapes, and colors with the light-filled glasshouse and its arresting installation being its undoubted highlight.
7. Museum of Pop Culture
Contemporary pop culture stars at the MoPOP Museum, which combines music and sci-fi into a most unique experience. Founded in 2000 by Paul Allen, Microsoft's co-founder, the museum offers battle of the band competitions, film festivals and changing exhibits that frequently go on the road, around the United States and around the world.
Touches of fantasy and horror, as well as video games and science fiction literature can be found throughout the museum. The Museum of Pop Culture includes hands-on activities, rare artifacts from the pop music world and a sculpture made from more than 500 guitars.
6. Washington State Ferries
Jonathan Miske / Flickr
If you're after a quintessential Seattle experience, then you can't beat crossing the Puget Sound on one of the Washington State Ferries. While the big boats connect residents and commuters alike to the countless communities and islands that lie nearby, tourists too will enjoy the scenic ride due the phenomenal views on offer.
Numbering over twenty in total, the largest fleet of ferries in the States take visitors from Seattle to places such as Bainbridge Island, Port Townsend, and Vashon Island. Along the way you can bask in beautiful views of not just the Puget Sound and Olympic Mountains but also the city's skyline and its surroundings behind you.
5. Ballard Locks
The Hiram M. Chittenden Locks are a beehive of activity on hot days as boats of all types transfer from the salty Puget Sound to the freshwater lakes of Washington and Union. Known locally as the Ballard Locks for the Seattle neighborhood they're found in, the locks were named after Hiram Chittenden, a major with the U.S. Army Corps of Engineer in the early 1900s – the locks opened in 1917.
The facility also includes the Carl English Botanical Garden and fish ladders. Because the locks are popular with locals who like to watch boats go through the locks, parking can be difficult to find on summer weekends.
4. Museum Of Flight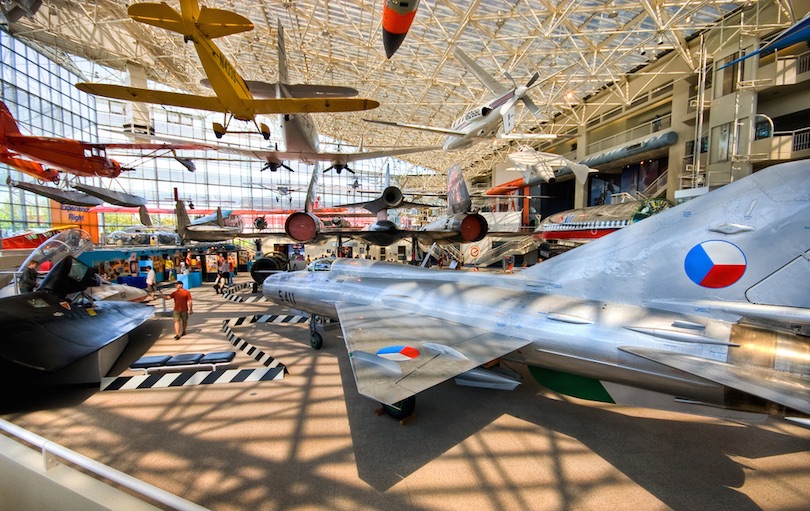 Benson Kua / Flickr
The Museum of Flight is the largest private air and space museum in the world. The museum is home to vintage planes, planes that have flown in wars, a retired Air Force One jet, and a space shuttle exhibit.
Located at King County International Airport, known locally as Boeing field, the museum features an interactive air traffic control tower exhibit. Other planes on display include a replica of the Lockheed Electra Amelia Earhart flew on her last flight, a British Airways Concorde, and a World War I fighter plane.
3. Boeing Factory
Jetstar Airways / Flickr
Travelers who aspire to build their own airplanes or who just want to learn more about how planes are manufactured definitely will want to tour the Boeing factory where 747s, 777s and the 787s (Dreamliner) are made.
This Boeing plant is located in Everett, about 25 freeway miles north of Seattle. Operated by the Future of Flight Aviation Center, these are the only tours of commercial airplane factories offered in North America. Besides touring the factory at Paine Field, visitors get an opportunity to design their own planes.
2. Pike Place Market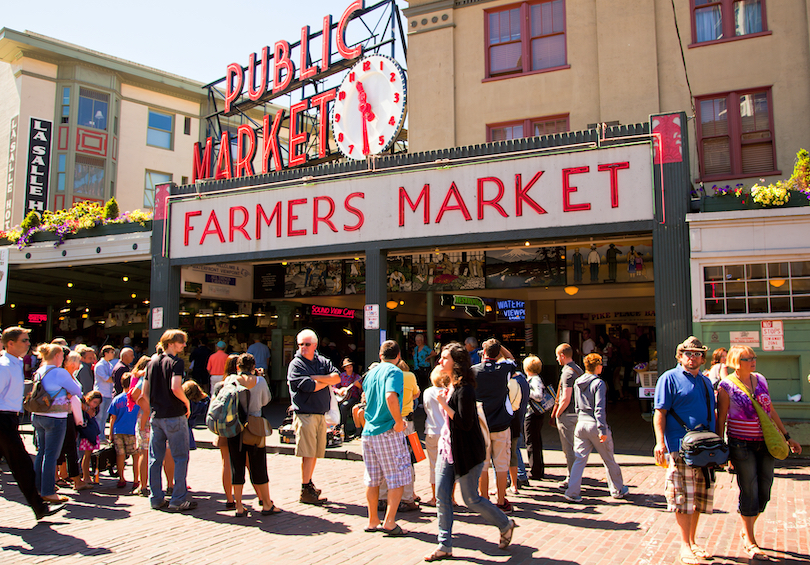 Pike Place Market got its start in the early 1900s when housewives revolted against rising prices of onions in grocery stores. Today, it's one of the biggest tourist draws not only in Seattle, but also Washington State. Gorgeous fresh produce looks like it might have been arranged by an artist. Fish fly through the air as fish mongers toss it from icy trays to the wrapping stand.
Funky boutiques can be found on lower floors; cheese and bread shops are in an annex across the street. Located in downtown Seattle, the market is open daily. Pike Place Market is also home to the first Starbucks store. Established in 1971 it is one of the most popular tourist attractions in Seattle.
1. Space Needle
Built for the 1962 Seattle World's Fair, the Space Needle has come to symbolize the Emerald City more than anything else. At 605 feet (184 meters) tall, it dominates Seattle's skyline. A revolving observation tower sits at 520 feet above the ground, offering ever-changing views of Seattle for miles around, including Puget Sound and the far-off Olympic Mountains.
A revolving restaurant is on a lower level. Sunset is a good time to ride the elevator, which climbs at the speed of 10 miles per hour, to the top to see a twinkling Seattle below.
Map of Tourist Attractions Seattle
© OpenStreetMap © MapTiler © Touropia