Lying in the northeast of the States, New Hampshire is a wonderful place to visit and is renowned for its astounding natural beauty. With majestic mountains and endless forests found alongside its glittering Lakes Region and small stretch of Atlantic coastline, it really is no wonder that locals are so proud of the dazzling landscapes on display.
Among the best places to visit in New Hampshire are the state's stunning natural sights which lend themselves perfectly to outdoor adventuring such as hiking, camping, kayaking and skiing. One of the best times to visit is during fall when all the leaves on the trees turn a myriad of yellows, oranges, and reds.
Tucked away among all these incredible landscapes are some charming towns and cities which are home to some of the oldest historical sights and cultural landmarks in the whole of the U.S.
10. Keene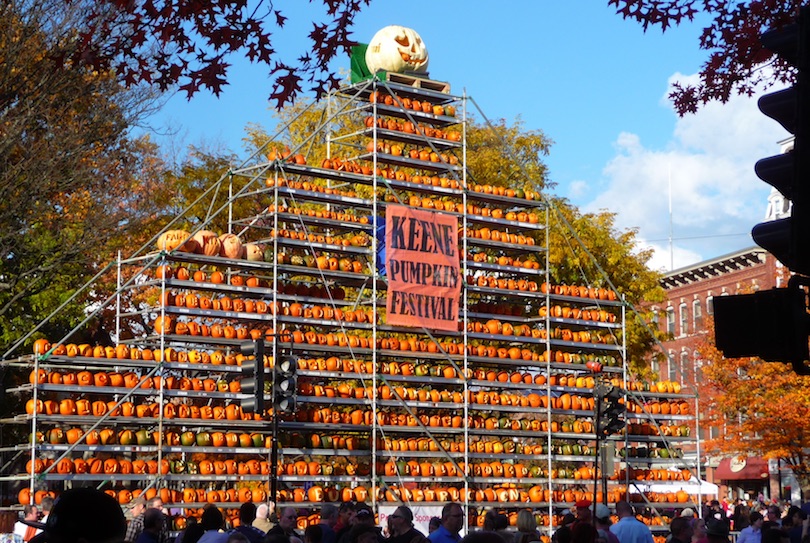 Founded all the way back in the early 1700s, Keene has long been an important commercial and cultural center. As such, there are some wonderful old brick buildings to be found lining its Main Street, with some fine churches also sprinkled around town.
A very pretty and picturesque city, Keene has a lively and youthful feel to it thanks to its large student population. Lots of great bars and restaurants can be found around its historic downtown area.
While its fantastic Colonial Theater attracts locals and out-of-towners alike with its packed calendar of music, film, and cultural events, many others come to enjoy the annual Keene Pumpkin Festival, which is lots of fun to take part in.
In addition to this, Keene is also a great place to head to if you love the great outdoors, as the wilderness of Mount Monadnock State Park lies nearby.
9. Mount Monadnock State Park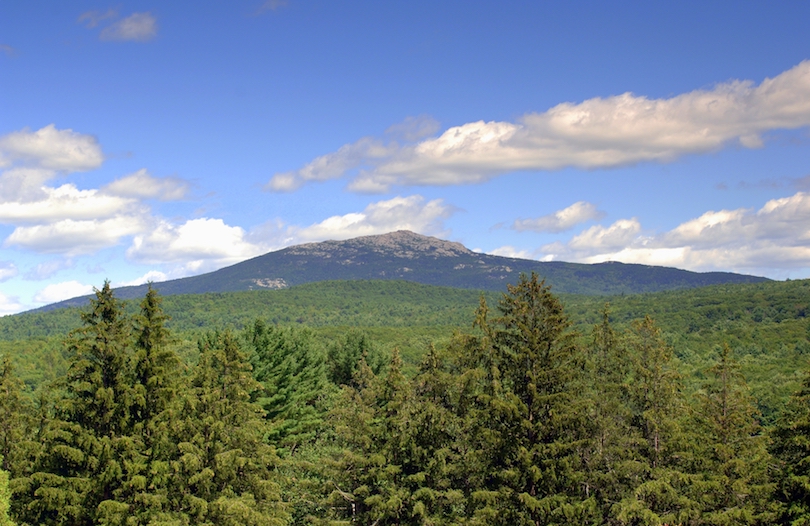 Dominated by the lofty peak of the same name that lies at its heart, Mount Monadnock State Park is a great place to go hiking or skiing; there are a plethora of great paths and cross country skiing trails for you to try out. Meandering their way over hills and through highlands, these routes take you past some fabulous scenery, as verdant forests stand alongside babbling brooks and impressive rock formations.
One of the most popular trails is the White Dot and White Cross loop to the summit of Mount Monadnock. The views from the top of the surrounding countryside are so astounding.
For visitors looking to really immerse themselves in the plentiful natural bounties, camping a night in the state park is a magical experience. A particularly pleasant time of year to visit is during fall, when the leaves turn from lush green to auburn and orange.
8. Bretton Woods Mountain Resort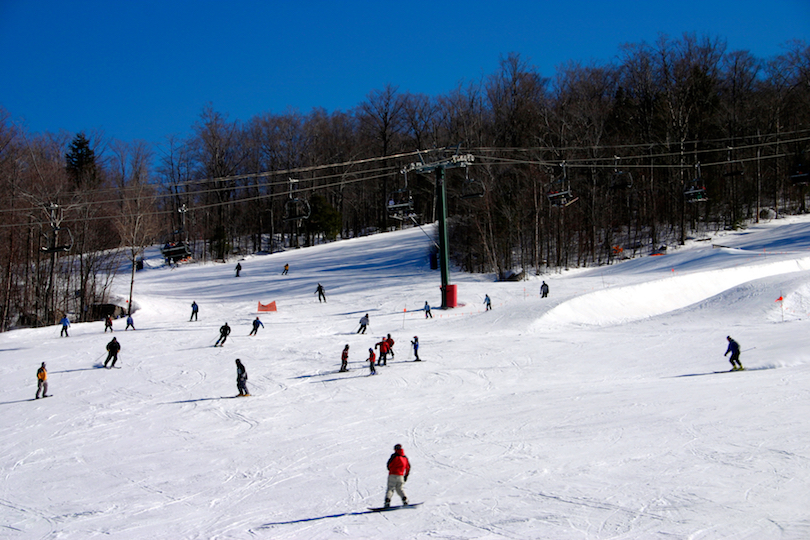 Located in White Mountains National Park with majestic snow-capped peaks all around it, Bretton Woods Mountain Resort is home to the largest ski area in New Hampshire and is simply a must if you're looking to hit the slopes.
Renowned for being a popular haunt of the rich and famous in the early 20th century, the resort saw U.S. presidents and celebrities stay. Consequently, it should come as no surprise to learn that there are lots of excellent dining options, golf courses, and spas for you to try out.
Surrounded by breathtaking scenery with over a hundred trails and pistes on offer, Bretton Woods Mountain Resort is well worth checking out if you want to relax in style and make the most of the staggering natural sights all around you.
7. Hanover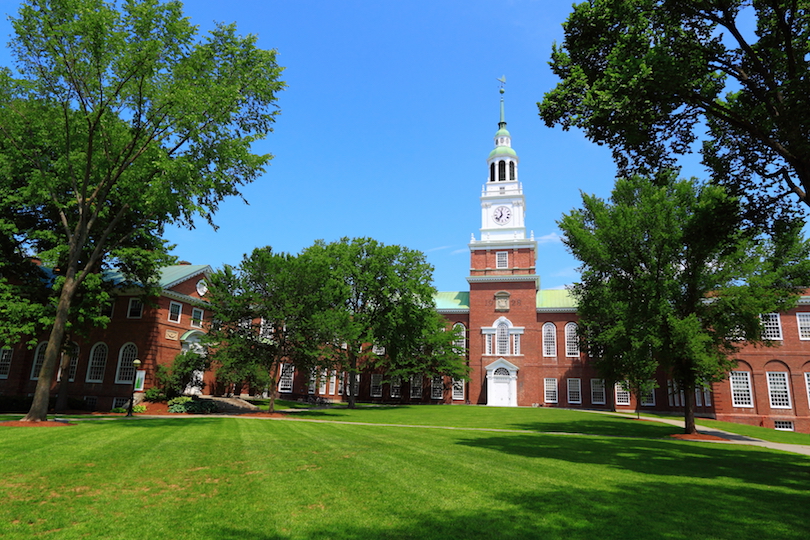 Lying on the banks of the Connecticut River, right opposite its sister city of Norwich in Vermont, Hanover is famed for being the home of the prestigious Dartmouth College. Much of life in town is dominated both by its campus and its sizeable student body.
One of the oldest higher education institutions in the whole of the U.S., the Ivy League college has some lovely old buildings for dotted around its green and spacious campus, with several great bars, cafes, and restaurants found around Main Street.
Other than visiting the college, there is not all that much to do in town, so visitors may want to hike along part of the Appalachian Trail that runs through Hanover.
6. Concord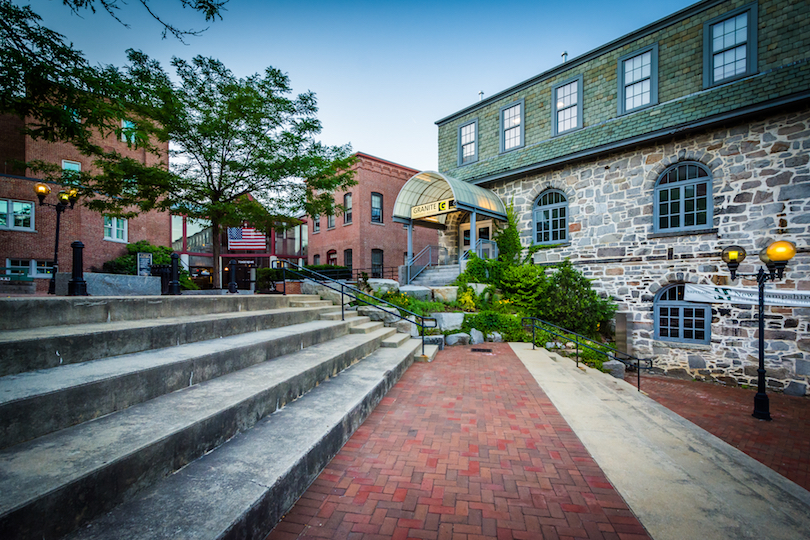 The capital of New Hampshire, Concord, is a charming place to spend some time. Its magnificent State House is undoubtedly the highlight of what is on show. Built in a Greek Revival style, the facade of the building is certainly very eye-catching, especially when its golden dome sparkles in the sun. The State House takes its pride of place on the city's bustling Main Street.
Around this historic area, you can find a number of elegant old buildings, all built out of the same tough-looking granite, as well as lots of cozy cafes, shops, and restaurants. Due to its proximity to both the Canterbury Shaker Village and Manchester, it is well worth combining your visit to Concord with a trip to either location – or any one of the lovely state parks that lie nearby.
5. Mount Washington State Park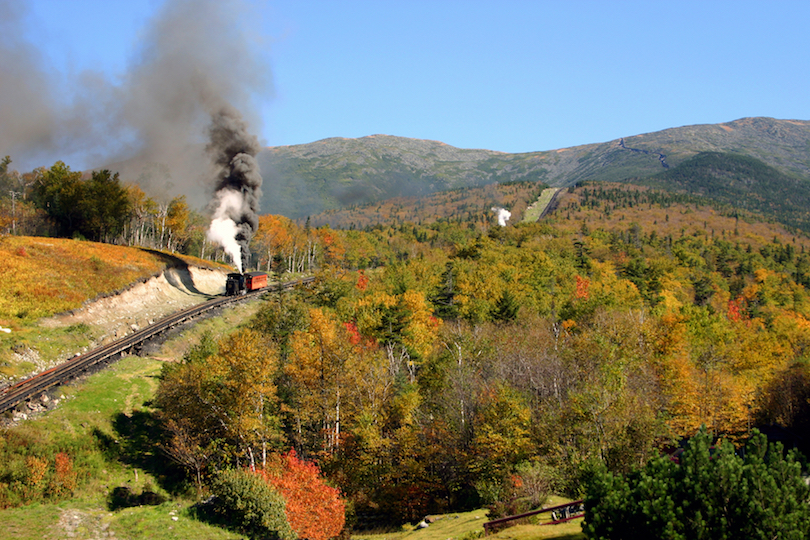 Named after the majestic peak that lies at its heart, Mount Washington State Park is full of magnificent scenery. Nature lovers and outdoor aficionados will revel in all that it has to offer. The highest mountain in the northeast of the States, Mount Washington towers to a height of 6,288 feet (1,916 meters).
Its summit contains an observatory of the same name and an accompanying museum, as well as a cafeteria and gift shop. The views from its peak of the surrounding mountains and forests are simply breathtaking. After drinking in the scenery to your heart's content, there are lots of paths and trails that snake their way down the mountainside for you to explore.
4. Portsmouth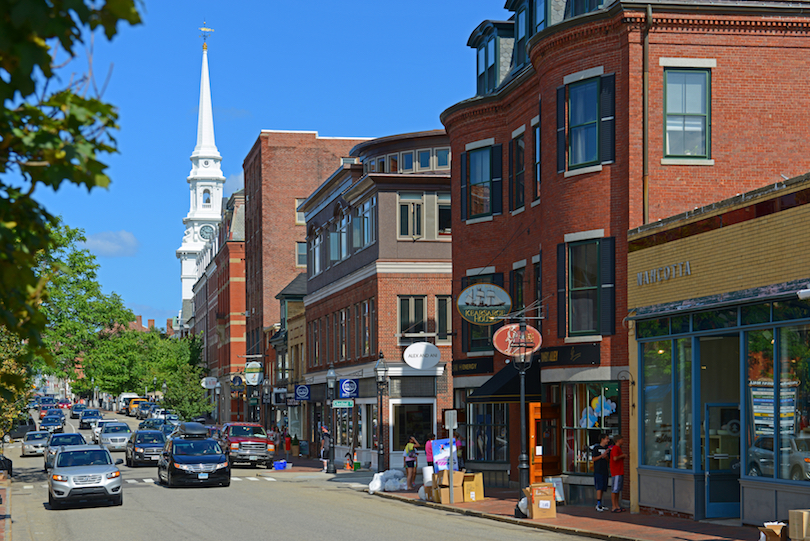 Lying at the mouth of the Piscataqua River just a few kilometers inland from the Atlantic Ocean, Portsmouth is home to a bustling seaport and is the third-oldest city in the whole of the States.
As such, there are loads of fascinating historic sights and cultural landmarks for you to check out around town. Elegant, tree-lined avenues lined by beautiful old colonial buildings make up much of its center.
With several interesting museums also on offer, alongside some fantastic microbreweries, Portsmouth is an intriguing mix of old and new. The vibrant feel about its streets is simply intoxicating as the city thrums with life.
3. Manchester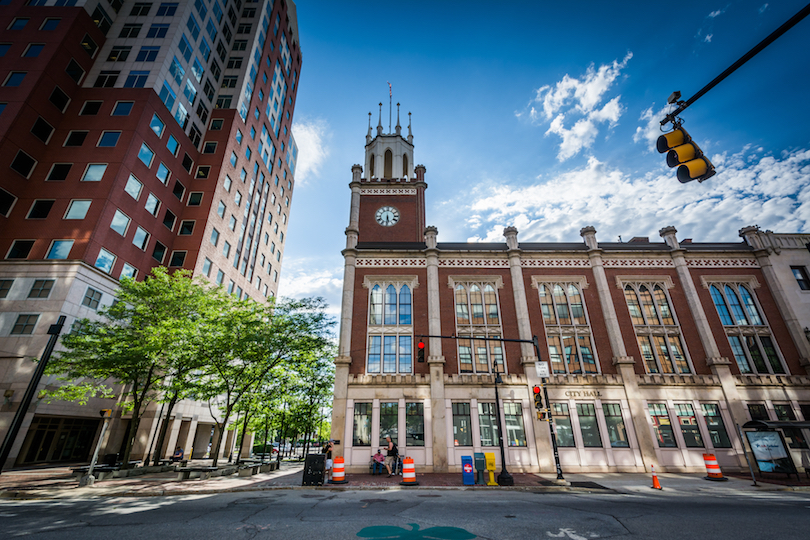 The largest city in the state, Manchester is a vibrant place to visit and has the most going on in terms of arts and culture, entertainment, and sports in New Hampshire. As such, it attracts many visitors from both near and far.
Its convenient location near to both Boston and the Atlantic Ocean – as well as Lake Winnipesaukee and the White Mountains National Forest – makes it a great base from which to explore the region.
The revitalized mill town has a multitude of shops, restaurants, and bars for you to sample, while the Currier Museum of Art is well worth a visit; its fantastic collection includes works by Monet, Picasso, and Matisse.
Other interesting and educational institutions include the Amoskeag Fishways Learning and Visitors Center and the Manchester Historical Society Millyard Museum – both of which teach you more about local life in the area. With so much going on, it is well worth spending a couple of days in Manchester to take in the atmosphere, see the sights, and explore the surrounding region.
2. Lake Winnipesaukee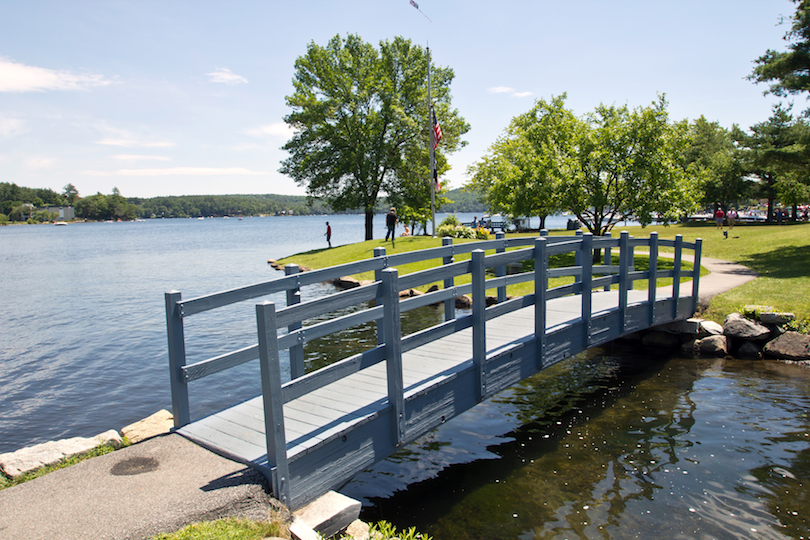 Bewitchingly beautiful to behold, Lake Winnipesaukee is the sixth-largest lake in the U.S. Its rugged and indented coastline is lined by wonderful forests, with scenic bays and charming towns dotted here and there. A very popular tourist destination, Lake Winnipesaukee has a wealth of great water sports for visitors to enjoy. Swimming in the lake or going sailing around its many, many islands are favorite pastimes among both locals and tourists.
Alternatively, you can simply relax on one of the lake's many beaches or go on a peaceful hike along its scenic shore to take in the astounding views. Lying at the heart of New Hampshire's Lakes Region, Lake Winnipesaukee is not far from many other beautiful lakes and natural sights, so holidaymakers will never be found wanting for something to do.
1. White Mountain National Forest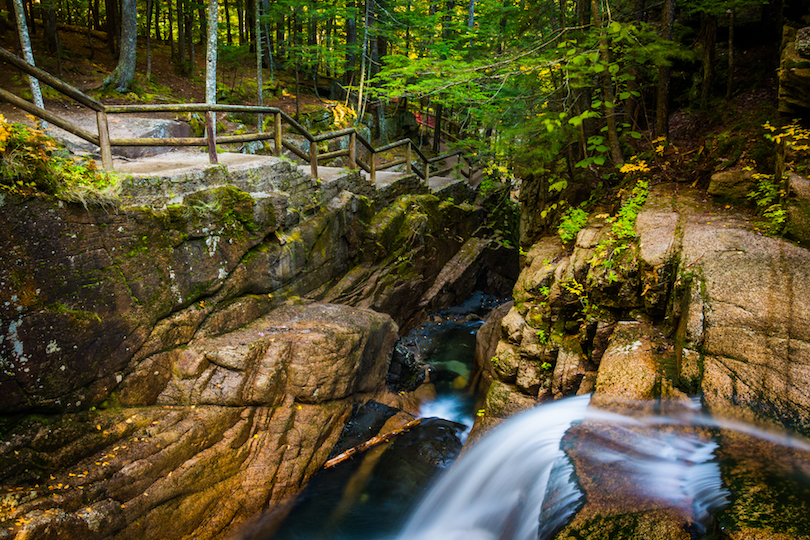 One of the most popular attractions in the whole of New Hampshire, White Mountain National Forest is an absolute delight to visit, with some simply stupendous scenery for you to enjoy. With a number of mountain ranges, such as the Presidential Range and Sandwich Range, winding through the never-ending forest, there are loads of majestic peaks, as well as a plethora of unique fauna and flora.
Hidden away among the dense foliage are moose, black bears, and bald eagles, along with many more diverse species. Camping overnight in the national forest is a great way to really immerse yourself in the magnificent nature all around you.
As well as the Appalachian Trail that winds its way through the mountains and forests, there is a multitude of other great trails and paths for you to explore. A particularly delightful time of year to visit is during fall when all the foliage transforms into a magical array of yellows, reds, and oranges.
Map of the Best Places to Visit in New Hampshire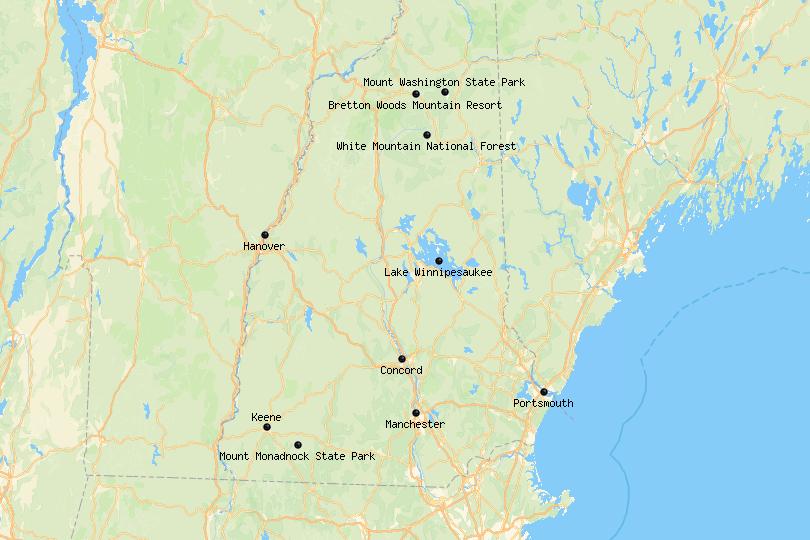 © OpenStreetMap © MapTiler © Touropia