This bustling city is the largest in New Hampshire. It has a bit of everything, outdoor adventure, great museums, and a fascinating history. The city accommodates all kinds of visitors, from solo travelers to families.
Explore the lively downtown area of Manchester and enjoy the city's fabulous parks on a sunny afternoon. Go rock climbing at Rock Rimmon, or quietly contemplate the stunning art pieces on display at the Currier Museum of Art – there's a real variety of things do in Manchester for you to enjoy!
Enjoy some peace and quiet exploring Lake Massabesic on a sunny afternoon; the scenery and wildlife are spectacular in every season. If you want to find out more about the history of Manchester then don't skip a trip to the Millyard Museum, they've got information and relics that go back thousands of years.
In this post, we'll cover:
14. Climb Rock Rimmon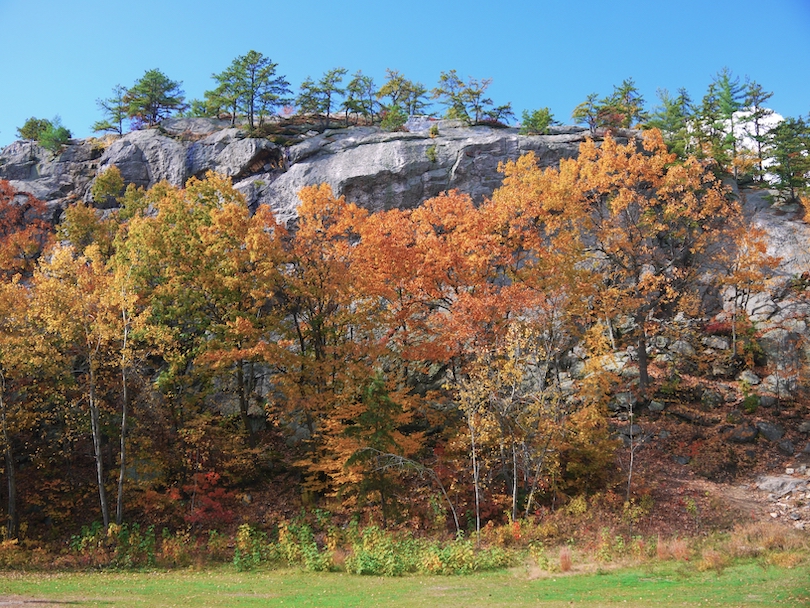 The massive Rock Rimmon is in Manchester's largest park. You can rope climb, boulder, lead climb, or free climb your way up the rock year round, but make sure you know what you're doing, climbing can be dangerous!
You'll have panoramic views of the city once you get to the summit, and a sense of accomplishment is sure to follow. Outdoor climbing is such an adrenaline rush, and it is not often you can do it in a city!
If you don't fancy climbing but you want to explore the park, take a short hike to the top of Rock Rimmon or enjoy the other activities on offer, like the playground and various courts.
13. SNHU Arena
The SNHU Arena in Manchester has a bit of everything. From hockey matches and music concerts, to shows like Disney on ice and basketball matches. It's hard to predict what they´ll have next – there are always a lot of events to choose from!
Some exciting upcoming events on the calendar include music concerts with known artists like Seether and Greta Van Fleet, and crazy events like Monster Jam and the United States Strongman Nationals!
You can get all your food and drinks there, including snack favorites like popcorn and pretzels. The atmosphere, alongside some of the best entertainment in the city, makes for a very lively night out in Manchester.
12. Granite State Escape
This popular escape room in Manchester will put your bravery, problem solving, and stress management to the test! There are different themed rooms you can choose from, some are scarier than others (best avoided if you're coming with little kids).
Think outside the box to solve each piece of the puzzle, and show off your detective skills to your friends or family at the same time. Try to beat the clock, or get locked in forever!
If you've got a free afternoon to kill in Manchester then why not give it a go? You can find the granite State Escape along Elm Street, right by the Veteran's Memorial park.
11. Aviation Museum
John Phelan / Wikipedia
The Aviation Museum doesn't just have great artifacts and exhibits related to aviation, they also have the 1937 art deco terminal building that served as the main terminal building of Manchester until 1962, though it served as a US army air force base for WWII during the 1940s.
The building was set to be demolished, but it was saved and moved to its current spot. The museum was built alongside it.
One of the most famous exhibits is the Doodle Bug, the first fire plane made in New Hampshire. Its famous Shake Jake engine is on display, allowing you to get up close to the inner workings of this iconic plane.
10. Mall of New Hampshire
John Phelan / Wikipedia
Forgot your favorite shirt? Heading to an unexpected event and don't have anything to wear? Head to the Mall of New Hampshire and shop till you drop. Come with some friends and make a day of it!
There are lots of fashion outlets, jewelers, shoe shops, and even some tech shops. So if you need to replace a broken charger or buy a new phone, you can head to the Apple store.
The mall is in the Lower South Willow neighborhood, just ten minutes drive away from downtown Manchester.
9. McIntyre Ski Area
Fancy a day in the snow? Head to the McIntyre Ski Area, rent your kit there, and hit the slopes. You can ski or snowboard the day away. This is the perfect place to come with family or friends. There are slopes for every level!
Another fun activity you can do here is tubing! See how fast you can slide down a snowy hill in an inflated rubber ring. The fun is endless! Once you're done, head to the bar and grill for a hearty meal and a cold beer.
And the best part is you can go on your winter adventure without ever leaving Manchester city. That's right, the McIntyre Ski Area is less than a ten minute drive away from downtown Manchester.
8. Zimmerman House
This modern looking bungalow was designed by Frank Lloyd and built in 1950 for the Zimmerman couple. They lived happily in this home, and even wrote to Lloyd declaring that they had "the most beautiful home in the world", for 36 years.
The home now belongs to the Currier Museum of Art who maintain the property and opened it up to the public. Come and explore the unique architectural design of the Zimmerman House, as well as the private art collection left behind by the Zimmermans.
A good activity for a rainy day, the property won't take too long to explore. It is on Ash Street, not far from other popular attractions.
7. Northeast Delta Dental Stadium
You can't go to a popular city in the US and not watch a match in a big stadium. The energy at sports events is invigorating. This particular stadium is the home of the New Hampshire Fisher Cats, and has been since it opened in 2005.
It is modern, big, and welcoming. The ballpark also has a bar and restaurant where you can get a greasy burger and a cold beer before the match starts.
The ballpark has a 6,500 person capacity, but has been known to squeeze in up to 8,903 fans for bigger events. Don't miss out on the chance to cheer with the locals and meet other sports enthusiasts!
6. SEE Science Center
Kelly Verdeck / Flickr
Looking for something to do on a gray day with the kids? Look no further! The SEE Science Center combines learning with fun through hands-on science exhibits that are engaging for all ages.
The kids can test out their science knowledge designing experiments and playing with real life science apparatus – all whilst having a laugh. This is the kind of place that inspires our future generation of scientists!
It is conveniently located in downtown Manchester, so you can pop in for the morning and then spend the afternoon exploring all the other attractions nearby.
5. Millyard Museum
TheTurducken / Flickr
Looking to find out more about the history of this incredible city and the surrounding area? Then the Millyard Museum is the place to come. There are endless facts and exhibits that immerse you in the past of the region.
From the first Indigenous communities who settled at Amoskeag Falls some 11,000 years ago, through the industrial revolution when the textile industry and agriculture in the area began to take off, to today's modern day Manchester. You can learn about it all at the Millyard Museum.
Head down to the corner of Pleasant Street and find out all there is to know about this wonderful city. You'll have plenty of facts to tell everyone back home by the time you leave!
4. Lake Massabesic
The word Massabesic translates from Native American to "the place of much water". This lake is more than just a beautiful spot where you can spend a tranquil day recharging, it is also a major supply of drinking water for the local community.
Come and enjoy the quiet hiking trails around the lake and stop for a peaceful picnic. Spend some time in nature disconnecting, and soak up the scenic lakeside views. The lake is gorgeous in every season, so you can keep coming back too! It is especially spectacular in the fall when the leaves turn different shades of golden orange and red.
The lake is just 15 minutes drive away from downtown Manchester. Quick and easy to get to, why not visit? Keep an eye out for wildlife!
3. Livingston Park
ihamr / Flickr
This city park has a lot of great facilities you can use, so put aside a few hours to make the most of your visit! There is a short and easy walking trail around the pond that everyone will enjoy, and playgrounds for the kids to play in.
The pond at the park, Dorr's Pond, turns into an ice rink in the winter and you can go fishing there in the warmer months. So if you've got a fishing pole bring it along!
There is an outdoor swimming pool, a soccer field you can have a friendly game on, and a running track; there is no excuse to not keep up with your exercise during your holiday! It is near downtown Manchester so you can head there in between museum visits and sightseeing.
2. Palace Theatre
The Palace Theatre is the place to come for an evening filled with live entertainment, laughter, and some quality time with friends and family. The theater has a fancy and old-fashioned feel to it, which isn't surprising since it was opened in 1891!
Grand and historical, it has been putting on musicals, theatrical dance shows, and hilarious theater productions that will have you in stitches for decades. Don't worry about missing out if you're coming with the kids, there are shows like Beauty and the Beast that are great for the whole family.
The Palace Theatre is in downtown, on Hanover Street, so there are lots of restaurants and bars just round the corner.
1. Currier Museum of Art
The museum was first opened to the public in 1929. Though the first exhibits were showcased at the former home of art enthusiasts Moody Currier and Hannah Slade, who unfortunately passed away before their dream of opening the art museum came to life.
Since then it has been renovated and expanded on several occasions. Their permanent exhibit is now made up of more than 15,000 pieces of art. It's hard to believe the museum had such humble beginnings.
You'll get to explore art in all its forms, from photography to architecture, during your time at the museum. And if you fancy giving any of them a go you can try out one of their art classes before you leave Manchester.
Map of Things to Do in Manchester, NH