From its towering skyscrapers to the sweeping arc of its expansive lakeshore, there's a feeling of confidence and pride that radiates from the landmark features of Chicago and from the faces of the city's inhabitants as well. The Windy City embodies the values of the American heartland, and a trip to Chicago offer visitors the chance to see what an American city can accomplish through hard work and determination.
There is a wealth of not-to-be-missed tourist attractions in Chicago, many of which offer unique perspectives of the city's memorable skyline. As it is set on the shores of Lake Michigan, the city also has a wonderful waterfront to enjoy with lovely lakeside parks lying alongside an attraction-packed pier. With so many different sides to it and so much things to do in Chicago, the third-largest city in the United States is definitely worth a visit.
20. North Avenue Beach
[SEE MAP]
© Dreamstime
Widely considered to be Chicago's best beach, North Avenue is a popular place to go swimming and sunbathing with countless amenities to be found nearby. Lying along the shores of Lake Michigan, its golden sands are located within Lincoln Park, just a short drive north of the center.
Dotted with piers that keep the sand in place and create its scallop-shaped shoreline, North Avenue Beach has lots of volleyball courts as well as a path to run, cycle, or rollerblade along. In addition to a bar and restaurant, the beach offers up phenomenal views of the city's skyline and hosts several large festivals and events each year.
© Dreamstime
Set just twenty minutes' drive to the south of the center is the fantastic Robie House which exhibits some exquisite and uniquely American architecture. Now a National Historic Site, it is located on the campus of the University of Chicago with tours taking you all around its attractive interior.
Designed by the renowned architect Frank Lloyd Wright, the beautiful building was erected in 1909 and is one of the best examples of Prairie-style architecture. Perfectly complementing the strikingly sharp angles and horizontal lines of its exterior are the fine furnishings, period pieces and colored art-glass windows that lie within.
© Dreamstime
Once an elevated railway track, the Bloomington Line now instead forms the backbone of he 606 – a linear park and trail network. Stretching just over four kilometers in total, it is a very pleasant and picturesque place to walk, run, or cycle along, connecting numerous parks and parts of the northwest side of the city together.
After being abandoned and overrun with weeds, the more than a century-old railway line was finally converted into a greenway in 2015. Nowadays, pretty flowerbeds, trees, and shrubs line its paved path with commanding views to be enjoyed out over the city as you go.
17. Chicago Water Tower
[SEE MAP]
Designed by architect William Boyington, the 47 meter (154 foot) tall turreted Chicago Water Tower once played a critical role in the city's water system. In 1871, a fire that began in a barn owned by Patrick and Catherine O'Leary quickly spread and destroyed the city's entire business district.
One of the few surviving structures of the infamous Great Chicago Fire, the Chicago Water Tower is a symbol of the city's resilience. Today, the beautiful limestone structure is home to the City Gallery, which exhibits works by local artists and photographers.
16. Maggie Daley Park
[SEE MAP]
© Dreamstime
Another scenic spot to spend some time is the magnificent Maggie Daley Park which lies within the Loop and is connected to Millennium Park by a pedestrian bridge. Packed with playgrounds, picnic areas, and lush green spaces, it is a very family-friendly place to visit with even climbing walls and a mini-golf course on offer.
Named for Maggie Daley, the former first lady of the city, the park was re-imagined, redesigned and reopened in 2015. It now has six play areas for kids to explore with the animal-themed Watering Hole lying alongside the boats of the Harbor and the twisting walkways of the Enchanted Forest.
15. Chicago Theatre
[SEE MAP]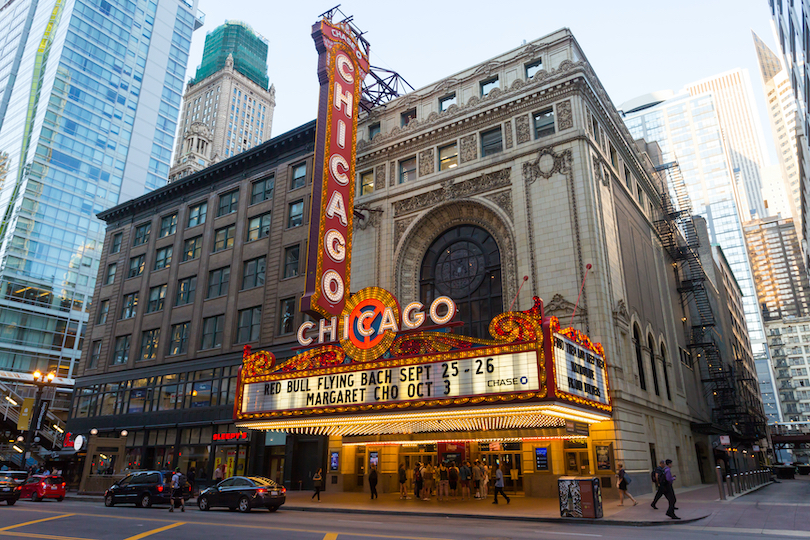 © Dreamstime
Just a short stroll from the park you can find the iconic Chicago Theater which puts on everything from concerts and plays to magic shows, stand-up comedy, speeches, and sporting events. Instantly recognizable thanks to its illuminated six-story sign, the opulent theater certainly is a memorable and magical place to attend an event.
Built in 1921, it boasts a breath-taking neo-baroque interior with its grand lobby and galleries being based on the Palace of Versailles. Its cavernous auditorium is just as spectacular as glittering crystal chandeliers light up the marvelous murals and gilded decorations that adorn its walls and ceilings.
14. Lincoln Park Zoo
[SEE MAP]
© Dreamstime
Home to an incredible array of animals, Lincoln Park Zoo lies just a short drive to the north of the center within the sprawling park of the same name. A firm favorite with locals and tourists alike, it has countless expansive exhibits and enclosures for you to explore which focus on different animals and ecosystems from around the world.
One of the oldest zoos in North America, it was impressively founded in 1868 and now houses over 1,100 animals in total. As well as rhinos, hippos, and gorillas, you can also spot penguins and polar bears with its historic Kovler Lion House being enduringly popular.
13. Museum of Science and Industry
[SEE MAP]
© Dreamstime
Remarkably the largest science museum in the Americas, the Museum of Science and Industry lies at the north end of Jackson Park. Such is its size that guests could spend days if not weeks exploring its exhibits which include everything from trains and planes to a captured German submarine and full-size replica of a coal mine.
Opened in 1933, its huge collection is housed in the former Palace of Fine Arts which was built to host the 1893 World Expo. While some sections look at anatomy or genetics, others focus on the evolution of industry and transport. With mock tornados and science experiments to try and over 75 halls to peruse. This amazing museum is definitely not to be missed.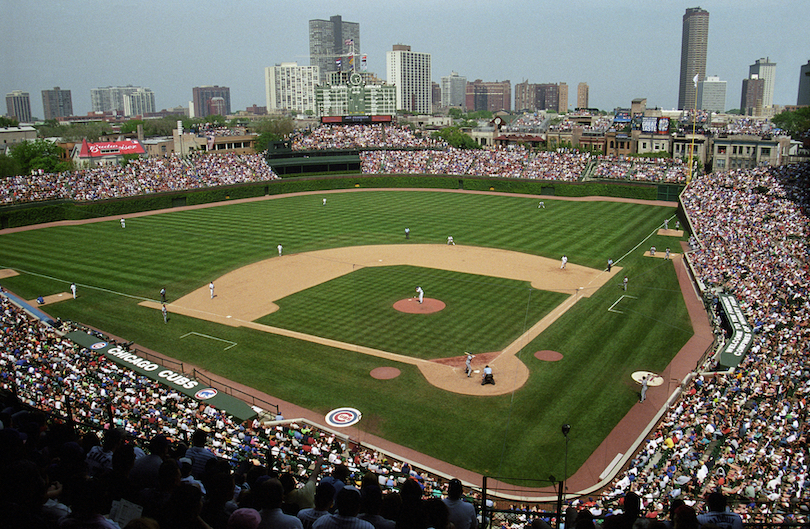 © Dreamstime
If you're after a fun and unforgettable experience, then you can't beat watching the Chicago Cubs play baseball at the hallowed Wrigley Field. The second-oldest ballpark in the nation after Boston's Fenway Park, it is located on the North Side of Chicago, just fifteen minutes' drive from the center.
Named after the chewing gum magnate, it was built in 1914 and still has a lovely old time and look and feel. As well as its ivy-covered outfield walls, the park is famed for its hand-turned scoreboard and iconic entrance. Besides watching an exhilarating and atmospheric game, you can also take terrific tours that teach you about the team and field's history.
11. Lakefront Trail
[SEE MAP]
© Dreamstime
Winding its way along the western shore of Lake Michigan is the popular and picturesque Lakefront Trail which stretches thirty kilometers in length. As well as connecting Chicago's massive lakeside parks to its many beaches and countless tourist attractions, the paved path offers spellbinding views over both the lake and the city's skyline.
Starting at Edgewater Beach on North Side, the path makes its way to South Shore on the opposite side of town, passing through Millennium Park and the Magnificent Mile as it goes. Besides its epic scenery and sights, the trail is also perfect for walking, running, cycling, or skating along.
warriorwoman531 / Flickr
Located in the same lakeshore Museum Campus as the Field Museum, the John G. Shedd Aquarium is home to more than 1,500 species of sea life, including 32,500 fish, as well as an array of birds, insects and amphibians. Completed in 1930, the aquarium gets more than two million visitors each year, making it one of the most-visited aquarium in the United States.
Exhibits are organized in themed areas such as the "Caribbean Reef" and the award-winning "Amazon Rising." The Oceanarium, which features dolphins and beluga whales, is one of the aquarium's most popular exhibits.
9. Field Museum of Natural History
[SEE MAP]
davidwilson1949 / Flickr
The Field Museum of Natural History owes its existence to the World's Fair that was held in Chicago in 1893. Originally designed as way to showcase exhibits from the Fair, the museum quickly evolved into a collection of natural history artifacts and exhibitions.
The collection was moved to its current location in Grant Park in 1921 and is part of the Museum Campus. Exhibits range from a taxidermy collection of large animals such as African elephants to an extensive collection of Native American artifacts. A 12 meter (40 foot) long Tyrannosaurus skeleton is the most popular exhibit out of the museum's millions of specimens, and many visitors wouldn't feel that their trip to Chitown is complete without viewing the dinosaur known as "Sue."
8. Buckingham Fountain
[SEE MAP]
© Dreamstime
Located in Grant Park, the Beaux Arts-style Buckingham Fountain was designed by architect Edward Bennett after the Latona Fountain at Versailles. The font is famous for its grand size and for the height of its spray, which can reach as high as 15 stories.
The fountain's four water-spouting sea horse statues are said to represent the four states that surround Lake Michigan, while the fountain's pool symbolizes the lake itself. The fountain was donated to the city by Kate Sturges Buckingham, a patroness of the arts who inherited her family's massive fortune at the age of 32.
Known as "Chicago's Grandest Spinster," she bequeathed the Buckingham Fountain to Chicago as a memorial for her brother in 1927 and established a trust fund for the fountain's continuous operation as well. A famous Chicago landmark, the fountain was featured in the title sequences of TV shows Married with Children and Crime Story.
7. 360 Chicago Observation Deck
[SEE MAP]
© Dreamstime
While the Lakefront Trail offers up some delightful views from below, the 360 Chicago Observation Deck boasts simply unbeatable views from up high. From the 94th floor of what was once known as the John Hancock Center, guests can gaze out over not just the city's skyline and Michigan Lake but the Magnificent Mile too.
Beside basking in breath-taking panoramas which reach up to ninety kilometers on a clear day, you can also enjoy a drink in the supertall skyscraper's bar. As if the stupendous sunsets weren't enough, brave visitors can also try TILT – a thrill ride which tilts so you can enjoy views of the city's streets, 300 meters directly below.
© Dreamstime
No other feature better illustrates the character of Chicago than the waterway that runs through the city. In 1900, the city completed an incredible engineering project: reversing the flow of Chicago River. Through the installation of a series on canal locks, the water was directed to empty into the Mississippi River instead of Lake Michigan.
Today, the mile-long pedestrian Riverwalk that runs along the south bank of the river as it winds through the downtown district offers visitors a lush green space where they can stroll and take in the sights of the city. River cruises are available that offer visitors historical insight about the city's most-celebrated landmarks.
vincent desjardins / Flickr
Long before it opened, Millennium Park had become notorious for delays and cost-overruns, missing its titular date by a wide margin. However, when it was finished, the biggest shock of all came when it turned out to be quite nice.
Aside from plenty of grass and open space, it has modern sculptures in steel and glass, including Chicago's newest must-photo for visitors, The Bean (properly known as Cloud Gate), and the Frank Gehry-designed Pritzker Pavilion for outdoor concerts. An ice rink accommodates skaters in the winter and serves as an open-air restaurant in the summer.
4. Art Institute of Chicago
[SEE MAP]
© Dreamstime
As it is one of the oldest and largest art museums in the States, the world-renowned Art Institute of Chicago really is not to be missed. Housed in a beautiful Beaux-Arts building that was built for the 1893 World Expo, its extensive exhibitions and galleries can be found in the ginormous Grant Park.
Founded in 1879, its captivating collection includes everything from masterpieces by Magritte and Monet to Renoir, Rembrandt, and Picasso. While it is particularly known for its Impressionist and Post-Impressionist paintings, the museum also houses artefacts and artworks from as far away as Africa and Asia. Two of its most famous American works are Grant Wood's American Gothic and Edward Hopper's Nighthawks.
thomas.merton / Flickr
While some may argue that the skyscraper, renamed Willis Tower in 2009, has lost a bit of its swagger since it lost its status as the world's tallest building, the Sears Tower remains one of the most popular tourist destinations in Chicago.
Completed in 1973, the 108-story structure features some of the fastest elevators in the world, covering as much as 1,600 feet per minute. A 70-second ride takes visitors to the 103rd-floor Skydeck where they can feel the building sway beneath them on a windy day. The Skydeck offers of sweeping views of Lake Michigan and glimpses of the states of Michigan and Wisconsin beyond.
© Dreamstime
Another of Chicago's must-visit sites is the incredible Navy Pier which juts into Lake Michigan and offers up all kinds of fun and family-friendly entertainment. Lined with carnival rides, gardens, and an endless array of enticing attractions – the kilometre-long pier has something for everyone to enjoy with countless restaurants and shops also dotted about.
While wandering along the pier, you'll come across everything from theaters and museums to public plazas and performance spaces with lots of cultural events and festivals held here over the course of the year. On top of this, there is a towering Ferris wheel and historic carousel to try as well as mini-golf and sightseeing cruises.
1. Magnificent Mile
[SEE MAP]
Bert Kaufmann / Flickr
One of the best places to shop in the world, the Magnificent Mile is home to an incredible number of department stores and luxury retailers with several multi-storey malls also dotted about. Stretching from Oak Street to the Chicago River, this gleaming section of Michigan Avenue is the place to go if you want to shop until you drop.
Towered over by massive skyscrapers and iconic buildings such as the Chicago Water Tower and Wrigley Building, the upscale area was given its nickname by real estate magnate Arthur Robloff back in the '40s. In addition to all its unique boutiques and designer shops, the 'Mag Mile' has lots of excellent restaurants and luxury hotels for visitors to enjoy.
The "Mag Mile," as its sometimes called, also provides access to many of the numerous landmarks and tourist attractions in Chicago, including the Museum of Contemporary Art, the Wrigley Building and the Chicago Water Tower.
Map of Tourist Attractions in Chicago
© OpenStreetMap © MapTiler © Touropia