While it is mostly known for being home to the humongous Woodfield Mall, the Chicago suburb of Schaumburg has much more going for it. Besides all the shopping center's hundreds of shops and restaurants, it has lots of exciting tourist attractions, shows and nature spots for visitors to check out.
Regularly ranked among the best places to live in Illinois, it lies just half an hour's drive northwest of the Windy City's bustling downtown. Although it is administratively still considered a village, the small city acts as an important economic hub for the Golden Corridor with numerous big businesses being based in town.
Residents and out-of-towners alike benefit from all its outstanding public amenities and parks with O'Hare International Airport also lying nearby. Thanks to its handful of superb performance venues and fun, family-friendly attractions, Schaumburg makes for a great place to spend some time.
11. Prairie Center for the Arts
Grahamalonian / Wikipedia
Just a stone's throw from the center of town is one of the area's top entertainment venues: the Prairie Center for the Arts. At the intimate and atmospheric theater, locals and tourists alike can enjoy fantastic performances with concerts, plays and musicals taking place all the time.
First opened in 1986, the small arts center occupies a modern building overlooking a reflective lake and gorgeous green park. While all its seats offer up perfect views of the stage, the venue's excellent acoustics also make it a great spot to catch a thrilling gig, play or dance show.
In summer, it puts on all kinds of wonderful concerts, performances and community events outside with youth choirs and orchestras performing alongside international acts.
10. Trickster Art Gallery
Trickster Art Gallery
A fascinating place to visit, the Trickster Art Gallery shines a light on the rich history and culture of the region's Native Americans. On top of exploring all its artworks and exhibits, you can stop by its shop or attend a cultural show with it also containing a play area for kids.
Set right in the heart of the city, its big white building dominates one side of the Schaumburg Town Square with green grounds lying all around it. Across the cultural center's two sizeable floors, you can find countless old artifacts and impressive artworks. While some exhibits focus on the traditions of various tribes, others share Native Veterans' stories and recognize their military successes.
In addition to all this, the art gallery regularly hosts music nights and community dance shows with several splendid sculptures and public art pieces also being placed outside.
9. Schaumburg Township District Library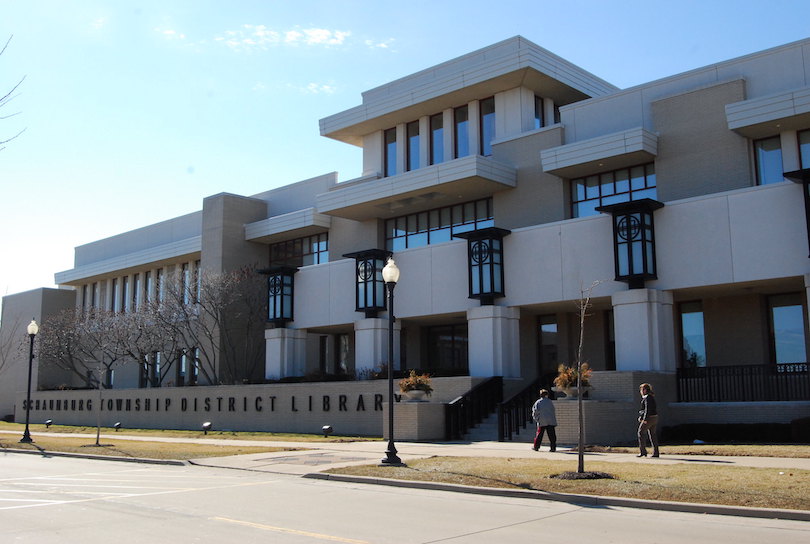 artistmac / Flickr
Located along one side of the scenic town square is the Schaumburg Township District Library: one of the most important institutes in the city. Here you can access the internet, check out books and sit and enjoy a drink at its snack bar while taking in the numerous public artworks dotted about.
Since being established in 1962, it has grown into the second largest public library in the state with other branches now also found in Hoffman Estates and Hanover Park. As well as its colossal collection of books, magazines and articles, the community can also make use of its well-equipped meeting rooms and quiet areas.
An interesting illustration gallery and glass sculpture by Dale Chihuly are also situated on-site, as are a large fireplace and enchanted area for children. To top it all off, the friendly and welcoming staff members will make you feel at home right away and help locate anything you're looking for.
8. Medieval Times
EarlRShumaker / Flickr
A fun and unforgettable show like no other, Medieval Times has long been a favorite of families in and around Schaumburg. While enjoying a sumptuous four-course feast, guests roar on armor-clad knights on steeds as they joust, sword fight and compete to win their queen's favor.
Instantly recognizable, its gigantic castle-shaped building and enormous indoor arena can be found on the northern outskirts of town. One of ten such venues across the country and Canada, the family dinner theatre is highly-rated for its scintillating spectacles and exciting horsemanship.
As you sit down to your delicious banquet and swill drinks from goblets, you cheer and boo knights while they gallop about, joust and battle. After having seen falcons swoop around the arena and met some of the talented performers, you can stop by the gift shop and tour around its torture museum.
7. Chicago Improv
Chicago Improv
Yet another awesome event to attend is a hilarious stand-up comedy night at the popular Chicago Improv. At its cool venue in the massive Woodfield Mall, you can watch top-class acts and hysterical headliners with up-and-coming comedians also honing their skits on stage.
While waiting for the show to start, guests can grab a bite to eat at its restaurant or sit and sip a tasty cocktail at the trendy bar. From its countless tables and seats, you can clearly see the stage with the anticipation, excitement and atmosphere steadily building as show-time approaches.
Before your favorite entertainer takes the stage, a couple of warm-up acts get the crowd going with the superb sound and soft lighting only adding to the ambience. As you're almost guaranteed a good time, the Chicago Improv is certainly not to be missed when in town.
6. Chicago Athenaeum International Sculpture Park
A peaceful and picturesque spot, the Chicago Athenaeum International Sculpture Park lies just east of the city center. Scattered about its sprawling confines, you can find dozens of enthralling art installations tucked away amidst colorful flowerbeds and shady forests.
Set right next to the Prairie Center for the Arts, its pretty paths are a treat to amble along with lovely sculptures and thought-provoking pieces lining the route. While some striking statues depict various body parts and religious figures, others are more abstract. Strange shapes and silhouettes feature next to towering stone totems and wooden arches.
Lush lawns, flower-filled meadows and a tranquil little lake are also on show besides all the park's captivating creations and cool public artworks.
5. Septemberfest
H. Michael Miley / Flickr
One of the best times of year to visit Schaumburg is in fall when the loud and lively Septemberfest takes place. As well as excellent entertainment on three outdoor stages, it has a magnificent arts and crafts show, carnival and fireworks display to enjoy.
Held every September since 1970, its endless stands, stages and stalls now cover a huge area next to both the Prairie Center and sculpture park. Large crowds of locals and out-of-staters alike flock to the festival to take in the ambience, enjoy the free shows and see its float-filled parade.
Aside from perusing all its handmade crafts and sampling some tasty treats, you can play games at the fun fair and watch fireworks light up the sky on the last evening of the festival.
4. Legoland Discovery Center
David Wilson / Flickr
The highlight for many young visitors though has to be the Legoland Discovery Center. Its fantastic themed rides, play areas and 4D cinema lie just across the street from the huge mall at the Streets of Woodfield shopping center.
The ultimate indoor LEGO playground, its interactive activities, attractions and building areas have delighted young ones ever since it opened in 2008. Amazing animal models and a perfect replica of the local area decorate its floors with Kingdom Quest and Merlin's Apprentice being just a couple of its top rides.
Besides building and testing LEGO cars, you can slip down slides, build countless colourful creations and follow a fun quest trail. After all the excitement, you can either head to the site's shop or relax a bit at the cafe.
3. Schaumburg Boomers Stadium
If you're after yet still more entertainment, you can't beat watching an action-packed baseball game at the Schaumburg Boomers Stadium. Also known as Wintrust Field, it makes for a memorable day out with the hugely successful Triple-A team playing in the Frontier League.
Set just a short drive southwest of the center, the traditional-style ballpark was built in 1999 with all its seats offering up perfect views over the pitch. Plenty of food options are also dotted about while kids have lots of space to run about and play should they get bored between innings.
Thanks to the exciting action, affordable prices and numerous themed nights, cheering on the city's minor league Boomers has long been popular with families.
2. Spring Valley
After all the sightseeing, shopping and shows, it is well worth taking an afternoon to relax, unwind and immerse yourself in nature. At the scenic Spring Valley, you can hike along its picturesque trails and explore a nineteenth-century heritage farm.
Despite its proximity to downtown, the massive park's many meadows, woods and wetlands feel a world away from the center of Schaumburg. As you amble peacefully along its winding paths, you can often spy birds, deer and waterfowl with its outstanding nature center teaching you all about the area's fauna and flora.
In addition to an attractive arboretum and the fun Bison's Bluff Nature Playground, there are also all the historic buildings of the Volkening Heritage Farm to wander around. Its exhibits and costumed guides offer up a glimpse into what life was like for the rural German farm community in the 1880s.
1. Woodfield Mall
As it is by far the largest shopping center in all of Illinois, it is almost impossible to visit Schaumburg without stopping by the Woodfield Mall. One of the state's top tourist attractions, its almost endless site contains a simply staggering number of shops, restaurants and entertainment venues.
Since opening in 1971, it has expanded enormously with about 300 establishments and eateries now being located across its three vast floors. These include everything from brand-name stores and specialty shops to food court favorites and upmarket dining options.
On top of shopping til you drop, you can always sit and grab a coffee, go bowling or play games in the mall's large lounge. While younger ones will love the Legoland Discovery Center or Peppa Pig World of Play, adults will appreciate its laugh-a-minute comedy club.
Map of Things to Do in Schaumburg, IL