National parks are created to protect the Earth's most diverse ecosystems, magical landscapes, and incredible wildlife. And there are plenty of ways to explore these enchanting nature reserves, from the deepest valleys to the highest peaks and everything in between. Be it by trekking, mountain biking, rock climbing, or even kayaking, the choice is yours.
Whether you're looking to hike the glacial peaks of Patagonia, hunt for three-toed sloths in Costa Rica, or explore Indonesia in search of the rare Komodo dragon, there's a national park adventure waiting for you.
19. Ranthambore National Park
[SEE MAP]
Ranthambore National Park is one of the biggest and best-known parks in India. Located in the Sawai Madhopur district of south-eastern Rajasthan, this national park is famous for its royal Bengal tigers. It's one of the only parks in the region where you can spot these big cats in their natural habitat. The best sightings are between November and May.
But it's not just tigers you'll see here: Indian leopards, sloth bears, striped hyenas, and other interesting wildlife also call the park home. When you aren't wildlife watching, there are ancient ruins to be found scattered about the park, including a historic fortress overlooking the jungle. From its vantage point high above the treetops, you can spot serpent eagles and vultures at eye level.
18. Vatnajokull National Park
[SEE MAP]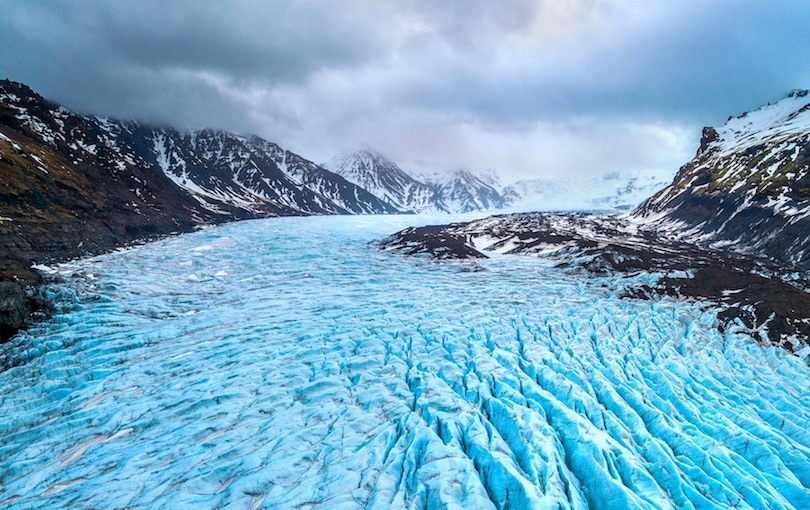 © Prakobkit / Dreamstime
Vatnajokull National Park is one of a trio of national parks in Iceland, characterized by spectacular glacial ice, impressive waterfalls, deep valleys, and still-active volcanoes.
The epic Vatnajokull glacier – the second-largest glacier outside of the Arctic – lies within its borders. In fact, enveloping two former national parks in the southwest and north of the country, it's the largest national park in Europe.
Visitors can explore the park every day of the year, and there are excellent facilities, including free toilets, free parking, and paid internet. There are plenty of ways to explore the park, so how you do it is up to you. There are guided treks, ice walks, guided skiing trips, and ice climbing, as well as snowmobiling, jeep safaris, and even sailing trips between the icebergs on the surrounding lake.
17. Manuel Antonio National Park
[SEE MAP]
Costa Rica is known for its exceptional wildlife, and Manuel Antonio National Park is one of its best. Located south of Quepos, it is Costa Rica's smallest park but one of the most popular. So popular, in fact, that authorities have had to restrict tourists from visiting on Mondays to allow the natural environment time to recover.
When you do visit on another day of the week, go early, because the park limits numbers and it gets very crowded. Spread across the jungle and encompassing four hiking trails and a series of beaches, the national park is known for its primate sightings. Keep your eyes peeled for sloths, squirrel monkeys, and white-faced monkeys in the trees.
16. Etosha National Park
[SEE MAP]
jonrawlinson / Flickr
The second-largest game reserve in Namibia, Etosha National Park means 'Great White Place.' This refers to the famous Etosha salt pan that lies within its borders, a popular place to spot animals, particularly in the water-scarce winter months. Animal sightings are common and exciting in Etosha. You may spot three of the world-famous Big Five – rhinos, lions, and elephants – as well as a variety of plains game, such as giraffes, zebras, gemsbok, wildebeest, and springbok.
Visitors can get around on a self-drive or a guided tour, but note that you are not allowed to step outside of your vehicle except in the designated camps, for obvious reasons.
15. Jiuzhaigou National Park
[SEE MAP]
Jiuzhaigou National Park – also known as the Jiuzhai Valley – is a scenic nature reserve in the Sichuan province of central China. It's named the 'Valley of Nine Villages,' after the nine ancient Tibetan villages found within the park. It's famous for its giant pandas and Sichuan Golden Snub-Nosed monkeys, but sightings in the park are extremely rare.
Most people visit for the many multi-storied waterfalls, impressive karst mountains, and hundreds of vivid lakes that shine every shade of blue, turquoise, and green. Don't miss the Five Color Pool – also known as the Jade Pool – for its magnificent, color-changing waters.
Long Lake, the largest and deepest in Jiuzhaigou, is one of the most photogenic. Surrounded by snow-capped peaks and forests, it seems to have been made to be photographed.
14. Torres del Paine National Park
[SEE MAP]
Torres del Paine National Park can be found in Chile's astonishing Patagonian region. Surrounded by steep snowcapped mountains, turquoise alpine lakes, and icy glaciers, it's truly a sight for sore eyes. Named after the three granite 'Towers of Paine' that are the main icon in the park, Torres del Paine is an alluring destination for intrepid hikers, kayakers, and mountain bikers.
There are several hiking circuits to choose from. The W Circuit is the best trek to start off with, taking around four to five days to complete. If you're feeling brave, then the longer O Circuit will be much more of a challenge, taking six to ten days in total.  Or you can simply relax with a leisurely kayak trip to the Grey Glacier – it's an incredible experience!
13. Plitvice National Park
[SEE MAP]
Croatia's extraordinary Plitvice National Park is home to some of the most beautiful attractions in Europe. A total of 16 interlaced lakes and forests are found within the park, spread across two sections of 12 upper lakes and four lower lakes. Depending on the angle of the sun and the minerals within the water, the lakes change from blue to green and everything in between.
Take your time tracing the hiking trails alongside the lakes and within the forests. Keep an eye out for wildlife, such as European brown bears, wolves, wild cats, and capercaillie. Bird watchers will be in paradise here with over 126 species of birds recorded in the park, including the large and unusual game bird known as a capercaillie.
12. Goreme National Park
[SEE MAP]
Welcome to Goreme National Park, a remote and colorful landscape made up of dramatic rock formations in Cappadocia in central Turkey. The scenery has been formed by thousands and thousands of years of water and wind erosion and includes everything from impressive rock towers to fairy chimneys.
Humans have lived in the valley since the 4th-century, when they started crafting a network of interconnecting underground tunnels and villages. These were hidden below ground level as a way to stay safe from Arab invaders. Today, exploring these still-lived-in underground communities is quite remarkable. They even include chapels, storerooms, and secretive homes carved into the rock.
11. Yosemite National Park
[SEE MAP]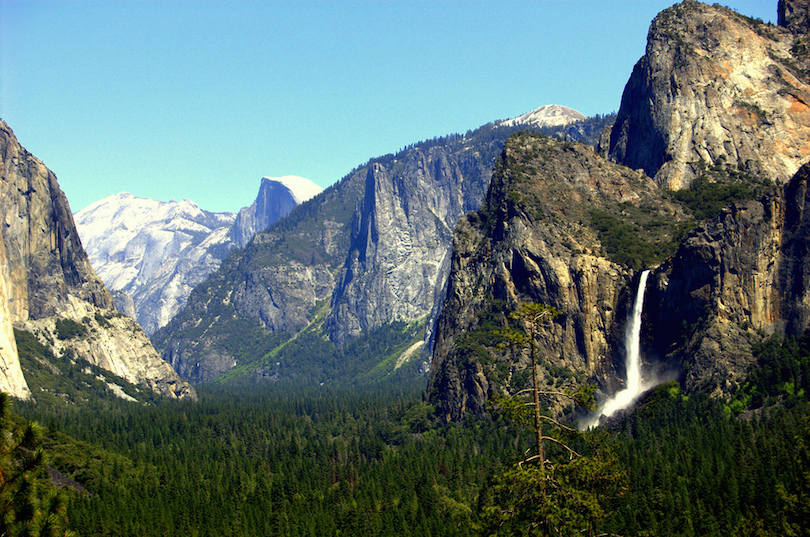 Dawn / Flickr
Yosemite is one of the most well-known national parks in the USA, and for good reason. It's truly extraordinary! Located in the Sierra Nevada Mountains in California, Yosemite boasts an unforgettable landscape of granite clifftops, cascading waterfalls, abundant lakes, trickling streams, and enormous sequoia groves – the largest trees on Earth. Tucked within the magical landscape, there are over 1,200 kilometers of hiking trails catering for all fitness levels.
Whichever route you take, aim to make your way eventually to Glacier Point for an exceptional view over the Yosemite Valley. If you don't feel like hiking, however, there are horse riding, rock climbing, skiing, and golfing opportunities here too. Not to mention 300 species of vertebrate animals – 85 of which are mammals that are native to the area. With over 150 bird species for avid bird watchers, you won't want to forget your binoculars!
10. Kakadu National Park
[SEE MAP]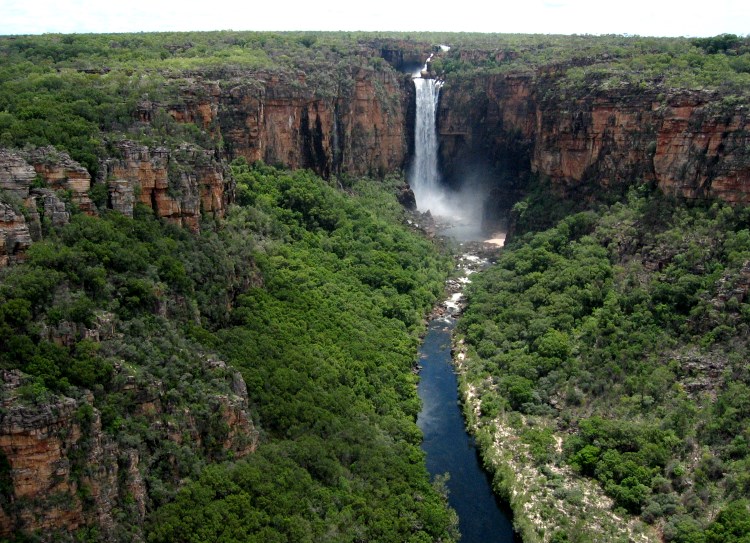 Nigel Malone / Wikipedia
Kakadu National Park is the largest national park in Australia – so vast that you'll need at least a week to do it justice. It's a fantastic place to immerse yourself in the nature-based activities and fascinating aboriginal culture. Among the coastal wetlands, woodlands, and wilderness, there's a wealth of exceptional wildlife to be discovered, including nearly a fifth of all of Australia's mammals!
Fishing enthusiasts can enjoy fishing for the barramundi, and those with a love for bird watching will meet their match, with millions of birds calling the park home. Take your time exploring the host of aboriginal rock art sites in the park, such as Ubirr and Nourlangie Rock that date back hundreds and even thousands of years.
9. Canaima National Park
[SEE MAP]
Forming the gateway to Angel Falls in the Gran Sabana region of Venezuela, Canaima National Park is one of the largest national parks in the world. Known for its tabletop mountains, waterfalls, and grassy savannahs, it's one of the most popular hiking destinations on the continent.
Many visitors come here to take the popular two-night, three-day hike and canoe trip to the base of Angel Falls. There's so much to see along the way: three-toed sloths, poison-arrow frogs, pumas, capybaras, and hundreds of species of orchid call the park home.
Or head into Monte Roraima, a different area of the park, for a longer four to eight-day trek from Paraitepuy village. The top of the mountain stands on the border of Venezuela, Brazil, and Guyana!
8. Komodo National Park
[SEE MAP]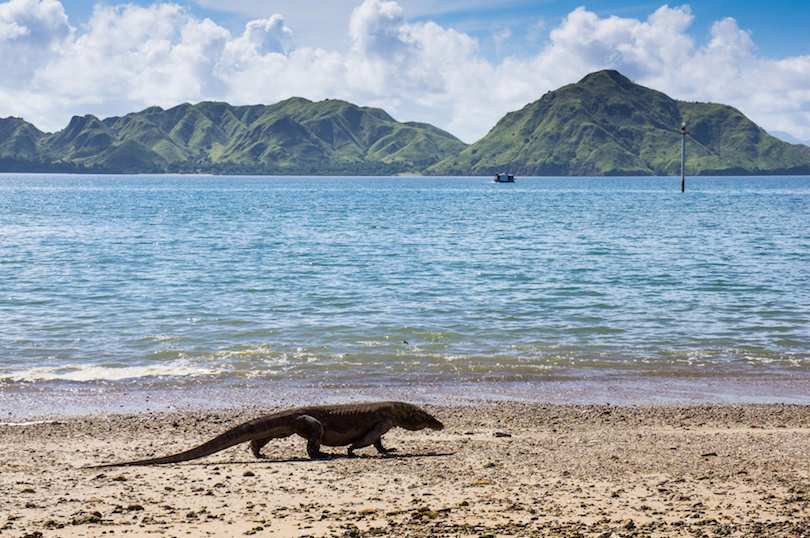 Komodo National Park in Indonesia encompasses three major islands: namely Komodo, Rinca, and Padar, as well as a series of smaller islets. As you may have already guessed from the name, the park is known for its population of Komodo Dragons – the largest living lizard in the world. To give you an idea of its size, it can grow up to three meters in length and weigh over 70 kilograms!
But you'll also spot wild horses, water buffalo, long-tailed macaques, Timor deer, palm civets, and wild boar here. Offshore, the park encompasses some of the richest marine habitats in the world, with over 260 species of coral and a kaleidoscope of sponges, crustaceans, and bony fishes.
Manta ray, sea turtle, and shark sightings are common for divers and snorkelers, but you may even spot dolphins and whales from the shore or from a kayak or SUP. If you've got your PADI, don't miss the Pygmy seahorse dive site – it's one of the best in Indonesia!
7. Kruger National Park
[SEE MAP]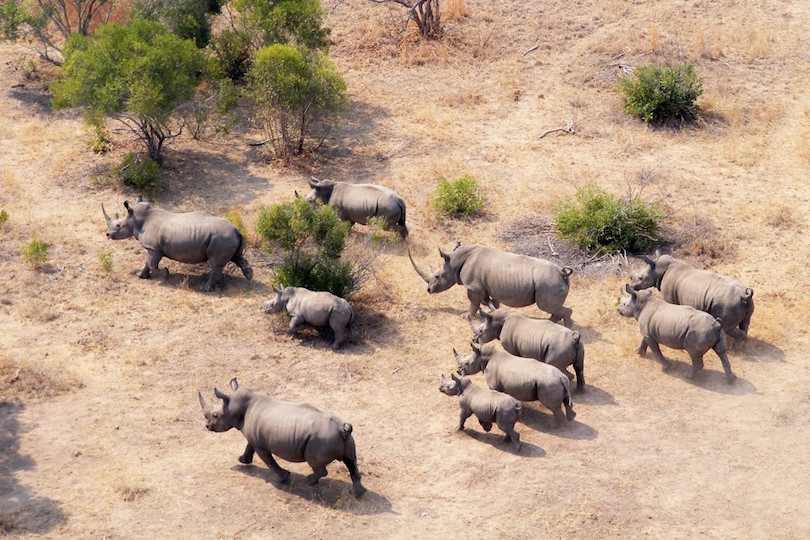 Arno & Louise / Flickr
Kruger National Park is South Africa's flagship park, and an epic place to spot the Big Five in their natural habitat. Leopards, lions, elephants, rhinos, and buffalo can all be found here. Bordering Mozambique and Zimbabwe, the park covers 14 different ecozones, each providing a home to different wildlife.
The best part about Kruger is that you don't need to join a guided tour if you don't want to. It's well-suited to self-drive and night drives, and for those who dare to leave the safety of their vehicle, there are hiking trails too. The banks of the Sabie and Crocodile rivers in the southern section of the park are a great place to wildlife watch, while the northern reaches are perfect for bird watching.
Masorini, a restored Iron Age village, is another highlight in the park, and you can hop onto one of the regular guided tours.
6. Fiordland National Park
[SEE MAP]
Fiordland National Park is the largest national park in New Zealand, and indeed, one of the largest in the world. While it's home to an impressive series of glacier-tipped fjords, the major highlight is without a doubt the Milford Sound, one of the most-visited destinations in the country and the only fjord in the park that can be reached by road.
Despite it being over four hours' drive from Queensland, the fact that the Milford Sound still receives close to a million visitors every year tells you something. All things considered, it's difficult to name a more beautiful place. With its entrancing mountains, raging waterfalls, spectacular wildlife, and total isolation, the Milford Sound is like nowhere else on Earth.
Both the flightless takahe bird and the flightless kakapo parrot have been found in the Fjordlands. One of the highlights of a visit to the park is splurging on a cruise of Lake Te Anau and the Te Anau Caves, an enchanting underground network of limestone caves illuminated by hundreds of glowworms.
5. Iguazu National Park
[SEE MAP]
Located on the border of Argentina and Brazil, Iguazú National Park is home to one of the most famous natural attractions on the planet – Iguazu Falls. With a name that means 'Great Water,' this enormous and thundering series of semicircular waterfalls pours over into both countries.
But there is more to the park than simply the beautiful waterfall. Iguazú also includes a section of Atlantic Forest that's home to 2,000 species of plants and 400 species of birds. For those who wish to explore the park on foot, there are opportunities to spot some wild cats like ocelots and jaguars, howler monkeys, giant anteaters, and even the rare broad-snouted Caiman.
4. Banff National Park
[SEE MAP]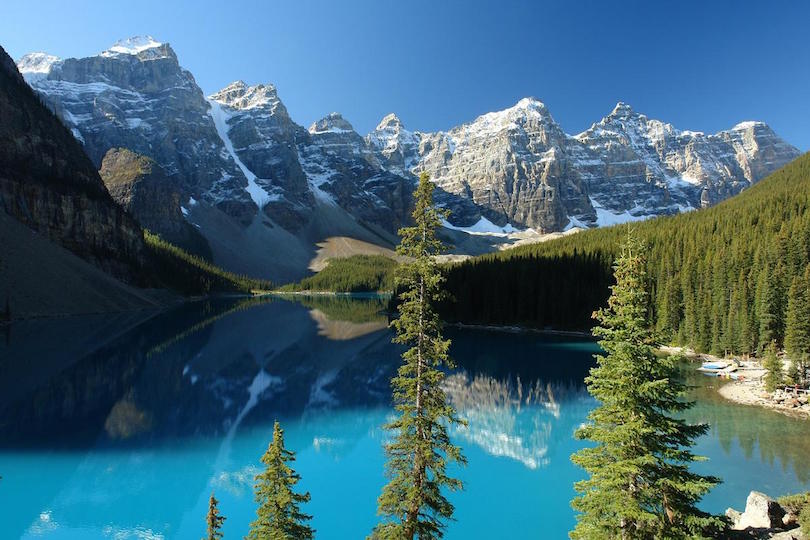 satoru_kikuchi / Flickr
Nestled within the Alberta Rockies region in Canada, Banff National Park is easily one of the most scenic places on Earth. Tucked within snow-tipped mountain peaks and forested slopes, there are two alpine towns that make great bases for the park – namely Banff and Lake Louise.
Except for these two areas of civilization, the rest of the park is largely untouched, and the perfect place to spot wildlife undisturbed. Bighorn sheep, moose, mountain lions, wolves, and black or grizzly bears call the mountains home. Take a gondola ride up the mountain for exceptional views, ski around Lake Louise, or hike to the Sunshine Meadows – one of the most beautiful alpine meadows in the world.
If you're not afraid to splurge, then the best way to see the scenery of these snowcapped mountains is with a ride on the glamorous Rocky Mountaineer railway.
3. Galapagos National Park
[SEE MAP]
Located off the coast of Ecuador, Galápagos National Park is one of the most biologically diverse places on the planet. Established in 1959, it is Ecuador's oldest park. Covering 97% of the Galapagos island archipelago – the remaining 3% home to inhabited islands – the park has a totally unique ecosystem. There are animals, plants, and fish here that cannot be found anywhere else on Earth. It's the only place where penguins exist in the Northern Hemisphere, and there are admittedly many more iguanas than there are people.
The Galapagos even has its own species of tortoises, penguins, and lizards. But it's not just the wildlife on land that's protected: the waters offshore are also protected by the Galapagos Marine Reserve, and include the unique marine life like the Galapagos green sea turtle, Galapagos sea lion, and Galapagos marine iguana. The best way to explore the park both on land and off is with a cruise around the islands, but be prepared to fork out the cash.
2. Yellowstone National Park
[SEE MAP]
Sprinkled with hundreds of sweltering geysers like the 'Old Faithful' and thousands of mud pots and hot springs, Yellowstone National Park seems oddly otherworldly. Located on the largest super volcano ever found, there is nowhere quite like it anywhere else on the globe.
Established in 1872, it was the very first national park in the world, created to protect the park's fascinating wildlife and astonishing natural beauty. Part of the Greater Yellowstone Ecosystem, the park is a wildlife watching paradise. There are gray wolves, black bears, and grizzly bears here, just to name a few.
1. Serengeti National Park
[SEE MAP]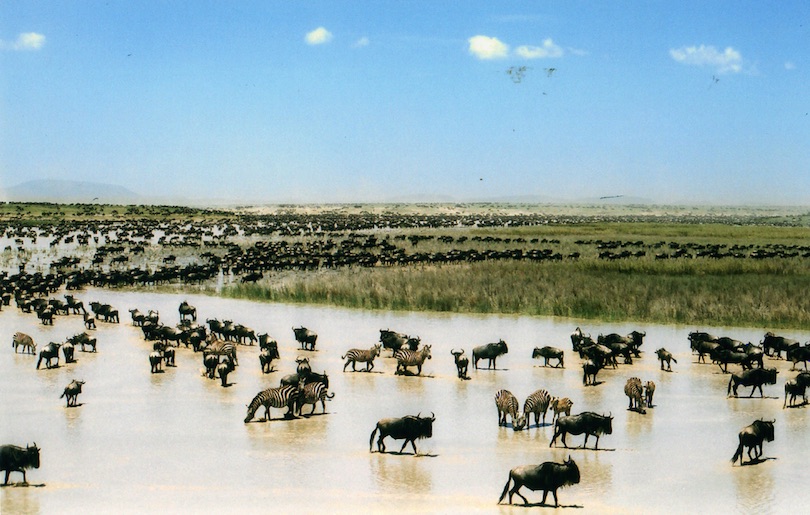 lince / Flickr
Located in northern Tanzania and overflowing into Kenya's Maasai Mara, the Serengeti – which means 'Endless Plains' – is one of the most intriguing wildlife-watching hotspots on Earth. It's most famous for the world-famous annual migration, where millions of wildebeest, zebra, and gazelle make their way to the Maasai Mara in Kenya in search of water and fresh grass.
With all these plains game come predators, so you're just about guaranteed to see a killing while you're on safari. But the Serengeti is not just a great place to visit during the Great Migration: it has so much more to offer all year round – and it's even better without the crowds. Indulge in a once-in-a-lifetime glamping experience and take a hot air balloon safari for the best views over the golden plains.