Springfield, Illinois is a state capitol lathered with history, ornate urban parks and head-turning architecture. Since 1839, Springfield has been the state capital, a major turning point that led to the town being at the forefront of law and politics through the heart of the 19th century.
It was this period that perhaps left the biggest mark on Springfield. As you'll see from our list of things to do in Springfield, the capital of Illinois would not be the same without the contributions of the United States 16th president, Abraham Lincoln.
Resplendent architecture dots the town, many were once the grounds where Lincoln lived and practiced. His work, of course, changed the very trajectory of US history. Beyond, you'll find more stories to discover from state museums to the Dana-Thomas House.
In this post, we'll cover:
14. Edwards Place
Notmatisse / Wikipedia
Abraham Lincoln wasn't the only renowned lawyer to call Springfield home during the 19th century. Benjamin Edwards was a prominent attorney that lived among the likes of Lincoln, Edward Baker and Stephen Douglas, helping to reshape reform and in turn shape America.
He owned Edward's Place, which was a site for mass gatherings and rallies among supporters. Abraham Lincoln himself gave a notable speech to adoring crowds from the window on the second story.
Guided tours take you from the beautiful surrounding grounds into the Italianate house. You'll quickly be drawn in by the genuine Victorian-era furnishings and decor owned by both Benjamin and his famous, including the famed Lincoln Courting Couch.
13. Vachel Lindsay House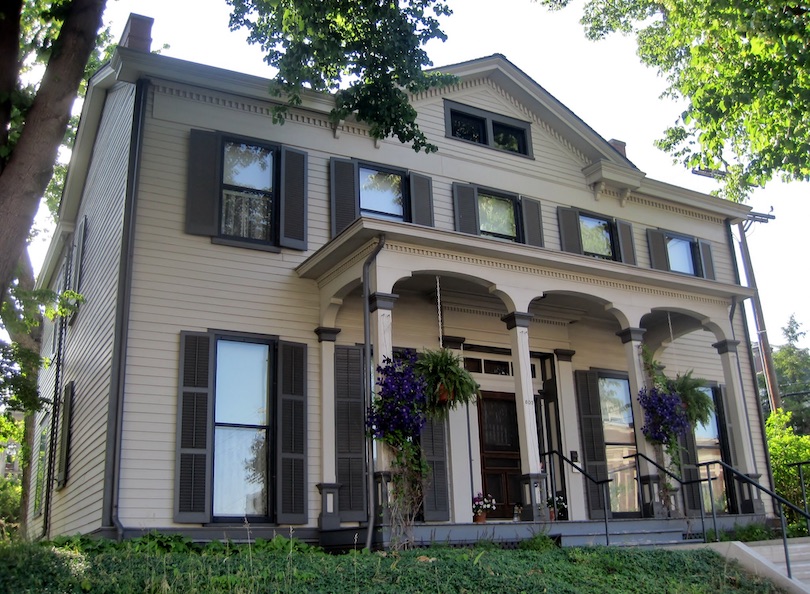 Teemu008 / Flickr
Built in the 1840s, the Vachel Lindsay House began its storied life with strong connections to the Lincoln family. Before the Lindsay's made it their forever home, it was bought by C.M. Smith, whose wife was Mary Lincoln's sister.
But it was the work of Nicholas Vachel Lindsay, a revolutionary poet, film critic and illustrator that brought eternal fascination with this delightful building. Vachel Lindsay traveled across the United States wowing crowds with his intricate singing poetry and way with words. However, he always returned home to Springfield.
With a reservation, you can tour the home, learn all about its famous connections before diving into the amazing life of Nicholas Vachel Lindsay.
12. Lincoln Memorial Garden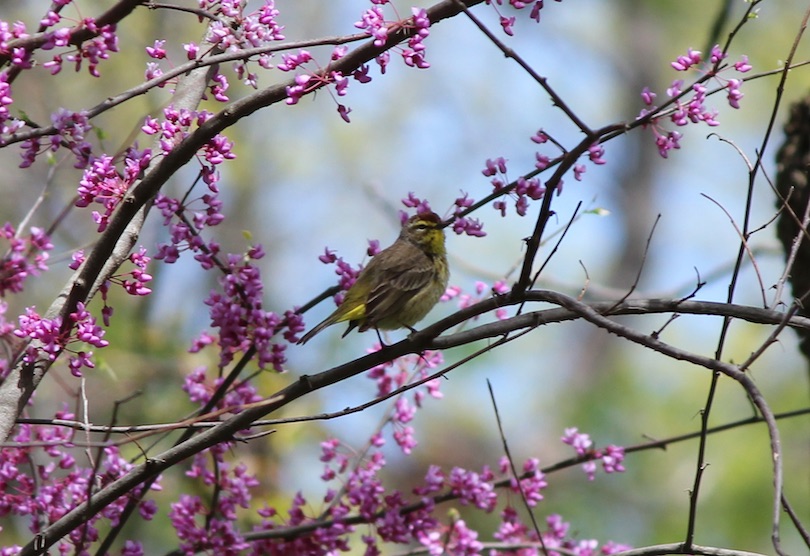 Adam Woodis / Flickr
Rolling down to the edge of Lake Springfield, the Lincoln Memorial Garden is a spacious woodland that takes you into nature as it was in the days of 16th president.
More than just a garden, the vast forest was designed by Jens Jensen, a landscape architect in the 1930s. It memorializes more than just Lincoln, but an era in Springfield before modern expansion. The park recreated a 19th century Illinois woodland, home to local plants and trees.
It's arguably the best spot in Springfield for a long walk with friends and family. The Lincoln Memorial Garden has five miles of trails that take you through prairies lined with wildflowers and blooming dogwoods.
11. Lincoln-Herndon Law Offices
Jasperdo / Flickr
Springfield lives in eternal celebration of Abraham Lincoln. There's no better place to learn about the historic president or walk a mile in his shoes than right here. The Lincoln-Herndon Law Offices is a great example of this, being a recreation of the offices in which he practiced law.
Within a historic commercial block in the heart of Springfield, the Lincoln-Herndon Law Offices takes you into the working life of Lincoln. It was in these (recreated) offices that he practiced between 1843 and 1852 after his final term as a state legislator.
Your visit begins on the first floor, home to a multimedia exhibit and gallery. The second features the federal court as it was in the 19th century while the third floor explores the chaotic nature of Lincoln's offices.
10. Illinois Governor's Mansion
Katherine Johnson / Flickr
In 1839, Springfield became the Illinois state capital. Shortly thereafter, a new Illinois Governor's Mansion was constructed. What stands before you today was originally built in 1855 and has been occupied by the Illinois governor every year since.
The eye-catching Italianate mansion has seen a lot over the last 160 years. In fact, remodels, repairs and restorations have ensured that it remains in its current, glamorous condition. Its original 19th century interior has been kept in good condition, making it a highlight for visitors.
Tours into the mansion depart consistently between 1pm and 4pm most weekdays. Come the holiday season, the Governor's Mansion is draped in colorful decorations.
9. Lincoln's New Salem
Ready for a quick and easy day trip from downtown Springfield? Get along to Lincoln's New Salem, 20 miles to the northeast. Before making his name in Springfield and eventually Washington DC, Lincoln grew up in a frontier village known as New Salem.
This attraction is a brilliant recreation of this period town. It puts you in the shoes of Lincoln as he pursued odd jobs such as boatman, postmaster and rail splitter before he rose to prominence as a state legislator.
The range of hands-on exhibits and interactive experiences makes Lincoln's New Salem feel like a living and breathing town. Just be sure to remember to stock up on 18th century goods and treats at the town's country store.
8. Washington Park
Much of your time in Springfield will be spent admiring the many amazing buildings, inside and out. But to relish the fresh air and enjoy a change of pace, be sure to add Washington Park to the itinerary.
In the early 1900s, this beautiful expanse of urban greenery was created, bordered by old neighborhoods and a terminus for Springfield's light rail. Now on the National Register of Historic Places, the park remains in pristine condition, harboring the same traits that made it beloved among locals for over a century.
Washington Park features a botanical garden home to almost 2,000 unique plant species and a sprawling conservatory cloaked in a 50 feet glass dome. Afterwards, check out the rose garden and the carillon home to 67 bells.
7. Lincoln Tomb
Nine years after his untimely death, Abraham Lincoln was moved to his final resting place in the Oak Ridge Cemetery. The Lincoln Tomb, which holds his body along with his wife and three of their four children, is an enormous granite monument standing at 117 feet tall.
The towering obelisk is a sight to behold and you'll spot it long before the tomb itself. The tomb features a circular structure complete with a large plaque and historic flags. You can venture inside and peer down into the burial chamber that lies 10 feet below the shiny marble floor.
Beyond the tomb, you can admire the bust of Lincoln's head. It's an impressive recreation of the same bust found at the United States Capitol crypt. His nose rubbed clean from thousands of visitors.
6. Illinois State Capitol
Standing tall above all buildings in Springfield is the Illinois State Capital. At 361 feet tall, the capitol was a necessary creation as the Land of Lincoln grew ever bigger. In 1888, it replaced the Old State Capitol, providing ample room for all branches of government. Such was its size and intricate design that it took two decades to complete.
Surrounded by beautiful green grounds, the Illinois State Capitol boasts a lovely blend of Italianate and French Renaissance architecture. Lathered with a zinc exterior, it shines under the bright Illinois sun. Its striking facade, complete with towering columns and archways, is perhaps overshadowed by the building's spectacular dome.
Travelers are welcome to explore the interior, including the inside of the dome that showcases pivotal events in state history.
5. Illinois State Museum
Looking beyond local history, the Illinois State Museum explores the full story of the Prairie State. In fact, the more than 13 million artifacts, documents and discoveries take you on a journey 500 million years into the past.
Covering three stories, the Illinois State Museum provides a valuable look into a range of topics. Hands-on and engaging, each exhibit dives into its chosen topic with plenty of high-tech elements, so it won't just be you and endless paragraphs of information.
Looking at the experience chronologically, you can venture hundreds of millions of years into the past by exploring the Dynamic Illinois Environments exhibit. This includes a look at life when Illinois was underwater. Later, check out modern state history with Peoples of the Past and the Home in the Heartland.
4. Old State Capitol
Built in the 1960s, the Old State Capitol is a faithful redevelopment of the original. Through the heart of the 18th century, the State Capitol building was the center of the Illinois government. It was in those hallowed halls that Abraham Lincoln worked as a state legislator and delivered his renowned speech about a house divided.
Reconstruction over 50 years ago has returned the Old State Capitol to its former esteem. Now listed on the National Register of Historic Places, you can now explore the supreme courtroom where Lincoln once stood, old libraries and the beautiful rotundas.
While you can explore on your own, visitors are encouraged to make use of the capitol's 30-minute guided tours.
3. Dana-Thomas House
Architecture continues to be a constant theme in our travels through Springfield, Illinois. It won't be a surprise then that the illustrious architect, Frank Lloyd-Wright, left his mark on the midwestern town with the Dana-Thomas House.
Construction on this iconic home was completed in 1902. It was here that vivacious socialite, Susan Lawrence Dana, lived until 1828 when after growing increasingly reclusive she pursued the occult.
The marvelous home remains largely untouched over 120 years later. It's considered one of the best-preserved works by Lloyd-Wright and maintains much of the finer details that made it an immediate local favorite. Highlights include the original Lloyd-Wright furniture, the 60-foot pergola hallway, bowling lanes and sparkling light fixtures.
2. Lincoln Home
Despite living a famous life and playing a vital role in the timeline of US history, Abraham Lincoln owned but one home. The Lincoln Home is a National Historic Site and the singular property that belonged to the memorable president.
The Lincoln Home was constructed in the late 1830s with Abraham Lincoln and his wife, Mary, calling it home from 1844 to 1861 when Lincoln rose to power. Today the gorgeous Greek revival, with light orange wood panels and dark green shutters, is available to be explored.
The historic site is preserved by park rangers who offer insightful tours of the home on a first-come, first-served basis. Tickets are free and take you back to a time before Lincoln changed the course of the United States.
1. Abraham Lincoln Presidential Library and Museum
Going to a presidential library always turns into a joyful surprise. It's not just rows of books, facts and figures but an incredibly insightful (and interactive) way to get to know certain historic eras. The Abraham Lincoln Presidential Library and Museum covers a vital period.
Creating the expansive museum took more than a dozen years. Each of them was put towards constructing a detailed journey through Lincoln's life, before and during his presidency. Aided by a fascinating collection of temporary exhibits, the museum takes you back to the 1800s; the events leading to the civil war and the Emancipation Proclamation.
In a city full of history relevant to all travelers, the Abraham Lincoln Presidential Library and Museum stands above it all.
Map of Things to Do in Springfield, Illinois