Although it is understandably often overshadowed by Chicago, Illinois' state capital, Springfield has myriad impressive historic attractions and cultural landmarks. While many relate to its former famous resident Abraham Lincoln, others include architectural marvels, centuries-old houses and striking state capitol(s) too.
Situated almost in the center of the state, the sizeable city occupies a vast plain and valley not far from the Sangamon River; large Lake Springfield lies to its south. While many visitors come for its monuments and museums, other things to do in Springfield include exploring its gorgeous gardens as well as the shops, restaurants and nightlife spots.
14. Edwards Place
Notmatisse / Wikipedia
Just a short stroll from the center of the city is elegant Edwards Place. This is full of fine furnishings and authentic period pieces with all kinds of interesting artworks also on display. Now protected as a historic house museum, it houses the Springfield Art Association with tours around the exquisite Italianate-style building's sizeable interior.
While it was built in 1833, its delightful decor actually dates to a couple of decades later. Some of the Lincoln family's possessions are on show beside fetching Victorian furniture and other artifacts in its restored rooms. As you explore the house you'll learn what social, political and domestic life was like back in Abe's day. The Association also regularly hosts arts and crafts classes for all ages.
13. Vachel Lindsay House
Teemu008 / Flickr
At the opposite end of downtown is another fascinating historic house to check out – that of feted poet, illustrator and film critic, Vachel Lindsay. Only open during the weekend or on scheduled tours, it celebrates his life and legacy. The influential artist's lifelong home still contains many of his original art pieces, possessions and other family heirlooms.
A very charming two-story structure, it was erected before the Civil War in 1848 while later works enlarged the superb Greek Revival building still further. You can tour its parlors and pantry, bedrooms and bathrooms with a knowledgeable guide. Learn about Lindsay's significant contributions to the arts, his animated poetry performances, as well as the family's links to Abraham Lincoln.
12. Lincoln Memorial Garden
Adam Woodis / Flickr
If instead of stuffy old houses and historical figures it is pristine nature and parkland you're after, then lovely Lincoln Memorial Garden might be the place for you. Lying along the south side of Lake Springfield, it has plenty of pretty paths along with colorful flowers, plants, trees and shrubs on show.
Named for the former president, the gorgeous garden was founded in 1936 with untouched prairies, woodlands and patches of wildflowers located alongside the lake. Besides taking in the stunning scenery and fantastic viewpoints, you can also stop by the nature centre. This has extensive exhibits on the local fauna and flora and fun activities for young ones to complete.
11. Lincoln-Herndon Law Office
Jasperdo / Flickr
In the center of town is another of the many historic sites in the city linked to the esteemed Abraham Lincoln. Set next to the Old State Capitol, the Lincoln-Herndon Law Office is where he worked as a lawyer for a couple of years in the 1840s before embarking on his political career.
In the simple brick building that dates to 1822, visitors can see a reconstruction of the firm's old offices with the actual original lying out-of-bounds on the third-floor. As well as seeing old artifacts, furniture and perusing informative plaques, you can also gaze out of the window at the colossal capitol. The National Historic Landmark also provides guests with a more well-rounded view of the former president's life and achievements before his time in office.
10. Illinois Governor's Mansion
Katherine Johnson / Flickr
Stroll a few blocks further to the south and you'll come across the Illinois Governor's Mansion that boasts attractive Italianate-style architecture and lies amidst lush green grounds. As it is still the official residence of the state's governor and their family, visitors can only take tours around its premises at certain times. Important state functions, meetings and events regularly take place here.
One of the oldest historic residences in the Inland Empire State, it has continuously been occupied by governors since 1855. The massive and majestic mansion was recently renovated in 2019. Its parlors, libraries, bedrooms and sitting rooms are designed to look as they were in the nineteenth century, and all kinds of amazing artworks and fabulous furnishings coat its opulent interior.
9. Lincoln's New Salem
© Dreamstime
Although it lies around half an hour's drive from downtown, Lincoln's New Salem is definitely well worth checking out if you have the chance. At the excellent open-air museum, you can stroll around a reconstruction of the village where Lincoln once lived. Its costumed interpreters and authentic artifacts and equipment all transport you back to the early 1830s.
In total, the sprawling state historic site has over two dozen log cabins, with a blacksmiths and carpenters set next to a tavern, schoolhouse and several residences. It offers a captivating look at the life and times of the young Abe, while oral historians and interactive exhibits in its visitor center delve into Illinois' enthralling frontier history. Plays are also sometimes held in its on-site theater.
8. Washington Park
© Dreamstime
Popular with both locals and tourists alike, Washington Park covers a huge part of the western side of Springfield. Besides playgrounds, ponds and playing fields, it has beautiful botanic gardens and a pretty plant-filled conservatory to explore. The distinctive Thomas Rees Memorial Carillon and its brutalist architecture are one of its standout sights.
On top of all its landscaped cactus, iris and rose gardens, the park encompasses rolling hills and wooded areas with deep ravines also scarring its terrain. Aside from wandering along its umpteen nature trails and taking in all its delightful flowerbeds, visitors can play golf, disc golf and even ice skate in winter. A skate park, tennis courts and countless campsites are also on offer.
7. Lincoln Tomb
© Dreamstime
The final resting place of the sixteenth President of the United States, the marvelous Lincoln Tomb is found just north of the center in the enormous Oak Ridge Cemetery. Just one of Springfield's must-visit monuments, the memorial's semicircular crypt also contains the remains of his wife Mary Todd and three of their four sons.
Surmounted by a huge 117-foot-high obelisk, it certainly makes for a striking sight. Balustraded flights of stairs lead up to the tomb's terrace and statues represent the infantry, navy, artillery and cavalry of the Civil War period adorning its outside. After rubbing the nose of Lincoln's bronze head for good luck, head inside the rotunda to see a scaled-down prototype of the Lincoln Memorial in Washington DC. Other magnificent war memorials also lie nearby in the cemetery.
6. Illinois State Capitol
© Dreamstime
Undoubtedly the most important and impressive building in Springfield is the Illinois State Capitol in the city center. As well as exhibiting a lovely mix of architectural styles, it boasts the loftiest dome of any seat of government in the country. A fantastic silvery facade, grand staircases and gigantic columns also front the stupendous structure.
Erected over twenty years, it was completed in 1888. The current capitol is actually the state's sixth, as Illinois' ever-increasing population and prosperity meant a larger and more lavish capitol kept being needed. While touring its expansive and elegant interior, you can see stunning halls, chambers and offices. The inside of its large dome is particularly spectacular.
5. Illinois State Museum
If you want to learn almost everything there is to know about the history, culture and heritage of the Land of Lincoln, then make sure to stop by the Illinois State Museum. Located next to the state capitol, its ginormous galleries contain a staggering array of artifacts, exhibits and artworks. All kinds of fascinating fossils and dramatic dioramas are also on display.
Established in 1877, it occupies a purpose-built museum building with sections dedicated to the Ice Age and Illinois' fauna and flora, and others to early settlers in the state and local Native American tribes. With interactive activities and knowledgeable curators on-hand, alongside educational films and a fun play area, it certainly makes for a great day out for all the family.
4. Old State Capitol
© Dreamstime
Protected and preserved as part of a National Historic Landmark, the Old State Capitol served as the state's seat of government from 1840 to 1876. One of the city's standout symbols and sights, it lies in the heart of downtown. Many of Springfield's other main attractions are also located nearby.
The fifth capitol to be built in the state, it showcases some splendid Greek Revival architecture with a bright white and red cupola perched atop the otherwise sandstone-coloured structure. It was here in 1858 that Lincoln delivered his famous 'House Divided' speech. Barack Obama also announced his presidential candidacy at the iconic landmark. On tours of the building, you can see its old chambers, courtroom and halls, which are all full of antique furniture and artworks. Its tastefully lit rotunda is a particular highlight.
3. Dana-Thomas House
© Dreamstime
After Lincoln's home, library and museum, the delightful Dana-Thomas House is definitely one of the top places to check out in town. Designed by renowned architect Frank Lloyd Wright, it exhibits some phenomenal Prairie School-style architecture. Incredible art glass and original furnishings decorate its enormous interior.
Built in 1902 for Springfield socialite Susan Lawrence Dana, the historic house has an organic look and feel. Lots of gorgeous Japanese prints and drawings are on show alongside elaborate sconces, skylights and exquisite art glass windows.
While exploring the 35 rooms and expansive open spaces, you'll learn about its flamboyant and forward-thinking owner and esteemed architect. Plus get to take in all the fine features of the artistic and architectural marvel.
2. Lincoln Home
© Dreamstime
Just a couple of blocks away is yet another historic house that shouldn't be missed when in the city – that of Springfield's most famous former resident, Abraham Lincoln. Now recognized as a National Historic Site, it is here that he and his family lived from 1844 to 1861. Guided tours, interactive exhibits and an orientation film, are all on-hand to teach you everything there is to know about Abe.
The only house he ever owned, it has since been beautifully restored to its 1860 appearance in the center of a historic neighborhood. Inside the two-story Greek Revival building are plenty of period pieces and personal possessions to see. Guides explain his remarkable rise from a successful lawyer and politician to president.
1. Abraham Lincoln Presidential Library and Museum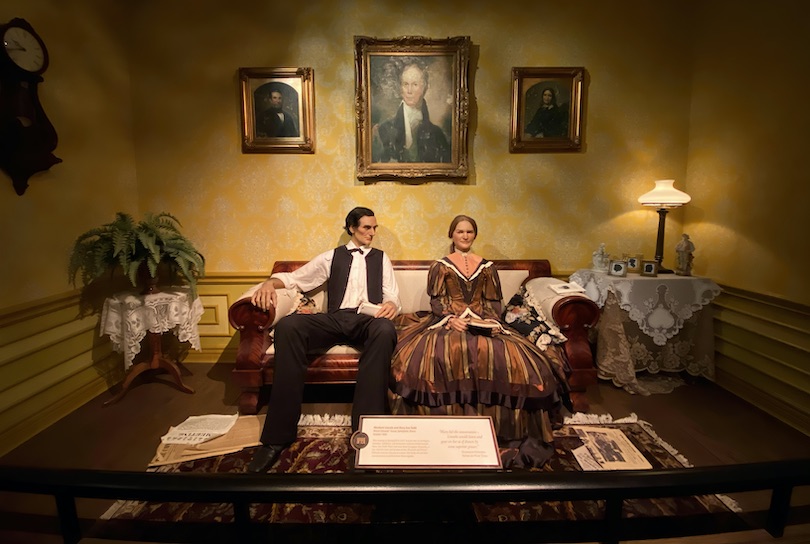 © Dreamstime
If you want to see even more artifacts and exhibits relating to the former president, then stop by the exceptional Abraham Lincoln Presidential Library and Museum. Lying along one side of Union Square Park, with the Old State Capitol set not far away, its state-of-the-art center offers an unrivaled look at Lincoln's life and legacy.
While its extensive array of interesting items and exhibits are useful for uncovering who he was, its amazing multimedia installations and cutting-edge hologram theater are what set it apart. Add in numerous life-size dioramas, video displays and a vast collection of documents and memorabilia, and it is no wonder it is one of the most-visited presidential libraries in the States.
Map of Things to Do in Springfield, IL