Home to many impressive historic tourist attractions and a few interesting architectural gems, the tiny town of Galena can be found nestled away in the northwest of Illinois. Set just a short distance from the Mississippi River amidst rolling hills and fertile farmland, it was once a major steamboat hub and mining town.
While the decline in demand for lead led to its long decline, it is now a very popular place to visit in Illinois due to its wealth of well-preserved historic houses and beautiful old buildings. Remarkably, the Galena Historic District encompasses over 800 such properties, including the former homes of such famed figures as Ulysses. S Grant and Elihu B Washburne. Other things to do in Galena include visiting the wealth of idyllic nature spots found nearby. With a range of excellent shops and restaurants to try out, 'The City That Time Forgot' is well worth visiting for its rich history, heritage and culture.
In this post, we'll cover:
11. Thunder Bay Falls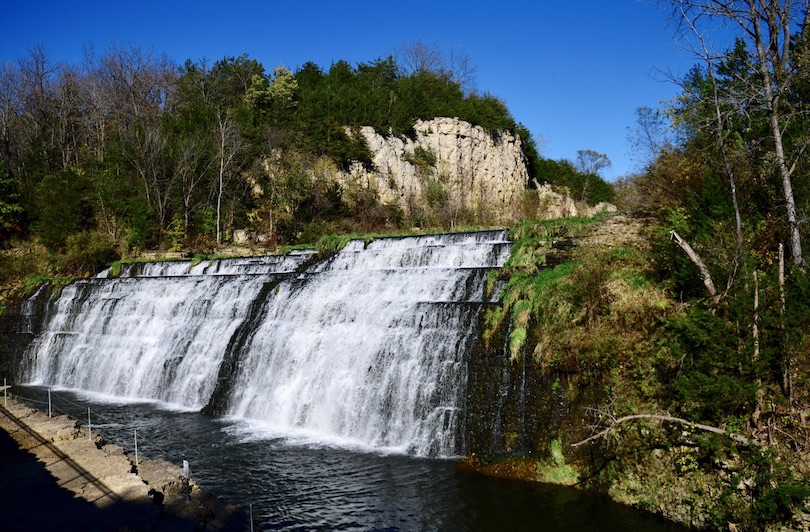 Located just a short drive to the east of Galena is one of the area's most beautiful natural sights, the lovely Thunder Bay Falls. Set in a very scenic and secluded spot, the wonderful waterfall lies along the shimmering Smallpox Creek, just a stone's throw away from Lake Galena.
Coursing down a spillway from the nearby reservoir, the falls' white waters stand out delightfully against the lush undergrowth and trees lying to either side of it. Visitors can enjoy splendid views of the waterfall from a scenic overlook, with a pleasant picnic area also on offer.
As it is such a picturesque place, lots of couples come here to take engagement photos or wedding snaps with the fabulous falls in the background. Very easy and accessible to visit, Thunder Bay Falls lies next to some truly charming countryside with great hikes to be had nearby.
10. Horseshoe Mound Preserve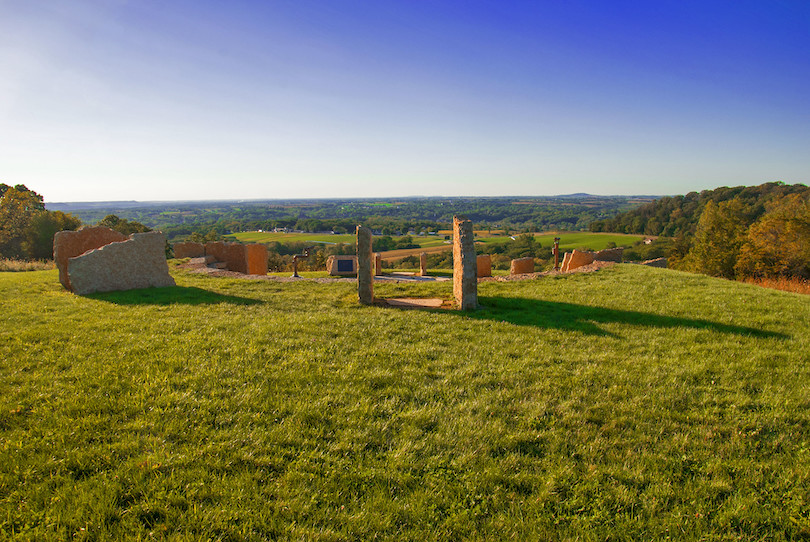 Ron Cogswell / Flickr
Set just to the southeast of the center of town is the idyllic Horseshoe Mound Preserve, which offers divine views across not one, not two, but three different states. Only opened in 2014, it has some gorgeous grounds to explore, with pretty and peaceful paths winding here and there.
One of several massive mounds to be found in the area, the historic hill is topped by some superb Stonehenge-esque stone markers, which align with the summer and winter solstices. From its scenic summit, visitors can bask in breathtaking views over the Galena River Valley and Mississippi River, with Iowa and Wisconsin to be spied on clear days.
In addition to its phenomenal panoramas, the preserve also has some terrific trails to wander along that are lined by informative plaques on the history, geology, and nature of the region.
9. Old Market House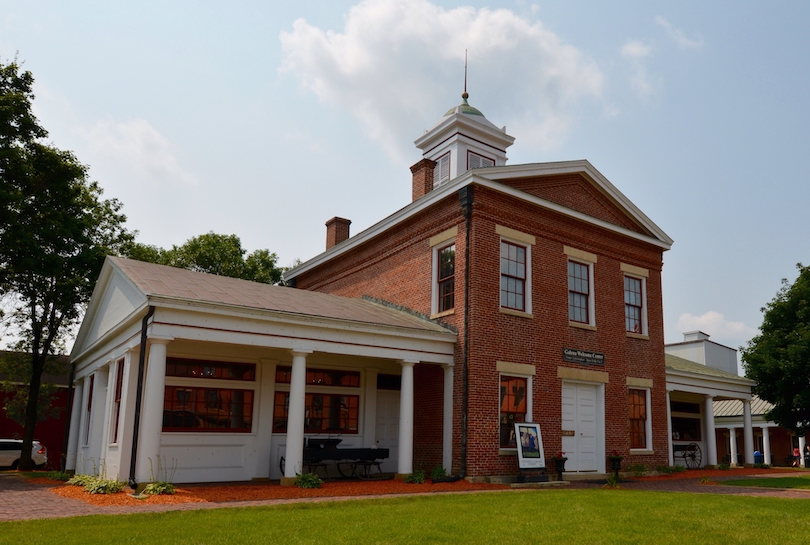 Boasting some brilliant brickwork and a grand Greek Revival style, the Old Market House was built all the way back in 1845 to serve as the city hall. Once the centre of life in town, it now hosts lots of interesting exhibits and cultural events, as well as the Galena Area's Welcome Center.
Besides serving as the civic center of the city, the building used to house farmers' market stalls, as this helped pay for its upkeep. Lots of stalls would also be set up in the market square in front of it, with locals buying and selling their wares.
Visitors to the Old Market House can learn about it and Galena's fascinating history and heritage through the various artifacts, artworks, and exhibits dotted around. It can be found just to the west of the Galena River in the heart of the business district.
8. Galena Cellars Vineyard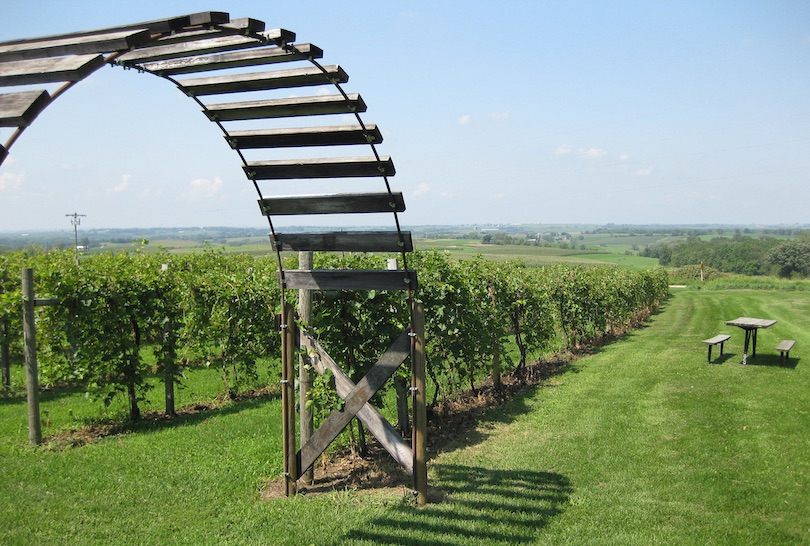 Richie Diesterheft / Flickr
Since first beginning pressing and producing in the early 1970s, Galena Cellars Vineyard has gone on to win countless awards for its outstanding wines and grapes. Well worth visiting if you want to sample some of the area's local produce, it lies just a short drive to the northeast of Galena amidst rolling hills and fertile vineyards.
Every year, the wonderful winery produces a considerable quantity of wine from its speciality grapes, with 40 varieties to taste and buy. Owned and operated by the Lawlors for three generations, the farm has a lovely wine cellar and barrel and bottling room, as well as a tasting room for you to explore.
After taking a tour around the vineyard, visitors can sample some delicious wines paired with either cheese or chocolate. In addition, there is a charming cottage for guests to stay in overnight, as well as a gift shop where you buy some excellent wines to take home.
7. Washburne House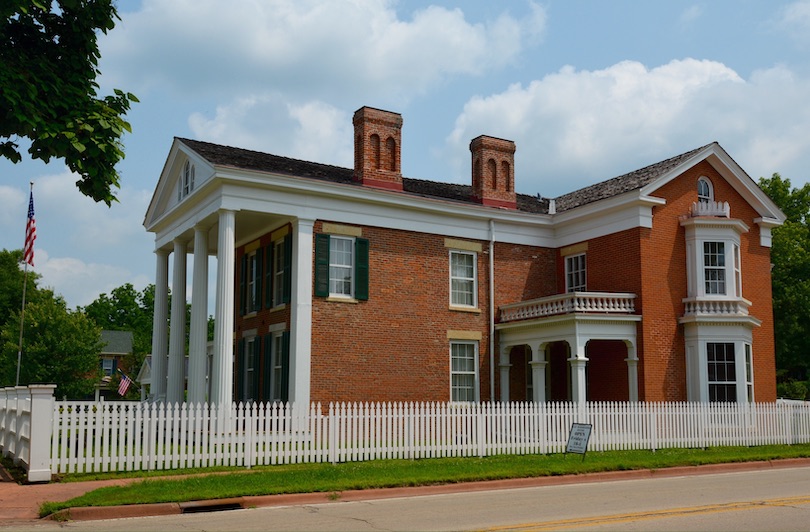 With its lovely portico and pearly pillars, the historic Washburne House makes for a superb sight. Built for and named after local lawyer and politician Elihu Benjamin Washburne, it exhibits some astounding Greek Revival architecture, with lots of interesting artifacts to be found inside.
Dating back to 1845, the stately home has plenty of fine rooms for you to tour, around with period pieces and fantastic furnishings dotted about. Of particular interest is its lovely library, where Ulysses S. Grant received the news that he had been elected President in 1869.
Besides appreciating the age-old artifacts and architecture, visitors to the historic house also learn about Washburne himself, who was a firm friend and advisor to both Grant and Abraham Lincoln.
6. Chestnut Mountain Resort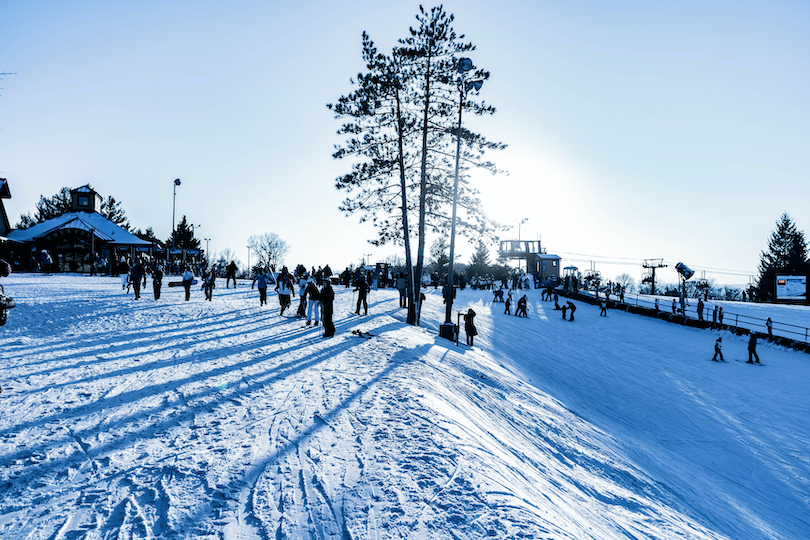 Perched on a prominent ridge overlooking the Mississippi River is Chestnut Mountain Resort, which has snow-coated slopes and a snowboarding terrain park for visitors to enjoy. Due to its proximity to Galena, it is a very popular place to visit with a wealth of winter and summer outdoor activities on offer.
Since first opening in 1959, the resort has continued to grow and grow, with cosy cafes, ski shops and a large lodge opening up alongside an indoor pool and hot tub area. On top of this, there is also a mini-golf course and zipline to try out in the sunny summer months, as well as lots of scenic hiking trails and mountain bike paths to explore.
The main reason that everyone visits, however, is for its snowy slopes, with 19 runs for visitors to ski and snowboard down. Serviced by various chairlifts, these descend almost 150 metres in total, with halfpipes, jumps, and rails to be found in its terrain park.
5. Galena Trolley Tour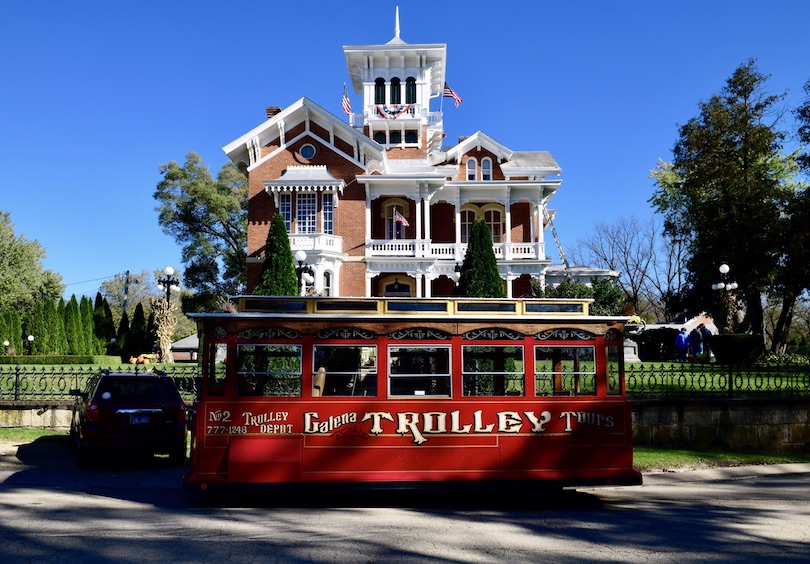 Besides wandering around yourself, a great way to learn about the town's history and architecture is to take a Galena Trolley Tour of its scenic streets and neighborhoods. A fun and family-friendly experience, the tours see you ride around in red trolleys that are reminiscent of San Francisco's famous cable cars.
Twisting and turning around town, the terrific tours takes you past all of the top tourist attractions in Galena, teaching you everything you need to know about history, heritage and culture on the way. In addition to stopping to snap photos of important landmarks and historic homes, you'll learn about some of Galena's former inhabitants such as Ulysses S. Grant and eight other Civil War generals.
While Galena's Historic District is awash with eye-catching architectural gems, there are also some fabulous views to be enjoyed from the hills and valleys surrounding the town.
4. Grant Park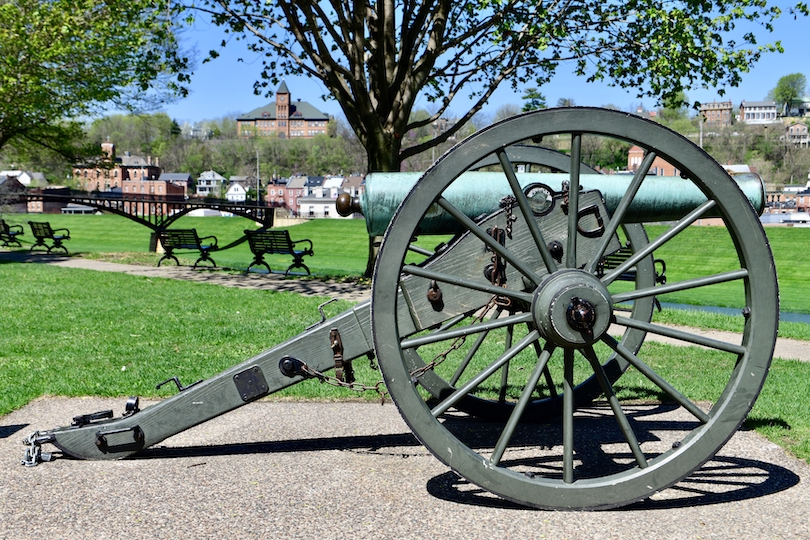 Lying just across the Galena River from the historic heart of town is the gorgeous Grant Park, which is a relaxing place to spend some time. Offering fine views over Galena, it boasts lovingly landscaped lawns with magnificent monuments dotted here and there.
Named after Ulysses S. Grant, the pretty park has a striking statue of him to check out, as well as some captivating cannons that were used during his Civil War campaigns. Lining its pleasant paths and fetching flowerbeds are various plaques and displays that teach you all about the history of the park and its many monuments.
On top of this, you'll find a quaint pavilion and fountain, with a basketball court and playground also on offer. As it is connected to the historic center by a footbridge, it is very easy to access and makes for the perfect place to enjoy a picnic.
3. Galena/Jo Daviess County Museum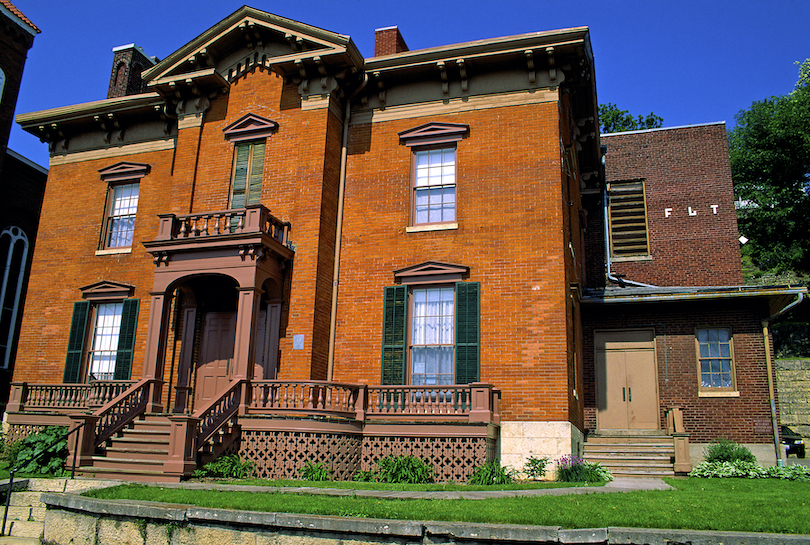 Set right in the center of town is the excellent Galena/Jo Daviess County Museum, home to lots of interesting and interactive exhibits. Its artifacts, artworks, and archaeological findings offer up a fascinating look at the history and heritage of Galena and its scenic surroundings.
Located in a delightful Italianate mansion built in 1858, its numerous galleries and rooms look at everything from Ulysses S. Grant and the Civil War to Galena's port and mining past. Other parts of the museum look at the nature and geology of the region, as well as the Native Americans who first inhabited the area.
First opened in 1938, this marvelous museum is a must for anyone interested in history due to its extensive collection of everything to do with Galena.
2. Ulysses S. Grant Home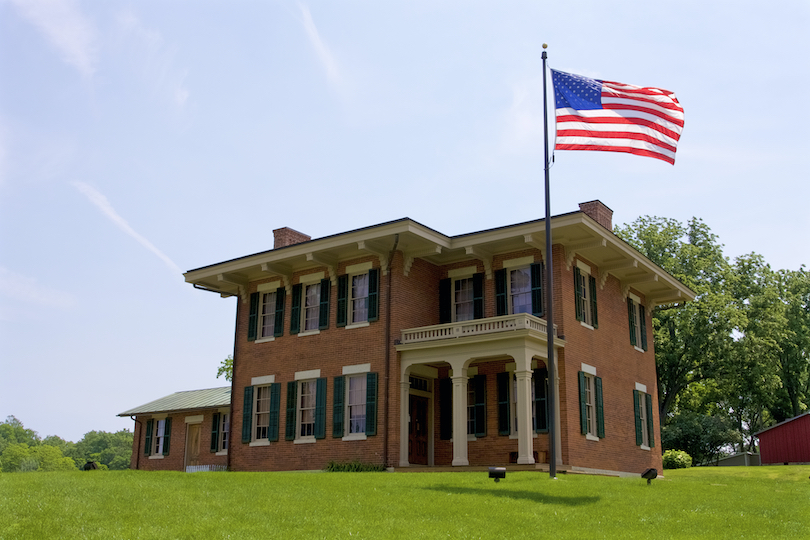 One of the town's most important sights, the Ulysses S. Grant Home lies just across the river from the center of Galena. Now a museum and memorial to the former general and US President, the handsomely furnished house was given to the gallant general in 1865 for the role he played during the Civil War
Built back in 1860, the historic home exhibits some fetching Italianate architecture, with balustraded balconies extending out over a pretty porch. Inside are lots of delightfully decorated rooms for you to tour around, which still showcase most of the furnishings and period pieces used by the Grant family.
Although Ulysses S. Grant only lived here for a few years before being declared President in 1869, the National Historic Landmark is well worth visiting for the insight it offers into the famous figure of General Grant.
1. Main Street
Dirk DBQ / Flickr
The highlight of any trip to Galena is going for a peaceful stroll along its magnificent Main Street. Lined by charming and colorful historic buildings, it regularly wins awards and acclaim from newspapers, magazines and websites for its astounding architecture and superb shops.
As over 125 shops and restaurants are crammed within its curving confines, the scenic street is now often proudly called the 'Helluva Half Mile' by locals. While its bountiful boutiques and charming art galleries and antique stores are already a treat to peruse, the fact that all the beautiful buildings date to the 1800s makes it even more special to stroll along.
Lying in the heart of the Galena Historic District, Main Street is certainly not to be missed for its lively yet laidback atmosphere and diverse array of independent shops and architectural styles.
Map of Things to do in Galena, IL