Surrounded by vast swathes of fertile fields and farmland, the Champaign-Urbana metropolitan area can be found in east-central Illinois. While much of life in the town is dominated by the University of Illinois' sizeable campus and student body, both cities have delightful downtowns to explore.
What started out in the early-to-mid eighteenth century as two small farming communities has since merged into an ethnically diverse and ever-expanding metropolitan area. Despite its sprawling size, there is still a welcoming small town feel about the place with street festivals, farmers markets and music concerts all packing out its calendar.
While there are plenty of things to do in Champaign and Urbana most of the main attractions are located on the expansive university campus that lies between them. These include not just historic sites and handsome old buildings but top-class art museums, sports venues and more. With lots of picturesque outdoor spaces and parks to explore, the oft-overlooked cities of Champaign and Urbana are certainly worth a stop when driving through the Midwest state's endless cornfields.
In this post, we'll cover:
12. Japan House
Japanteaurbana / Wikipedia
Nestled on the University of Illinois Champaign-Urbana campus is a tranquil teaching facility like no other: the gorgeous Japan House. Surrounded by calm and quiet gardens, it is a great spot to stroll around with Japanese tea ceremonies, ikebana classes and calligraphy workshops all taking place regularly.
The origins of the traditional teahouse date back to 1964 when artist-in-residence Shozo Sato started teaching a series of courses on the art and culture of Japan. Due to their huge popularity, the current structure with its three tearooms was built in 1998 to bring people closer to the country's culture.
The gardens followed just a couple of years later with pretty ponds and plants placed about amid classic rock and water features. Both educational and aesthetically pleasing, Japan House makes for a very pleasant stop on your tour around town.
11. Spurlock Museum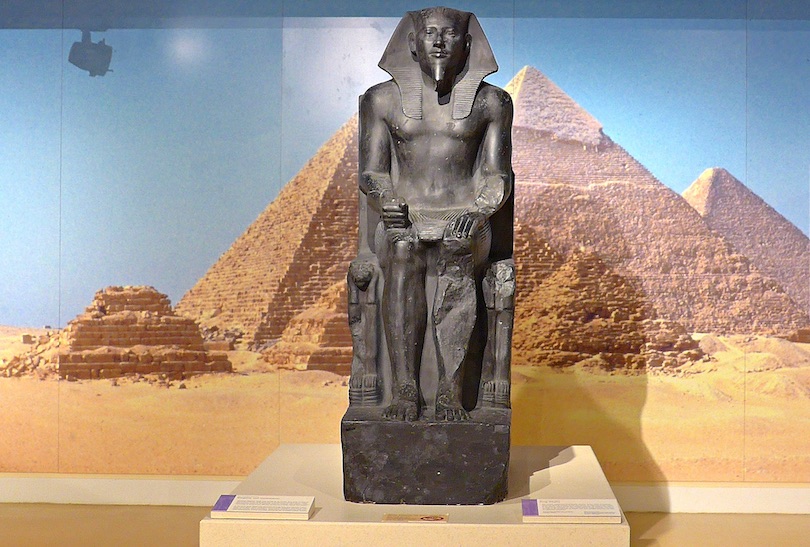 Ali Eminov / Flickr
Also part of the campus is the outstanding Spurlock Museum which houses an extensive collection of ancient artifacts from all around the world. Its 50,000 or so objects and artworks remarkably span six continents and cover over a million years of human cultural history.
While its foundations can be traced to 1911, the museum only moved to its current modern building in 2002 after a mammoth move and years spent packing up all its precious items. Its works truly are a marvel to behold as hundreds of intricate Japanese and Chinese wood carvings are displayed next to old bronzes, jewellery and magnificent marble sculptures.
These represent almost every corner of the globe with its Amazonian bark cloth and Mesopotamian cuneiform tablets being particularly special.
10. Champaign Public Library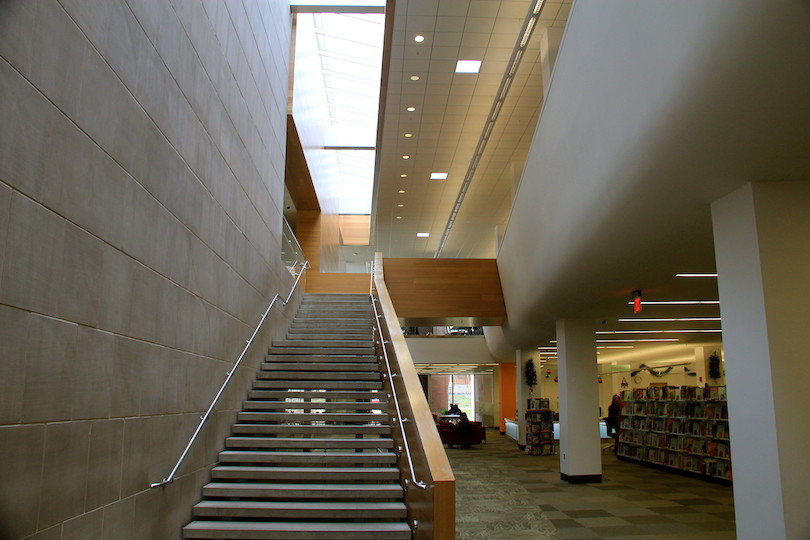 Daniel X. O'Neil / Flickr
Right in the center of the city is another of its most important cultural institutes: the light and airy Champaign Public Library. A valuable resource to the community, it provides locals with access to not just the internet and meeting spaces but a gigantic collection of some 420,000 volumes.
What started life in 1868 as a small, members only book club has since morphed into a huge award-winning library used by untold thousands each year. Only dating to 2008, its state-of-the-art site features large open spaces, quiet meeting rooms and a fun TeenSpace and cafe where guests can chill, study or grab a coffee.
On top of this, the museum puts on countless classes, talks and workshops for the community over the course of the year.
9. Crystal Lake Park
A very peaceful and picturesque spot to spend some time, Crystal Lake Park lies on the Urbana side of town, with mature urban woodland coating most of it. In addition to offering up lots of exciting outdoor activities, it has all kinds of attractions and amenities to check out.
Often described as the crown jewel of the Urbana Park District, it was created in 1907 with picnic areas, playgrounds and fishing piers now all surrounding Crystal Lake. Plenty of playing fields and hiking and biking trails are also dotted about as are an outdoor swimming pool and sand volleyball area among other amenities.
Besides exploring the beautiful Busey Woods and the excellent Anita Purves Nature Center, you can also swim and splash about at its fun and family-friendly aquatic centre.
8. Memorial Stadium
Lectrician2 / Wikipedia
An amazing place to catch a game, the massive Memorial Stadium is home to the college's Fighting Illini football team. Set towards the southwest of the campus, it exhibits an attractive mix of old and modern design elements with tailgating of course taking place outside.
Completed in 1923, the vast arena and its humongous horseshoe-shaped stands is now dedicated to the university's students who lost their lives in both World War I and II. Their names are touchingly engraved on the almost 200 pillars lining its facade with several statues and dedication plaques also displayed here and there.
All its seats and suites offer perfect sightlines of the pristine pitch with dozens of concession stands dotting its sprawling site. Thanks to the intoxicating atmosphere and impressive arena, watching the Fighting Illini play here truly is a memorable experience.
7. Market at the Square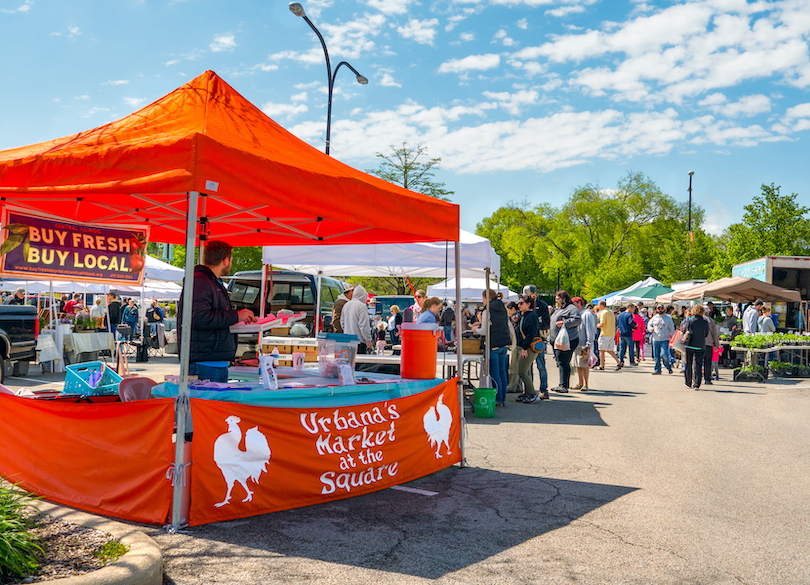 Loads of fun to peruse, the Market at the Square takes place every Saturday morning, rain or shine, from May through October. Outside Lincoln Square Mall in downtown Urbana, you'll find hundreds of farmers and vendors selling almost everything under the sun.
Ever since 1979, locals have flocked to the bustling market to shop at its colorful stands piled with fresh fruit and veg, meats, cheeses and pies. Now numbering almost 200 stalls in total, it makes for a lively yet laidback start to your Saturday with fantastic live music, food trucks and pop-up cafes only adding to the ambience.
While it mainly focuses on local produce, there are also numerous artisan stalls to explore selling handmade art, clothes, jewellery and more.
6. State Farm Center
Rossdbrown / Wikipedia
Right next to Memorial Stadium is another of the metropolitan area's main sports and entertainment venues: the State Farm Center. At the cavernous indoor arena, you can watch both the Fighting Illini men's and women's basketball teams and any of the big-name acts that pass through town.
Immediately recognizable from its distinctive dome, the futuristic-looking stadium is majestically lit up at night which makes it look more like a flying saucer. Formerly known as Assembly Hall, it was built in 1963 with university alumnus Max Abramovitz actually having designed it.
Its enormous dome creates an intimate yet electrifying atmosphere with the university's basketball games being fast-paced, frenetic affairs. Aside from cheering on the Fighting Illini and watching its famous 'Orange Krush' student cheering section, you can catch some incredible concerts: Elvis Presley, U2 and The Rolling Stones have performed here over the years.
5. Downtown Champaign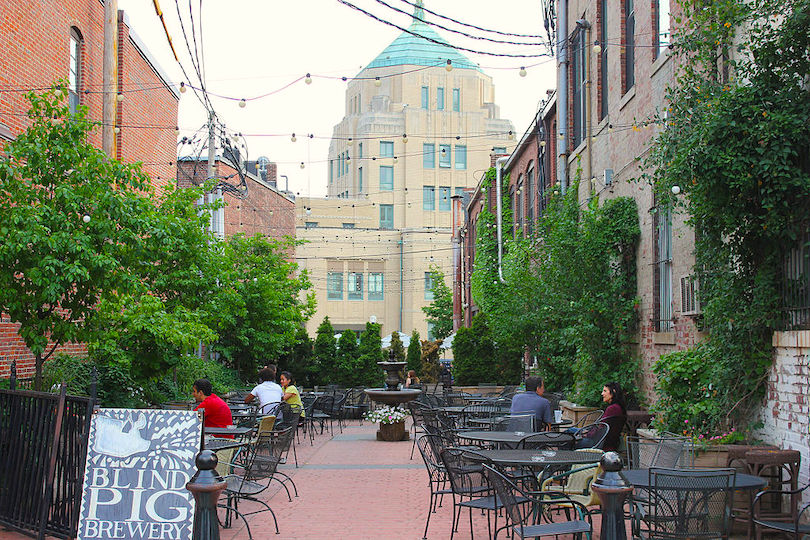 BrianZelip / Wikipedia
The heart and soul of life in town, Downtown Champaign contains a myriad of attractions, eateries and entertainment options. While it still has a lovely small-town feel and is quite walkable, the area is packed with fun and interesting things for you to see and do.
Lining its leafy streets are loads of al fresco dining options in summer as cafes and restaurants spill out onto the sidewalk. Alongside them are everything from comic book stores and antique shops to a brewery, fashion boutiques and local bookshops. It also has a happening nightlife scene to explore with other bubbles being found around campustown and Downtown Urbana.
Thanks to all the beautiful old brick buildings, it is a very pleasant place to stroll about with historic theatres and a handful of museums also lining its blocks. As it hosts countless concerts, community events and cultural festivals, there is always something going on downtown.
4. Krannert Art Museum
Erik Hansen / Flickr
As it covers everything from ancient Egypt right up to contemporary photography, the Krannert Art Museum really is fascinating to explore. Widely regarded as one of the best university museums in the US, it lies just a couple of blocks from Memorial Stadium on the Champaign-Urbana campus.
Since opening to the public in 1961, its collection has grown and grown with more than 11,000 paintings, photos, sculptures and prints now on display in its galleries. This makes the Krannert the second-largest fine arts museum in Illinois with it particularly specializing in pre-Columbian, Asian and twentieth-century artworks.
Alongside classical Greek and Roman works, visitors will therefore see not just Andean textiles and African headwear but abstract American paintings and ancient archaeological findings.
3. Virginia Theater
Illinois Public Radio / Flickr
Long one of the Champaign's most popular performing arts venues, the Virginia Theater puts on amazing films, phenomenal plays and much, much more besides. Thanks to its opulent Spanish Revival-style interior, the historic movie palace makes for a very memorable place to catch a concert or show.
Set right in the heart of town, the vintage venue certainly stands out from the crowd with its striking Renaissance Revival facade. Built in 1921 but renovated and remodeled more recently, its lavish lobby leads on to an extravagant auditorium which houses an original Wurlitzer Theater Pipe Organ.
Due to its delightful decor, it is well worth checking out their packed schedule of films, plays, dance shows and concerts to see if there's something that takes your fancy. A main highlight of the year is Ebertfest which sees about a dozen films screened and discussions and post-show panels take place.
2. University of Illinois Champaign-Urbana
Other than their two downtowns, much of life in the area revolves around the enormous University of Illinois Champaign-Urbana campus. While it hums with energy as excited students head to their classes and socialise, it also contains many of the metropolitan area's main sights.
One of the great public universities of the United States, the campus was founded back in 1867 with its sixteen schools and colleges now encompassing roughly 650 buildings, a research park and even an arboretum. Very green for the most part, its quads and pedestrian pathways are bordered by lots of impressive old buildings and historical landmarks.
While many simply house classrooms, labs or student accommodation, others contain museums and cultural institutes. With both the Memorial Stadium and State Farm Center set on campus, there are always special events and sporting spectacles going on which only add to the youthful and dynamic feel about the place.
1. Meadowbrook Park
Sure to delight nature lovers and outdoor enthusiasts alike, the massive Meadowbrook Park sprawls across a large part of south Urbana. As well as verdant woods and wetlands, it has plenty of paths, a huge playground and sculpture garden for visitors to amble around.
Lying almost at the southern limits of the city, the expansive park protects vast swathes of restored prairieland with paved paths weaving their way here and there amidst the tall grass. Lining the route are around twenty large sculptures by local artists with their strange shapes and silhouettes making for some fabulous photos.
Aside from wandering along its scenic trails, you can explore its unique sensory garden and historic old farmstead or just sit and enjoy a picnic while taking in the bucolic scenery.
Map of Things to Do in Champaign-Urbana, IL