This little city is cute and quaint. It has a slightly weathered and old-fashioned feel thanks to the historical buildings dotted around it. Bloomington offers that welcoming small town feel, yet there's still lots to do.
It's right next to the town of Normal, which feeds into its events and culture and makes it appear almost double in size. As a result there are more things to do in Bloomington and its surroundings than what you might expect from a city of this size. Fascinatingly, the city's history is intertwined with famous figures like Abraham Lincoln.
Spend a tranquil few days browsing the museums, sipping hot coffee at cafes, and admiring the stunning buildings in the downtown area. At night, head to the city's concerts and theaters for some late-night entertainment. At Bloomington you'll get the liveliness and entertainment of a big city without the noise and suffocating crowds!
12. Normal Theater
artistmac / Flickr
Not sure what to do with the rest of your night? Go and catch a movie at the Normal Theater! The theater opened back in 1937 but it was closed and neglected for a few decades before being restored to its former glory.
Savor sweet mouthfuls of popcorn in between giggles as you watch the latest comedy, feel the suspense of a good thriller, or get a buzz from the adrenaline surge you get watching a horror film. From classics to the latest releases, there's something for every mood.
They're located in the Uptown Normal district of Bloomington and they host concerts, comedy shows, and lectures too.
11. Miller Park
Miller Park has something for everyone. It's a great destination within Bloomington for families, especially those with young kids! Let's be honest, it can be hard to keep toddlers content, but they'll be entertained for hours at the splash park, and they're going to love the Miller Park Zoo!
The zoo in the park is small and cute, but manages to pack an array of exciting animals and insects into its walls.
Once you're done splashing around and visiting the animals, head on over to the park's lake and take a short stroll along the 1 mile trail that loops around it. Whether you bring a picnic and spend the whole day here or just visit for an hour, Miller Park promises to be a restorative and fun experience.
10. Eaton Studio Gallery
Eaton Studio and Gallery / Facebook
Held in a 1902 historic building in downtown Bloomington, the Eaton Studio Gallery has works of art by the fantastic (and local!) artist Herb Eaton. Born in Illinois in 1949, his work is deeply inspired by the surrounding landscape and Illinois culture.
There's an array of exhibits that explore different art styles through a vast selection of artistic media. Browse his paintings, sculptures, and drawings and reflect on the meanings of the scenes and marvel at the fine details and vibrant colors used in each piece. Lucky for you, you can buy his art here too!
On top of their exhibition, they also host concerts and theater events. Art enthusiasts and theater geeks – this one's for you.
9. Sprague's Super Service
This old-fashioned building along Route 66 was once a gas station. The structure is typical of gas stations from the 1930s era, when the Tudor Revival style, with red brick roof and red stripes running vertically down the structure, were commonplace.
Sprague's Super Service was constructed in 1931 and run by William Sprague. It ran as a gas station for many decades, but joined forces with other businesses like Joe's Welding and Boiler Company and even bridal and cake stores to keep business going after hard times hit.
Cute and frozen in time, it stands as a relic of the past. The pumps were removed in 1979, but a few of the businesses that ran from the station are still going strong today! When you're there it's not hard to picture the old Chevrolets and Plymouths that would have pulled up here along their journeys to fill up on gas and visit the store.
8. Bloomington Farmers Market
Gemma Billings / Flickr
There's nothing better than spending a sunny morning at a farmers market. The smell of fresh food, cute locally handcrafted gifts, and laid-back atmosphere are enticing to say the least.
Get some souvenirs to take home and sample all the tasters on offer before buying a jar of the best pickle and a bottle of the finest wine to enjoy on your holiday. Bloomington's Farmers Market also has a special treat in store… live music! Local street performers come along and play their catchiest hits.
At the Bloomington Farmers Market you'll get the chance to buy from the source and get to know the locals. It runs every Wednesday and Saturday.
7. Illinois Shakespeare Festival
VisitBN
Looking to add a little drama to your holiday? Then catch a show at the Illinois Shakespeare Festival. The project began in 1978 and was created when the Illinois State University School of Theater and the College of Fine Arts joined forces.
Fun and entertaining, they showcase Shakespearean classics with a twist. Their little amphitheater is cute and delightful. It has a small capacity, so you don't need to worry about not being able to see! They have free theater shows for families as well as their usual productions.
Their shows are hosted on the grounds of the stunning and grand Erwin Manor – you can expect the plays to be as magnificent as the venue! The old mansion is a prime example of Tudor architecture, the perfect setting for a Shakespearean day.
6. Children's Discovery Museum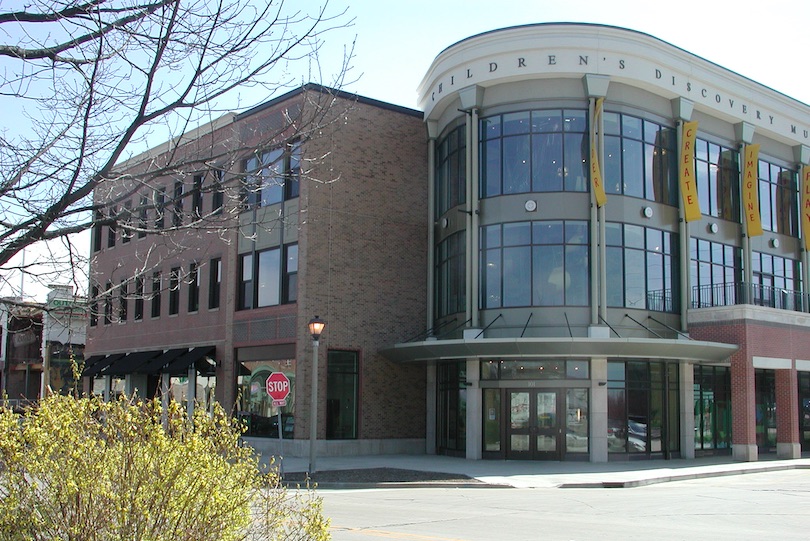 Children's Discovery Museum
This museum in Normal used to be called the McLean County Children's Discovery Museum. The organization was founded in 1988 when they noticed there was a lack of educational spaces for young kids in the area, but the museum didn't open its doors to the public until 1994.
It's a great way to spend a morning or afternoon if you're traveling as a family. One of their key missions is to allow kids to learn and explore through playing, so they've filled their museum to the brim with hands-on exhibits that everyone can test out!
It'll be a highlight of the holiday for toddlers. They can get messy in the arts and crafts areas, learn about anatomy with life size models, and try out different professions like being dentists and doctors in their interactive rooms.
5. Prairie Aviation Museum
The Prairie Aviation Museum has 9 aircrafts and 2 helicopters overall, as well as aviation exhibits. Come and check out the intricacies of the jet engines and piston on display, then get a picture sat inside the engine intake of their F-14 Tomcat – that's got to be an Insta worthy snap!
They've got a T-38 Air Force that was used to train NASA Space Shuttle pilots and other aircrafts with impressive histories waiting to be discovered. If you can come to one of their open cockpit days!
Go on a group tour and learn all there is to know about their aircrafts and the hidden exhibits they repair behind closed doors, or explore independently – however you visit you'll find it educational and fun!
4. Constitution Trail
This long and leisurely trail runs between Bloomington and Normal. A lot of the path follows the Illinois Central Gulf Railroad. What a clever way to use an abandoned railroad! Nature lovers and walkers will be especially pleased by the trail.
It was named the Constitution Trail in celebration of the 200th birthday of the U.S. Constitution. It opened up in 1989 after lots of planning and construction. It's paved and pretty flat, so it's not too arduous.
You can bike it, hike it, or just stroll through the trees and meet other nature lovers! The trail is a fairly integral part of the community, some people even use it to ride to work. It's an easy way to escape into nature for a few hours, and there are lots of different points where you can park and join the trail.
3. Miller Park Zoo
Heather Paul / Flickr
The Miller Park Zoo is in Miller Park. It's a small zoo, but there's plenty of funky animals to see! From Sumatran tigers and greater flamingos to American alligators, otters, and Galapagos tortoises (did you know they can live for more than a hundred years?).
Move between the different areas of the zoo, awe at the cute red pandas, and watch the kids squeal as the bigger, scarier residents of the zoo get up close.
It's big enough to fill an hour or two, and after that you can explore the park and lake around the zoo.
2. McLean County Museum of History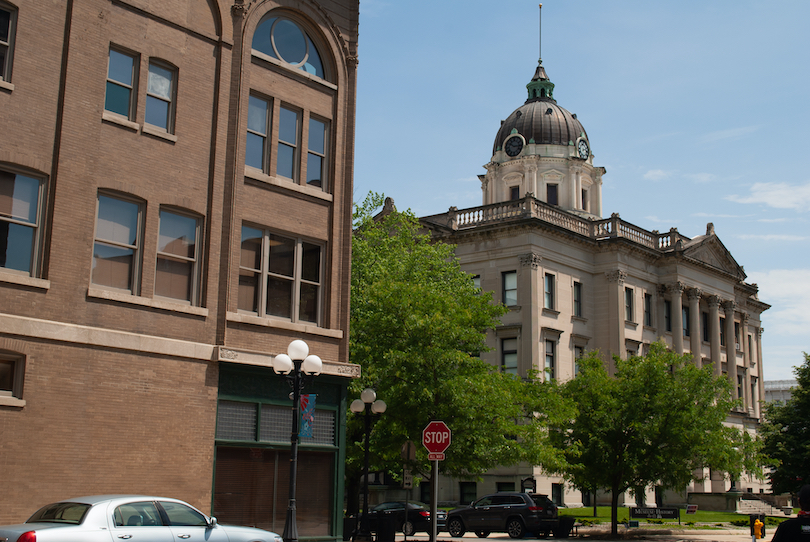 The story of this history museum began in 1892 when the McLean County Historical Society was founded. There are five permanent galleries full to the brim with intriguing exhibits, and another two galleries that rotate and change (so you can keep coming back and never get bored!).
They have over 18,000 objects and also house rare books on local history and genealogy that you can flip through. There's an exhibit on Lincoln's work in the McLean County and his humanitarian work as an anti-slavery activist.
But it's not limited to politics by any means, you can even find out about the area's farming history. Plus, the building itself is a relic of the past. The history museum is housed in an old courthouse, the oldest in McLean county! Find out all the facts as you walk around this grand building, which is impressive from outside too.
1. David Davis Mansion
This elegant and grand mansion was finished in 1872. It belonged to David Davis, who was a friend of Abraham Lincoln's, and also his campaign manager. He was later appointed by Lincoln as a Supreme Court Justice.
It's built in a mid-Victorian architectural style and has prominent Italianate and Second Empire features throughout. The mansion was designed by Alfred Piquenard and mainly used as a residence for David Davis's wife, Sarah, who wanted to stay in Bloomington instead of moving to Washington.
The Davis Davis Mansion is also known as Clover Lawn. Walk around and admire the period furniture, portraits, grand rooms decorated with what was at the time the most high-end decor. Don't leave before you check out their gift shop and buy some souvenirs!
Map of Things to do in Bloomington, IL