They say the best things in life are free, and this is certainly true in the bold city of Chicago. Entice yourself on an epic urban adventure and enjoy endless green spaces, parks, piers and river walks that are full of life and will not cost you a dime!
Whilst the skyscrapers and big city culture are undeniable, they certainly do not limit this inspiring Midwestern metropolis. If you love culture, then Chicago will make you feel right at home. Expect to spend countless fun and educational hours exploring some of the world's most renowned art and history museums.
With an exciting array of free things to do in Chicago, a vibrant music scene, jaw-dropping architecture, and that unbeatable city buzz, this is a city that will leave you wishing you could stay forever!
In this post, we'll cover:
14. North Avenue Beach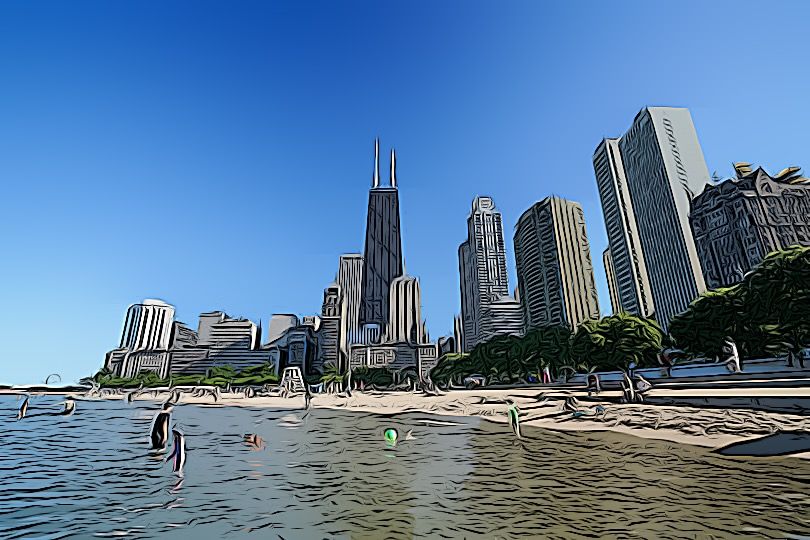 North Avenue Beach is one of Chicago's most popular beaches. Expect to wander among trendy beachfront bars and spacious sandy coves, all conveniently located near other fun attractions in Chicago.
After relaxing on the shore and enjoying the gulls bobbing on gentle waves, head into the unique and colourful docked beach house. The hues of blue and white bursting from this sleek building only get better once you enter.
Peek through the upper decks and portholes and prepare to be dazzled with one of the best views in the entire city of Chicago. Admire the sunset over the magnificent horizon and watch the bikers, runners, and rollerbladers glide down the lakefront trail. A visit here is sure to be memorable and leave you feeling like a local.
13. The 606
Once an abandoned industrial rail line, the 606 is now a multi-use recreational 2.7 mile trail and park running east–west on the northwest side of Chicago. Named as such for the 606 zip code prefix that Chicogoans share, this spectacular green space was the product of community groups who pushed to connect neighborhoods and create an innovative park space for everyone to make the most out of.
Enjoy street-level parks, public art installations, and a plethora of scenic look-out points perfect for a rest along your way or a sunny picnic lunch.
With 12 access points and 17 access ramps, the 606 is highly accessible for all. Explore this route by foot, bike, or if you are seeking a thrill, run it!
12. Museum of Science and Industry
Located in the quintessential South Side Chicago, a visit to this museum will hit two birds with one stone: give you a feel for Chicago's most popular neighborhood and secure a visit to the largest science museum in the Western Hemisphere.
You will find 0 dusty exhibits in this museum. Prepare to be thrilled by interactive exhibits that represent the thrills of the 21st century. Start with exploring "The Coal Mine".
Descend into a mine shaft and learn about the evolution of mining methods before heading to the U-595 Submarine exhibit and discover the secrets of this World War II captured ship. Leave feeling inspired about the technological, industrial, and scientific advancements of the modern world.
Chicago residents can enjoy free visits on selected days each month (excluding July). Check the museum's website to find out which days.
11. Chicago Water Tower
With its striking and ornate Gothic Revival style, the Chicago Water Tower is undoubtedly one of the most iconic buildings along the infamous Michigan Avenue.
Designed by one of Chicago's most prolific architects and built in 1869, this building has been charming residents and visitors for over a century. Its main purpose was to hold a 135 foot iron standpipe which managed water pressure. More than anything, William W. Boyington's Water Tower symbolizes Chicago's fierce and determined spirit to solve crucial water supply issues brought about by the city's rapid growth.
Today, the Historic Water Tower is an eclectic venue with funky art and photography displays from local artists. A visit just to say you have been inside one of the few buildings to survive the Great Chicago Fire of 1871 is definitely worth it!
10. Art Institute of Chicago
Located in the heart of downtown Chicago, the Art Institute is one of the oldest and largest art museums in the world.
This encyclopaedic museum is sure to keep everybody entertained. Not only does the institute house a collection of more than 260,000 exquisite artworks and artefacts, but it displays works in every medium from all cultures around the globe as well as all major historical periods.
Discover the greatest Impressionist collection outside Paris and come face to face with classic paintings like Edward Hopper's Nighthawks. On top of this, kids under 14, educators, and Chicago teens always go free whilst Illinois residents can enter without admission fees on Mondays, Thursdays and Fridays.
9. Navy Pier
Since 1995, Navy Pier has been welcoming tourists from all over the world to take in all of the beauty and excitement of a day on Lake Michigan.
Stretching more than 3,000 feet into Lake Michigan, this pedestrian boardwalk is bursting with life. From a huge IMAX theater to suit movie lovers, dynamic attractions, and delicious local and upscale eateries, you can be sure to spend a fun-filled, action-packed afternoon at Chicago's Navy Pier.
Summers at Navy Pier are not to be missed. Enjoy firework shows, outdoor music, and movie screenings all amidst the hues of a beautiful amber sunset.
Visitors should make the most out of the city's offerings, and ride the Chicago Trolley: a free circuit ride from Navy Pier to State Street and back again!
8. Maggie Daley Park
Open 6am to 9pm daily, Maggie Daley Park is the perfect place to go for a stroll in downtown Chicago, hang out with friends, or enjoy some winter fun as you brave the elements at the Ice Skating Ribbon venue. The best part: the skating is completely free, although online reservation tickets are required.
With many expansive play structures and fun features for kids of all ages, this is a great place to spend a few hours with the children and enjoy a picnic lunch before heading to a museum.
As the largest, busiest, and liveliest park in the city, it is no surprise that Maggie Daley park attracted a whopping 25 million visitors in 2021. Understand the craze and get a true feel for Chicago life by walking this park.
7. Lakefront Trail
This scenic 18-mile paved path is one of Chicago's most popular downtown spots and offers all manners of recreational experiences along Lake Michigan's stunning coastline.
Come day or night, expect to find yourself part of a vibrant community of bikers, families, skaters, runners, and walkers all enjoying one of Chicago's greatest public treasures.
With plenty of places to rest and grab a snack along your way, be sure to take a pit stop to admire the Chicago skyline. If you are lucky, you may even catch one of the quirky art installations that pop up throughout the year.
Walk this pedestrian-friendly trail to enjoy a relaxing afternoon filled with unforgettable city views and the true Chicago spirit!
6. Field Museum of Natural History
One of the many thrilling institutes that make up Chicago's extensive museum campus, a visit to the Field Museum of Natural History promises an exciting day of discovery for all its visitors.
Rendezvous with the largest and best preserved Tyrannosaurus Rex fossil ever discovered or hang out with one of the largest collections of mummies in the United States.
After checking out the 5,000 year old pharaoh tomb, do not miss out on one of the museum's most interesting exhibits. "Death: Life's Greatest Mystery" delves deeper into this unspoken taboo through the lens of differing natural and cultural processes.
Lucky Illinois residents can enjoy free admission here on select days of the month – check out their website for the specifics.
5. Buckingham Fountain
Built in 1927, the Buckingham Fountain is the gorgeous centerpiece of Chicago's Grant Park and one of the largest fountains in the world.
Inspired by the fountains of the French Palace of Versailles as well as the enormity of Lake Michigan, architect Edward H. Bennett literally built this fountain for a king. If you visit during the day, be prepared to see the fountain come to life and shoot water 50 feet into the air for 20 minutes straight! Come back at night to be even more impressed with a spectacular light and music show set against Chicago's beautiful skyline.
If you are pressed for time, be sure to snap a selfie here on your way to and from downtown Chicago.
4. Chicago Cultural Center
Just a stone's throw away from Millenium Park, this building has earned its place as the country's first free municipal cultural center. From quirky art exhibitions to architectural expositions, there is no shortage of fun here.
Take a step inside and be welcomed by immense character and style. With its 38 feet Tiffany glass dome and curving stairway faced with pink marble and ornate mosaics, you will understand why this charming space is often the venue to welcome Presidents, royalty, community leaders, and diplomats from all over the world.
To make the most of your visit, be sure to check the calendar for upcoming events and pick up a fun souvenir made by a local artist on your way out.
3. Garfield Park Conservatory
Dubbed "landscape art under glass", the Garfield Park Conservatory offers the perfect spot in Chicago to escape busy city life and take a relaxing journey amongst nature.
Whilst the conservatory is free and open to the public 365 days a year, a small donation is requested at the door but absolutely worth it. Bursting with around 120,000 different plants from all over the globe, you will automatically be transported to a plant paradise as you step inside.
With eight indoor display gardens, multiple conservatory rooms and grounds, lose yourself in one of the most stunning botanical conservatories in the nation. If you are lucky, fit in a themed activity and hone your scientific skills on a scavenger hunt for the whole family to enjoy.
2. Millennium Park
Just as New York has its Central Park, Chicago has its Millennium Park. Come and enjoy this beautiful green lung in the heart of the city, renowned for its accessibility and green design at zero cost.
Situated on the shores of Lake Michigan, the park houses several popular attractions in the city including the famed Cloud Gate. Nicknamed The Bean, this monument reels in hundreds of thousands of visitors annually who delight in seeing their reflections reflected and deformed.
Take some of the most unique photos of the Chicago skyline before heading to the futuristic Jay Pritzker Pavilion outdoor auditorium.
In the summer, enjoy the park's transformation into a concert and events venue, hosting the Independence Day celebrations with small iconic American flags.
1. Chicago Riverwalk
A day spent on the Chicago Riverwalk is truly the best way to experience the distinct Chicagoan way of life. Pedestrian-friendly and animated with the shadows of Chicago's most iconic buildings, the riverwalk is bursting with life.
Enjoy exploring the four distinct neighborhoods that make up this bustling bank. What's more, art lovers can enjoy the largest permanent digital exhibition in the world. Experience Art on theMART's colorful video-projection and watch it light up the river at night.
If you want to escape the crowds, why not delight in a stop at the Floating Garden. Boasting an array of wetland grasses and plants, enjoy the Chicagoan architecture from the comfort of your park bench, all the while wondering how this picturesque Riverwalk was once a smelly, shipping channel!
Map of Free Things to Do in Chicago