Perched on a peninsula that protrudes out into Casco Bay, the small seaside city of Portland has lots to see and do with many of its main tourist attractions relating to its maritime history, heritage and culture. In the Old Port, for instance, you can find lots of wonderful wharfs and warehouses as well as charming cobbled streets that are lined by beautiful old buildings and booming businesses.
While there are plenty of historical things to do in Portland, Maine, the city's expansive Arts District is also packed full of excellent art galleries and marvelous museums. Pretty waterfront parks and promenades can also be found lining the peninsula while the incredible Casco Bay Islands and their spellbinding scenery and nature are only ever a short ferry-ride away.
Lively yet laidback with lots of interesting historic sights and landmarks dotted about, Portland is certainly one of the best places to visit in Maine with many people stopping by during the sunny summer months.
12. Longfellow House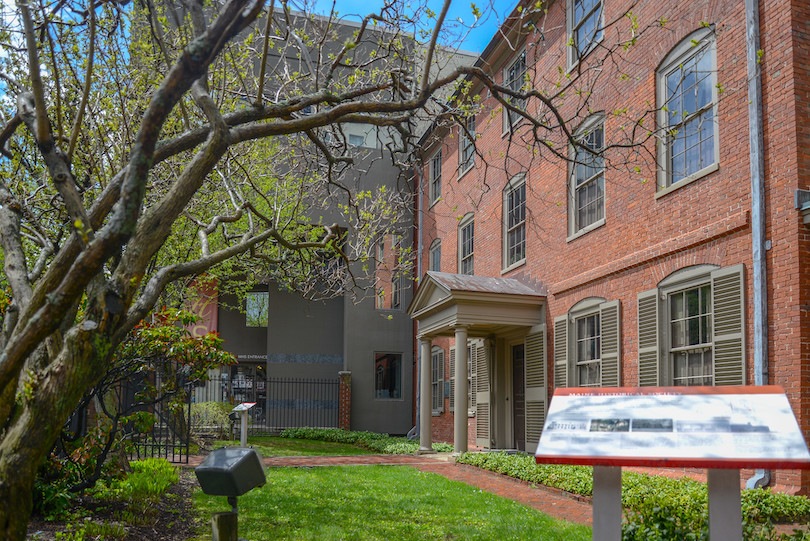 Corey Templeton / Flickr
Set right in the city center is the lovely Longfellow House which is of great historical and literary importance. As well as being the childhood home of the renowned American poet Henry Wadsworth Longfellow, the beautiful brick building is also the oldest on the whole of the Portland peninsula.
Built all the way back in 1785 by the American Revolutionary War General Peleg Wadsworth, it exhibits lots of attractive architecture with interesting artifacts and period pieces dotting its interior.
In addition to exploring the historic house and learning about the prominent poet and his influential family, you can also see how culture, styles and taste changed over time in New England. On top of this, the pretty property has a gorgeous Colonial Revival style garden for you to wander around.
11. Children's Museum and Theater
Located right in the heart of Portland's enthralling Arts District is the exquisite Children's Museum and Theater which has lots of fun, family-friendly activities and exhibits to check out. Through its hands-on displays and interactive installations, it inspires and instills in adults and children alike a sense of discovery, exploration and imagination through play.
Opened back in 1976, the magnificent museum merged with the Children's Theatre in 2008 with the enlarged and enhanced institution set to move to the nearby Thompson's Point in early 2021. It has absolutely loads of educational and engaging areas to explore with scintillating shows and award-winning outreach programmes also taking place.
In addition to this, it also has a mini planetarium to enjoy and a captivating Camera Obscura which offers up phenomenal panoramas out over the city.
10. Eastern Promenade
One of the most pleasant and picturesque parts of Portland's waterfront is its Eastern Promenade which is very easy-to-access and offers up a whole host of excellent outdoor activities. From the pretty public park and historic promenade, you can enjoy stupendous views of Casco Bay and all its shimmering waters, serene shorelines and idyllic islands.
Due to all its spellbinding scenery and wealth of fantastic views and recreational opportunities, the promenade and park are very popular with both locals and tourists alike. As well as all its plentiful paths, picnic areas, playgrounds and playing fields, Eastern Promenade also encompasses the lovely Loring Memorial Park and Fort Allen Park, both of which have some interesting monuments for you to check out.
9. Shipyard Brewing Company
Raging Wire / Flickr
The largest brewer in the whole of the state, the Shipyard Brewing Company has been producing award-winning ales and quality IPAs since 1994. As such, it is one of the best places to stop off for a refreshing beer with its atmospheric tasting room lying just a short distance from downtown.
Here you can sample sumptuous seasonal and speciality brews with all its English-style ales being produced though a mixture of traditional and innovative approaches. As well as tasting big-bodied beers and aromatic ales, you can also stock up on some of its best brews in its store and enjoy a bite to eat in the bar. In addition to this, you can even take a tour of the brewery to see how firm favorites such as Blue Fish Brut and Old Thumper are produced.
8. Hadlock Field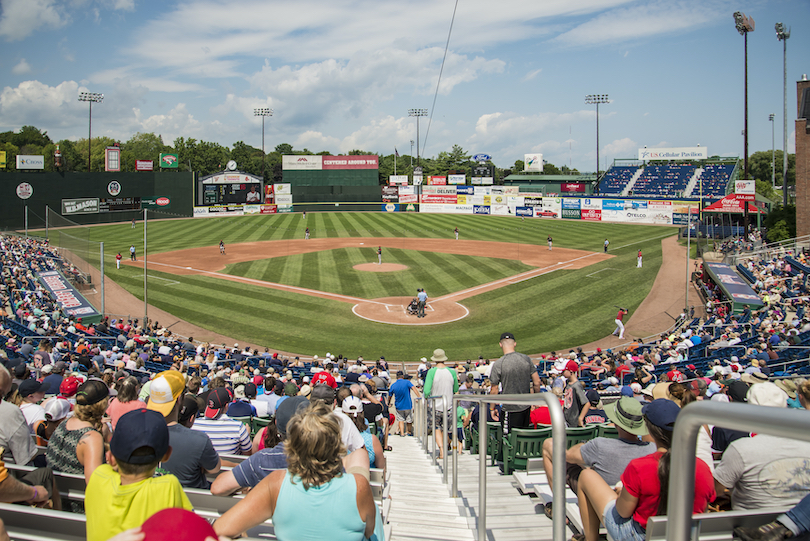 If you're after an exciting and authentic experience when in town, then you can't beat going to watch the Portland Sea Dogs play at Hadlock Field. While the baseball team may only play in the Minor League, the old time look and feel of the park, its excellent sight lines and intoxicating atmosphere all make for an unforgettable time.
Named after a long-time local high school teacher and baseball coach, Hadlock Field was opened in 1994 with very little having been changed since then. In left field you can spy the massive Maine Monster which is modeled on Fenway Park's Green Monster while above right field there is an area where fans stand the chance of catching a home run. Regularly ranked among the best minor league baseball stadiums, it lies just a short drive to the west of the city center.
7. Portland Observatory
Perched atop of Munjoy Hill is the prominent Portland Observatory which looks out over both the city's wharfs and the open ocean around it. From the maritime tower signals could be sent between ship and shore, greatly easing and accelerating communication, commands and commerce between the two.
The only surviving tower of its kind in the whole of the States, the octagonal observatory was built in 1807 with a lantern-like cupola lying atop of its 26-metre tall tower.
Now a National Historic Landmark and museum, it is well-worth visiting for its phenomenal panoramas out over the waves, wharfs and city. On top of this, you can also learn all about its fascinating past and how the tower operators used to signal to far-off ships using flags, telescopes and later on, telephones.
6. Portland Museum of Art
Lying in the heart of the Arts District is the fabulous Portland Museum of Art which has a colossal collection of amazing artworks for you to enjoy. Both the largest and oldest public art institution in the whole of the state, it was founded all the way back in 1882 with its paintings, photographs and sculptures having delighted countless generations since then.
Despite the city's small size, the museum boasts some of the biggest names in art with astounding works by Andy Warhol, Claude Monet and Pablo Picasso all being on display. In total, its gorgeous galleries have over 22,000 artworks to peruse over three elegant, interconnected and architecturally and aesthetically pleasing buildings.
While some parts of the marvelous museum look at European art and culture, others focus on American artists such as Andrew Wyeth and Winslow Homer.
5. Allagash Brewery
Allagash Brewing / Flickr
Nestled away just fifteen minutes' drive to the northwest of the city center is the excellent Allagash Brewery which brews some of the best Belgian-inspired beers in the world. Thanks to its success, a number of other magnificent microbreweries have sprung up in the area with Portland now being renowned and recognized around the country for its brilliant craft beer breweries.
At the award-winning Allagash Brewery you can take tours around its fantastic facilities to see how its superb stouts, tripels and wheat beers are fermented and bottled. After having learnt all about the production process, you can then sit down in their terrific tasting room and try a freshly pulled pils or buy some signature beers in their shop to take home as gifts.
4. Victoria Mansion
One of the most important and impressive examples of residential architecture in the whole of Maine, the attractive Italianite-style Victoria Mansion can be found right in the center of downtown Portland. Due to its arresting architecture and delightfully decorated interiors, the historic house is a very popular place and provides a portrait of the life of the wealthy in nineteenth-century America.
Now a National Historic Landmark, the beautiful brownstone building was built way back in 1860 for the hotelier Ruggles Sylvester Morse. As well as exhibiting an exquisite asymmetric design with a four-story tower overlooking a fetching veranda, it also has an incredible interior to explore. Here you'll find fabulous frescoes, fine furniture and unique fittings lying alongside lots of pretty period pieces and paintings.
3. Old Port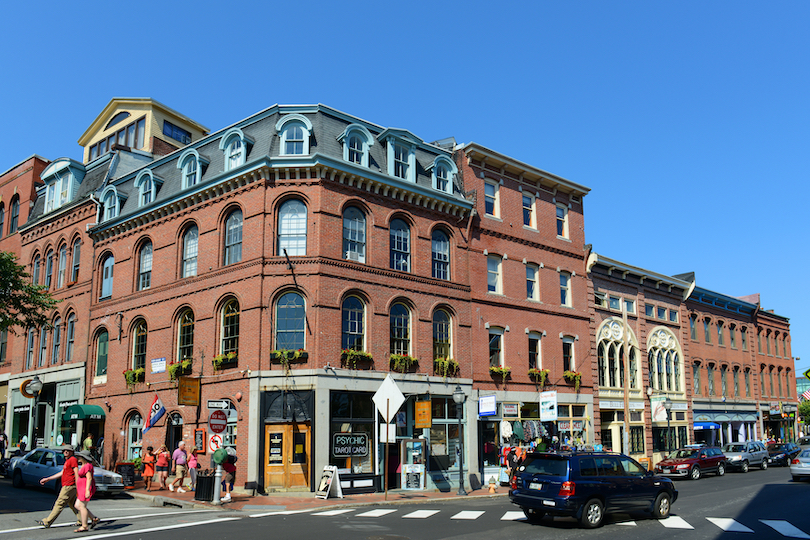 Packed full of great bars and restaurants with lovely little local art galleries and theaters also dotted about, the Old Port is certainly the beating heart of the city. Set on the southeast side of the Portland peninsula, it has lots of charming cobbled streets for you to explore as well as lots of wonderful old warehouses and wharfs.
Thanks to its lively yet laidback feel, the handsome historic district is one of the most popular parts of Portland among both locals tourists alike. Besides all of its brilliant nineteenth-century brick buildings, the area also offers up splendid views out over the ocean with boat trips to the Casco Bay Islands departing from its waterfront.
With lots of great shopping and dining to be had as well as a vibrant nightlife scene to enjoy, the Old Port is definitely not to be missed when in town.
2. Casco Bay Islands
Scattered just off the coast of the city are a captivating collection of idyllic islands for you to visit which are home to lots of stupendous scenery, landscapes and nature. While some of the Casco Bay Islands are inaccessible and uninhabited, others have cute cottages or cosy campsites for you to stay at with lots of outstanding outdoor activities being on offer.
From Portland's Old Port you can hop on a ferry and find yourself in a scenic, serene and secluded spot in no time at all. While the family-friendly Peaks Island has some great galleries, shops and ice cream stalls to stop off at, Great Diamond has the historic Fort McKinley to visit and picture-perfect rocky shores and lush forests to explore. On top of all the great hiking, cycling and kayaking that can be had, each of the islands has its own look and feel, attractions and things to do.
1. Portland Head Light
Lying at the entrance to the colossal Casco Bay and all of its islands is the Portland Head Light which has guided sailors to safety ever since 1791. Impressively the oldest lighthouse in the whole of Maine, it is perched on a rocky outcrop along the rough and rugged Cape Elizabeth coast which is situated just to the south of Portland Harbour.
As it lies amid such dramatic scenery with the wild waters of the Atlantic pounding its coastal cliffs, the lighthouse and its sparkling white tower make for some fabulous photos. Besides basking in the beauty of the desolate yet delightful spot, visitors can stop by its maritime museum to learn about the history of the lighthouse and its keepers.
Now a National Historic Landmark, the Portland Head Light is well worth visiting for its spectacular setting and the charming, craggy and quintessential Maine coastline that lies all around it.
Map of Things to do in Portland, Maine