For well over a century now, the quintessential Vermont village of Stowe has been a hugely popular tourist destination. This is in large part because it lies along the almost mythical Mountain Road and is surrounded by vast woods and soaring mountains that just beg to be explored.
While it is fittingly nicknamed the 'Ski Capital of the East', each of the four seasons offer their own enticing outdoor activities. In summer for instance visitors can hike or bike about the nearby peaks or along the Stowe Recreation Path while autumn is the time to bask in the beautiful fall foliage.
Although most people come to enjoy the great outdoors, the charming historic district also provides several things to do in Stowe with colorful shops and restaurants for you to explore. Add in its tasty local produce, its brilliant breweries and the numerous waterfalls nearby and it is no wonder Stowe is one of New England's top-rated towns to travel to.
14. Sterling Falls Gorge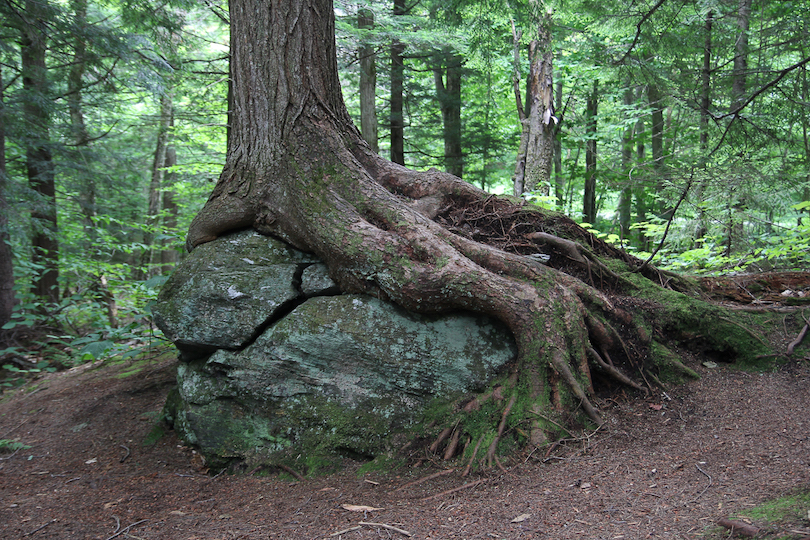 kbrookes / Flickr
Nestled away amidst the Green Mountains directly north of Stowe you can find the striking Sterling Falls Gorge. Almost entirely engulfed in lush shrubs, trees and ferns, the wonderful waterfall and its surrounding gorge certainly make for a stunning sight.
Lying at the end of a short yet scenic nature trail, its lovely cascades, falls and pools can be reached in just twenty minutes from the road. Formed over the course of millennia, the gorge walls reach up to fifty feet high in places with fantastic fauna and flora on show wherever you look.
Aside from snapping photos of the falls, you can also hike and bike along the myriad of tantalizing trails that wind their way through the verdant woods.
13. Vermont Ski and Snowboard Museum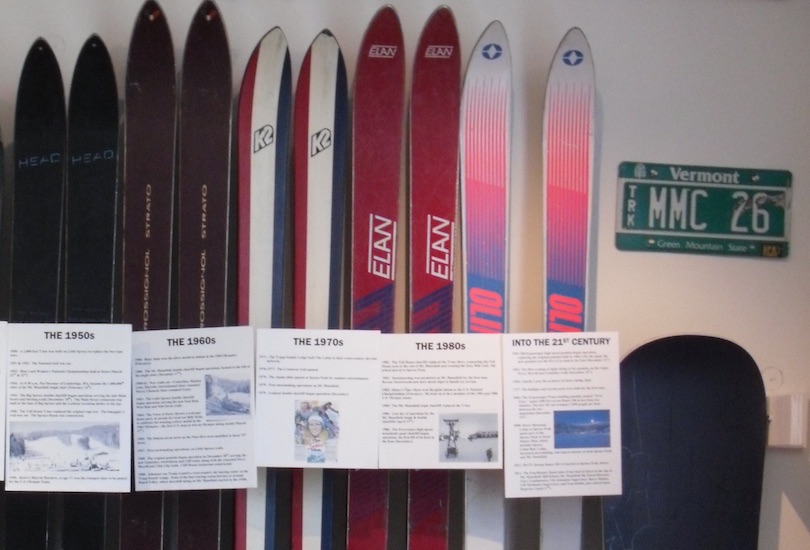 Jegelewicz / Wikipedia
Back in the center of town is another of the area's top attractions: the Vermont Ski and Snowboard Museum. Home to all kinds of interesting artifacts and exhibits, it shines a light on the history of the state's snow sports and honors the athletes and individuals who contributed to them.
Established in 1988, its comprehensive collection now encompasses everything from equipment and clothing to artworks, chair lifts and, of course, countless skis and snowboards. Informative displays also help to both preserve and celebrate Vermont's rich skiing and snowboarding heritage.
As the small museum is actually located in Stowe's Old Town Hall, its building is also an important historic site. Built in 1818, it is remarkably well-preserved with thousands of boots, poles, bags and photos covering every available surface.
12. Play Golf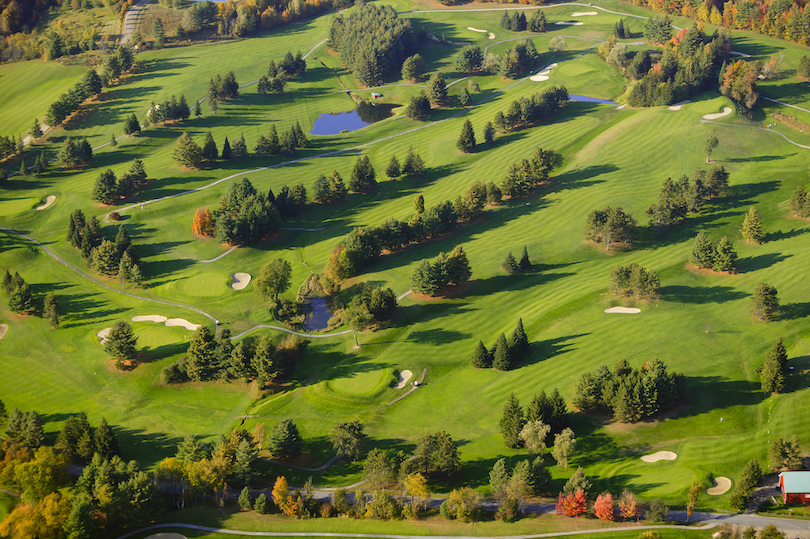 While Stowe is often understandably associated with winter sports, it also has lots of pristine greens where you can enjoy a relaxing round of golf. In total, more than a dozen immaculately manicured golf courses are dotted about the region with several fun and family-friendly mini-golf courses also being on offer.
Just a stone's throw from the center for instance are already two excellent eighteen-hole courses for visitors to check out. Both Stowe Country Club and O'Rourkes Irish Golf Crusade boast lovingly landscaped grounds with their hilly settings making hole-in-ones and eagles a challenge.
When the sun is shining, playing golf amidst Stowe's spellbinding scenery really is a treat with each country club sporting its own unique look and layout.
11. Ben & Jerry's Waterbury Factory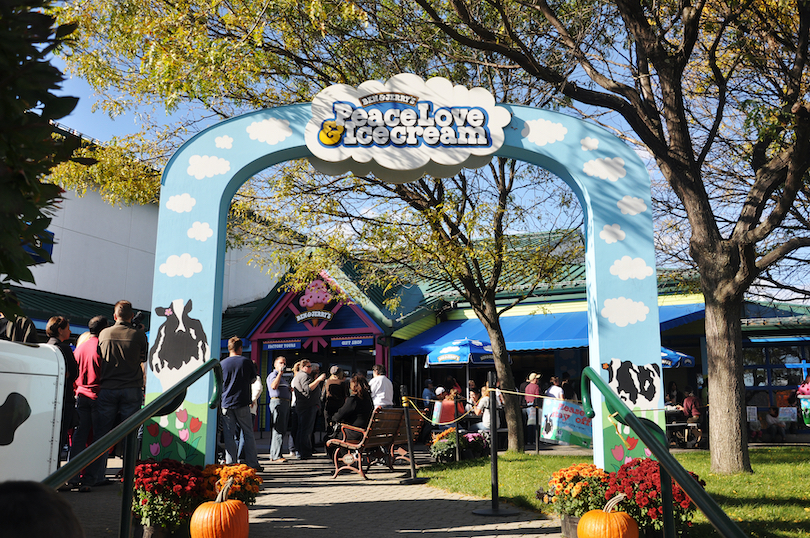 If you have a bit of a sweet tooth or are a fan of the famous brand, then you'll definitely want to take a tour around Ben & Jerry's Waterbury Factory. Founded back in 1978 in Burlington, the American ice cream company is now renowned around the world for its fabulous flavors and frozen yogurts.
From the center of Stowe, it only takes fifteen minutes to reach the huge factory in the neighboring Waterbury. Here you can take tours, see its production line in action and learn about how they came to create so many irresistibly unique ice creams.
As well as watching a video on their history and exploring the factory's 'Flavor Graveyard', you can also sample a scoop or two and buy tubs to take home.
10. Gold Brook Covered Bridge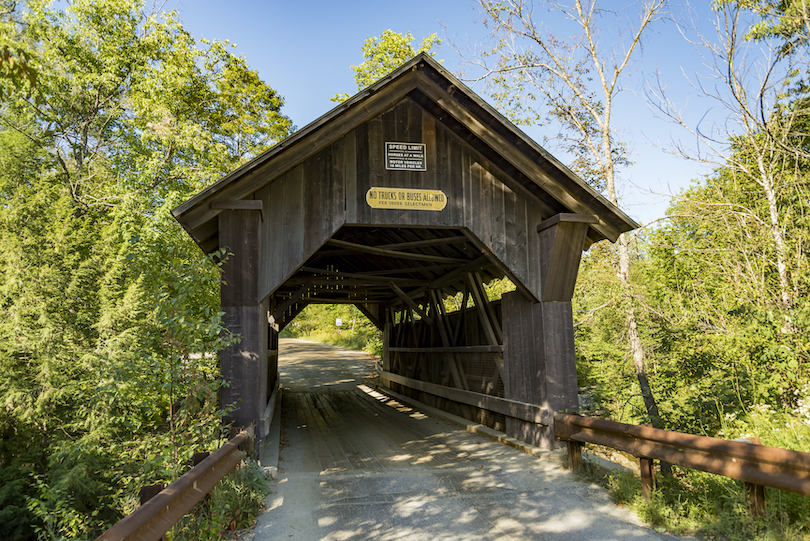 Set in a very picturesque spot, Gold Brook Covered Bridge lies just five minutes' drive south of Stowe. Also known as Emily's Bridge due to an eerie local legend (which we'll come to later), it was impressively erected all the way back in 1844.
Now the only surviving structure of its kind in all the state, it features wooden Howe trusses with a gabled metal roof covering it. Sheathed in dark planks with slit openings under its eaves, the bridge spans 48.5 feet in length.
Besides driving over and through it, visitors can learn all about the bridge's history and architecture on the informative plaque placed at its entrance. This also recounts the 'Legend of Emily' – a bride-to-be who is said to haunt the bridge. As the story goes, she ended her life in the brook below when her lover didn't show up to their marriage.
9. Moss Glen Falls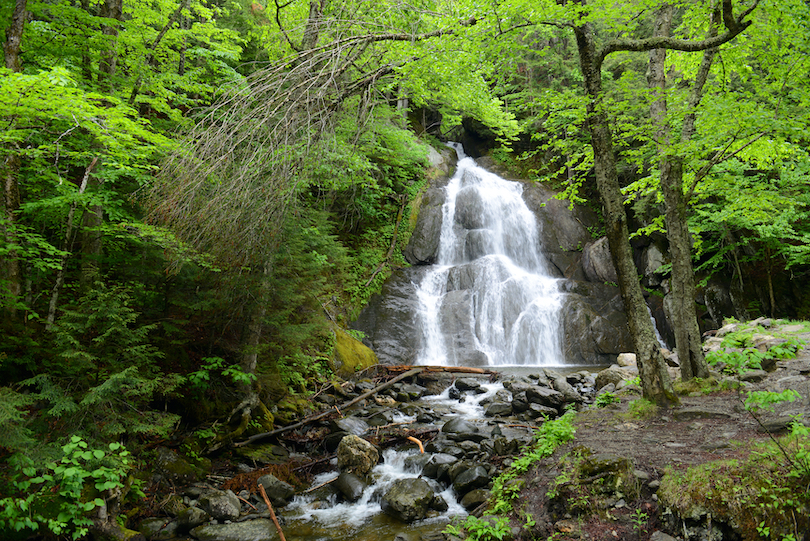 As it is one of Vermont's most spectacular natural sights, the gorgeous Moss Glen Falls is certainly not to be missed when in Stowe. Located just minutes from the center, it lies at the end of a short but slippery trail with lush trees and shrubs threatening to engulf it on all sides.
Towering 125 feet in height, its jet white waters cascade their way down the side of a rugged ravine in the pretty Putnam State Forest. At the foot of the waterfall, you'll find a reflective pool and rock formations that slowly give way to a creek and meadows amidst the woods.
After having snapped some photos of the falls and all the verdant flora around them, you can always hike further along the boardwalk for yet more startling scenery and nature.
8. The Alchemist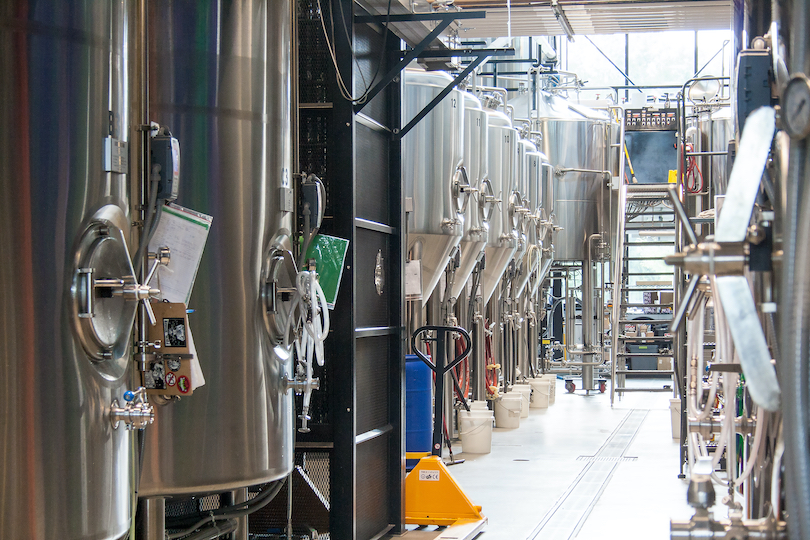 While the Green Mountain State has long been renowned for its fantastic local produce, its thriving craft beer scene has also attracted attention in recent decades. At The Alchemist on the outskirts of town, you can sample dozens of tasty brews and even take tours around its state-of-the-art facility.
Since being founded in 2003, it has grown considerably and won numerous awards with the hugely popular Heady Topper being the brewery's signature drink. On guided tours, you'll see how the hazy IPA is produced and learn about the age-old art of brewing in the state.
As well as enjoying a freshly pulled pint in either its tasting room or beer garden, you can also buy cans and packs to stock up your fridge or give out as gifts.
7. Stowe Village Historic District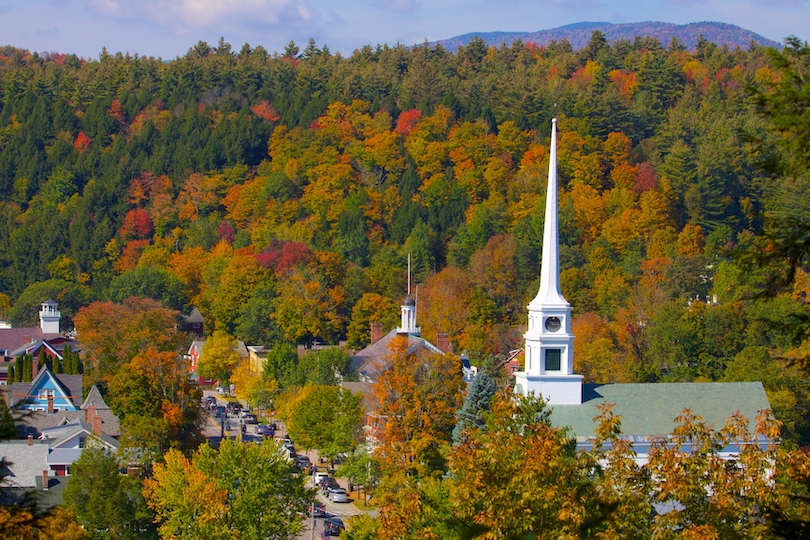 Making up most of downtown is the charming and colorful Stowe Village Historic District. Packed with unique boutiques and beautiful old buildings, its scenic streets really are lovely to explore with interesting things to see and do wherever you go.
Presided over by the massive Mount Mansfield, the quaint historic district is roughly centered around the three-way junction of Vermont Route 100. Here visitors can find plenty of great local restaurants and cafes to try out as well as over fifty shops, specialty stores and galleries.
As the area has been a major resort center since the nineteenth century, lots of historic buildings of various architectural styles line its streets. Now recognized as a National Historic Site, the attractive district is largely what makes Stowe such a special place to visit.
6. Cold Hollow Cider Mill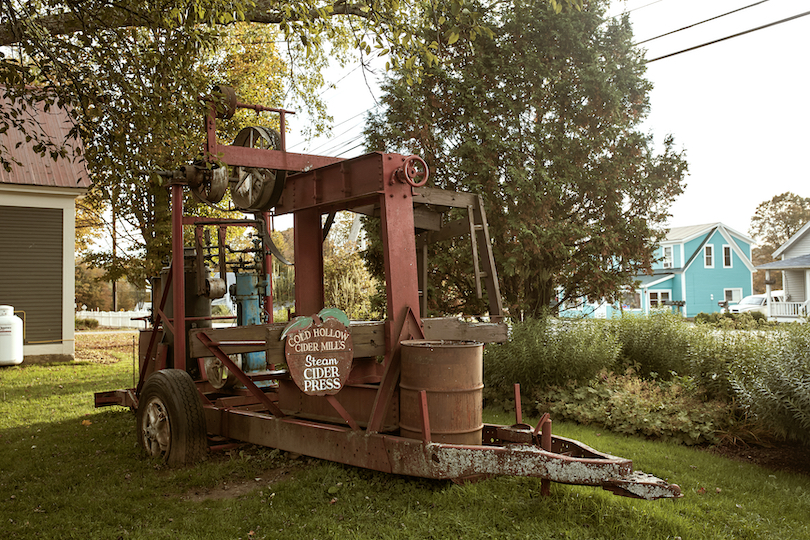 Another superb spot to hit up if you want to try some delicious local produce and mouth-watering baked goods is the Cold Hollow Cider Mill. A firm favorite with locals and tourists alike, the mill's bakery and market can be found not far from the center of Waterbury.
While parts of the property actually date to the early 1800s, the Cider Mill has been run by the same family since the turn of the millennium. Very friendly and welcoming, they'll encourage you to give their legendary cider doughnuts or enticing cheddar biscuits a go. The Vermont staples of maple, honey and apple are the primary ingredients of many of their products.
Besides sitting down and enjoying a bite to eat in their restaurant and bakery, you can also shop for souvenirs at the mill's market and sample cider in its tasting room.
5. Smugglers Notch State Park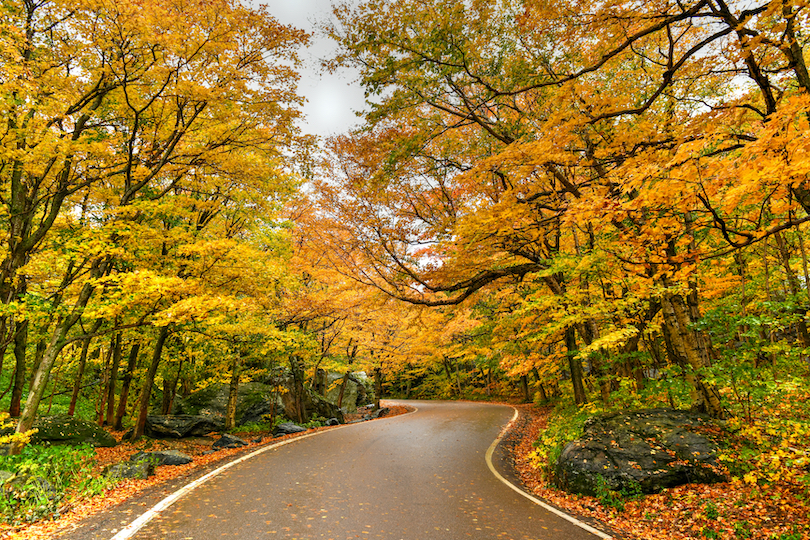 Home to lots of stupendous landscapes, scenery and nature, Smugglers Notch State Park meanders its way through the magnificent Green Mountains. Whereas they now offer all kinds of fun outdoor activities, its elevated confines were once instead used as a smuggling route into nearby Canada.
Named for the lofty pass that lies between Mount Mansfield and Spruce Peak, the pristine state park contains countless cliffs, boulders and woods. It is this rough and rugged terrain that made it perfect for smugglers moving goods and livestock through the region and fugitive slaves escaping along the Underground Railroad.
Due to its untouched wilderness, it is now a brilliant place to hike, bike or climb with amazing rock formations and views on offer. As the park lies at a height of over 2,000 feet, you can even ski and snowmobile about in the winter months.
4. Trapp Family Lodge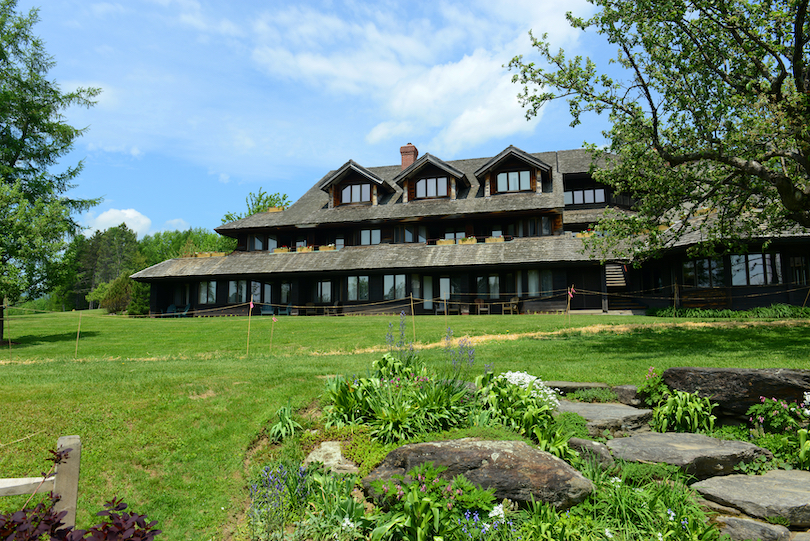 Made world-famous by The Sound of Music, it was actually here in Stowe that the von Trapp family settled after fleeing annexed Austria in 1938. Over the years, they slowly expanded their marvelous mountain lodge into the fully operating ski resort it is today.
At their enormous outdoor center, you can hike and bike about 'til your heart's content with skiing of course being one of its main attractions. In total, there are over a hundred miles of slopes and trails to explore with pools, tennis courts and a disc golf course also dotting the expansive property.
The large lodge itself has a very homely and historic feel with its working farm providing the three on-site restaurants with fresh produce daily. Fans of the musical can take tours around the estate and learn about the lives of the family in Vermont.
3. Mount Mansfield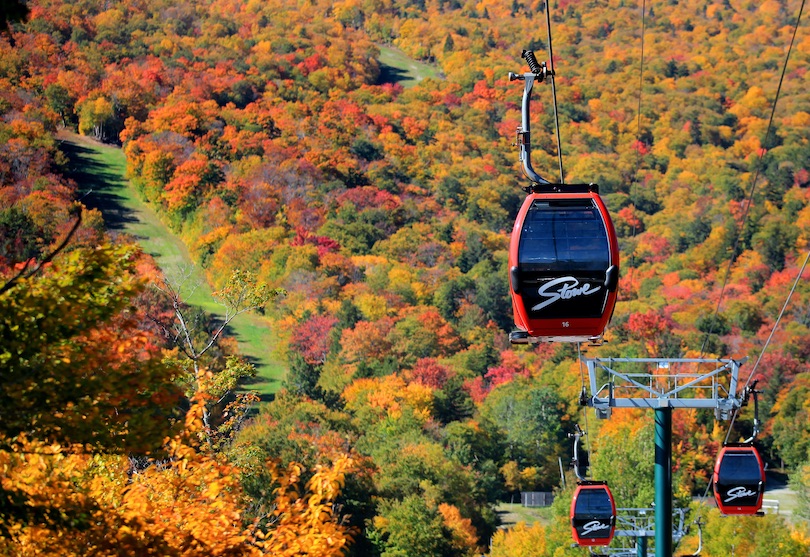 The tallest peak in the state, the majestic Mount Mansfield rises dramatically above the tiny town of Stowe far below at its base. Besides boasting lots of delightful scenery and views, it has a wealth of wonderful outdoor activities for locals and visitors to enjoy.
Often said to resemble a human due to its distinctive face-like features, the gigantic peak makes up part of a long and rugged ridgeline. Also known as 'The Chin', its soaring summit reaches 4,395 feet in height with some splendid skiing to be enjoyed at the Stowe Mountain Resort on its eastern flank.
Asides from shooting down its slopes, you can always drive up to 'The Nose' or take a gondola there and then hike about its verdant woods and vast valleys.
2. Stowe Mountain Resort
As the town is known as the 'Ski Capital of the East', you simply can't stop by Stowe without taking to its slopes. In just fifteen minutes, you can find yourself at the Stowe Mountain Resort, perched up high on the sides of the mighty Mount Mansfield.
Established in 1937, the resort now has more than 110 runs to choose from that cater to all ages and abilities. While some are fast and furious, others are perfectly suited for beginners and young ones with its total vertical drop standing at a whopping 2,360 feet.
Servicing its trails and terrain parks are a dozen chairlifts and gondolas with a ski school, shop and comfy lodge also being dotted about the mountainside.
1. Stowe Recreation Path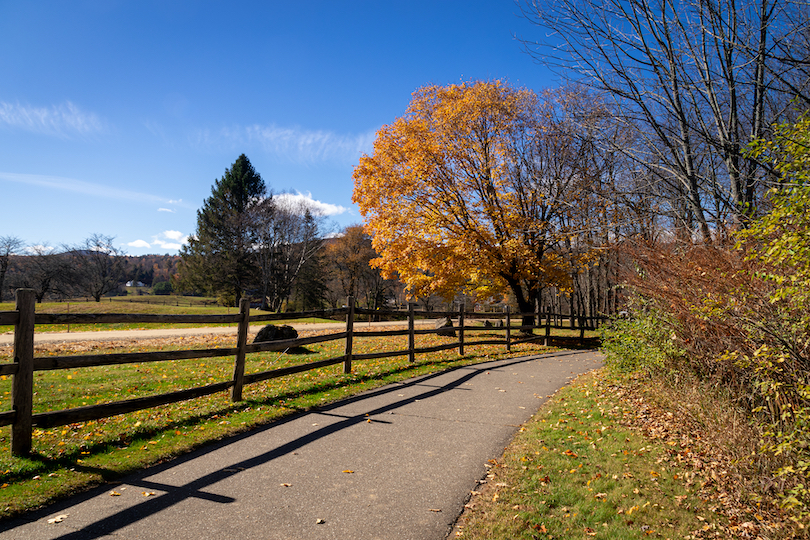 If you want to see as much of Stowe and its surroundings as possible, make sure to venture along the popular and picturesque Stowe Recreation Path. Besides winding its way through lots of lovely landscapes, it also takes you past charming local restaurants, lodges and picnic spots.
Since being built in the eighties, the 'Rec Path', as locals call it, has drawn international acclaim for its outstanding beauty. Starting at Stowe Village, it snakes its way right to Topnotch Resort on the Mountain Road with the paved pedestrian path stretching just under 5.5 miles in total.
As motorized vehicles aren't permitted, nature lovers can jog, run, cycle or walk while enjoying the peace and quiet of the mountains and woods all around them.
Map of Things to do in Stowe, VT