As one of the original Thirteen Colonies and birthplace of the American Revolution, it is no wonder Massachusetts is renowned for its rich history and heritage. While countless impressive monuments and important historic sites litter the Bay State, it also has scenic spots such as Cape Cod, Martha's Vineyard and Nantucket for holidaymakers to enjoy.
Tucked away in the northeast of the United States in New England, its long Atlantic Ocean coastline is dominated by the three ginormous bays that shape it. It was here in the early seventeenth-century that the first colonists arrived and set up settlements like Salem and Boston. Along with the Plimoth Patuxet Museums and Old Sturbridge Village, they now offer a captivating look into the state's past.
With old battlefields and atmospheric whaling towns to see alongside pristine beaches and Boston's exciting nightlife scene, there are enough things to do in Massachusetts that will appeal to everyone.
In this post, we'll cover:
33. Peabody Essex Museum, Salem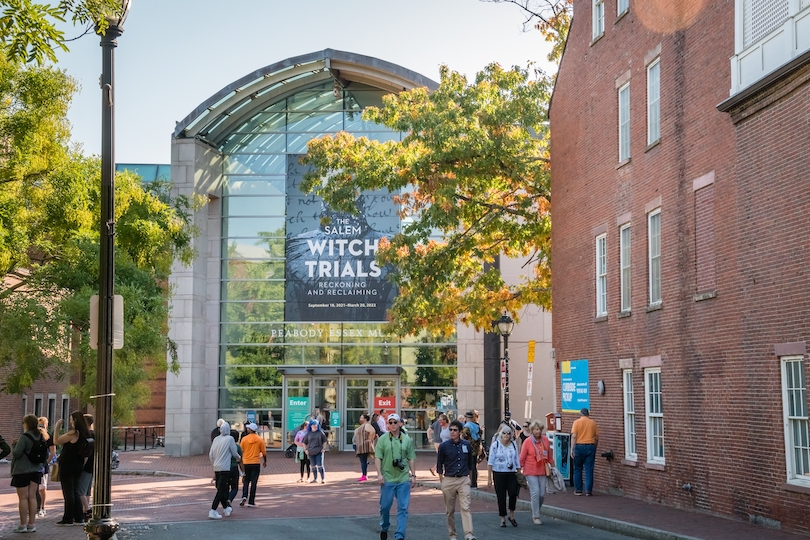 Lying right in the historic heart of Salem is one of the charming coastal city's top cultural institutes: the outstanding Peabody Essex Museum. As well as boasting an extensive collection of Asian art, it has artifacts and exhibits covering the area's maritime history.
One of the oldest continuously operating museums in the States, its roots date to 1799 when the East India Marine Society was founded. Nowadays over a million works of art and culture pack its grand galleries. While some sections focus on Native American art or Salem's connection to the sea, others transport you as far away as Africa, Asia and Oceania.
In addition to phenomenal paintings and photos, the museum campus has two dozen historic houses and gardens to explore with the Yin Yu Tang House being a particular highlight.
32. Bash Bish Falls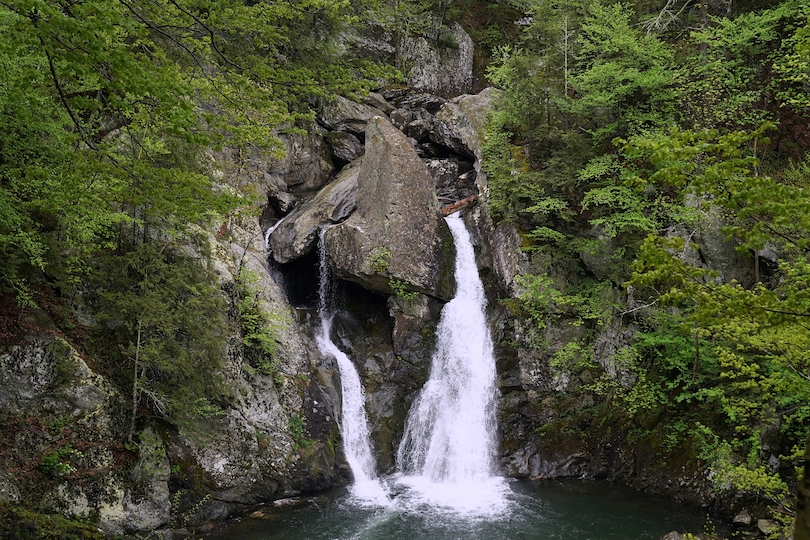 Now protected as part of a state park, the beautiful Bash Bish Falls can be found in the southwest of the state, not far from Mount Washington. Besides making for some fantastic photos and viewing, it has numerous hikes and campsites to enjoy in the surrounding area.
Tucked away amidst the Taconic Mountains, it towers almost 200 feet in height with its bright white waters standing out delightfully against the jagged rocks and lush foliage. After coursing their way through a series of gorges, the cascades plunge into a serene pool overlooked by a scenic viewpoint.
The largest and arguably loveliest waterfall in the Bay State, its final falls are divided in two by a dramatic-looking boulder perched on the mountainside. After snapping some pics, take time to hike the mountains and forests around it.
31. John F Kennedy Hyannis Museum
Offering up a fascinating look into the life and legacy of the former president is the John F Kennedy Hyannis Museum. Due to his connection with Cape Cod, JFK frequently visited with photos, videos and oral testimonies all highlighting how he holidayed here with family and friends.
As Hyannis Port was considered the 'heart and home' of the Kennedys, it is no wonder the museum is located in what was formerly its town hall. Its exhibits show how John, Jackie and the kids spent their summers swimming and sailing, away from the endless demands of the Oval Office.
Asides from seeing joyful photos of the family laughing and relaxing, there is also a fabulous video to watch on the president's powerful and poignant 'Ripple of Hope' speech.
30. Heritage Museums & Gardens, Sandwich
MOOT&T / Flickr
A very peaceful and picturesque place, the Heritage Museums & Gardens lie just twenty minutes to the northwest of Hyannis. Alongside gorgeous grounds displaying rhododendrons and hydrangeas, there are three gallery buildings containing antique cars and American folk art to explore.
Sprawling across a huge area just outside of Sandwich, its gardens now protect the former estate of Charles Dexter. Between 1921 and 1943, the renowned rhododendron hybridizer planted thousands of species of trees, shrubs and flowers with it still being noted for its colorful collections of plants.
After having ambled amidst its delightful daylilies and seen its 1800s Old East Mill, it is well worth checking out its classic cars and Native American carvings. One of the museums' main attractions, however, remains its lovely Looff Carousel hand-crafted in 1908.
29. Hammond Castle Museum
Exhibiting an exquisite mix of architectural styles, Hammond Castle overlooks the state's attractive Atlantic Ocean coastline. Now open to the public as a museum, it displays lots of Roman, Medieval and Renaissance artifacts along with exhibits on the inventor's many amazing inventions.
Built between 1926 and 1929, John Hays Hammond Jr's dream residence looks like a cross between a castle and cathedral. As such, towers and turrets both feature alongside the detailed facades of old medieval shops and fetching flying buttresses. Its grand chambers and elegant art-decked hallways only make his former home and laboratory even more interesting to explore.
The museum also presents an extensive list of the pioneer's patents that remarkably numbered more than 400 in total. As well as old organs and religious icons, visitors can also enjoy sweeping views over Gloucester Harbour from its clifftop setting.
28. Basketball Hall of Fame, Springfield
As the popular sport was actually invented in the city, it is only appropriate that the Basketball Hall of Fame is one of Springfield's main sights. Set just south of the center, its three vast floors have all kinds of unique old memorabilia and interactive exhibits to wander around.
Instantly recognizable from the building's silver, ball-shaped sphere, the museum was established in 1959 to promote and preserve the history of basketball. Unlike other halls of fame in the country, it honors both international and American professionals and amateurs with 400 coaches, referees and A-list stars having been inducted to date.
Besides learning about legends Magic Johnson and Michael Jordan, you can see their signed shoes and uniforms, plus watch clips of them in action. As its displays are centered around a full-sized court, you can even shoot some hoops at the museum.
27. New Bedford Whaling Museum
Yet another excellent institute to visit in Massachusetts is the New Bedford Whaling Museum which looks at the history, art and culture of the international industry. As whaling was once so important to the town, its complex of historical buildings and galleries now sprawls across a whole city block.
Since being founded in 1903, the museum has grown and grown with its collection now numbering around 750,000 objects in total. As well as weathered old captains' logbooks and intricately-carved ivory engravings, you can see the full skeletons of five absolutely enormous whales and the Lagoda – the world's largest model ship.
Other enthralling exhibits document the evolution of the industry over the ages in countries like the US and Japan among others.
26. Commercial Street, Provincetown
Due to its beautiful beaches and captivating art scene, Provincetown at the very tip of Cape Cod has long been a popular holiday destination. Most of its bustling businesses and eclectic art galleries can be found along Commercial Street which acts as the heart and soul of life in town.
Lined by lots of attractive houses and cosy cottages, the long street runs right through the center of P-town, parallel to the bay. Clustered at its Eastern End are around forty lovely little galleries where you can pick up paintings and prints or meet artists and sip wine at their Friday evening opening.
Countless cool shops and cute cafes are also scattered along the lively yet laidback street where you often encounter men in drag and other revelers enjoying the town's vibrant nightlife.
25. Adams National Historical Park
For those interested in learning more about the history of the country, the Adams National Historical Park is definitely not to be missed. This is because it preserves the homes of two former presidents whose ideas and actions helped transform the thirteen colonies into one united nation.
Located just fifteen minutes' drive south of Boston outside Quincy, the large complex encompasses eleven historic buildings with the oldest dating to 1731. Inside, artifacts and exhibits tell the story of five generations of the Adams family and recount the profound impact they had on the early United States and its formation.
In addition to seeing the birthplaces of both John Adams and John Quincy Adams, visitors can stroll around landscaped gardens and the Stone Library, full of old tomes belonging to the family.
24. Isabella Stewart Gardner Museum
Just up the road in nearby Boston is another of the state's must-see sights: the awe-inspiring Isabella Stewart Gardner Museum. Modeled on a fifteenth-century Venetian palace, the building houses an impressive collection of American, European and Asian artworks.
Named for the philanthropist Isabella Stewart Gardner, the extraordinary museum was first opened to the public in 1903. While its exquisite architecture and idyllic courtyard garden are already works of art in their own right, its grand galleries are just as exciting to explore.
Alongside masterpieces by Botticelli, Raphael and Rembrandt, you can see ceramics and sculptures. Fine furniture and textiles also feature. Its extensive and eccentric collection covers countless centuries and cultures with amazing Medieval treasures and elaborate Islamic art on show wherever you look.
23. Six Flags New England
A firm favorite with families, Six Flags New England is full of hair-raising rides and rollercoasters for you to enjoy. One of the largest theme parks on the Eastern Seaboard, its innumerable attractions lie just south of Springfield, alongside the Connecticut River.
What started out life in 1870 as a picnic spot with several mechanical rides and a carousel has since slowly morphed into a massive amusement park. In total, Six Flags now boasts more than a hundred thrilling rides and attractions with a large water park and loads of world-class shows also on offer.
Particularly popular are the old wooden Thunderbolt rollercoaster which opened in 1941 and scary Superman The Ride which plummets 221 feet at one point. With food stalls and child-friendly rides dotted about, the park makes for a memorable day out for all the family.
22. Harvard Museum of Natural History
Home to an incredible collection of specimens, the Harvard Museum of Natural History is one of the prestigious university's most-visited attractions. Situated on its campus in Cambridge, its gigantic red brick building has endless exhibits on the natural world for guests to peruse.
Formed out of three research museums in 1998, its large galleries display everything from dinosaur fossils and meteorites to stuffed animals and tiny invertebrates. While the world's only mounted 42-foot-long Kronosaurus certainly makes for a striking sight, for many, the thousands of breathtaking Blaschka glass flowers are the museum's main highlight.
After having seen Triceratops skulls and whale skeletons, you can always walk to the historic Harvard Yard that lies nearby.
21. Historic Deerfield
A fascinating place to visit, Historic Deerfield shines a light on what life was like in New England's historic villages and countryside. Alongside several galleries and museums, there are about a dozen eighteenth and nineteenth-century houses to explore.
Very well-preserved, its collection of atmospheric old structures lies along a 330-year-old street, just to the north of Northampton. They showcase some fine colonial and Federal-style architecture with fabulous furnishings and period pieces decorating their interiors.
These and the interesting artifacts and exhibits in its visitor center present a comprehensive picture of how people in frontier villages used to live in the past. The historical complex is also noted for its pretty American quilts and the numerous crafts and cooking classes it puts on throughout the year.
20. New England Aquarium
If you're after some cool sea creatures, then the New England Aquarium is definitely the place to go. A global leader in both ocean exploration and marine conservation, its ginormous tanks and exhibition spaces lie alongside Boston Harbor.
Established in 1969, it now occupies a huge waterfront complex that includes Simons Theater and a whale-watching wharf. While some sections of the aquarium cover temperate and tropical climates, other parts are home to cute African penguins, lazy sea turtles and dozens of species of sharks.
Its main feature however is the Giant Ocean Tank which simulates a colorful Caribbean coral reef. Here visitors can see shimmering shoals of fish and stingrays swirling about with touch tanks full of starfish and horseshoe crabs also scattered about.
19. Chatham Lighthouse
One of Cape Cod's most famous historical landmarks, the charming Chatham Lighthouse overlooks both the 'elbow's' largest beach and endless Atlantic Ocean. Aside from learning all about its history, you can also enjoy sweeping views over the sea and shore from atop its tall tower.
Watching out over both the nearby North Beach Island and Nantucket Sound, it was erected in 1877 to warn sailors about its perilous shallows and sandbars. While an earlier wooden light on moveable skids was built in the early 1800s, the current one was set further inland to protect it against erosion.
On top of snapping some photos of its bright white exterior and accompanying coast guard station, you can take tours around its interior and hear all about the lives of its lightkeepers.
18. Fenway Park, Boston
As it is known as the 'Cathedral of Baseball', the hallowed Fenway Park is well worth a visit even if you aren't into the sport. Now the home of the Red Sox for well over a century, the iconic, old-style sports stadium is an unforgettable place to catch an action-packed game.
The oldest active ballpark in the MLB, it was completed in 1912 with numerous extensions and renovations also having taken place. Besides 'The Triangle' at center field and towering 'Pesky's Pole', its most distinctive feature is the 37-foot-tall left field wall known as the 'Green Monster'.
Watching the Red Sox play is an intoxicating experience as just under 40,000 fervent fans roar their team to success. As it is one of the state capital's standout symbols and sights, visiting Fenway Park is a must when in Boston.
17. Shining Sea Bikeway
Chris Rycroft / Flickr
A wonderful way to see even more of Cape Cod in peace and quiet is to walk, run or cycle along the Shining Sea Bikeway. It takes you right from the ferry terminal in Woods Hole to North Falmouth, passing quaint villages and picturesque nature spots on the way.
Reaching just over ten miles in length, the multipurpose path was opened in 1975 atop what was once an old dilapidated railway line. Its name is a reference to a line from the patriotic song America the Beautiful which was written by Katherine Lee Bates, a Cape Cod native.
As you cycle slowly along the scenic and serene route, you'll pass salt marshes, cranberry bogs and beaches and enjoy some epic views over Buzzards Bay.
16. Tanglewood Concerts, Lenox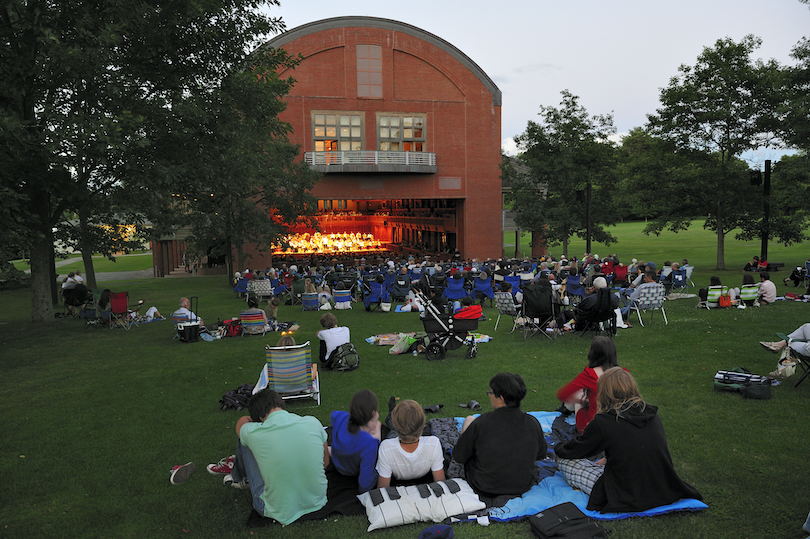 Each summer, the Boston Symphony Orchestra decamps to the tiny town of Lenox where it puts on a series of world-class performances known as the Tanglewood Concerts. As renowned conductors, soloists and musicians perform, music lovers flock here from late June through to early September.
Since 1937, the excellent orchestra and all its top talents have descended on western Massachusetts to play amidst the rolling Berkshire Hills. Numerous venues now accommodate them, including the fan-shaped Koussevitzky Music Shed and elegant, wood-decked Seiji Ozawa Hall. Guests can also sit outside on the lawn and listen to the lovely music while taking in the scenery around them.
In addition to its classical concerts, jazz pianists, string quartets and chorus groups all also perform throughout the sunny summer months.
15. Nantucket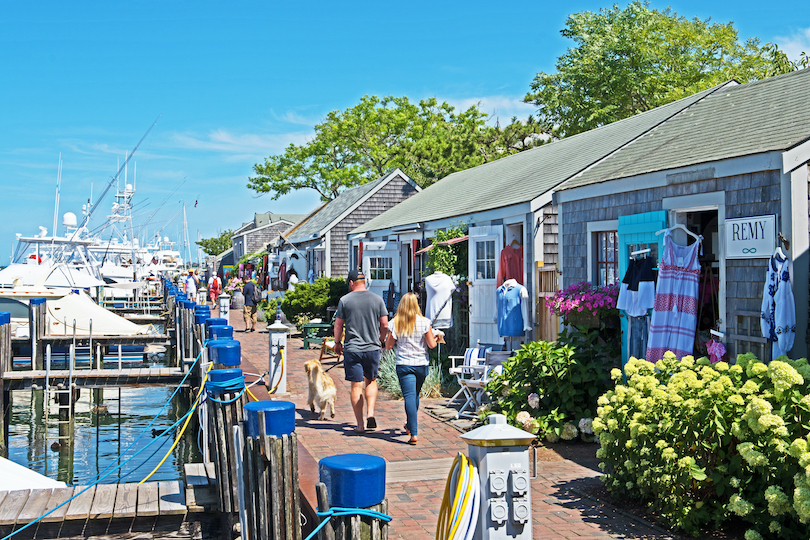 As it is lined by dramatic cliffs, quiet coves and sandy beaches, Nantucket is a picture-perfect place to visit. Both an island and town, it lies thirty miles off Cape Cod's southern coast, with ferries and planes whisking you to its windswept dunes and lonely lighthouses.
Once an important whaling center, its isolated setting saw it become a popular summer destination as early as the 1870s. Although CEOs and celebrities will now find lots of exclusive resorts and golf clubs, plenty of waterfront restaurants and beachside condos cater to families with young ones too.
Aside from basking on the beach and exploring its untouched wild spaces, there are fun watersports such as kayaking and sailing to try. With a charming historic center and some vibrant nightlife also on offer, Nantucket really does have something for everyone to enjoy.
14. Mount Greylock
The highest point in the state, Mount Greylock lies right in its northwest corner, not far from Adams and the borders with both Vermont and New York. Now protected as part of a state park, it has some spellbinding scenery and views for you to enjoy with hiking trails weaving their way here and there.
Towering 3,489 feet in total, the mighty mount looms over the surrounding area with the Bay State's only sub-alpine forest coating its slopes. Over seventy miles of trails take you through its gorgeous old-growth woods while both the Veterans War Memorial Tower and a broadcast tower protrude up from its peak.
From its lofty summit, you can see into five states and even ski back down the Thunderbolt Trail during the snowy winter months.
13. Old Sturbridge Village
Another brilliant place to visit if you want to learn about life in Massachusetts in the early 1800s is Old Sturbridge Village in the south-center of the state. The largest living history museum in all of New England, its costumed interpreters and live arts demonstrations certainly transport you back in time.
Set just outside of the small town of the same name, its sprawling site encompasses everything, from small houses and shops to water-powered mills and a working blacksmith. These are divided into the Center Village, Countryside and Mill Neighborhood with each of its forty structures providing a fresh look into a particular part of the past.
As you stroll about town, you can enter old farmhouses and outbuildings and see antique tools and artisan techniques used in centuries gone by.
12. Whale Watching from Gloucester
As Gloucester is regularly listed among the best places in the world to go whale watching, it would be amiss to visit and not take a trip out to see the majestic creatures. From the coastal city of Cape Ann, you can visit both Stellwagen Bank and Jeffrey's Ledge; two of their main feeding grounds.
Numerous tour companies run excursions out to see the whales who migrate here each year to feast on the area's abundant natural resources. Between May and October, visitors can expect to spot not just giant humpbacks and massive blue whales but smaller pilot whales, porpoises and dolphins too.
As sightings are almost guaranteed, the mouth of Massachusetts Bay is one of the best places to see them other than the far-flung reaches of the globe such as Antarctica, Alaska and Patagonia.
11. Cape Cod National Seashore
Protecting almost the entirety of the Outer Cape's Atlantic Ocean coastline is the Cape Cod National Seashore. Sure to delight nature lovers and outdoor enthusiasts alike, it boasts beautiful beaches and dunes with scenic woods, ponds and seaside villages tucked here and there.
Lying between Provincetown and Eastham, it was established in 1961 by President John F. Kennedy to preserve its pristine landscapes, scenery and nature. As well as high coastal cliffs and heathlands, there are expansive swamps and salt marshes to explore alongside six historic lighthouses and some smallish museums.
Besides hiking and cycling along its paths, you can lounge on the beach and swim and splash about in its shallows. You can also learn more about its interesting history and ecosystems at the national seashore's two visitor centers.
10. Minute Man National Historical Park
Commemorating the opening battle in the American Revolutionary War is the Minute Man National Historical Park just outside Concord. Here you can see the exact route marched by the British from Boston and where the Colonials first engaged them in battle on April 19, 1775.
At the historic park, visitors can cross over North Bridge – the site of the skirmish – and walk along the 'Battle Road Trail'. Restored colonial buildings, such as Barrett's Farm and Hartwell Tavern, help highlight key figures and events while uniforms and artifacts are shown in its visitor center.
Park rangers are on-hand to teach you about the start of the American Revolution and reenactments take place every now and again. Don't forget to stop by the Wayside house too as it was home to the noted authors Nathaniel Hawthorne, Louisa May Alcott and Margaret Sidney.
9. Museum of Fine Arts, Boston
Home to a staggering array of artworks from all around the world, the much-loved Museum of Fine Arts can be found in Boston's Fenway-Kenmore neighborhood. Long one of Boston's major tourist attractions, its galleries occupy a fabulous neoclassical building overlooking Back Bay Fens park.
Founded in 1870, its collection now consists of over 450,000 artifacts and art pieces with Asian and Persian fine arts displayed next to ancient Egyptian mummies and masterpieces by European artists. The museum is particularly known for its awesome Art of the Americas wing which showcases both pre-Columbian and colonial-era art.
As works by big names like Goya, Monet and Rembrandt feature alongside impressionist paintings and contemporary pieces, it is no wonder it is one of the most-visited museums on the planet.
8. Crane Beach, Ipswich
Lying alongside the enormous Ipswich Bay is one of the most spectacular stretches of sand in the state. Backed by delightful dunes and maritime forests, Crane Beach makes for quite the sight with divine views over the ocean also being on offer.
Protected as part of a conservation site, its sparkling shores stretch more than four miles with a quiet boardwalk taking you through the idyllic area's untouched sand dunes and salt marshes. Bathrooms and showers are scattered about while a snack stand operates in the summer.
Other than hiking amidst its sublime scenery, you can paddle about in its clean, calm waters and top up your tan on the beach. Afterwards, you can check out the adjacent Crane Estate which contains landscaped gardens and a marvelous English-style mansion.
7. Boston Tea Party Ships & Museum
For those interested in learning more about the history of the States, the brilliantly done Boston Tea Party Ships & Museum are an absolute must. Through thrilling re-enactments and other immersive experiences, you'll hear all about the important 1773 protest that so shaped the future of the nation.
Situated just south of the city center, its bright red buildings lie on Congress Street Bridge with two replicas of eighteenth-century ships bobbing about Griffin's Wharf. Along with interactive exhibits and multimedia installations, they present a comprehensive view of the exciting events surrounding the Boston Tea Party and what the Sons of Liberty achieved that day.
In addition to touring around the Eleanor and Beaver and meeting some colonists onboard, you can toss tea into the harbor yourself and watch life-like holograms discuss the impactful protests.
6. Martha's Vineyard
Long a popular holiday hotspot for the rich and famous, the magnificent Martha's Vineyard lies just to the south of Cape Cod. Although artists, celebrities and even presidents have all vacationed here over the years, New England's largest island still has a laidback feel and lots of picturesque scenery.
Nicknamed 'Hollywood East' due to its often affluent clientele, the peaceful isle has six small towns and miles and miles of beaches for you to explore. Plenty of boutique hotels and fine restaurants are also dotted about while a pretty patchwork of farms and fields coats its countryside.
Aside from relaxing at its upscale resorts and retreats, holidaymakers can enjoy all kinds of outdoor activities. As you hike or kayak about, you'll see scenic sights such as Oak Bluffs' cosy cottages and the Gay Head Cliffs, all while basking in the Vineyard's epic views over the ocean.
5. Norman Rockwell Museum, Stockbridge
For the last 25 years of his life, the esteemed American artist Norman Rockwell lived and painted in the Berkshires. Since 1969, an outstanding museum just outside of Stockbridge has shone a light on his considerable talents with a thousand of his paintings, drawings and personal items now on show.
Overlooking the Housatonic River Valley, the museum's bright white building now hosts the largest and most significant collection of original Norman Rockwell works in the world. He is perhaps best known for his portrayal of everyday American life in small towns and for his various artworks that represent the United States' ideals.
Highlights include his countless iconic covers for the Saturday Evening Post and a moving series of paintings known as the Four Freedoms. Based on Franklin D. Roosevelt's famous 1941 State of the Union speech, these depict essential human rights that should be protected.
4. Faneuil Hall Marketplace
Right in the historic heart of Boston is one of the capital's standout sights: the fantastic Faneuil Hall Marketplace. Most known for the role it played during the American Revolution, the huge historical brick building now acts as a shopping center and is synonymous with world-class street performers.
Now part of a large complex encompassing scores of shops and the lively Quincy Market food hall, it is often referred to as the 'Cradle of Liberty'. This is because it is here that the lawyer James Otis coined the rallying cry 'no taxation without representation' in 1764 while encouraging independence from Great Britain.
As you stroll amidst its unique boutiques and restaurants, you can take in the area's attractive old architecture and enjoy some of the marketplace's superb musicians and street performers.
3. Plimoth Patuxet Museums
If you want to delve even deeper into the country's captivating past, make sure to schedule time for a visit to the Plimoth Patuxet Museums. Its costumed interpreters and recreated buildings transport you back in time to a seventeenth-century English Village and Native American Patuxet Homesite.
Located just down the coast from Plymouth, the large living history museum was previously known as Plimouth Plantation as it replicated the Pilgrims' original 1627 settlement. In recent years, it was renamed and expanded with a Wampanoag Village now also depicting how Native Americans lived both before and after the colonists' arrival.
While wandering around the expansive site, you'll learn about the lives and cultures of the Pilgrims and Patuxet and watch them go about their daily tasks. There is also a full-scale reproduction of the Mayflower II to explore that covers the colonists' historic voyage across the Atlantic.
2. Salem's Historic Houses
While the whole state is awash with interesting historic sights, not many places in New England can rival those of Salem. One of the most important ports in early American history, it boasts hundreds of beautiful old buildings that shine a light on various parts of its centuries-old history and culture.
Most famed for the Salem Witch Trials that shook the seaside community in 1692, it was founded in 1626 along the sheltered Salem Harbor. The town later played a prominent role during the American Revolutionary War and thrived thanks to the hugely profitable Old China Trade. Its many museums, well-preserved buildings and historic districts now help reveal these different parts of its past.
The House of Seven Gables, for instance, is immortalized in Nathaniel Hawthorne's novel while the Witch House is the only remaining building connected to the trials. Other popular places to visit are the Peabody Essex Museum houses and Salem Maritime National Historic Site which preserves the city's waterfront.
1. Freedom Trail
Meandering its way through the center of Boston, the Freedom Trail takes you past many of its most important Revolutionary War sites. Its churches, graveyards and colonial buildings recount the story of the critical events and crucial figures that paved the way for American independence.
Marked by both red bricks and paint, the historic walking tour stretches 2.5 miles in total and begins at Boston Common; the oldest park in the country. Divided into sections, it first looks at revolution and revolt before culminating at the battle of Bunker Hill and the USS Constitution which was built to protect the fledgling nation.
On the way, you'll see the Old State House which was the site of the infamous Boston Massacre and Faneuil Hall where people protested against the imposition of taxes on the colonies. As it passes so many renowned landmarks, the Freedom Trail is certainly not to be skipped when traveling around the state.
Map of Things to Do in Massachusetts