One of the most popular and picturesque places to visit in Massachusetts, Cape Cod is set in the southeast of the state, jutting out into the wild waters of the Atlantic Ocean. As it boasts a rich maritime history and identity, many people visit its charming towns and idyllic beaches, particularly in the sunny summer months.
Besides its outstanding nature and scenery, the peninsula has long been known for its art galleries and antique shops dotting its towns and villages. Some of the best places to visit in Cape Cod are suave and sophisticated, while others are loud, lively and in your face. With so many different aspects to it and so many beaches, natural sights, and historical tourist attractions to explore, Cape Cod truly does have something for everyone to enjoy.
Set in the southwest corner of Cape Cod, Woods Hole lies just a stone's throw away from the Elizabeth Islands and the famed Martha's Vineyard. Dominated and defined by the wild waters surrounding it, the village is home to some important marine research institutes and beautiful beaches.
Once a center for whaling, shipping, and fishing, Woods Hole is now dotted with lots of research and science facilities. Of these, the most prestigious is undoubtedly the Woods Hole Oceanographic Institution, which has some interesting exhibits and installations for people to visit.
Besides a scattering of small shops and art galleries, most visitors to Woods Hole come to take the ferry to Martha's Vineyard or lounge on one of its lovely beaches.
Founded all the way back in 1637, Sandwich was the first town established in Cape Cod. Nestled at the east end of the Cape Cod Canal, it boasts some interesting historical sights and a handful of excellent art galleries and antique shops.
In its charming village center, visitors can find some wonderful white-steepled churches and great museums that look at Sandwich's rich history and heritage. Besides wandering around the exquisite Heritage Museum and its gorgeous gardens, there are many well-preserved houses and centuries-old buildings to be spied around town.
In addition, Sandwich has a brilliant boardwalk leading you across delightful dunes to the breathtaking beaches lining Cape Cod Bay.
heipei / Flickr
Billing itself as the 'Cultural Center of Cape Cod', Dennis Port is a magnificent place to visit that is home to a host of artistic attractions. Set in the south center of Cape Cod's scenic coastline, it's also noted for its warm-water beaches, which make for some splendid swimming and windsurfing.
Of its many sights, the Cape Cod Museum of Art and the Cape Playhouse Center for the Arts understandably attract the most attention due to their astounding artworks and events. The town does, however, have lots of smaller galleries, with craft shops and cafes aplenty.
While many visit for its thriving arts and culture scene, Dennis Port's natural riches are not to be understated. Picture-perfect cottages line its beaches, and superb cycling can be had in its surroundings, with some fantastic sportfishing available offshore.
Home to great hiking trails and historical sights, Eastham is the gateway to the stunning scenery and landscapes of the Cape Cod National Shoreline. Located just below its incredible wilderness on the Outer Cape, the small town is set in a breathtaking spot, with beautiful bay and Atlantic beaches lying to either side.
While lounging on its sands and swimming and surfing on its waters are all popular pastimes, there are several lovely hikes and cycle rides to be had around its marshes and shorelines. From Fort Hill, sweeping vistas can be enjoyed over Eastham Harbour and its scenic surroundings.
Besides immersing yourself in nature, there are several historic lighthouses for visitors to check out, a delightful old windmill, and a couple of museums looking at Eastham's history.
Lying on the shores of Cape Cod Bay, Brewster is a picturesque place perfect for quiet getaways. As it is set right next to Nickerson State Park, there is loads of divine natural scenery to be explored, with plenty of hiking trails, bike paths, and campsites on offer.
Dotted with quaint fishermen's cottages, the town is home to many excellent restaurants, antique shops, and art galleries. The Cape Cod Museum of Natural History is its standout sight. After perusing Brewster's extensive art collections, visitors can head to one of its nearby beaches.
While the state park attracts crowds of people, many also use the town as a base from which to cycle along the captivating Cape Cod Rail Trail or hike around Sweetwater Forest.
Famed for its fabulous oysters, Wellfleet lies next to Cape Cod National Seashore in the center of the Outer Cape peninsula. Due to its atmospheric town center, its extensive art galleries, and wealth of brilliant surfing beaches, it is a very popular place to visit.
Seemingly untouched and unchanged since the 1950s, its charming center is a treat to stroll around. Numerous fine art galleries are found alongside restaurants and a lovely old drive-in theater. At its marvelous working harbor, you can snap great photos of fishing boats coming and going amidst the breathtaking backdrop of the bay.
Besides taking in the ambience, visitors to Wellfleet can sample some of the local seafood, explore the sights of the National Seashore or go swimming, surfing, and sunbathing at its plentiful beaches.
Tucked away at the eastern end – or 'elbow' – of Cape Cod is the scenic and sophisticated Chatham. Long a popular holiday destination, it truly has something for everyone, with everything from sprawling sands and seal-watching to upscale inns, coastal scenes, and baseball on offer.
Bordered on three sides by water, Chatham has over one hundred kilometers of coastline for visitors to explore, with scenic beaches, coves, and views on show. From its idyllic harbors, guests can arrange to go fishing or seal-watching or take a boat trip out to the nearby Monomoy National Wildlife Refuge.
While its spectacular scenery and natural sights are a delight, the town centre is equally alluring. Cosy BnBs lie next to art galleries and a handful of small museums and theatres.
5. Cape Cod Rail Trail
[SEE MAP]
Meandering from Yarmouth to Wellfleet, the multi-use Cape Cod Rail Trail follows what used to be a train line. Now paved, it is very popular to hike or cycle along due to all the sublime scenery, picturesque beaches, and charming towns and villages lining the route.
Built between 1861 and 1868 to connect Yarmouth to Orleans, it was converted into a recreation trail in the 70s and has since been used by generations of locals and tourists. While hikers, runners and cyclists are by far the most common users, from time to time, you can see the occasional horse rider or even cross-country skier.
Highlights along the trail include the magnificent nature and landscapes of Nickerson State Park, the bayside town of Brewster, and Cape Cod National Seashore, which lies at the northern end.
Often called the 'Capital of the Cape,' the harbor town of Hyannis is not only its commercial center and transport hub, but a major tourist destination, too. After flying in from around the States, many visitors go recreational boating here or take ferries to Nantucket or Martha's Vineyard.
While it may lack the ambience and attractiveness of many of Cape Cod's other towns and villages, its rejuvenated waterfront is now a pleasant place to spend time. Besides gazing out over its fishing boat-filled waters, visitors can grab a bite to eat at one of the waterfront restaurants or stop by some of the only shopping malls in the Cape.
In addition, there is a museum and memorial dedicated to John F. Kennedy to check – the President once had a summer holiday home in Hyannis.
3. Shining Sea Bikeway
[SEE MAP]
John Phelan / Wikipedia
Stretching just over 17 kilometers, the Shining Sea Bicycle Path takes visitors from the ferry terminal in Woods Hole all the way to North Falmouth. As it passes through lots of incredible scenery, the pretty and peaceful path is very popular to hike or cycle along, particularly in the summer months.
Named after a line from the patriotic song America the Beautiful, which was written by a Cape Cod native, it was first built in 1872 to be a railway line. Once passenger services were discontinued and the line went bankrupt, its tracks were paved over. The path was opened for recreation purposes in 1975.
While cycling along its scenic route, visitors will pass everything from cranberry bogs and beaches to salt marshes and sleepy villages, with some epic views to be had over Buzzards Bay on the way.
Perched at the extreme tip of Cape Cod, the small, secluded resort town of Provincetown is home to many beautiful beaches and coastline. While its scenic nature has long attracted artists to its shores, in recent decades, its welcoming and tolerant attitude has seen it become the most popular LGBT destination in the Northeast of the States.
Besides basking in all the breathtaking beauty on show, visitors can peruse Provincetown's plethora of art galleries and eclectic shops or watch a show at one of its cutting-edge theaters. While it hosts several excellent festivals and cultural events during the year, the town's vibrant nightlife is not to be missed out for its fun and festive nature.
On top of all this, Provincetown has lots of lovely beaches and dunes to check out, while boat trips, whale-watching tours, and visits to the nearby Cape Cod National Seashore are also popular.
1. Cape Cod National Seashore
[SEE MAP]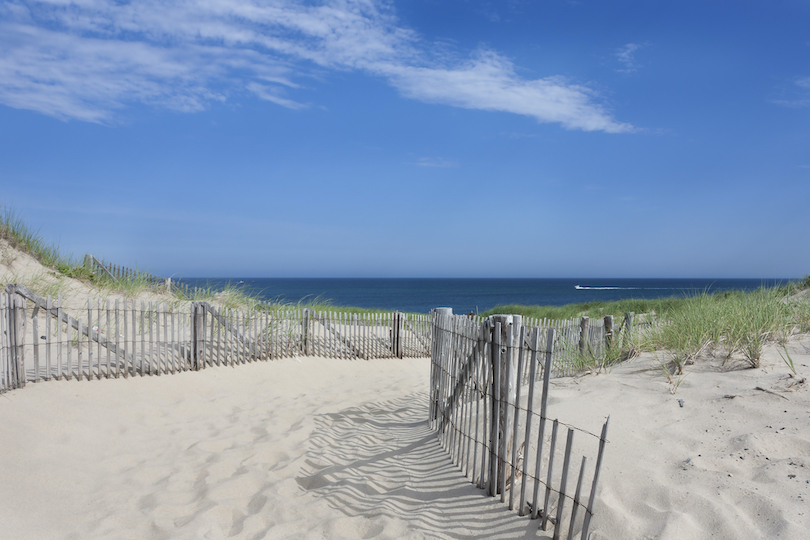 Lying between Provincetown and Eastham, the gorgeous Cape Cod National Seashore is nestled on the Outer Cape's prominent peninsula. Boasting everything from dunes and beaches to woods, ponds, and Atlantic shoreline, it will delight nature lovers and outdoor enthusiasts.
Established in 1961 by President John F. Kennedy, it protects a range of stunning landscapes, with astounding views wherever you go. Winding their way here and there amidst its salt marshes, coastal cliffs and wonderful woods are a myriad of fantastic hiking trails for visitors to explore.
Besides swimming, hiking, and lounging on the beaches, there are two visitor centres where guests can learn more about its ecosystems and history. Due to its spectacular scenery, Cape Cod National Seashore is one of the most popular and picturesque places to visit in the whole of the Cape.