Known as 'The Little Grey Lady of Sea', Nantucket has long been a popular destination thanks to its beautiful beaches, interesting past, and peaceful nature. Set just thirty miles off of the south coast of Cape Cod, the isolated isle's untouched wild spaces and watersports make it a fun yet relaxing place to vacation.
Once the 'Whaling Capital of the World', it has been welcoming holidaymakers to its shores for well over a century now. While it is known for its exclusive resorts and golf courses that cater to the rich and famous, plenty of more affordable beachside condos and seafood restaurants also stud the New England seaport.
Aside from exploring its attractive historic center, other things to do in Nantucket include venturing out to its wind-swept dunes to take pics of its lonely lighthouses and phenomenal viewpoints. With idyllic beaches and all kinds of exciting water sports on offer, Nantucket really does have something that will appeal to everyone.
16. Old Mill
Certainly one of the town's most charming sights, the iconic Old Mill lies just a short stroll south of the center, alongside the massive Mill Hill Park. At its bucolic site, you can snap some fantastic pics of it in action and learn all about its storied past.
Thought to be the oldest functioning mill in the country, it was built in 1746 by a Nantucket sailor named Nathan Wilbur who wanted to recreate the windmills he'd seen in Holland. Almost a century later, the smock mill was sold as firewood as it'd slowly fallen into disrepair.
Thankfully though, it was instead purchased by a local carpenter who restored the windmill and set it once again to grinding corn. After taking in its arresting architecture, you can always visit some of the historic cemeteries and monuments that lie nearby.
15. Jetties Beach
Located along the north shore of the isle, right at the entrance to Nantucket Harbor, is the gorgeous Jetties Beach. Thanks to all its spacious sands and close proximity to the center, it is a very popular spot to sunbathe, swim or splash about in the shallows.
The only walkable stretch of sand from downtown, it is named for the massive rock jetties that have guided ships to the harbor since 1911. Due to these big barriers, its calm, warm waters are ideal for swimming in with kayaking, sailing, and windsurfing also being possible a bit further out.
During the sunny summer months, lifeguards also operate at the beach which has plenty of parking and a playground for visitors to make use of. In addition, an excellent restaurant selling sandwiches, seafood and burgers also borders the beach.
14. Go Cycling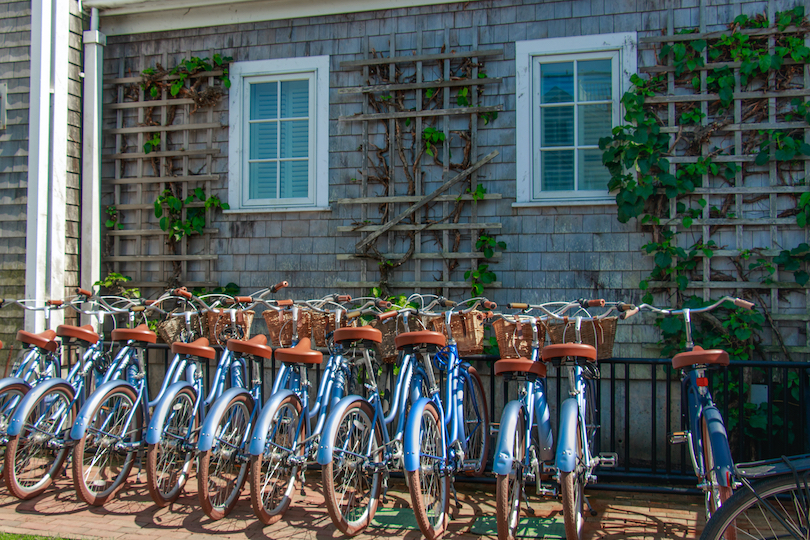 A wonderful way to explore the peaceful town and its scenic surroundings is to rent a bike and cycle about. Besides being great exercise, it is also a very convenient and often quick way to get to all the pretty beaches, lighthouses, and nature spots that lie nearby.
As the island is only fourteen miles long and 3.5 miles wide, it takes no time at all to traverse all the relatively flat terrain that makes up most of it. From the center for instance, it takes just half an hour to reach Madaket Beach; one of the most popular and picturesque places to visit on Nantucket.
On the way, you'll often pass through lovely little forests and fields with quaint villages dotted here and there. With over 35 miles of bike paths crisscrossing the isle and bikes readily available for rent in downtown, cycling is one of the best ways to see all its stunning scenery and sights.
13. Sankaty Head Lighthouse
If cycling for an hour to Sankaty Head Lighthouse doesn't appeal, you can always load your bike on the Wave Shuttle Service and save your energy for exploring the east coast. Once you arrive, you can take some fabulous photos of its bright red and white stripes standing out delightfully against all the green grass and bright blue skies about it.
One of the first lighthouses in the States to receive a Fresnel lens, it was built back in 1850 to warn mariners about the hazardous shoals offshore. On certain open days throughout the year, visitors can climb to the top of its seventy-foot tower and drink in the sweeping views of the ocean and countryside all around them.
After reading the informative plaque at its foot and enjoying the historic lighthouse's lonely setting atop a prominent bluff, you can always hike along the Sconset Bluff Walk nearby.
12. Explore Downtown
While the rest of the island is awash with spellbinding scenery, there is also a lot to see and do in its atmospheric old downtown. As well as boasting the best shops and restaurants, its charming cobbled streets and attractive historic buildings make the center a very pleasant place to stroll around.
Protected as a National Historic District, it is often considered the best example of a late eighteenth- and early nineteenth-century New England seaport town. Clustered all along its harbor are not just wharf shacks and waterfront restaurants but sleek yachts and fishing boats moored at its marina.
Venture just a few blocks inland and you'll find countless unique boutiques and seafood restaurants lining its lively yet laid back Main Street. Aside from taking in downtown's delightful ambience and architecture, you can learn all about Nantucket's past at the Whaling Museum or stop by some of the numerous art galleries in the area.
11. Shipwreck & Lifesaving Museum
MOOT&T / Flickr
A fascinating place to visit, the Shipwreck & Lifesaving Museum lies in a rather remote spot, some twenty-five minutes' cycle east of town. Lying alongside Folger's Marsh, its innumerable artifacts and exhibits look at Nantucket's history of shipwrecks and lifesaving over the centuries.
Only open each year between Memorial Day and Columbus Day, its 5,000 maps, models and photos occupy a lovely old lifesaving station. Through enthralling exhibits and videos, you'll learn all about fierce storms at sea, heroic rescue missions and some of the 700 ships that sank around Nantucket.
Since 1989, young and old alike have enjoyed the museum's well-done displays with exciting morse code, knot tying, and sea rescue demonstrations also taking place from time to time.
10. Jethro Coffin House
Another interesting historic site to hit up is the Jethro Coffin House on the northwestern outskirts of downtown. Known as 'The Oldest House on Sunset Hill', the simple saltbox-style structure and lush grounds about it now make for some brilliant photos with tours taking you all around its interior.
Believed to be the oldest residence on Nantucket, it was erected in 1686 as a wedding gift for Jethro Coffin and Mary Gardner. Still standing after all this time despite having once been abandoned and struck by lightning, its reconstructed rooms replete with period pieces highlight how people lived in centuries gone by.
Your knowledgeable guide can also provide more information on the two families, old building and gorgeous kitchen garden outside. Now a National Historic Landmark, the remarkable house is only open for visits during the spring and summer season.
9. Siasconset Beach
thisisbossi / Flickr
Just south of both the Sankaty Head Lighthouse and Sconset Bluff Walk is the beautiful Siasconset Beach. Hugging the isle's southeastern shore, its soft, sun-kissed sands are the perfect place to relax, unwind and take in the awesome views over the Atlantic Ocean.
Located either a forty-minute cycle or much shorter Wave bus ride from downtown, it lies alongside the seventeenth-century fishing village and later whaling station of the same name. Consequently, a handful of local shops and eateries can be found nearby with a playground, bathroom facilities, and parking spaces also on offer.
Other than lounging on the pristine beach and basking in its sublime views, you can also sometimes spot seals frolicking about in the surf. As the water is cooler and rougher here, it isn't a good idea to go swimming though paddling and splashing about in the shallows is more than fine.
8. Nantucket Atheneum
DanielPenfield / Wikipedia
One of the town's most important and impressive buildings, the Nantucket Atheneum is set right in the heart of its historic downtown. Besides snapping some photos of its fetching facade, you can use its free wifi and computers or check out any books, films, and music you may like.
Rebuilt in 1845 after a fire destroyed the previous building, the island's public library exhibits some exceptional Greek Revival-style architecture with two colossal columns fronting its facade. Inside is just as appealing as its light and airy interior houses a large collection of books with quiet computer rooms and meeting spaces dotted here and there.
In addition to accessing more than 1.6 million books, CDs, and DVDs, both locals and tourists alike can attend some of the talks, dance shows, and educational programs that the library regularly hosts.
7. Great Point Lighthouse
Nestled right at the northernmost tip of the island is the scenic and secluded Great Point Lighthouse. While it takes some getting to, either on foot or by four-wheel-drive, the lofty landmark is certainly well worth it due to its spectacular setting and phenomenal ocean views.
Part of the Nantucket National Wildlife Refuge, it is the third lighthouse to stand in the same exact spot after a fierce fire and huge storm laid waste to the others. While the first was built out of wood in 1784, the current stone tower, a sixty-foot replica of the 1816 one, only dates to 1986.
Situated on a narrow strip of beach in between the endless Atlantic and Nantucket Sound, the lonely lighthouse makes for some amazing photos and viewing amidst the wind-swept dunes all around it.
6. Surfside Beach
Bob P. B. / Flickr
Just twenty minutes' cycle ride directly south of downtown is another superb swathe of sand for you to relax and recline upon. Very popular in the summer months, Surfside Beach is a fantastic place to play some beach games or go boogie boarding.
Set along the island's southern side, the broad beach is backed by rolling dunes and waving grasses which are often inhabited by nesting seabirds. On its expansive sands, you can set up fun volleyball games and fly kites or swim and surf depending on the weather conditions.
During the much busier summertime, lifeguards watch out over the beach's rolling surf with a snack stand, outdoor shower and restrooms also being available. Some great shelling and fishing can also be had all along the beach, its shallows, and sandbars.
5. Sconset Bluff Walk
MOOT&T / Flickr
A very peaceful and romantic route, the Sconset Bluff Walk meanders its way high above the beach, through the oceanfront backyards of the area's beautiful houses. With incredible architecture on one side and arresting ocean views to the other, it is definitely one of the best things to do on Nantucket.
Stretching two miles in length, the out-and-back trail takes you from the center of Siasconset almost up to the Sankaty Head Lighthouse. While some parts are wild and untouched, others pass by pretty gardens and elaborate old homes featuring verandas, porches and gables.
As for the scenery, views and architecture change every minute or so and the public footpath is a delight to amble along with both locals and tourists using it. Although very narrow and not very level in many places, the bluff walk is the highlight of many visitors' trips to the isle.
4. Cisco Brewers
Cisco Brewers / Facebook
After all the sightseeing, sunbathing, and cycling, what better way is there to relax than with a freshly pulled pint or refreshing glass of wine in hand? At the rustic Cisco Brewers, guests can take terrific tours of their facilities before sampling some delicious drinks and listening to live music.
Initially established in 1981 as a winery, it has since grown to include both a brewery and distillery, with four other locations now also being found across the state. At their cool complex, some fifteen minutes' southwest of the center, you can learn about how they produce their award-winning wines, beers, and spirits.
Either outside on its terrace or in the brewery's taproom, you can sip some stiff drinks and enjoy the lively atmosphere and music around you.
3. Brant Point Lighthouse
Now recognized as a National Historic Landmark, the lovely Brant Point Lighthouse is remarkably the second-oldest in the country. Located right at the entrance to Nantucket's inner harbor, it makes for some fabulous photos with the sprawling sands and sparkling waters all around it.
While the first light station was erected in 1746, the current one is impressively the tenth to stand in the same spot with fire, wind, and rot having accounted for the others. Completed in 1901, it reaches just 26 feet in height though its light and fog horn can still be seen and heard for miles around.
Very charming to look at, the small, squat tower, its wooden shingles, and walkway present all kinds of photo opportunities. Add in all the waves and boats passing by in the background and rocks, sand, and grass clumped at its foot and it is no wonder the lighthouse is so popular to visit and view.
2. Madaket Beach
Particularly known for its spectacular sunsets, the magnificent Madaket Beach can be found right at the southwestern end of the island. Easily accessible by bike, car, or shuttle bus, its long, soft sands are a treat to lounge on lazily while gazing out over the waters before you.
While its scenic confines are perfect for sunbathing and strolling along, swimming may prove a bit of a challenge due to its rough surf. Lifeguards are however on duty along some sections during the summer months.
The main reason people come though is for the absolutely stunning sunsets that paint the beach and its waters in a myriad of warm hues. Such is its splendor that many beachgoers bring chairs, food, and drinks and wait until the sun is completely set. Alternatively, you can always grab a tasty snack or meal at the hugely popular Millie's restaurant nearby.
1. Whaling Museum
For those interested in learning more about Nantucket's past, the wonderful Whaling Museum is an absolute must. Packed with authentic artifacts and engaging exhibits, it offers up an in-depth look at the industry that so shaped the history and development of 'The Little Grey Lady of Sea'.
From the mid-1700s up til the late 1830s, the isolated isle flourished as the 'Whaling Capital World' with thousands of candles made out of their oil being produced each year. In the museum's galleries, you can now see the harpoons and boats they used to hunt the whales and old equipment involved in candle marking. The 46-feet-long skeleton of a sperm whale also hangs overhead.
As you tour its fully restored candle factory that dates to 1846, you'll see exhibits on how the industry impacted the town and its culture. After seeing all its amazing artifacts and artworks, head up to its roof deck for commanding views over the harbor and sound.
Map of Things to do in Nantucket