One of New England's most popular holiday destinations, Martha's Vineyard can be found just a few miles south of Cape Cod. While many artists, celebrities, musicians and even presidents have vacationed here over the years, the affluent island still has a laidback air with gorgeous beaches and scenery on show wherever you go.
Once an important whaling center, 'Hollywood East' has now been welcoming holidaymakers to its serene shores for well over a century. As such, plenty of boutique hotels and upscale restaurants are scattered about its six small towns which all lie just a stone's throw from some absolutely incredible coastal scenery and nature.
Besides enjoying its breathtaking beaches, other things to do in Martha's Vineyard include hiking and biking about its charming countryside or visiting some of its lonely lighthouses and arresting viewpoints. With exciting activities, fine dining and relaxing resorts all on offer, it is no wonder the Vineyard is still such a popular draw.
In this post, we'll cover:
14. Lucy Vincent Beach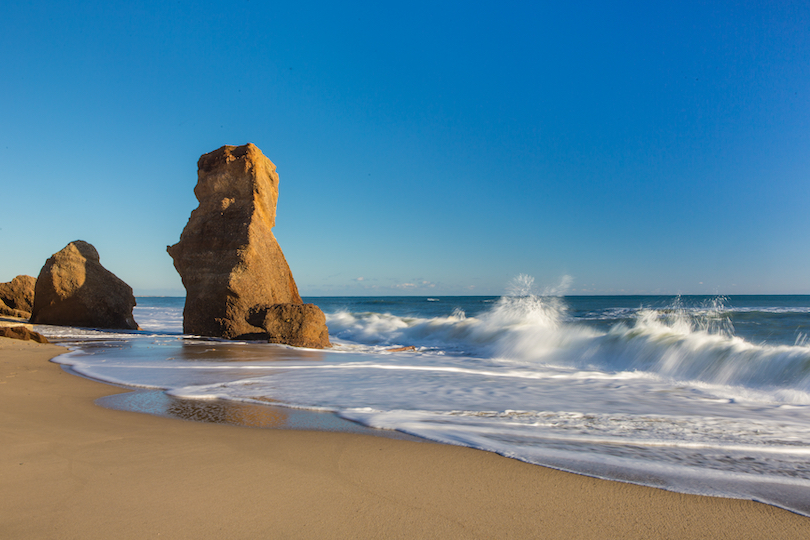 Although often overlooked by visitors to the isle, the lovely Lucy Vincent Beach is undoubtedly one of its most stunning stretches of sand. Set along the southwest coast, just outside of Chilmark, it is a great place to sunbathe, swim and take in some spellbinding views and scenery.
Backed by both towering cliffs and twinkling lagoons, the beautiful beach is actually named after its former owner, Lucy Vincent, who was the town librarian. Asides from strolling about and paddling in its shallows, you can also snap some fantastic photos here of all the striking rock formations and boulders that dot its reaches.
As it is only accessible to residents and those renting houses nearby from June 1st to September 15th, it rarely gets crowded during summertime. The rest of the year, the beach can be enjoyed by all with some even braving its cold waters and roughish waves for a reinvigorating dip.
13. Menemsha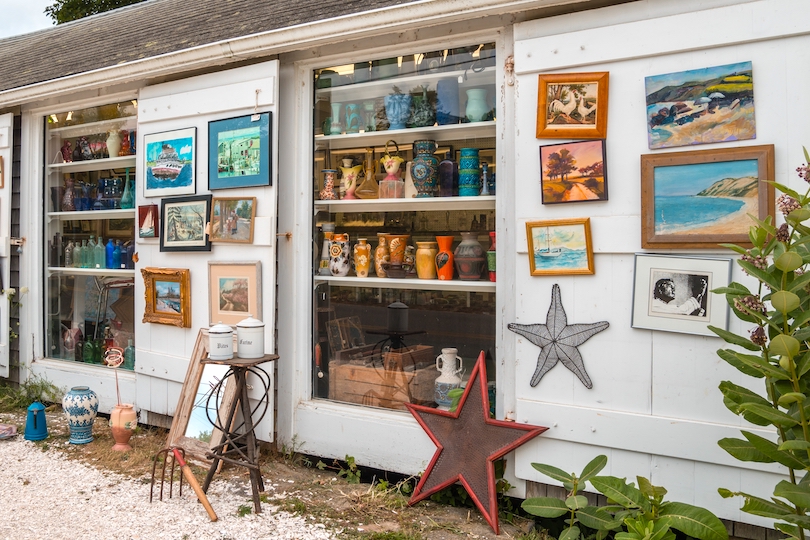 Another picture-perfect spot to hit up nearby is the quaint fishing village of Menemsha, located just up the road from Chilmark. While its brilliant beach, nature reserve and views are what attract most people, the cozy harbor also has a lively fish market and chartered fishing trips to check out.
Home to a US Coastguard Station, the small town lies along the east coast of Menemsha Pond, right at the point where it opens into the vast Vineyard Sound. Each day, local fishermen head out to sea with scenic cruises also taking sightseers around the isolated Elizabeth Islands and up and down the surrounding coast.
Although it was the shooting background of Steven Spielberg's epic movie Jaws, its calm waters are ideal for swimming with the bright white beach also known for its vivid sunsets. In addition to lounging on its soft sands, you can hike to the top of the Menemsha Hills for fine panoramas over the sound and Aquinnah Cliffs far off in the distance.
12. Flying Horses Carousel
Right at the opposite end of the island in the historic resort community of Oak Bluffs is the antique Flying Horses Carousel. Remarkably built back in 1876, its old hand-carved horses and colourful carriages have enchanted young and old alike for well over a hundred years.
The oldest operating carousel of its kind in the States, it was actually moved to Martha's Vineyard in the 1880s from Coney Island. Very carefully preserved, its twenty steeds and their horse-hair manes and chariots occupy a bright red barn in the center of town, not far from the ferry.
As you go round, you can grab metal rings with the bronze one guaranteeing you another spin on the carousel. As well as snapping some pics of the National Historic Landmark, visitors can also listen to the 1923 Wurlitzer organ crank out its cheerful tune as people enjoy their ride.
11. Jaws Bridge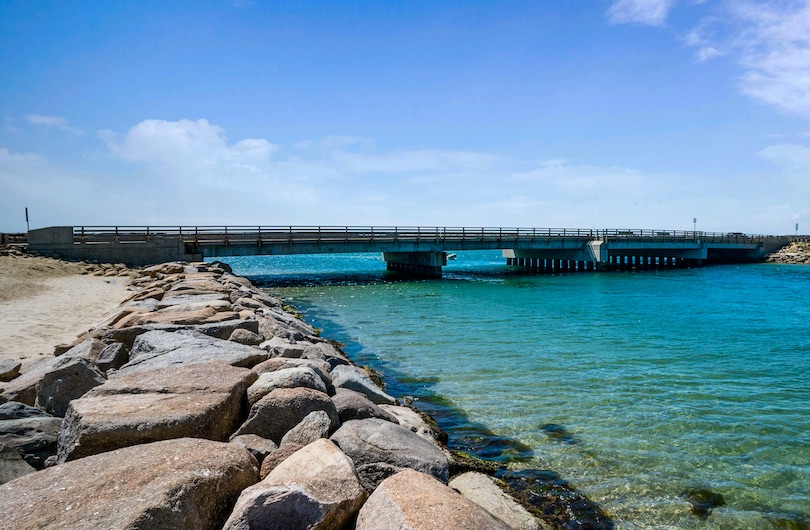 On the way from Oak Bluffs to Edgartown is the popular Jaws Bridge that famously appeared in the massive hit movie. While it may appeal to hardcore film buffs, crowds of mostly young people also congregate here in summer to jump off the side of it into the cool waters some fifteen feet below.
Officially known as the American Legion Memorial Bridge, the shortish steel structure crosses over the Sengekontacket Inlet with almost endless water lying on all sides. In the film Jaws, Chief Brody runs across the bridge to save his sons who are playing in the estuary when the shark strikes again.
Other than taking selfies at the iconic site and basking in some delightful sunsets over the Nantucket Sound, you can also dive bravely off the bridge if you fancy. Now almost a rite of passage for many youngsters, it is lots of fun to do with many filming themselves to show their friends back home.
10. Martha's Vineyard Museum
For those interested in learning about the history, culture and nature of the idyllic isle, a trip around the Martha's Vineyard Museum is a must. Packed with innumerable artifacts and exhibits, it tells the story of 'Hollywood East' from its formation and pre-colonial times right up to the present day.
What started life in 1922 as the Dukes County Historical Society has since slowly morphed into the biggest and best museum on the island. Its extensive collection now looks at not just fishing and farming in the region over the centuries but the history of seafaring in the sounds and the culture of the Wampanoag people too.
Overlooking both Lagoon Pond and Vineyard Sound in Tisbury, its light and airy galleries occupy a large building that once served as a marine medical facility. Both oral histories and a short animated timeline provide even more insight into the isle's identity and its connections with the outer world.
9. Island Alpaca Company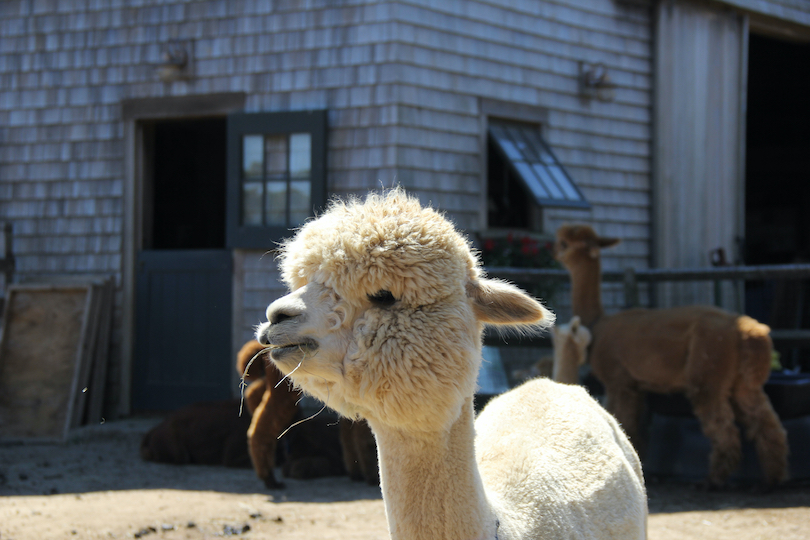 Just down the road from the museum is yet another of the area's top tourist attractions: the adorable Island Alpaca Company. Long a firm favorite with families, the farm now has over fifty of the cute creatures for you to stroke, meet, photo and feed.
Founded back in 2004, its picturesque paddocks now sprawl across a huge area just to the southwest of Oak Bluffs. Rising above the lush fields all around it is the Post & Beam Barn; a hulking great historic building that is often referred to as the 'Alpaca Hilton' by guests.
Both in and around the barn, you can meet the funny and fluffy alpacas while learning all about the amazing animals from South America. After having stroked them til your heart's content and taken some memorable profile pictures, make sure to stop by the gift shop and pick up some soft, woolly, handmade souvenirs.
8. Chappaquiddick Island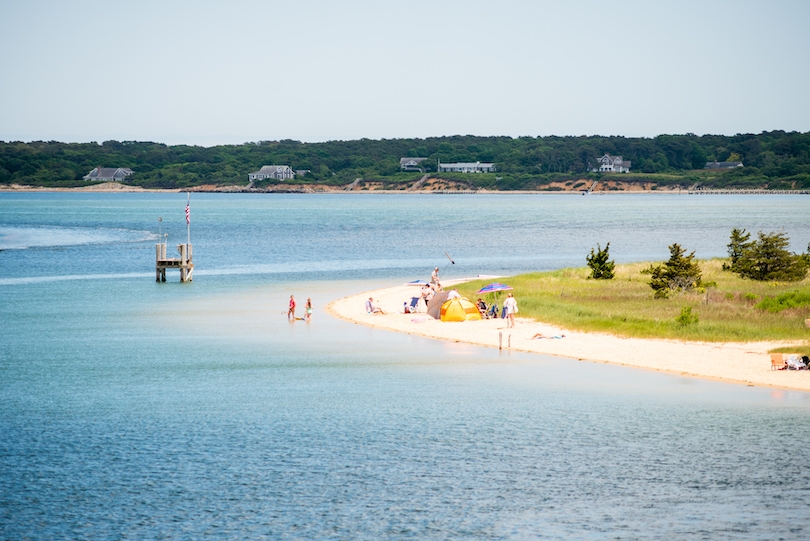 A very pretty and peaceful place to visit, the tiny Chappaquiddick Island lies just off the eastern end of Martha's Vineyard. Sure to delight nature lovers and outdoor enthusiasts alike, its pristine woods, beaches and waters offer up all kinds of fun recreational opportunities.
Considered a part of the nearby Edgartown, 'Chappy' is actually a small peninsula that is sometimes cut off from the Vineyard by high waters in the sound. Only accessible by either boat or car ferry, its untouched and unspoiled reaches are a delight to cycle about slowly with the Mytoi Japanese gardens and Cape Pogue Wildlife Refuge counting among its main sights.
Besides hiking about its dunes, salt marshes and woods or relaxing on its gorgeous beaches, you can also kayak and canoe around the island for a better view of its scenic coastline.
7. Go Cycling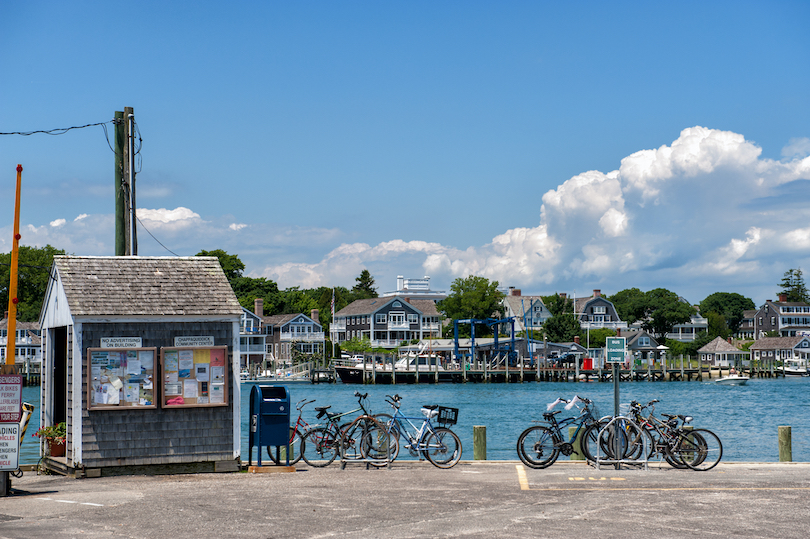 A wonderful way to see even more of Martha's Vineyard is to cycle along some of the well-marked paths that crisscross the entire isle. Bikes are available for rent from numerous shops scattered about its towns with maps also provided before you set off, though you really can't go wrong.
In total, 44 miles of bike trails meander their way about, with some taking you through farms, fields and forests and others atop craggy cliffs and by breathtaking beaches. Although cycling about the island is certainly suitable for all ages, some sections can be quite hilly and windy in places with the paths also getting quite congested during the peak summer season.
As well as being a great way to get about and see its far-flung villages, lighthouses and viewpoints, cycling enables you to immerse yourself in nature while enjoying some exercise at the same time.
6. Morning Glory Farm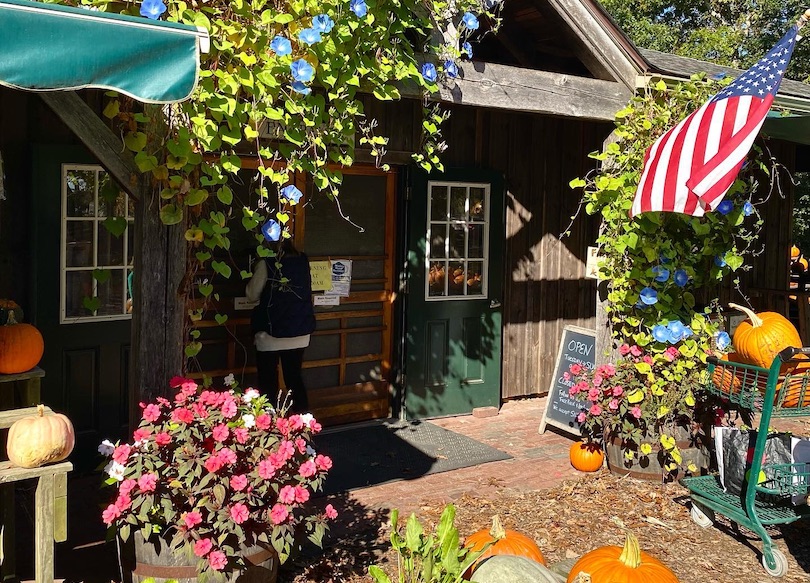 Morning Glory Farm / Facebook
While cycling about, a fantastic stop for a break or snack is the Morning Glory Farm on the western outskirts of Edgartown. At their homely site, you can pick up some fresh fruit and vegetables or sit and enjoy some of the delicious baked goods, jams and soups they produce each day.
Started in 1975 by James and Deborah Athearn, the family-owned and operated farm now manages several sites across the island. Each year, they plant a very wide variety of crops using only natural fertilizers with cows, pigs and chickens also to be spied roaming about its paddocks.
In their large shop, you can peruse rows and rows of colourful fresh produce, with both cheeses and charcuterie on sale next to mouth-watering pastries, pies and preserves.
5. Joseph Sylvia State Beach
If, after all the outdoor activities and sightseeing, you're looking to kick back, relax and unwind, then look no further than Joseph Sylvia State Beach. Located in between Oak Bluffs and Edgartown, its soft sands, small waves and pretty seashells make it a very popular spot with families.
Bordered on one side by Sengekontacket Pond and to the other by the Nantucket Sound, its narrow confines stretch just over two miles in length. Along with Jaws Bridge at its southern end, the lovely barrier beach served as a main shooting location for Spielberg's infamous thriller from the seventies.
Beachgoers have nothing to fear however as its calm shallows are ideal for swimming and splashing about. You can also fish, cycle or jump off the bridge here while the sunrises and sunsets paint the skies a marvelous array of warm hues and vivid colors.
4. Oak Bluffs Campground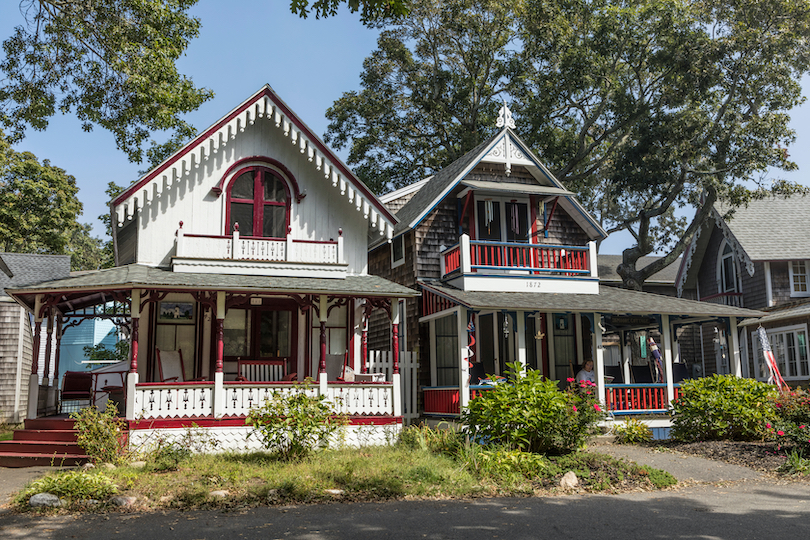 Now recognized as a National Historic Landmark District, the enchanting Oak Bluffs Campground is a magical place to either stay or explore. Set just a short distance from the town's ferry terminal, it has over 300 cute and colourful 'Gingerbread Cottages' for you to wander around.
Just after the Civil War, the area was turned into a summer campsite by Methodists who came here to pray and worship while enjoying the reinvigorating sea air. Over the years, they erected hundreds of Carpenter Gothic-style cottages around a central open-air tabernacle which still hosts services to this day alongside cultural events and community gatherings.
As the historic houses are so brightly painted and extravagantly decorated, the whole district really is a treat to amble about and photograph. Some cozy cottages now also act as inns or holiday homes while the Cottage Museum contains period pieces and photos from the campground's heyday.
3. Aquinnah Cliffs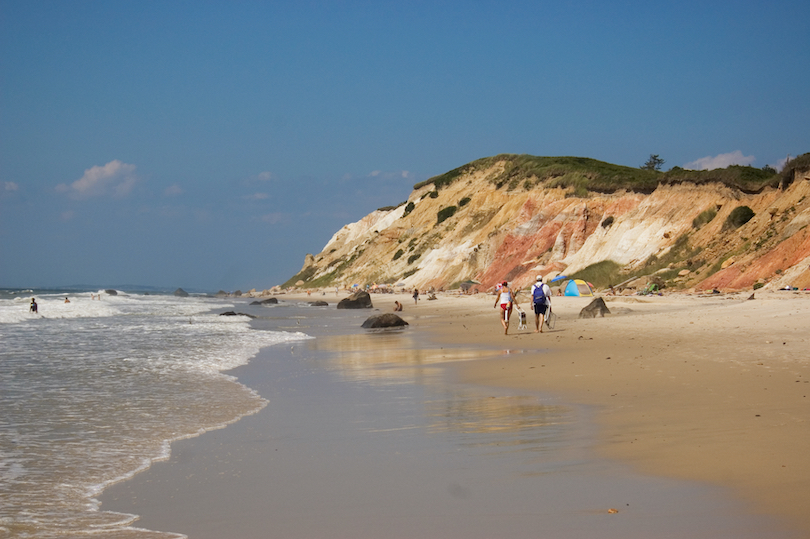 As they look so spectacular and offer up such sweeping views over the Atlantic, the Aquinnah Cliffs are definitely not to be missed when visiting Martha's Vineyard. Lying right at its westernmost tip, the enormous headland also has a beautiful beach for visitors to enjoy down below.
Formerly known as Gay Head, the colourful cliffs tower around 150 feet in height and were created many millennia ago by slow moving glaciers. From atop them, you can gaze out over the endless ocean and the isle's coastline or hike about its heathlands and woods and visit its lonely lighthouse.
From Moshup Beach at their foot, you can snap some fabulous photos of the clay cliffs and the tufts of green grass poking out from the ridge high above.
2. Edgartown Lighthouse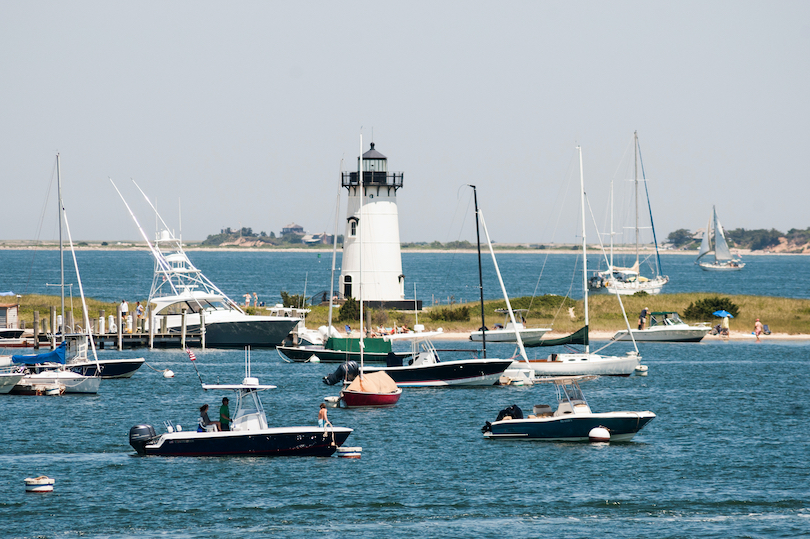 One of the island's most famed and photographed landmarks, the Edgartown Lighthouse looks out over the picturesque harbor and bay. Now open to the public, its bright white tower makes for some phenomenal photos with the views from its summit being just as special.
While the first light at the entrance to Edgartown Harbor and Katama Bay was built out of wood in 1828, the current cast-iron one 'only' dates to 1939. Originally set just offshore on a small artificial island, it is now surrounded by a beach as sand has slowly accumulated over the decades around its stone causeway.
From atop its spiral staircase, guests can take in fine panoramas of the harbor and Chappaquiddick Island before heading to the beach nearby.
1. South Beach
Undoubtedly the most popular beach on the island, South Beach lies just a short cycle ride or drive from Edgartown and its iconic light. Hugging the south side of the Vineyard, it has miles and miles of scenic sands to enjoy while its sizeable swells also attract plenty of watersport enthusiasts.
Looking out over the Atlantic, its sweeping sands stretch more than three miles in length with some parts being calm and quiet and others nearer the car park and bus stop being a bit busier. At its state park, you can hike about the dunes and go shellfishing and birdwatching amidst its idyllic nature.
As the waves are usually quite rough, families with young kids tend to stay away though lifeguards are normally on duty during the summertime. Its fierce rips, however, are perfect for surfing, boogie-boarding and kitesurfing with lounging on the beach also a great way to spend the day.
Map of Things to Do in Martha's Vineyard