As New England's largest city and one of the most historically important destinations in the entire country, Boston is arguably one of the top place to visit in Massachusetts. While you're in Boston, you'll have the chance to walk the Freedom Trail, which winds through 16 historic sites, many of which date back to the Revolutionary War.
The city also boasts wonderful markets, scenic parks, amazing breweries and an array of sporting venues and events. While you won't lack for things to do here, you can also escape on several day trips from Boston that let you see and experience other amazing spots throughout New England.
8. Lexington and Concord
[SEE MAP]
Revolutionary War buffs may already known about the connection between Lexington and Concord, two cities in Massachusetts just seven miles apart from one another. In Lexington, known as the Birthplace of American Liberty, the first shot of the American Revolution was fired.
In neighboring Concord, one of the first battles of the war took place. Both destinations are packed with history, and visitors should absolutely make time to tour the Minute Man National Historic Park, the Concord Museum, the 18th century Buckman Tavern and the Sleepy Hollow Cemetery, which is the final resting place of authors like Louisa May Alcott and Nathaniel Hawthorne.
Getting to Lexington and Concord
From South Station in Boston, you can get to Lexington in about an hour by public transport. Just hop on the subway and take the red line west to Alewife. Here, you alight and take either bus 62 or 76 on to Lexington, where you'll find all its interesting Revolutionary War sites just a short walk away. To get to neighboring Concord from Lexington, there is a seasonal trolley throughout the summer that hits most of the historical high points and is perfect for a day trip from Boston.
By car, Lexington is around a 45-minute drive away. Driving yourself means you can then easily head on to Concord afterward, or any one of the nearby Revolutionary War sites. Just head west out of the city center and follow the road that snakes its way along the south bank of the Charles River until it turns into Concord Avenue. Once you arrive at Waltham Street, turn off to the right; this will take you directly to Lexington.
A fantastic way to see as much of Boston and the surrounding area as possible in one day is to take a guided tour. These not only take you to Lexington, Concord, and Cambridge but also around the center of Boston. With a knowledgeable guide, you'll learn absolutely loads about the city's fascinating history and the prominent role it played in American independence.
Head across state lines to Newport, Rhode Island, which is just 70 miles (110 km) south of Boston. Newport is known for its abundance of stately homes and mansions, its beautiful beaches and its charming downtown. Travelers on a budget can enjoy the three-mile Cliff Walk right along the coastline, head to the beach for a swim, spot the famed forty steps landmark or drive along Ocean Drive to see the amazing architecture in the city.
If you would rather steep in Newport's history and experience life like the rich did, then tour Astor's Beechwood Mansion or Vanderbilt's The Breakers before doing some upscale souvenir shopping along Thames Street.
Getting to Newport
Lying almost directly south of Boston, Newport in neighboring Rhode Island is just an hour and a half away if you take the Peter Pan bus line from South Station. This takes you to the Gateway Center in Newport, from which you can walk or take a bus to its many sights. As there are only a few Peter Pan buses a day that make this journey, you will need to plan a little bit in advance.
Alternatively, you can always take a train to Providence then hop on a bus to Newport from there. This journey, however, will take about two and a half hours in total.
Driving to Newport is another option; this means you're not constrained by public transport. From Boston, head south on the I-93, and once you're past Quincy, transfer onto the MA-24. This will take you almost all the way there, and once you're across State lines, you'll see signs directing you to Newport. Here, you can drive about at your leisure, making sure to cruise past Newport's elegant mansions and along the beautiful Ocean Drive.
Many people who want to visit Newport from Boston opt to take a guided tour, as this is a very convenient way to see all the main sights, such as the Breakers Mansion, Fort Adams, and the St Mary's Church complex. With an expert guide accompanying you, you'll learn all about Newport's interesting past, and free time allows you to explore the city at your leisure.
6. Crane Beach, Ipswich
[SEE MAP]
Joe Pitha / Flickr
If you're planning a day at the beach from Boston, you'll be less than an hour from countless destinations. Arguably one of the best, however, is Crane Beach. Located just outside of Ipswich and overlooking Ipswich Bay, Crane Beach is an enormous coastal destination beloved by beach-goers throughout New England.
Crane Beach offers pristine beaches, beautiful dunes and even maritime forests. Stroll along the five-mile boardwalk, enjoy a packed picnic lunch or stay for the sand-building competitions right on the beach each summer.
Getting to Crane Beach
To get to Crane Beach from Boston, you first need to take a train to Ipswich; these depart very regularly from North Station. The journey takes about an hour, and once you arrive, you can either take a short taxi ride to Crane Beach or a local bus, although these don't run very frequently.
Another option is to drive to Crane Beach yourself; while this does mean that you can then explore the nearby sights such as Rockport or Salem if you wish, you will have to pay quite a hefty parking fee at the beach. From Boston, head north out of the city on the I-93, then turn onto the Yankee Division Highway heading east. You want to follow this until exit 20, where you then take the MA-1A. Once you come to Hamilton, ignore signs guiding you to Ipswich; instead, stay on the road going straight ahead – this will take you Crane Beach.
5. Plimoth Plantation
[SEE MAP]
If you're familiar with early American history, then you have probably heard of Plymouth Rock, the spot where the Mayflower arrived on the journey of the pilgrims from Europe to the new world. The city of Plymouth is steeped in history, and one of its most fascinating attractions is Plimoth Plantation.
The landmark is a living history reenactment center, and it helps visitors experience what life was like in the year 1627. You can chat to colonists who lived and worked in Plymouth, asking them about their lifestyles, the foods they eat and where they learned their skills.
You can enter the tiny homes they lived in and even dine on the traditional culinary delights of the early 17th century. The Mayflower II, docked near the Plymouth Rock, is also under the care of the museum.
Getting to the Plimoth Plantation
From South Station in Boston, it can take as little as an hour and 15 minutes to get to the Plimoth Plantation; a direct bus will take you most of the way there. Jump on the Plymouth and Brockton bus and alight 50 minutes later at the P&B bus center. From here, you can either take a short taxi ride or 15-minute bus journey on the Mayflower Link to the attraction.
At just under an hour, it's slightly quicker to drive there yourself; this means you could head on to explore Cape Cod if you feel like it. The directions are straightforward; all you need to do is head out of Boston on the I-93 leading south and follow it until you arrive at the MA3. This will take you directly to Plimoth Plantation.
If you want to really get to grips with the interesting history behind the Plymouth Colony, you may want to take a guided tour; this takes you to see some of colonial America's most important sights. As well as seeing the plantation, the cemetery, and the spot where the colonialists first landed, historical reenactments will bring the events to life before your very eyes. The day culminates with a stop at the Craft Center, where you can see how tools, clothing, and housewares used to be made in the 1600s.
Just 40 miles (65 km) north of Boston, on Cape Ann, is the city of Rockport, Massachusetts. Like many coastal New England destinations, Rockport is home to plenty of wonderful seafood restaurants, a stunning rocky coastline and beautiful scenery. What sets it apart, however, is the fact that Rockport has been an artist's colony since the 1800s.
Today, that art and culture is alive and well, and you'll have the chance to tour dozens of art galleries. Whether you're shopping for a few paintings for your home or you're just an enthusiast interested in seeing local works, Rockport is the ideal art-lover's getaway.
Getting to Rockport
As direct trains run regularly between Boston and Rockport, it is very easy to get to the artsy town from the center of the city. Simply hop on a train at North Station and alight at Rockport around an hour and 15 minutes later. From here, it is just a short walk to the seafront and the town's main sights. As Salem lies on the same train line if you have time you could always stop off and visit the famous Salem Witch Museum on the way back.
By car, it takes just under an hour to get to Rockport; you could again stop off at Salem on the way back or head on to the nearby Crane Beach. From the city center, head north on the I-93, after which you want to turn off onto the Yankee Division Highway and follow it all the way east to Rockport.
3. Martha's Vineyard
[SEE MAP]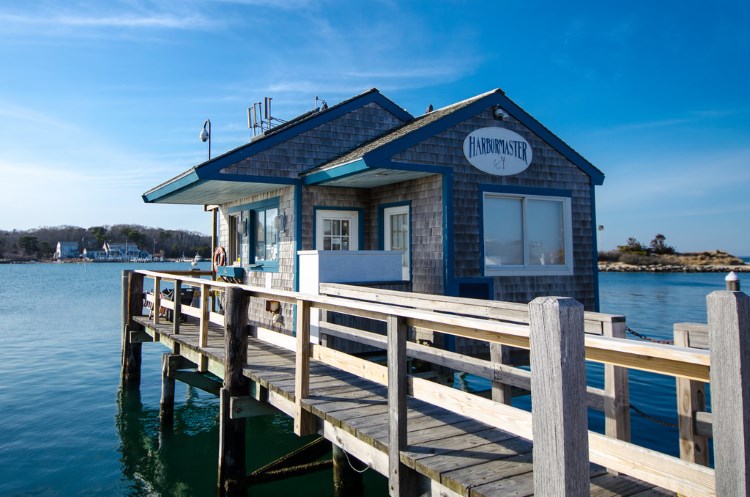 m01229 / Flickr
About 90 miles (145 km) south of Boston is Martha's Vineyard, the island destination off of Cape Cod that is recognized for being a coastal playground of the rich and famous. Known as Hollywood East, Martha's Vineyard is absolutely a place that you can enjoy on a day trip from Boston.
Outdoor recreation and scenery are the major pastimes here, so be sure to head to the stunning cliffs of Aquinnah, the Long Point Wildlife Refuge and the many lighthouses that dot the coast. Along with hiking and swimming, the beaches offer opportunities to take part in activities like fishing, horseback riding and golfing.
Getting to Martha's Vineyard
Martha's Vineyard may be an island, but you can still drive to it, as a car ferry runs from Woods Hole. Drive out of the city on the I-93 and transfer onto the MA3 once you're past Quincy. Keep heading south until you come to Bourne, where you then take the MA28 to Falmouth. The ferry is just a short drive away, and once you arrive in Tisbury, you can explore Martha's Vineyard by car at your leisure. All in all, it should take about two hours to get there.
Another option is to take a guided tour to Martha's Vineyard. After arriving by ferry after a relaxing drive to the island, you're free to explore its amazing beaches, shops, and restaurants at your leisure. Alternatively, you can opt to join a three-hour narrated tour, which takes you to Gay Head Cliffs, Edgartown, and Aquinnah, among other places.
Located at the very tip of Cape Cod, Provincetown is yet another thriving artist colony on the beach. Progressive, liberal attitudes reflect that artistic spirit, and Provincetown definitely offers something for everyone. Although it is possible to drive to Provincetown, Massachusetts, from Boston, the journey is much more enjoyable by ferry.
You might spend your day here admiring the amazing works of art on display at local galleries, you could go for a swim at Herring Cove, you could catch a theater performance at night or you could set off on a whale-watching expedition if your ferry ride wasn't quite enough time on the water. Provincetown is also known for excellent cycling trails and amazing views of Cape Cod.
Getting to Provincetown
The quickest and most scenic way to get to Provincetown from Boston is to take a ferry that gets you there in just an hour and a half. Ferries depart regularly from the World Trade Center Pier in the center of the city; once you alight at MacMillan Pier, you'll find all of Provincetown's main sights are just a short walk away.
While driving does take slightly longer at around two hours and 15 minutes, this does mean that you are free to stop off wherever you feel like on the way there and back; a visit to Plimoth Plantation is particularly worthwhile. To get to Provincetown, head south out of Boston on the I-93 and follow it to just past Quincy, then continue on the MA3. Eventually, you'll come to the US-6, which you want to take east all the way to Provincetown.
If you're looking for a relaxing and luxurious way to travel to Cape Cod in style, you may want to consider booking a high-speed ferry to Provincetown. As well as enjoying the fantastic views of the Boston skyline from on deck, a concierge can help you plan your trip around Cape Cod, so you make the most of your time there – whether that is shopping, seeing the sights, or lounging on the beaches.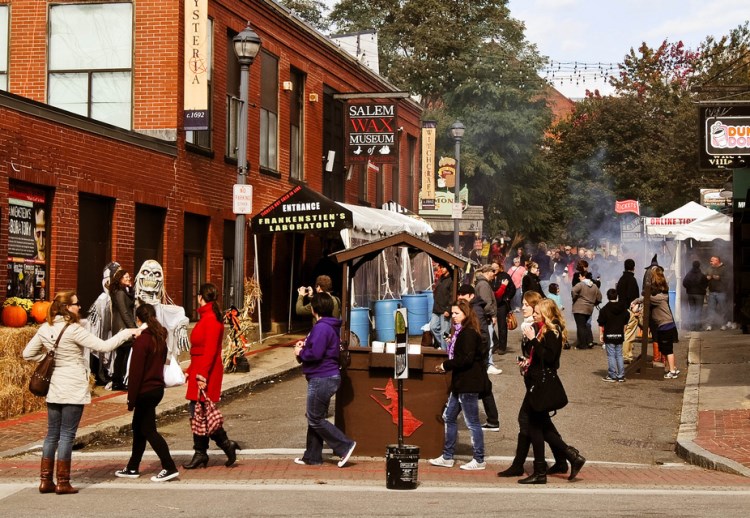 Elizabeth Albert / Flickr
Even if you've never been to Massachusetts before, there's a good chance you've heard of Salem and the city's witch trials that famously took place in the 17th century. Halloween collectibles and themed museums abound, and you might be interested in a visit to the Salem Witch Museum, the Witch Dungeon Museum or the walking witch tours.
For the more traditional visitor, it is definitely important to spend some time admiring the 18th century architecture for which Salem is also famed. In the late 1700s, Salem was one of the biggest cities in New England, and areas like the Chestnut Street District, the McIntyre Historic District and the Charter Street Historic District provide the chance to see beautifully restored homes from more than two centuries ago.
Getting to Salem
As it lies just a short distance to the north of Boston, it takes no time at all to get to Salem via public transport. All you need to do is take an MBTA Commuter Rail train from North Station in Boston to Salem Depot. This journey should only take half-an-hour, with trains departing frequently. Once you arrive, it is just a short walk to all the main sights, such as the Salem Witch Museum and the Witch Dungeon Museum.
Driving is another good option. Strangely enough, the quickest route is also the most circuitous. Head north out of Boston on the I-93 and turn off once you come to the I-95. Then follow this east until exit 25A, where you'll see signs pointing you to Salem. The drive should take around 40 minutes, and after seeing Salem, you could continue on to artsy Rockport.
If you're interested in learning all there is to know about the Salem Witch trials, you may want to take a guided tour, which will take you around all of Salem's most famous sights. As well as learning about the trials, you'll have free time to explore Salem at your leisure, so you can stop off for lunch, go shopping, or continue visiting its many attractions.