While Massachusetts is rightfully known for its rich history and heritage, its lively cities and college towns exhibit a fascinating mix of old and new. This makes them both brilliant to live in and visit, as centuries-old sites relating to the early Pilgrims and American Revolution are alongside happening downtown areas and vibrant university campuses.
As Massachusetts is the most populous state in New England, it acts as a cultural and financial hub for the region, with Greater Boston its largest metropolitan area. Its prestigious institutes of higher learning have also had a profound impact on the governance and development of the country with both MIT and Harvard being based in Cambridge.
Thanks to its outstanding education system and highly paid jobs, many of the best cities in Massachusetts rank among the top when it comes to live and raise a family in the States. If all that weren't enough, scenic spots such as Cape Cod and Martha's Vineyard aren't far away, should you want a quiet weekend break or peaceful getaway.
12. Newton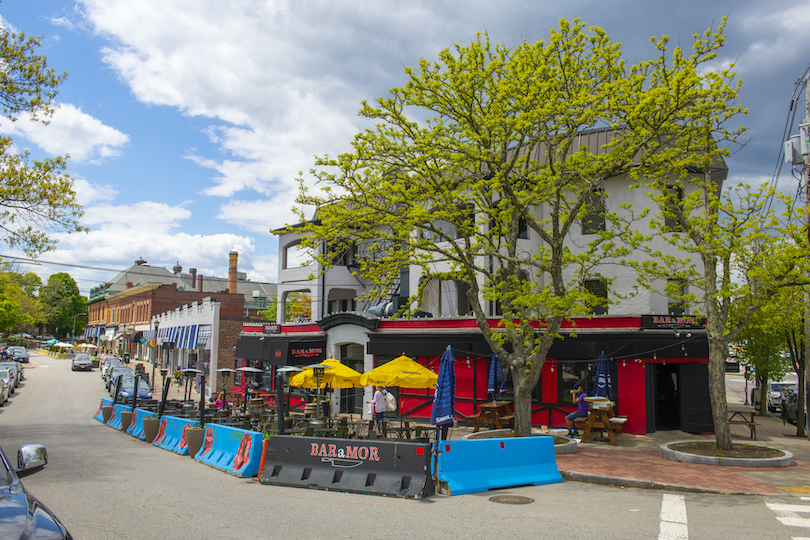 Delightfully known as the 'Garden City' due to all its gorgeous green spaces, Newton is located just twenty minutes drive west of downtown Boston. Now one of its oldest suburbs, the area was settled in 1630 with pockets of pretty Victorian buildings and historic mansions still found here and there.
Often ranked among the best places to live in the entire States, Newton consists of thirteen villages, each of which has its own look, feel and identity. Newton Center acts as its main hub of activity as countless bustling shops and businesses line its streets. Not far from here you can find the suburb's largest public park and the lovely Crystal Lake.
As well as boasting one of the best public school systems in the Commonwealth, it offers residents all kinds of top-class service and safe streets. Each April, the Boston Marathon runs along Newton's Commonwealth Avenue which is bordered by beautiful buildings and a statue-studded grassy mall.
11. Amherst
Home to three of the Five Colleges, much of life in Amherst is dominated by its huge student population. This lends the small town a very lively and dynamic feel with most residents being very left-leaning and politically active.
Nestled in the Connecticut River Valley, the quintessential New England college town lies just half an hour's drive north of Springfield. While its downtown area has lots of interesting bookshops and local restaurants, most of its cultural life and concerts take place on the three college campuses. Aside from all the students studying at Amherst College, Hampshire College and the University of Massachusetts Amherst, many families and retirees also live in town.
Other than visiting its handful of museums dedicated to famous literary figures and experiencing its vibrant student life, you can also explore rural Massachusetts. The surrounding hills and forests look particularly spectacular in autumn due to the fiery colours of the fall foliage.
10. Northampton
Just across the winding river from Amherst, is another cool college town that is well worth checking out if you have the chance. Known for its bohemian vibe and picturesque downtown, Northampton has a rich artistic life and thriving music scene for visitors to delve into.
One of the northernmost cities in the Knowledge Corridor, the happening countercultural hub is part of the Springfield Metropolitan Area. Dotting its walkable downtown are loads of art galleries, quirky shops and performing arts venues while many of its restaurants sell fresh farm-to-table food.
A liberal town, it is mostly populated by students, artists and political activists. While housing is quite expensive and its streets could be safer, Northampton is still great a place to live with art exhibitions, concerts and plays taking place all the time.
9. Concord
As it was here that the first shots of the American Revolutionary War rang out, thousands of tourists visit Concord each year to learn about the role it played in the creation of the country. While touring its battlefields is a must, the small sleepy town also has a huge literary heritage to uncover as Civil Disobedience, The Scarlet Letter and Little Women were all written here.
Part of Greater Boston, the affluent suburb lies about forty minutes drive northwest of the center at the confluence of the Sudbury and Assabet rivers. During the mid-nineteenth century, a rich literary community developed with Nathaniel Hawthorne, Louisa May Alcott and Henry David Thoreau all having lived here. Visitors can see their influential works in the transcendentalist wing of the town's quaint little library with the renowned Walden Pond also lying nearby.
The main reason people visit though is to learn about the Battles of Lexington and Concord in 1775 and see important sights such as the North Bridge and Barrett's Farm. Many families also settle here for its laidback pace of life and excellent public school system.
8. Salem
Also steeped in history is the charming seaside city of Salem, which is famed for the witch trials that shook the community in 1692. Thanks to its attractive oceanfront, intriguing past and world-class Peabody Essex Museum, it is one of the most popular places to visit in Massachusetts.
Founded in 1626 along the sheltered Salem Harbor, it went on to be one of the most important ports in the early history of America. Although now most known for the Salem Witch Trials, it too played an influential role during the American Revolutionary War and developed largely due to its lucrative Old China Trade.
Hundreds of well-preserved old buildings highlight its rich maritime heritage. The Witch House and House of Seven Gables, from Hawthorne's novel, are two of Salem's standout sights. Although overtourism has impacted residents' quality of life in recent years, plenty of people still move here for its endless list of attractions and affordability in comparison with many other parts of Greater Boston.
7. Somerville
Once derogatively referred to as 'Slummerville', Somerville is now often listed amongst the best-run cities in the state. Sprawled across a massive area northwest of Boston and north of Cambridge, the mostly residential suburb has lots of top-notch dining and drinking establishments for you to hit up.
Definitely on the upward swing after decades of decline, its main hubs of communal life are centered around Davis Square and Union Square. Here you'll find some brilliant local shops and restaurants and great transport links to downtown and Harvard among other destinations. The Tufts University campus also showcases some nice architecture and has numerous programs for people to attend.
A recent recipient of the All-America City Award due to the community's impactful and impressive civic engagement, Somerville offers residents all the perks of a city but retains its small-town feel.
6. Lexington
Known as the 'Birthplace of American Liberty', the lovely little town of Lexington lies even further to the northwest of Somerville. As well as seeing its Battle Green where 'The Shot Heard 'Round the World' was fired, you can visit the Minute Man National Historical Park on the way to Concord.
First settled by Europeans in 1641 as a farming community, it now contains numerous historic parks and buildings dating to Colonial and Revolutionary times. These include the Buckman and Munroe taverns while the aforementioned historical park covers the chain of events that led to the American Revolutionary War, its important peoples and places.
While most people simply tour its battlefields and the atmospheric center of town, Lexington is also a fine place to live. This is because it ranks highly for schools, housing and job opportunities and lies not far from both the massive Burlington Mall and Boston's bustling downtown.
5. Provincetown
Perched at the tip of Cape Cod is the ever-popular and picturesque Provincetown. One of the oldest artist colonies in America, it boasts loads of beautiful beaches and striking coastal scenery while scores of eclectic shops and art galleries dot its downtown.
The first landing site of the Pilgrims aboard the Mayflower in 1620, 'P-town' initially flourished as a fishing and whaling center before turning into a haven for painters, poets and playwrights. Its open and tolerant attitude has persisted with the secluded seaside settlement now being a preferred home and travel destination for the LGBTQ community.
Along Commercial Street, you'll find dozens of cool galleries and seafood restaurants with cutting-edge theaters and trendy bars also scattered about. Due to its thriving arts and cultural scene and the stunning Cape Cod National Seashore nearby, Provincetown really is a delightful place to live. Only adding to its appeal are its friendly, welcoming residents and the festive ambience in its streets.
4. Springfield
The largest city in western New England, Springfield acts as a cultural, economic and media hub for the surrounding area. As such, many people move here for its ample employment opportunities and entertainment options with attractions like the Basketball Hall of Fame and Six Flags also on offer.
Nicknamed the 'City of Firsts' due to the numerous important inventions that originated there, it lies on the eastern bank of the Connecticut River. After decades of poor planning decisions, Springfield is currently undergoing a cultural renaissance thanks to increased economic investment. Being part of the Knowledge Corridor has also helped it attract both companies and workers to the city.
Aside from strolling around its walkable Metro Center and checking out the Quadrangle's amazing museums, visitors can also see lots of fine old Victorian buildings in some of its more affluent areas.
3. Worcester
Known as the 'Heart of the Commonwealth' due to its central setting, Worcester is the second-most populous city in New England after Boston. Also famed for all its incredible innovations, its rolling hills and valleys host a staggering twelve colleges and universities with many moving here to study.
Despite its very large student body, Worcester is not at all a college town as its educational institutes have somehow left little imprint on the city. Many families and young professionals of all different ethnicities and cultures instead reside here for its great public schools and lush green spaces.
As the city is quite spaced out and many of its most interesting monuments and museums lie quite away from one another. Must-see sights include the Worcester Art Museum and attractive Elm Park while the elegant 1857 Mechanics Halls puts on a packed schedule of top-class shows and concerts.
2. Boston
Undoubtedly one of the best places to live and visit in Massachusetts, Boston is both its state capital and largest city. While its old cobbled streets are full of fascinating Colonial and Revolutionary War sites, it also has some pounding nightlife and thrilling sporting events for you to enjoy.
Dominating the eastern Massachusetts Bay area, the city acts as the cultural and financial center for all of New England. While its cost of living and housing is quite high, residents benefit from great public services and of course have all the exciting attractions in Boston right on their doorstep.
Besides wandering along the Freedom Trail and visiting key sites from the city and nation's struggle for independence, you can relax along its scenic harborfront or hit up some lively bars. No trip can be complete without watching the Boston Red Sox, Celtics or New England Patriots play in front of their fervent fans.
1. Cambridge
A world leader in higher education, Cambridge is home to both Harvard and MIT; two of the most prestigious universities around. Lying just across the Charles River from Boston, it has historic campuses for you to tour around with impressive buildings and museums dotted here and there.
Often considered part of Boston, Cambridge is very much a city in its own right, though much of town life revolves around its famous universities. At Harvard Yard, for instance, you can see amazing old halls and charming libraries while Kendall Square is known as 'the most innovative square mile on the planet'. Thanks to all the start-ups that have emerged here, it was recently named the best city to be a young professional in the United States.
For centuries, Cambridge has acted as an important intellectual center with the outstanding Harvard Art Museums and the Peabody Museum of Archaeology counted among its main sights. The city's safe streets, dynamic feel and diverse make-up all make it a fantastic place to live, work and visit.
Map of Cities in Massachusetts to Live and Visit